He must truly love me. After all, what else could explain that extraordinary cake?
The coral-red confection stood—well, teetered a bit, actually—almost a foot tall and had my name across the top in bright blue decorator frosting. An overenthusiastic "e" was filled in to look like an "o" and the "l" was a bit shaky, but who could criticize such a gift? 
I mean, he could have just bought a cake, right? But at some point before my birthday, I had told my then-boyfriend, now-husband about a revered family tradition in the Hulin household. 
For each birthday-person in the family (including, eventually, each in-law and grandchild), my mother would make the specific cake requested by the birthday boy or girl. This may seem like a small thing, but there were seven of us: five kids, a stay-at-home mom, and a dad who supported us all on a college professor's salary. So, we were the kids whose birthday parties involved playing pin-the-tail-on-the-donkey, rather than miniature donkey rides in the front yard.
That was fine with us, because our parents managed to make each of us feel celebrated and cherished on our birthdays.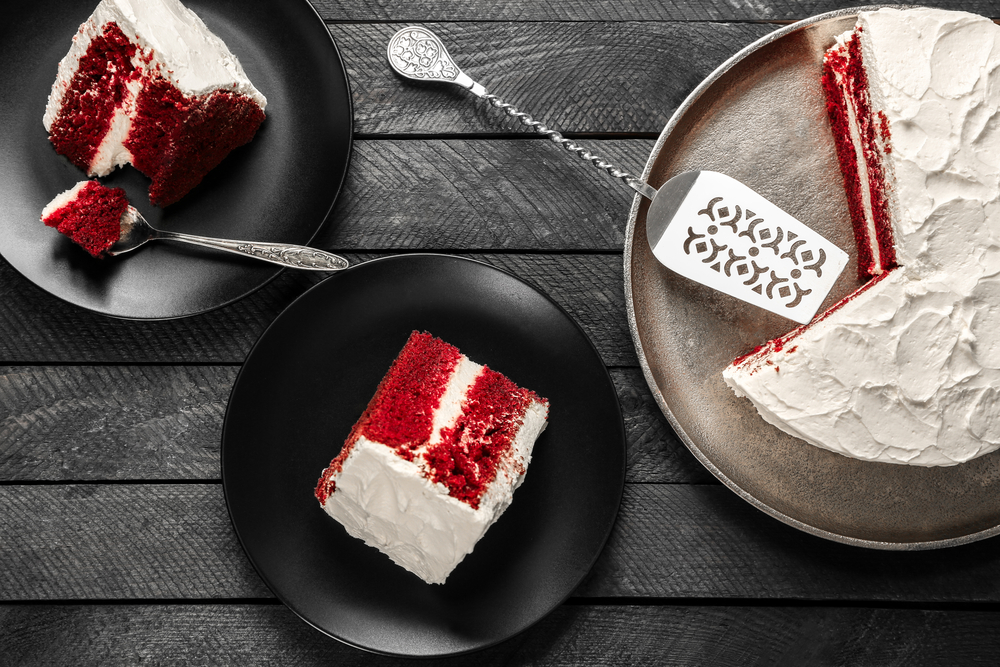 A Birthday to Remember
One component was the aforementioned cakes. Over the years, we enjoyed dozens of different variations: German chocolate cake and lemon meringue; angel food and devil's food, fresh coconut cake and carrot cake; cookie cakes, checkerboard cakes, and a butterfly-shaped orange cake.
My personal favorite, which Mom made every year that I was home to enjoy it, was a luscious affair with both red velvet and vanilla-almond layers, coconut filling, and fluffy white buttercream frosting. She decorated the edges with piped red frosting and artfully wrote my name in blue. The candles were a mix of red, white, and blue. The cake had five thin layers: red, white, red, white, and red. 
When I confessed to my beau Jim that I was sad that I wouldn't be going home to Louisiana for my birthday that year, he hatched a plan. He called my mother and got the many recipes required to make my cake. She explained that each cake flavor had to be made separately, and that the batters had to be well-beaten. She detailed that the cake had to be five layers of red-and-white stripes, and that he should portion the batter accordingly.
What Mom didn't explain was that she usually made my cake in quarter-sheet (aka large rectangular) pans; Jim didn't reveal to her that he rarely cooks. 
While I was at work, Jim snatched up the eight-inch round cake pans in my cabinet and got busy. He made the red velvet recipe first, dutifully dividing the full recipe over three pans. When those thick, moist layers were done, he poured all the yellow cake batter into two pans.
With the help of Google, he figured out how to carve the giant, overflowing domed tops of the baked yellow layers into something flat and manageable. Then, when all had cooled, he stacked those layers up and mortared them with coconut filling, like a Jenga master! The coral-red frosting happened when he accidentally dropped a dab of red food coloring into the snowy buttercream and thought, "Why not?"
Clearly, Jim was proud of his creation. And I was, um, awestruck, by his effort. 
A Brief History
Of course, my soon-to-be husband was just trying to bake a cake and in the process get a little loving gratitude. In doing so, he'd participated in an age-old, now worldwide, tradition. 
Birthday cakes have been around for millennia. It's a toss-up whether the honor for making the first commemorative confection belongs to the Romans or the Greeks. Most accounts favor the Romans: early in the first century C.E., Roman poet Ovid writes of sharing a birthday cake with his brother. In the Rome of Ovid's day, birthday cakes took the appearance of round, yeast-raised sweet breads, enriched with honey, eggs, oil, and nuts. 
The ancient Greeks made disc-shaped flatbreads as a canvas for savory ingredients such as olive oil, herbs, and cheeses, and eventually, they learned to leaven breads with beer for a lighter texture. There's no firm date to show when sweetened, leavened pastries evolved into Greek birthday cakes, but we do know the Greeks' major contribution to the birthday celebration was light: Greek villagers baked moon-shaped cakes and topped them with lighted candles to pay homage to Artemis, the goddess of the hunt and the moon. The practice of lighting up cakes eventually spread to all celebrations.
The next notable event in the evolution of birthday cakes came from the Germans. In the Middle Ages, German families began to celebrate children's birthdays with cake and gifts, which eventually turned into full-fledged kinderfests, aka birthday parties. 
Of course, for most of history, birthday cakes—like all cakes—were an extravagance that only the elite could afford. That all changed during the Industrial Revolution, which made production, home tools, and refined ingredients accessible to the masses. Boxed cake mixes came onto the scene during the Great Depression, when food scientists found ways to get a surplus of molasses into the hands of hungry families. 
The ubiquitous cake mixes we know today are a post-WWII General Mills product. The company, along with others, improved the boxed product, then came up with ready-to-spread frosting. The convenience gave home bakers the freedom to exercise their creativity by elaborately decorating their family birthday cakes.
There's no map showing the migration of birthday cakes across continents, but it can be assumed that through trade, travel, and marriages across cultures, the custom spread. Today, you can buy birthday cakes at baked goods stores in the Far East (light sponge cake layers filled with custard, topped with whipped cream frosting, and decorated with fruits are favorites) as well as cinnamon-laced chocolate birthday cakes in Mexico. 
In the United States, funfetti cakes—vanilla cake laced with multi-color sprinkles—have become the standard against which "birthday cake flavor" anything is compared. That said, according to numerous radio station surveys and bake sale straw polls, the country's favorite birthday cake flavor is, in fact, chocolate cake with chocolate frosting. Yellow cake with chocolate frosting or vanilla frosting, chocolate chip cake with chocolate frosting, red velvet cake, carrot cake, marble cake, lemon cake, and coconut round out the list.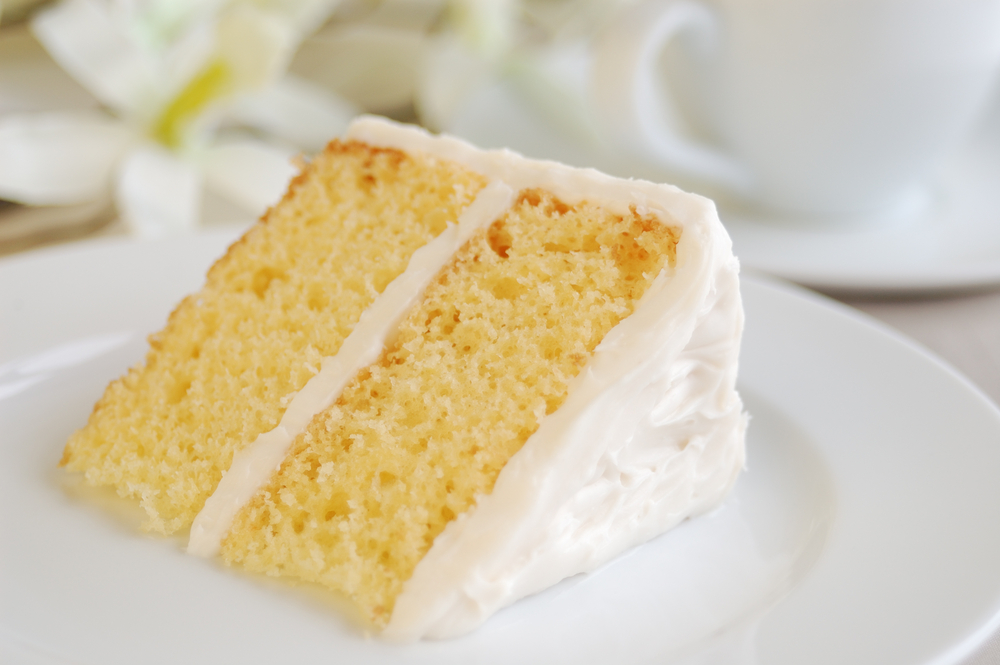 Make It Your Own
Some folks may insist that the perfect birthday cake isn't any of those, but instead a rainbow cake, banana cake, spice cake, or some other confection. Within that short list are endless variations on fillings, frostings, and adornments. 
That variety of enticing options, and the ability to customize to taste, is I think what makes the birthday cake so very special. It says, in one neat, delicious package, that you've survived another year. Commemorating your latest trip around the sun with a cake that's specifically to your liking, and sharing that personal culinary choice with others, is an act of both generosity and reward.
In my family, my late mother's tradition of giving each birthday celebrant their preferred cake lives on. I'm no bakery artist, but for every birthday, I make sure my loved ones get the cake they crave. Over the years, my husband and children have made wishes and blown out candles over pop-culture character-shaped cakes, ice cream cakes, chocolate cakes, strawberry cakes, coconut cakes, and carrot cakes. 
Now that my son has a family of his own, he's taken it upon himself to make sure my granddaughter has a specially made cake each year. My nieces and nephews follow the tradition for their families as well.
As for the towering coral-red cake that Jim baked for my decades-ago birthday, well, we managed to cut it oh-so-carefully with a serrated bread knife and slide the giant slices onto full-sized dinner plates. It was unwieldy but delicious, and one of the sweetest things he's done for me. 
I praised the cake to my mother, and managed to wait several months before explaining to Jim exactly why his cake almost required a building permit. The leaning tower of birthday cake has become a family legend and a story my children love to share. 
More recently, Jim has been more likely to buy a red velvet cake than make one. But this past year, my son informed me that he would be bringing the cake to my birthday dinner. Dylan's red velvet cake with buttercream was both delicious and beautiful, and the best birthday gift I could have received.
I could imagine my mother smiling down and thinking, "my work is done."
RECIPES: Build Your Own Birthday Cake
Louisiana native Belinda Hulin Crissman writes cookbooks and food articles from her adopted hometown of Atlantic Beach, Fla. She's the author of five cookbooks, including "Roux Memories: A Cajun-Creole Love Story with Recipes." When she's not writing, you'll find her scoping out old and new culinary delights.