A young German couple have finally been reunited, after spending generations apart. 
Ariane van Suchtelen, curator at the Royal Picture Gallery Mauritshuis, in The Hague, Netherlands, first identified the 16th-century portrait of Jakob Omphalius (1500–1567) in a photograph some 20 years ago. The image she found of Omphalius led her to find his fiancée's name. Van Suchtelen's discovery came when she was researching a portrait of an unnamed woman by the preeminent German portrait-painter Bartholomäus Bruyn the Elder (1493–1555). Then, she patiently waited for Omphalius's portrait to reappear.
Now the betrothed couple are together again at the Mauritshuis, and van Suchtelen tells us how that happened.
The Epoch Times: Acquiring Jakob Omphalius's portrait is an important addition to the Dutch public art collection. Can you tell us why that is?
Ariane van Suchtelen: In Dutch museums, we actually have quite limited collections of non-Dutch old-master paintings, even 15th- and 16th-century Flemish art is not well-represented. 
In the Mauritshuis, we have a relatively small but very good collection of early German and Flemish portraiture. We have three paintings by the German painter Hans Holbein the Younger, which actually came from the English royal collection; it was England's King William III who took them to Holland. So those are the only paintings by Holbein in a Dutch museum, for instance. 
Jakob Omphalius's portrait fits in very nicely, and it shows the international context of portraiture a bit more. And of course, early 16th-century German portraiture was really the golden age of German painting, so, yes, it's important for us. 
Bruyn comes from the region of North Rhine-Westphalia, which is very close to the Netherlands, so there was lots of communication. He was also a pupil of a Netherlandish artist, so there's lots of influence, there's lots of traveling back and forth. It's the border region of the Netherlands. 
And also, since we had the portrait of the woman, only one half of the diptych, we felt an obligation to reconstruct the diptych. That was very important too, of course. 
The Epoch Times: Please tell us how you rediscovered Jakob Omphalius's portrait and found out who the woman was in the portrait by Bruyn that you had.
Ms. van Suchtelen: Around 20 years ago, I was doing research for a catalog of portraits in the Mauritshuis that was eventually published in 2004. I was researching this portrait of the woman by Bruyn, which has been in the Mauritshuis since 1951, on long-term loan from the Rijksmuseum. 
I discovered that the portrait was in a London auction in 1896, not as a portrait by Bruyn but as a portrait by the Netherlandish painter Jan Gossaert, and in that auction it still had its companion piece. I thought at the time, if I looked into the work of Gossaert, I could perhaps find a companion piece that might fit with the portrait that we have. 
I looked in the archives of the RKD in The Hague, which is the Netherlands Institute for Art History, where I found a photo of a portrait of a man that seemed to fit quite well. There were numerous copies of the 1896 London auction catalog in the collection, and I found one which belonged to Dutch art historian Cornelis Hofstede de Groot in his copy of the catalog. He not only noted who bought the two portraits, which were sold to two different buyers, but he had also made small drawings of the coats of arms of the man and the woman that were painted on the backs of the two portrait panels. So there I could see the coat of arms of the man who was portrayed.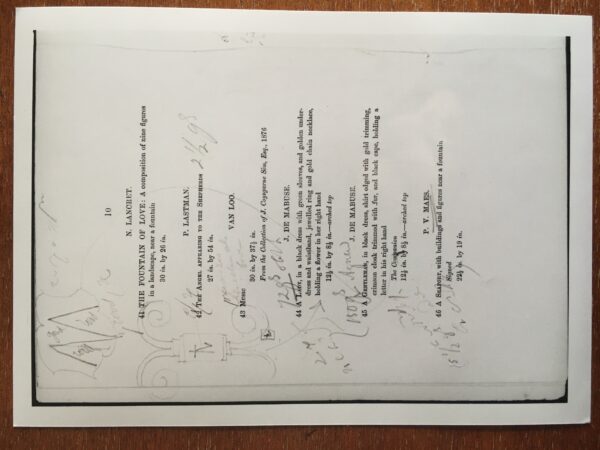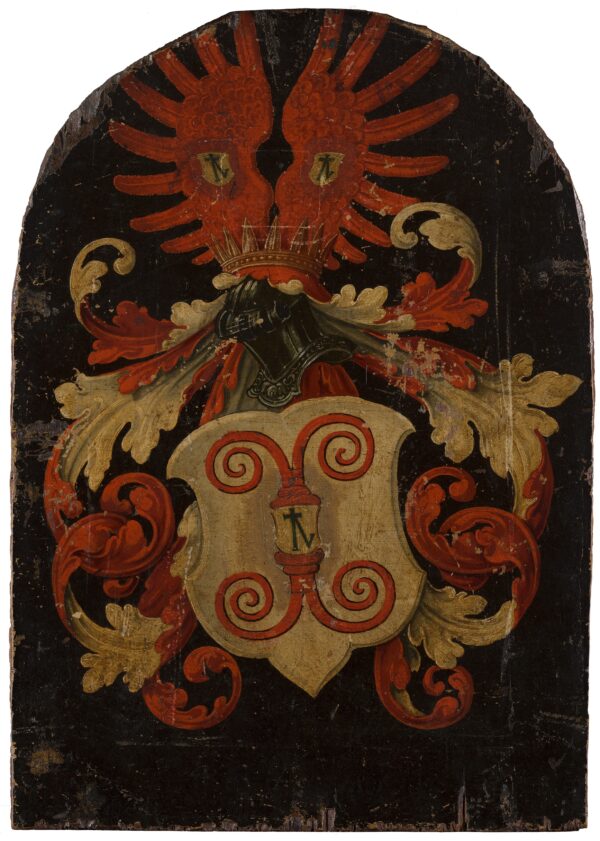 We already knew that the coat of arms on the woman's portrait was that of the Bellinghausen family. In Cologne, there was a man with the surname Bellinghausen who had four daughters, and we knew this portrait had to be one of them. We just didn't know which one. But through the names of the daughters' husbands, it was not difficult to discover that this man was in fact Jakob Omphalius because of his coat of arms. And he married Elisabeth Bellinghausen (circa 1520 to after 1577).
I then found a catalog dated 1904 of the collection of English collector Ralph Brocklebank, who bought the Omphalius portrait. In that catalog, it refers to the collection that it came from, which was auctioned in 1896. And also there's the first image, a photograph of the portrait. Then I became certain that the photograph that I had found in the files of the RKD was in fact the portrait of Jakob Omphalius—the man's portrait that was auctioned in 1896. 
So all the pieces of the puzzle came together: I had the photograph, the provenance of the work, which last appeared in the Paris auction in 1955. And through the identification of Omphalius, I was certain that the woman had to be Elisabeth Bellinghausen. That was all published in our portraits catalog in 2004. So we've been on the lookout for Jakob Omphalius's portrait for nearly 20 years. 
The last time it was auctioned was in 1955, so we imagined that it was sold to a private collector as it wasn't in a museum collection. So sooner or later I felt it had to reappear, which it did.  
We were very happy that last year it was auctioned in Paris, although it was a very small auction and we missed it. We eventually discovered that an art dealer in Geneva had bought the portrait. In January, I went with my former colleague who conserved Bellinghausen's portrait around 2004. She has a very intimate knowledge of the technical aspects of Bellinghausen's portrait, so it was very good of her to come with me to Geneva to check the painting. So that's the story of how the painting was rediscovered. 
New frames have been made, based on original frames of another portrait diptych by Bruyn, which have restored the two portraits as a diptych.
The Epoch Times: When you first saw both portraits side by side, as they were intended to be, how did you feel?
Ms. van Suchtelen: That was a very, very happy moment, I have to say. Because you know, I was 100 percent sure that everything was all right—that they really belonged together—but it's great to really be confirmed. 
I was really happy to see them together and also to see how well they fit together because, for instance, the blue of the background is typical of an area that could be overpainted, or the colors could have changed over time, or something could have happened that they wouldn't be that nice together anymore. But they are. So it was a great relief in a way. It was really a happy, happy moment. 
Of course, in photographs they look very nice together. But when you see them in reality, it's wonderful how well and how nicely they fit together: the blue background and the color of his red sleeves with its velvety texture, all the details of his gold brocade shirt, and the details of her clothing. They look really nice together. 
They are painted as a diptych; they're quite small, about 12 1/2 inches high. Bartholomäus Bruyn the Elder was a portrait painter first, well-known in Cologne. It's amazing how in this great phase of portraiture, he had portrayed so many important people in Cologne and most often in the form of a diptych, which in fact is quite a religious type of painting.  
The Epoch Times: Please tell us a little about diptych portraits.
Ms. van Suchtelen: It's really the beginning of portrait commissions from private individuals. Of course, portraiture comes from altarpieces, where you have donor portraits on the side panels, for instance. This diptych form, which is more for private devotion in the Middle Ages and after, was transferred to portraiture in those early years.  
Painters painted on both sides of the panel, and in this case it's the coats of arms of the two sitters that are on the back of the panels. But it could also have been a skull, for instance in a memento mori (a particular type of symbolic painting that reminds us of our mortality), or something like that. So those diptychs were not actually meant to hang on the wall, but you could put them on the table, or on a piece of furniture, or keep them closed. 
You can tell by the portrait that they were not yet married, as you can see the braids of Elisabeth's hair. Once a girl got married, she put all of her hair under her head cap. There's also some altarpieces where there's the father with a number of sons and the mother with a number of daughters, and the unmarried daughters have their hair like Elisabeth from our portrait, and the married ones have their hair hidden under their head cap. So that's a tradition. 
And we know that they got married, Jakob and Elisabeth, Feb. 8  in 1539, so we can actually support that the diptych was painted in the period before that, so late 1538, around that time.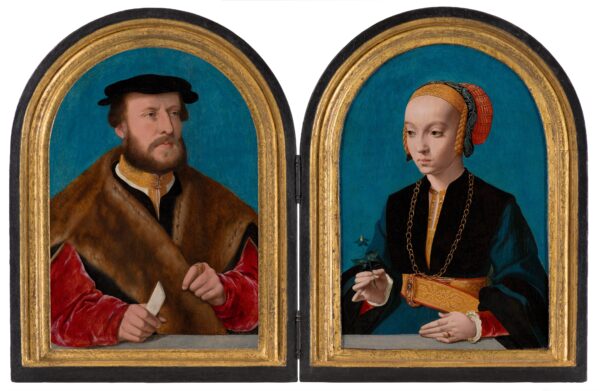 The Epoch Times: Why is Omphalius holding a folded letter?
Ms. van Suchtelen: I'm not quite sure. It's something other German portraitists use as a motif as well, like Hans Holbein for instance. They can sometimes have a bit of writing on the piece of paper or even a signature of the painter. But in this case there is nothing on it, so you can imagine the writing would be within the piece of paper. Often on other portraits, it's a pair of gloves that the man would hold in his hand and also a piece of paper. Maybe it's meant for his fiancée.
Omphalius was an important man, a prominent lawyer. He studied internationally and had a university career. He studied in Cologne, Utrecht, and Leuven and graduated in law from the Sorbonne in Paris, and again Toulouse. And he became a chancellor in Cologne, and held a number of important posts. So he's an important figure, which makes him also interesting for Cologne history.  
The Epoch Times: What does the future hold for this couple?
Ms. van Suchtelen:  Well, Jakob's portrait will undergo conservation efforts before being put on display in the Mauritshuis.
The diptych will be on display at the Royal Picture Gallery Mauritshuis until Oct. 4. To find out more, visit Mauritshuis.nl
This interview has been edited for clarity and brevity.