Photographer Romain Veillon's collection of mural paintings found in derelict buildings is both beautiful and poignant. The 38-year-old Frenchman loves to travel the globe exploring his niche: abandoned heritage.
If you ask him where the properties housing these fantastically painted scenes are though, he'll tell you it's a secret.
"I can't give the exact name of the city where I found those paintings as it would be very easy to find them," Veillon told The Epoch Times, explaining that social media has rapidly accelerated the spread of information. "When people find out about places like these, vandalism can happen very quickly after."
A wonderful villa, forgotten and intact for decades, can become full of graffiti or even be burnt down within a few months of having its location revealed online. Unfortunately, Veillon said, he has seen this happen time and time again.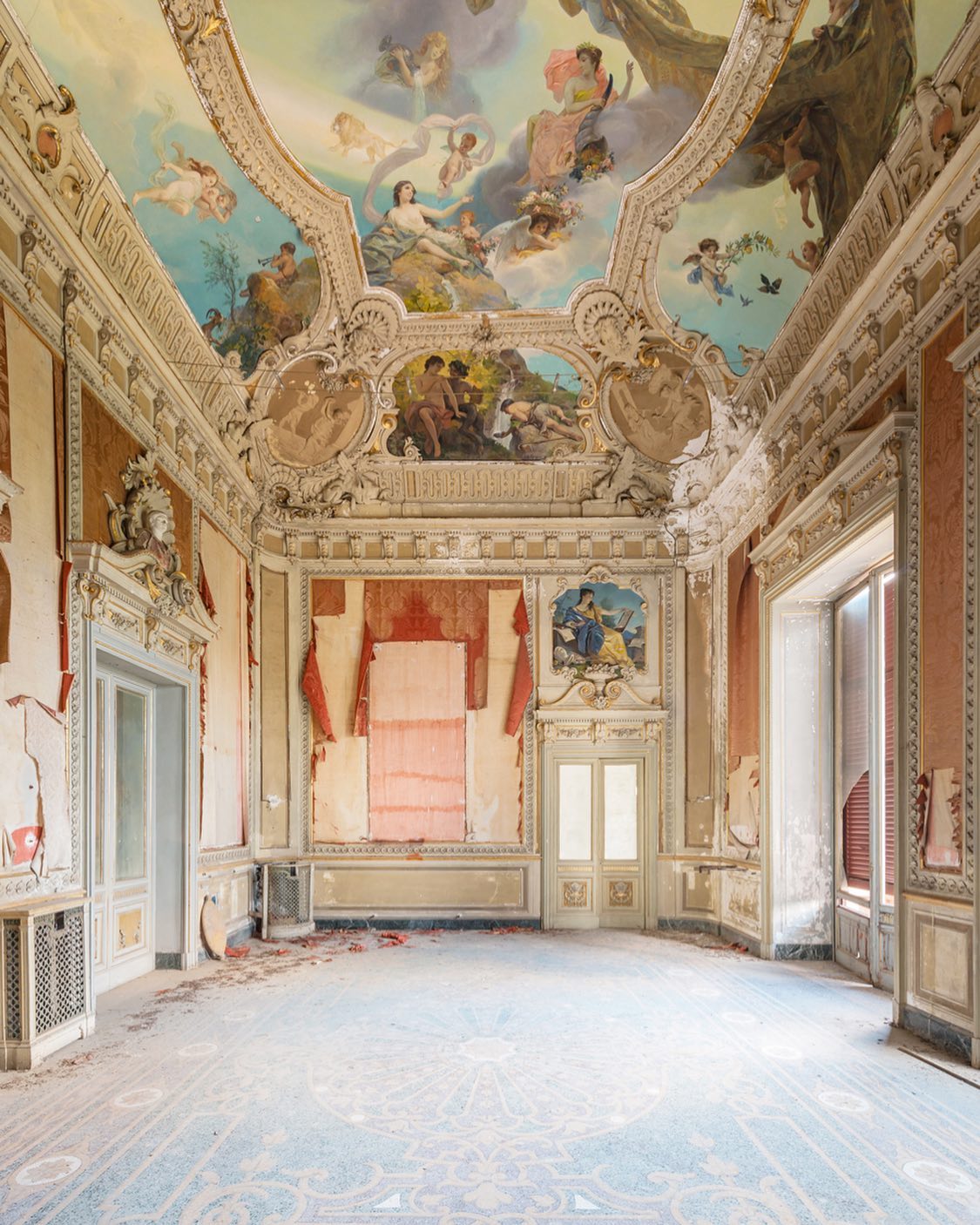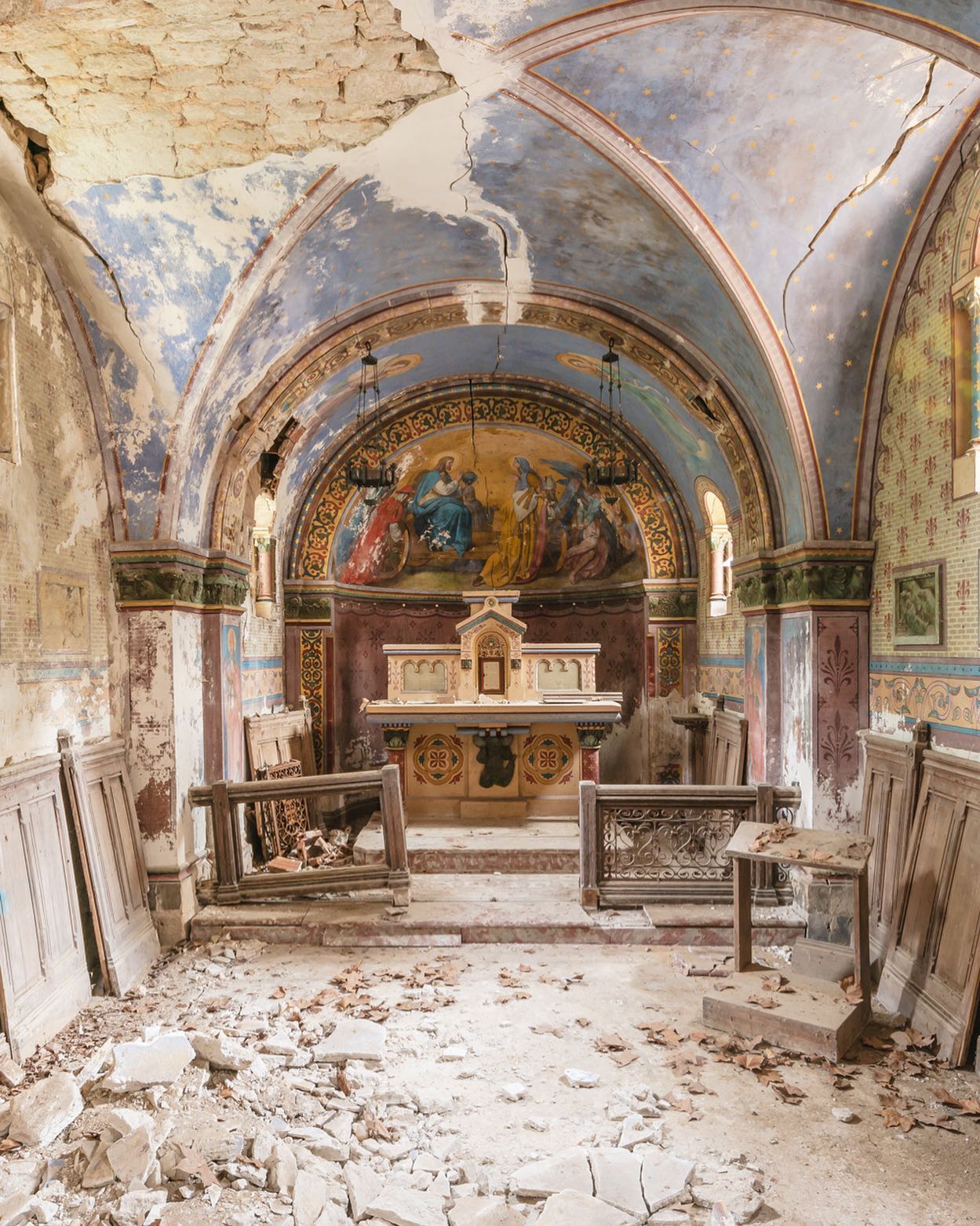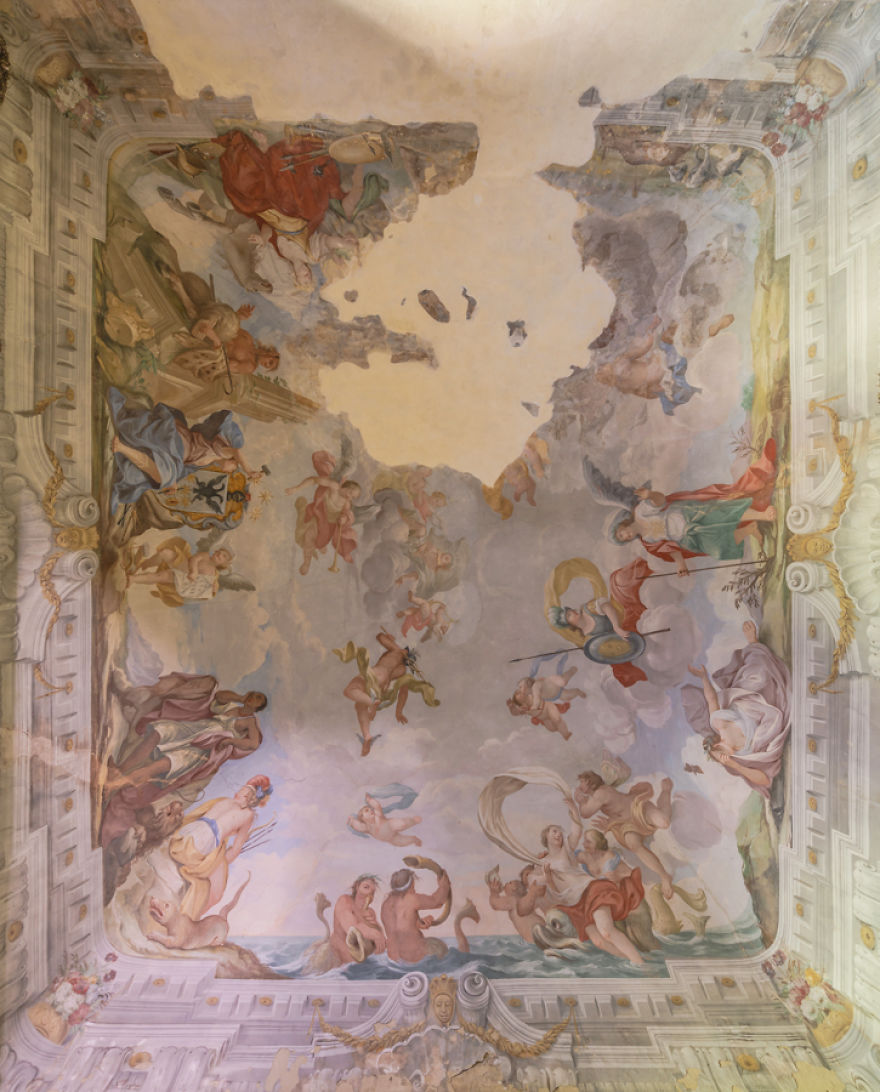 However, he reveals that his pictures are from all over Europe; mostly Italy, birthplace of Renaissance art, where "even little countryside farms have their dining room painted entirely."
Other photographs were taken in France, Portugal, Croatia, and Spain. Veillon has even located frescos within abandoned buildings in Chernobyl.
Veillon's drive comes from childhood when the Parisian—who now splits his time between Paris and Dublin—became fascinated by old, abandoned spaces.
Pondering why a place was left, what happened to its owners, or what used to take place in those rooms led to an imaginary world in which Veillon became a detective and the hero of his own adventure. Each story would have been different and that's what he loved—and still loves.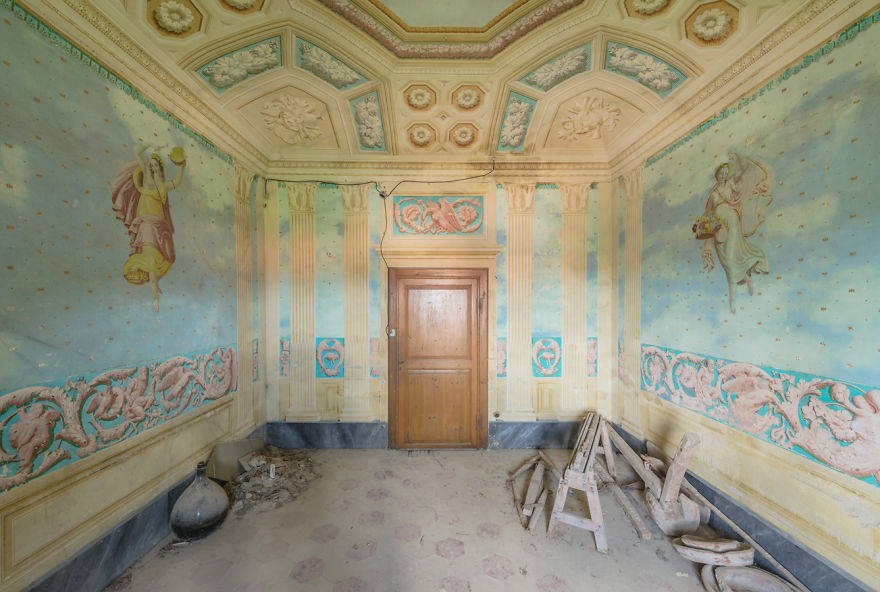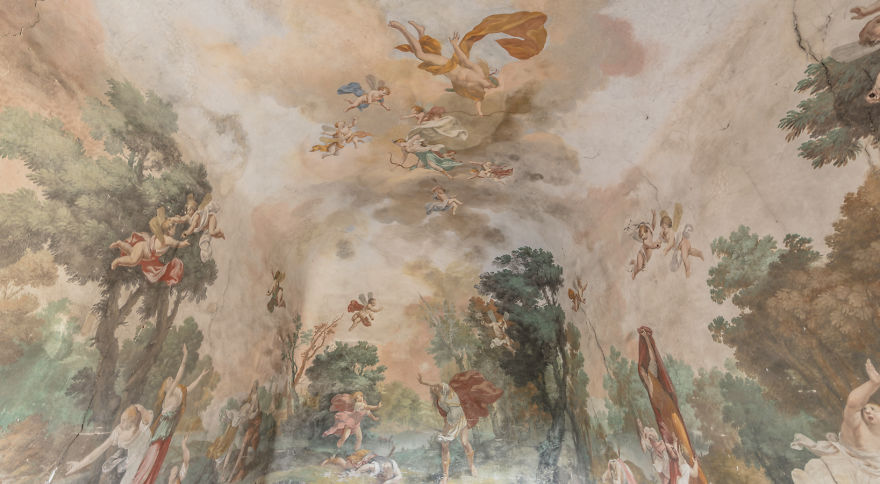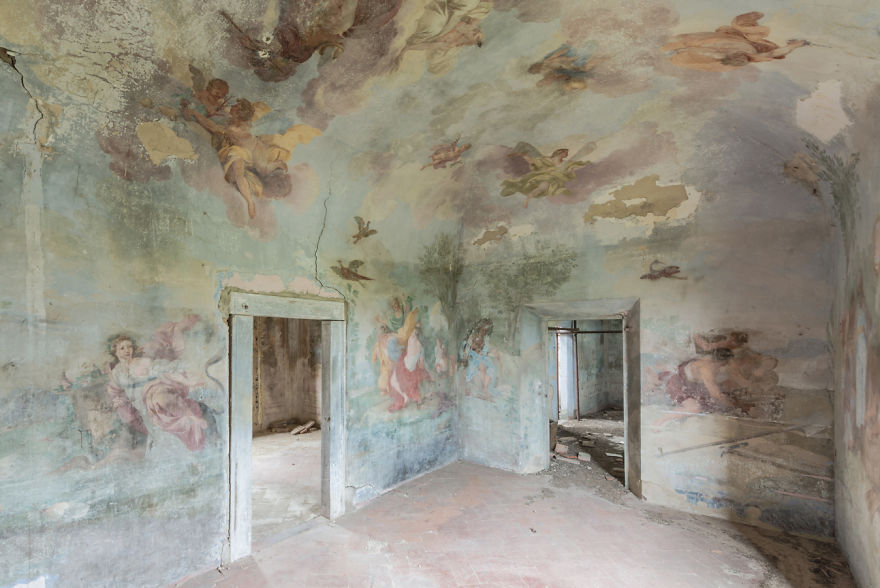 "It's a memory a lot of us have in common," he said, "discovering the ancient abandoned manor or hospital at the end of the street. For me, it was the abandoned truck factory belonging to my grandmother that I used to explore every summer."
It takes time and resilience to find and enter lost, overgrown farms and villas. Guard dogs, rotten floors, high walls: Veillon has seen it all during his many photography trips spanning years.
Recalling one old villa whose entry point was a very narrow window, he says it took 30 minutes to struggle through—only to later realize that downstairs there was an open door.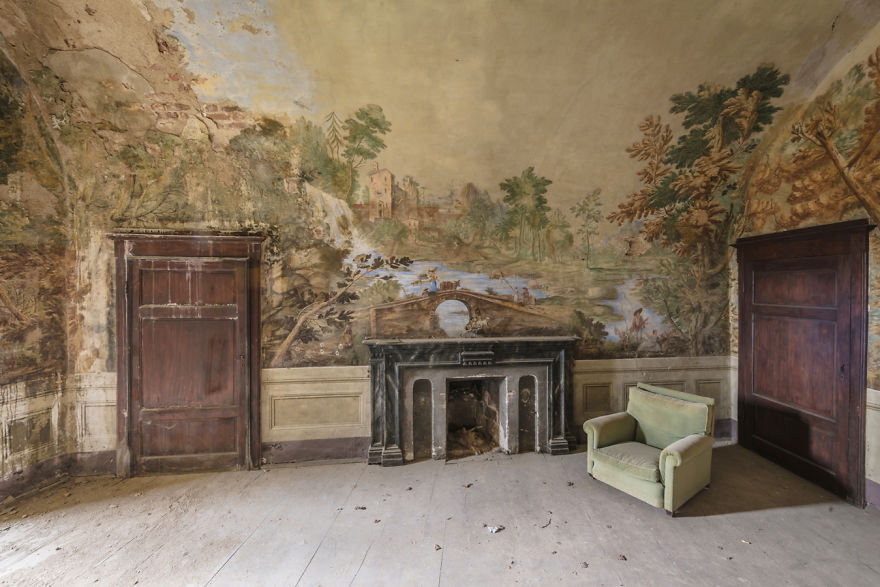 Once inside a dilapidated Italian villa, Portuguese manor, or French castle, the thrill of finding treasure never fades. Viewing from the outside you'd never have thought, Veillon says, that such vibrant artwork lay within. In many cases, the family in possession of the home would have had a degree of wealth and artistic taste.
Some murals are basic and don't require a lot of skill, while there are several others that Veillon considers masterpieces. A close friend, who is an artist, told him that some of the paintings, like the red fresco with the woman, are so impressively done that they deserve to be in a museum.
If Veillon had to choose the room painting that most impressed him, it would be the pastel blue "parrot cage," a trick-of-the-eye piece designed to create an illusion for the viewer.
"You don't see it immediately when you enter the room, but after a few moments you realize you are in a trompe l'oeil [trick-of-the-eye painting]; you are supposed to be on the top of a hill in a cage surrounded by vegetation where parrots fly and live," he said.
"You have a panoramic view on the landscapes surrounding. You can see the buildings next to it, and the sea far away. I love this painting because it makes us believe we are in a completely different place and makes our imagination work."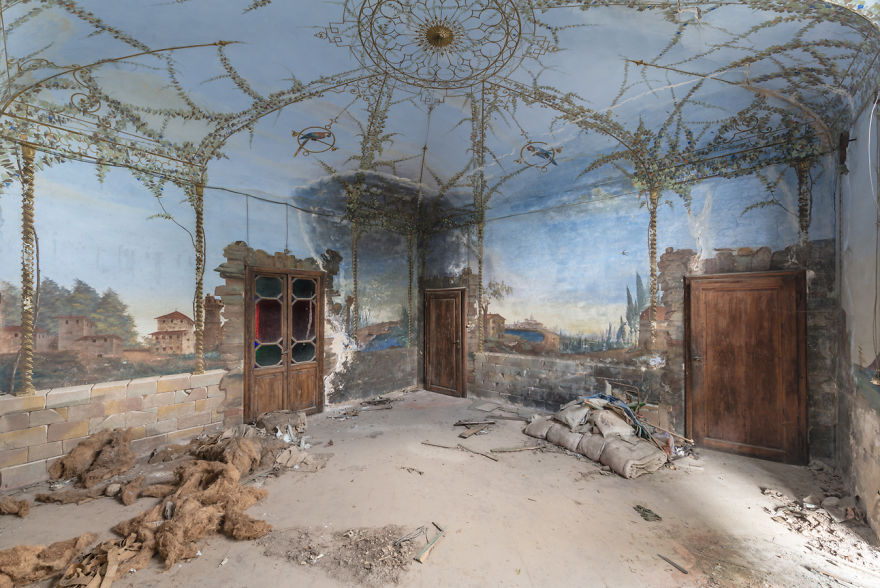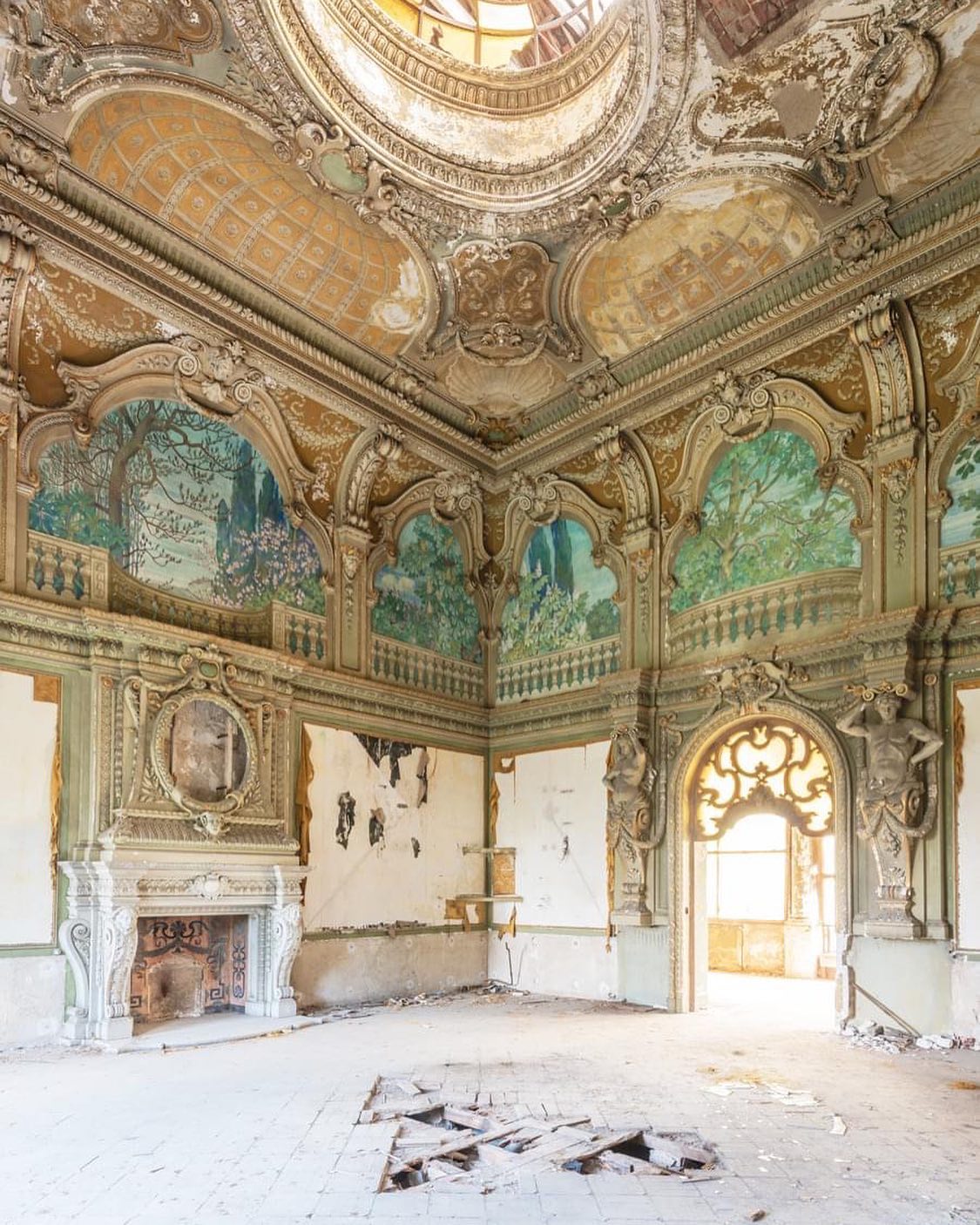 Witnessing the murals, Veillon is flooded with mixed emotions. Besides feeling amazed, joyful, and privileged to see them, he also experiences sadness at their fading beauty, knowing they are disappearing little by little.
The causes behind their dereliction can be multiple. Perhaps the area has lost its appeal and its facilities, as in the case of declining industrial centers. Hotels can close if they fail to stay occupied year-round. Theaters lose moviegoers, and churches lack attendees, and so on.
"Time changes everything," he said.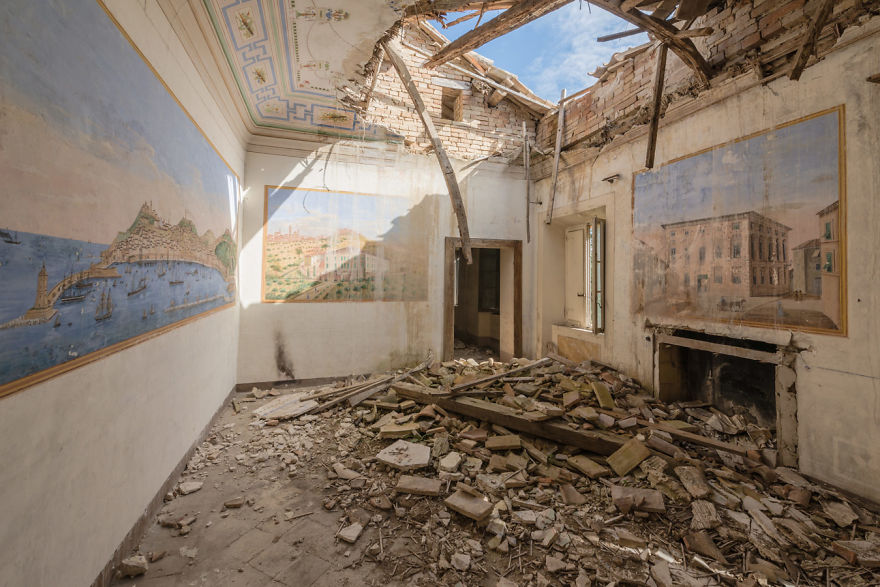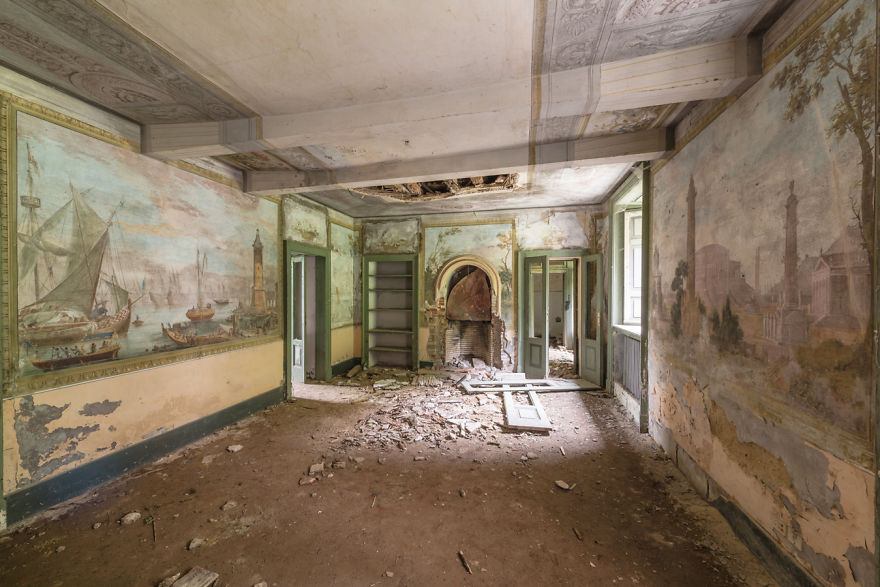 The mood in these forgotten places is strange, nostalgic, and rather eerie.
"To me, my pictures act as a new kind of Memento Mori; they are here to remind us that everything has an end, and that we should enjoy it while it lasts," he said.
"I was incredibly lucky to find those abandoned palaces and those masterpieces, because only a few people were able to see those paintings and I wanted to share their beauty. That is why I really wanted to photograph them and create this imaginary museum."
Check out more of his photography below: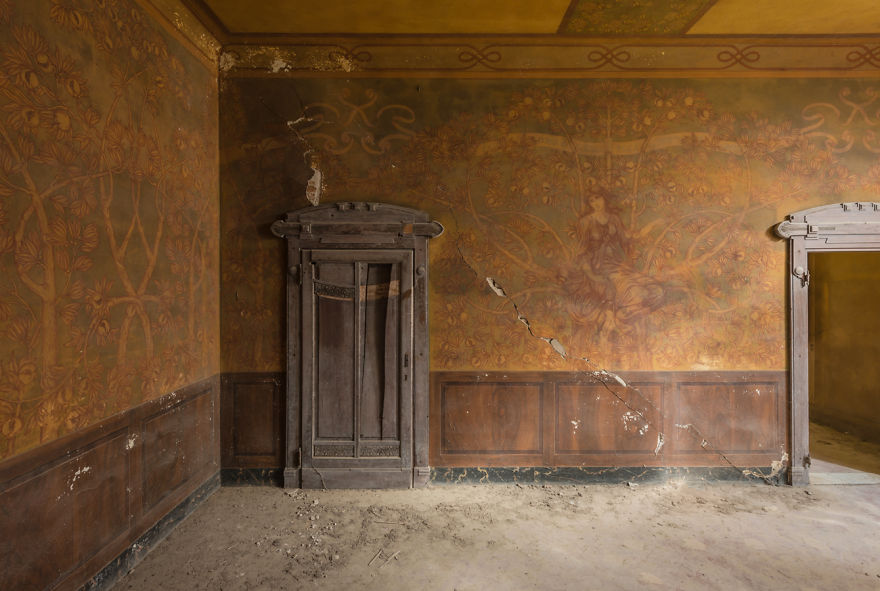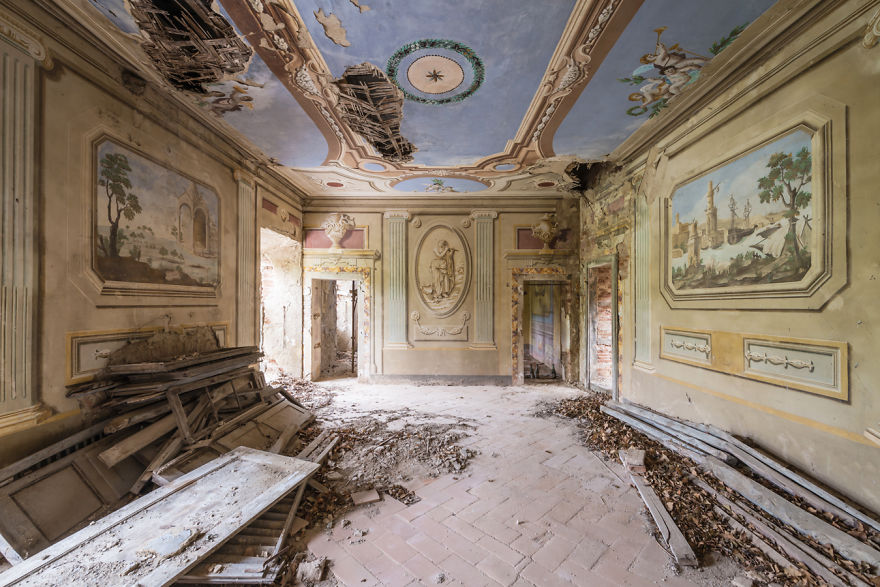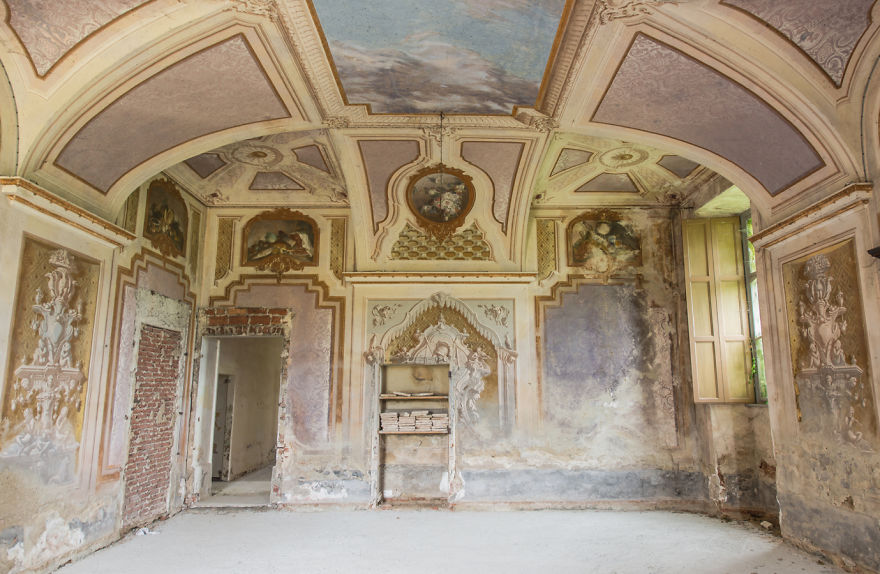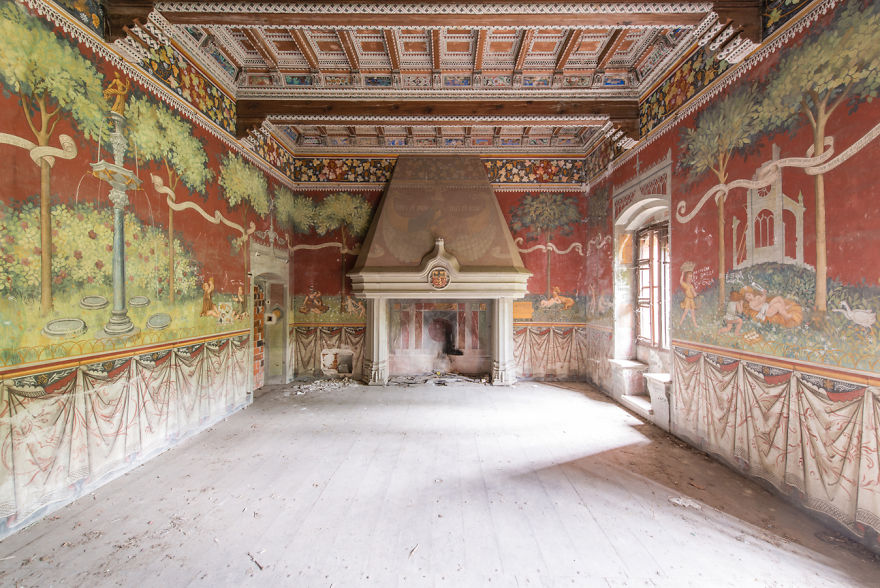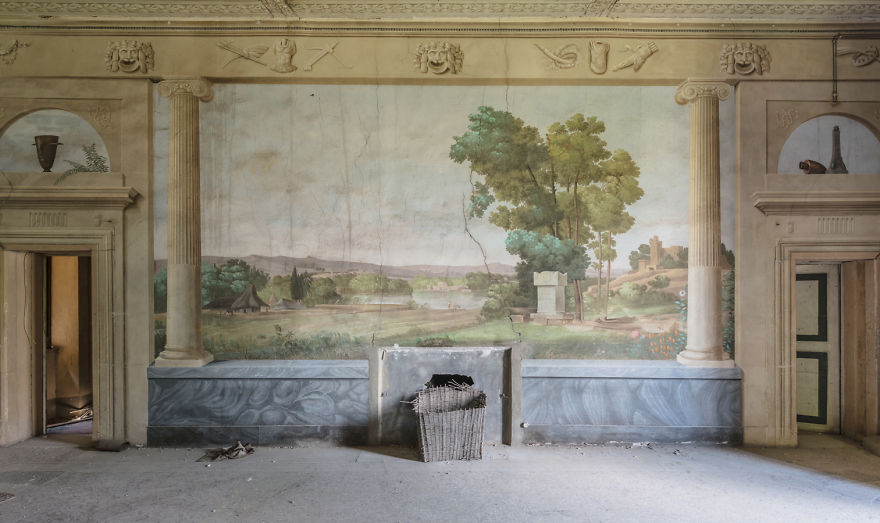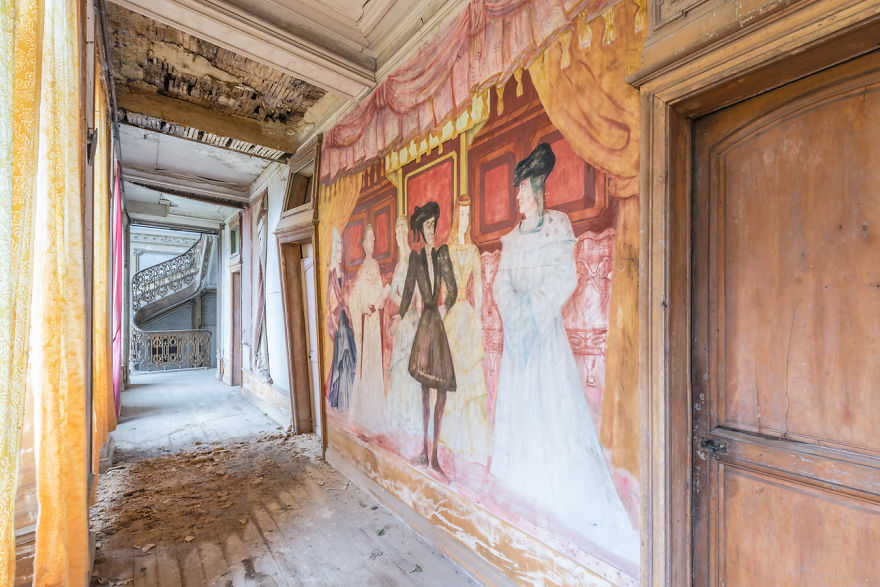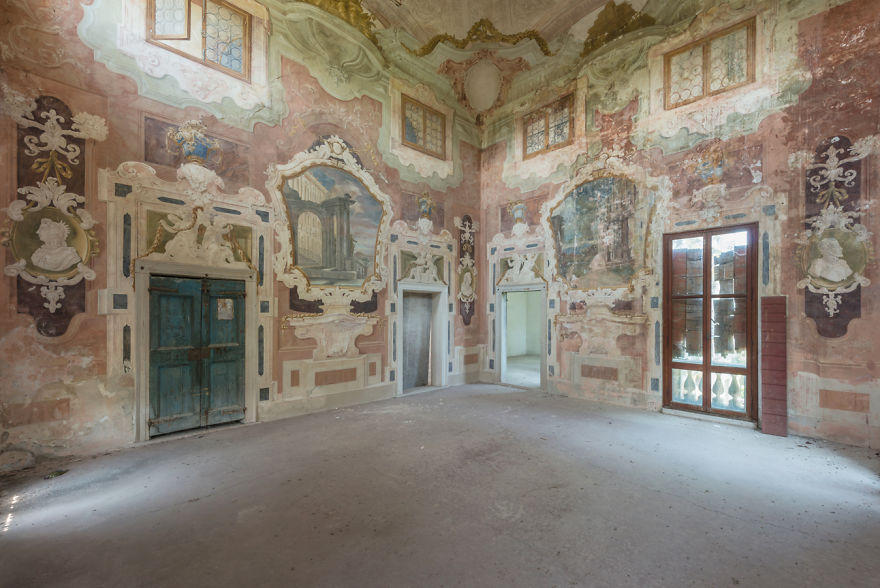 Share your stories with us at emg.inspired@epochtimes.com, and continue to get your daily dose of inspiration by signing up for the Inspired newsletter at: https://www.theepochtimes.com/newsletter