Submitted by Valerie A. Winters, Brackney, Pennsylvania
I grew up in a home with Lebanese parents. My father immigrated to America in the 1920s; my mom grew up in the same home I grew up in, in Binghamton, New York.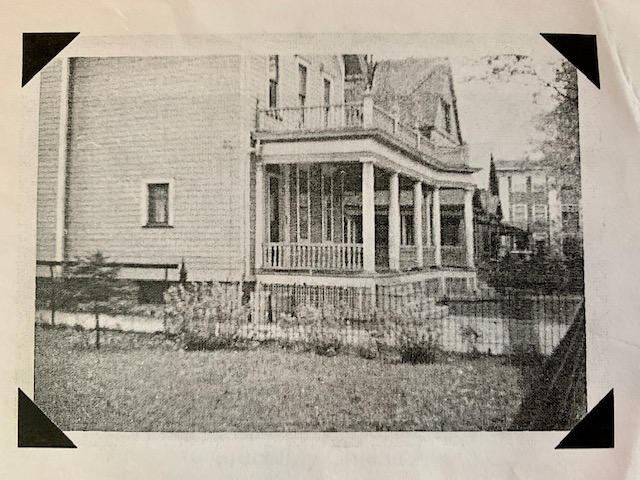 We ate mostly ethnic food, but the simplest and most delicious recipe was our salad dressing. My mom or dad would pound a clove of garlic with a wooden pestle in a mortar or the bottom of a large wooden bowl, add kosher salt, and pulverize it until the garlic was soft, juicy, and aromatic. To that they would add olive oil, and then squeeze in a fresh lemon. (Often when we ran out of lemons, Mom and I would walk to the local grocery store on Main Street to bring them home, and when they got too expensive, we would use bottled lemon juice, although I don't recommend it.) Voila!
On top went the lettuce and whatever other ingredients we had on hand. We also used this versatile dressing to baste our chickens, or to make a potato salad or kidney bean salad, dressed with the same simple four ingredients.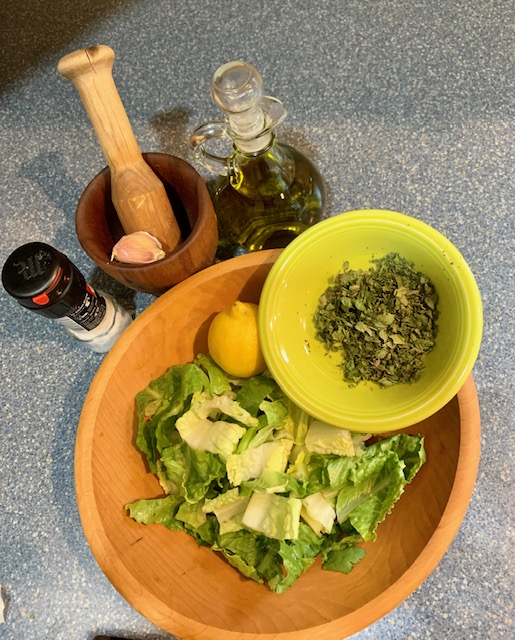 The smell of that dressing permeated our kitchen. All of us would be in that kitchen—my two sisters and me, many times my aunts, or my grandmother from Syracuse—all talking over each other, cigarette smoke swirling around my parents' heads, my mom always in her apron, supervising.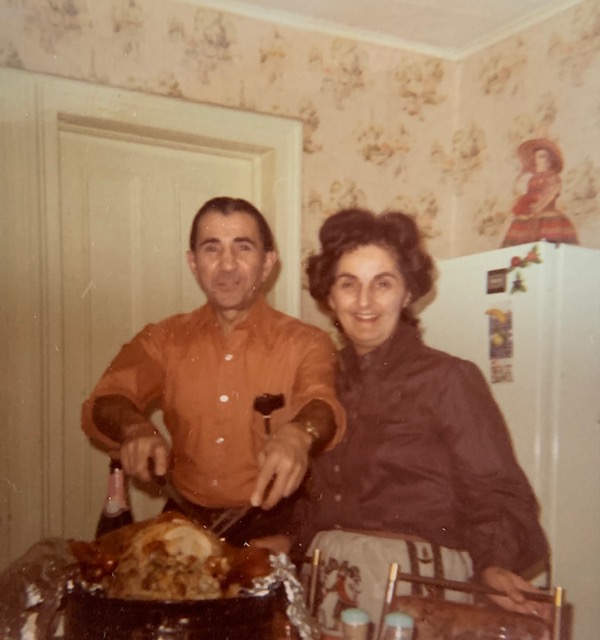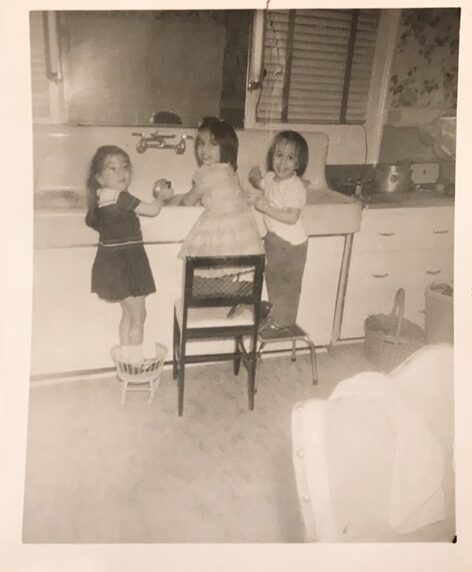 Our job would be to set the table, for you never really knew how many. Sometimes the doorbell would ring and the doctor, whom my mom had seen that day and invited to dinner, would be at our door. It always surprised me, as we lived in a relatively poor neighborhood, to see him with his suit and shiny shoes, walking down the hallway to our kitchen.
After dinner, when the salad bowl was empty, we would dip our Syrian bread in the bottom of the bowl to mop up what was left of that delicious dressing!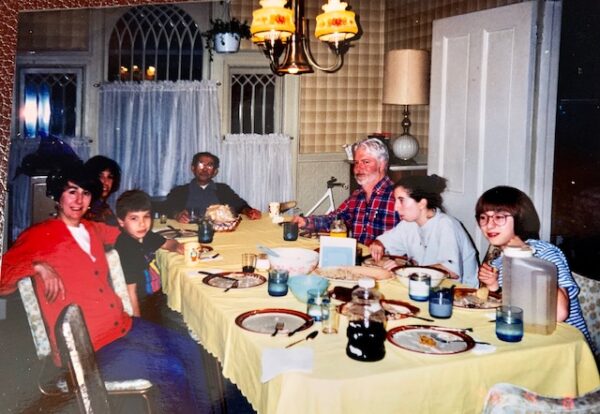 When I went to college and encountered the salad bar, I was amazed to find salad dressing in a plastic bottle. It was a novelty to me.
Now a retired teacher, I taught this same salad dressing to many people in my new neighborhood, by way of the Montrose Area Adult School. I was even featured in a local magazine. I also created a meal to be served in our local cafe, where we sold tickets to benefit our local food pantry. It was a sold-out event.
When I was young, growing up in that home, I never really valued what we ate, or how we made our food all from scratch—pure, simple ingredients. My mom said to me on so many occasions, "Valerie, come look and learn, don't you want to know so you can do this someday?" "No" was my usual answer.
Now, my memories and recipes will be available to millions. Needless to say, I am honored to think my mom and dad's hospitality may be written up for all to see and cherish, in The Epoch Times! This is the most beautiful way I can honor them and our rich heritage.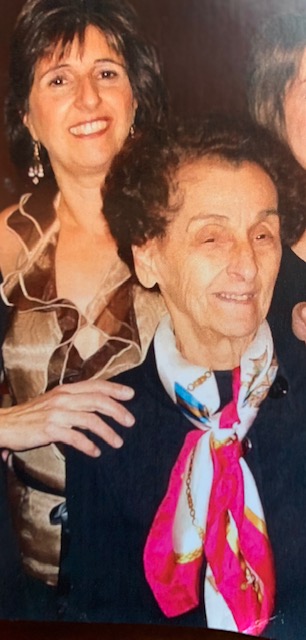 Lebanese Salad Dressing
Makes 1/2 cup
1 small clove garlic
1/2 to 1 teaspoon (sea or kosher) salt
4 tablespoons olive oil
4 tablespoons freshly squeezed lemon juice
Optional: garnish with 1/4 teaspoon dried mint
With a mortar and pestle, crush garlic and salt until well mashed. Mix or whisk in olive oil and freshly squeezed lemon juice.
Taste to adjust seasonings. I often dip my pita bread or a slice of cucumber in the dressing to taste for any adjustments. Optional: Add dried mint as a garnish.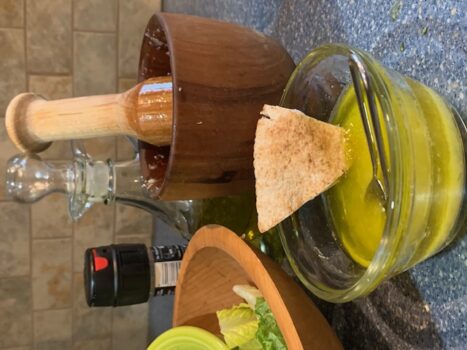 Note: I mix the salad dressing in the bottom of my bowl, then pile on the lettuce, tomatoes, cucumber, olives, etc. When I am ready to serve or take to a dinner party, everything will be in that single bowl, ready for me to mix and serve.
Other ideas: Add to cooled cubed potatoes with fresh parsley to make a potato salad that everyone will love. Make a side dish of kidney beans, chopped red onion, and chopped fresh parsley and dress with the same simple salad dressing. It is a wonderful marinade for chicken as well.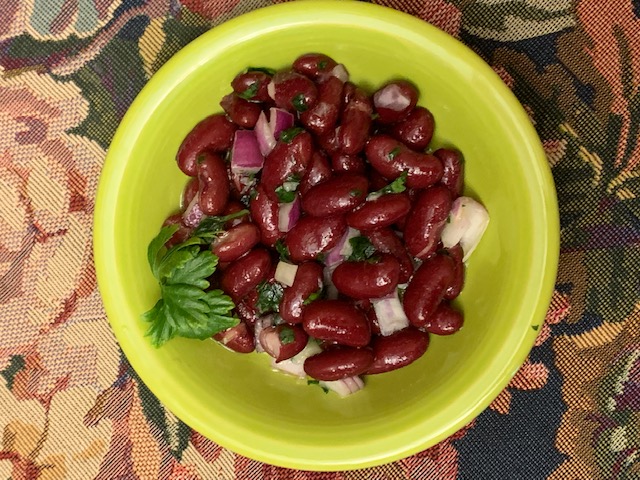 ___________________________
Do you have a treasured family recipe that holds a special place in your family history, heritage, or traditions? We would be honored if you would share it with us.
Along with the recipe, tell us its story—who gave it to you, its journey through the generations, and the personal meanings and memories it carries. Is it a special-occasion dish, or an everyday family favorite? Does it connect you to your cultural heritage, or to a certain loved one?
How have you kept the recipe alive, and why is it important to you to do so?
Send your recipe and comments, along with your full name, state, and contact information, to home@epochtimes.com, or mail it to: Home, The Epoch Times, 229 W. 28th St., Floor 7, New York, NY 10001.