We asked readers to share their best holiday cookie recipes and the stories behind them. After sifting through dozens of sweet (and buttery) submissions, here are a few that touched us most.
A Spoonful of Love From Grandma's Kitchen
Submitted by Kim Sutter, Owasso, Oklahoma
I have lovely memories of my grandmother Helen. She was the storybook picture of what a grandma should be: rosy-cheeked, slightly plump, apron-wearing, spoon in hand, full of lilting laughter, singing songs I'd never heard, and she always smelled like flowers.
I was only 12 when she passed away, far too young to lose someone I adored. It wasn't a surprise that we found gifts tucked away in her dresser drawer and homemade blackberry pies in the freezer. They were served to friends and family after her funeral. It was almost like she knew.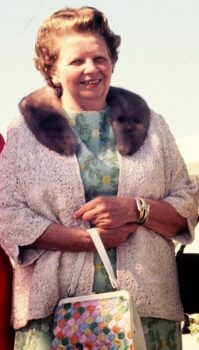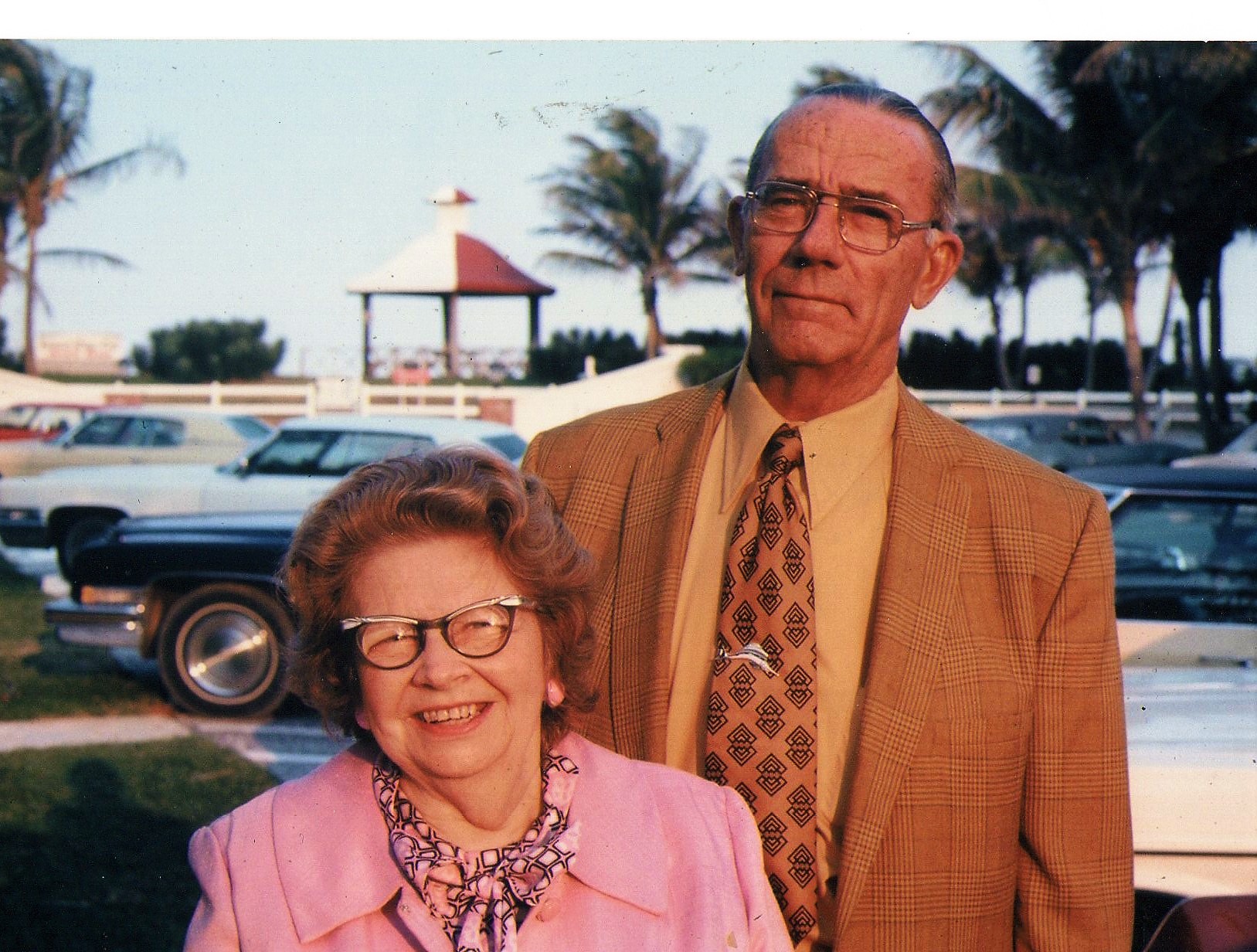 Grandma was always in the kitchen doing something. She actually had two kitchens, one in her Oxford, Michigan, home and one in her condo in Delray Beach, Florida. What I remember most were the huge meals she cooked for Thanksgiving and Christmas in the condo's tiny galley kitchen. I remember her being cross when she chased us out, the cousins and me, red-faced, wearing her apron, waving the spoon in her hand, the white swinging saloon doors blocking the entrance to the mouthwatering aromas and the chance to sneak a taste or lick that spoon.
She was famous for her bridge parties. She served tea in delicate porcelain cups, made fancy sandwiches piled high on serving platters, and baked elaborate cookies for the ladies who came for the game and the gossip. One cookie in particular made its way out of the pages of her 1950s Betty Crocker Cookbook to become a cherished family tradition. It's been passed down to four generations and shared with countless friends and neighbors. Simply put, it's not Christmas at our house without them.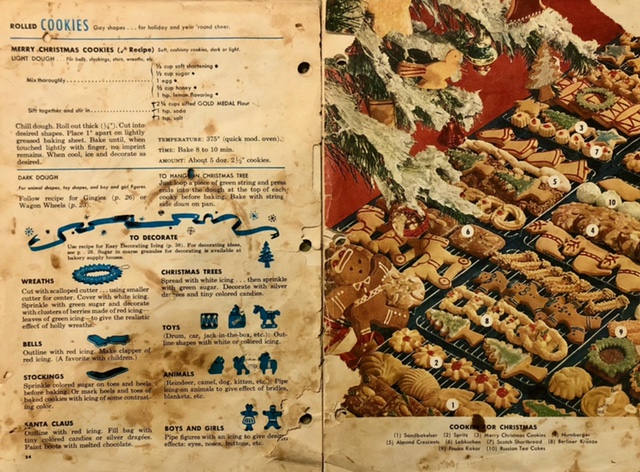 There is something magical about baking cookies with the people you love, but it isn't in the ingredients or the yummy smell that makes your heart happy and your mouth water. The magic is in the way time slows down while you're baking, the rhythm of rolling out the dough to cut shapes and scooping them off the cookie sheets to cool. It's the sweet memories you make, like the ridiculous decorating contests for the ugliest cookie, the laughter and conversation, the fingers full of colored buttercream frosting, the sheer joy of creating a tiny masterpiece you can eat, and the floor covered with sprinkles afterward that reminds you it was worth all the mess.
I don't actually remember the first time we baked them when my brother and I were young, but I do remember every Christmas, Daddy challenging us to see who could decorate the most awful ugly cookie. There was always one poor Christmas tree or Santa Claus with brown, muddy-looking frosting and an enormous amount of every kind of sprinkle, plus a few Red Hot candies thrown in for good measure. We usually took pity on those and ate them first, just to put them out of their misery, poor things.
When I got married, I took a copy of the recipe with me. When our two girls came along, that's when the tradition became even sweeter. We always made enough for our family to enjoy, but somewhere along the way, we started taking them to the church office, to our next-door neighbors and friends. As the girls got older, the ugly cookie contests gave way to mass production, sometimes up to 100 cookies at a time. We often included the recipe so we could pass on the cookie love to other families.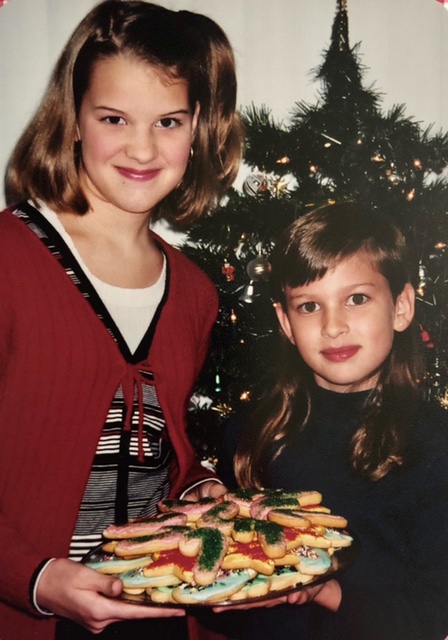 When our girls got married, they carried the tradition with them. Now, we have five grandchildren and another on the way. Amber and Heather love baking the cookies with all our littles, frosting and decorating them, eating a few in the process, and then sharing them with the people they love. It's the gift that keeps on giving! I hope someday our great-grandchildren will continue the tradition, taking time to slow down, to savor the process and rhythm of baking and passing on the love in the shape of a star or a gingerbread man.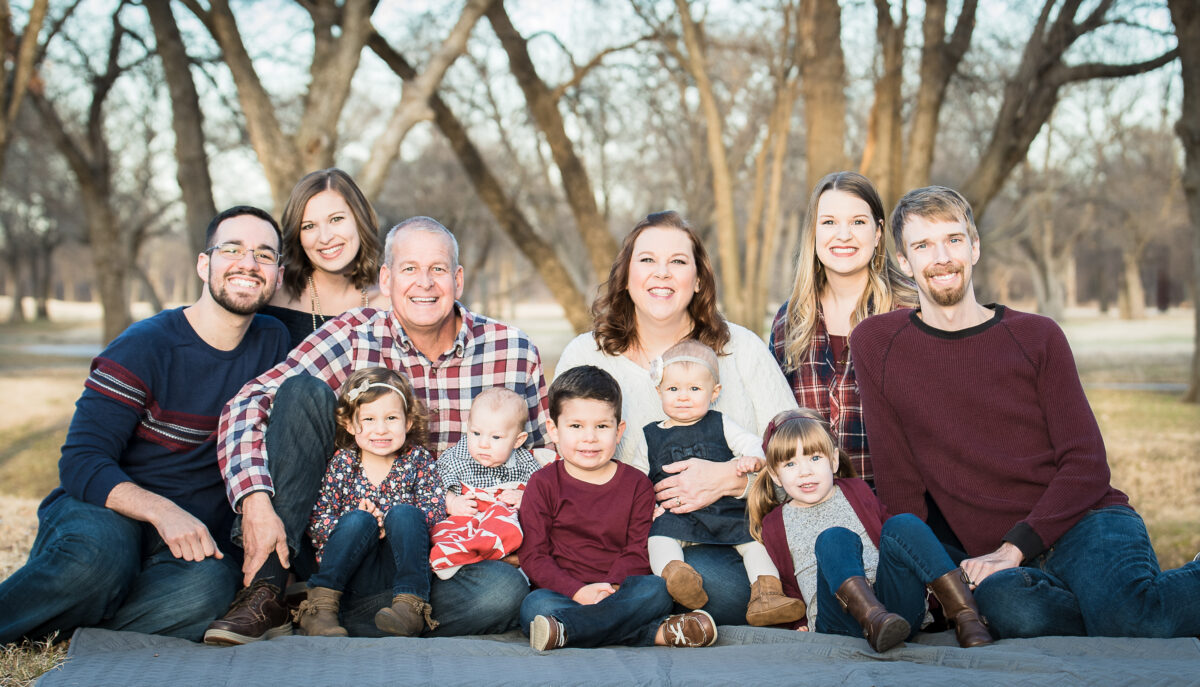 I never had the privilege of baking these cookies with my grandmother, but when I look at the tattered, worn-out, stained pages of her cookbook, I can feel the love she put into every cookie, and I remember how much she loved us. I can still see her waving that spoon.
Traditional Christmas Cookies
Makes about 5 dozen cookies
1/3​ cup shortening
1/3​ cup sugar
1​ egg, beaten
2/3 ​cup honey
1​ teaspoon lemon extract
2 2/3​ cups all-purpose flour
1​ teaspoon baking soda
1​ teaspoon salt
For the Buttercream Frosting
1/3 cup butter, softened
3​ cups confectioner's sugar
3​ tablespoons milk
1 1/2 teaspoon vanilla
Food coloring and sprinkles
Cream together the shortening, sugar, egg, honey, and lemon extract. Mix in the flour, soda, and salt. Cover and chill overnight.
Roll out on a floured surface and cut into holiday shapes with floured cookie cutters.
Bake at 350 degrees F for 8 to 10 minutes. (Don't overbake, to keep them soft.) Cookies may be baked and frozen until you're ready to decorate them.
To make the frosting, mix together the butter, sugar, milk, and vanilla. Divide equally into four bowls and mix with food coloring as desired. Frosting may be refrigerated for up to a week.
Frost the cookies with the buttercream mixed with food coloring, then decorate with a variety of holiday sprinkles. Dry on sheets of wax paper and store in an airtight container.
=====
Italian Fig Bars, Lost and Found
Submitted by Cindy Alfieri, California
This recipe isn't for the faint of heart. It will take you a while, and the process is similar to making ravioli. But some things in life just take time. Your reward will be a feeling of comfort in your soul that can last a lifetime. Such is the case with my mother's fig bars.
My nonno emigrated from Sicily through Ellis Island in the 1920s. He brought the shirt on his back, his skills as an almond farmer, and a recipe for fig bars. He endured several early traumas in New York, including the death of his wife in childbirth. So he gathered up his seven little children and moved across the country as a single dad and landed in California, where he had a cousin. He also brought that fig bar recipe.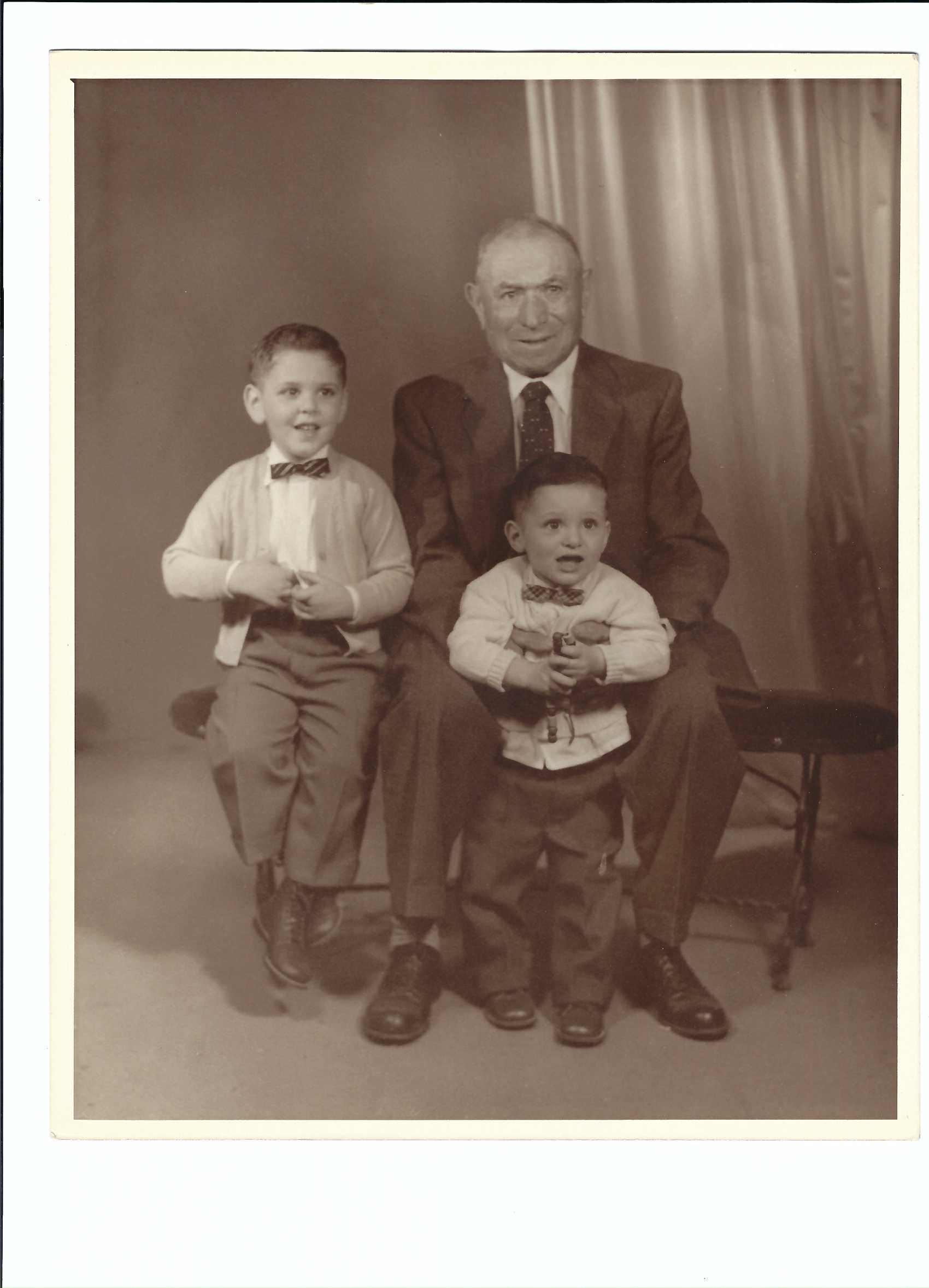 For all my growing-up years, my Aunt Frances—married to the oldest brother who got the coveted recipe—made those bars at Christmas time. Then life got busy, we all grew up and moved away, and my aunt and uncle died.
A few years later, one weekend early in December, I asked my mother what had become of that recipe. She thought it was simply tossed out when the house was sold. We both looked at each other and knew we needed to recreate it.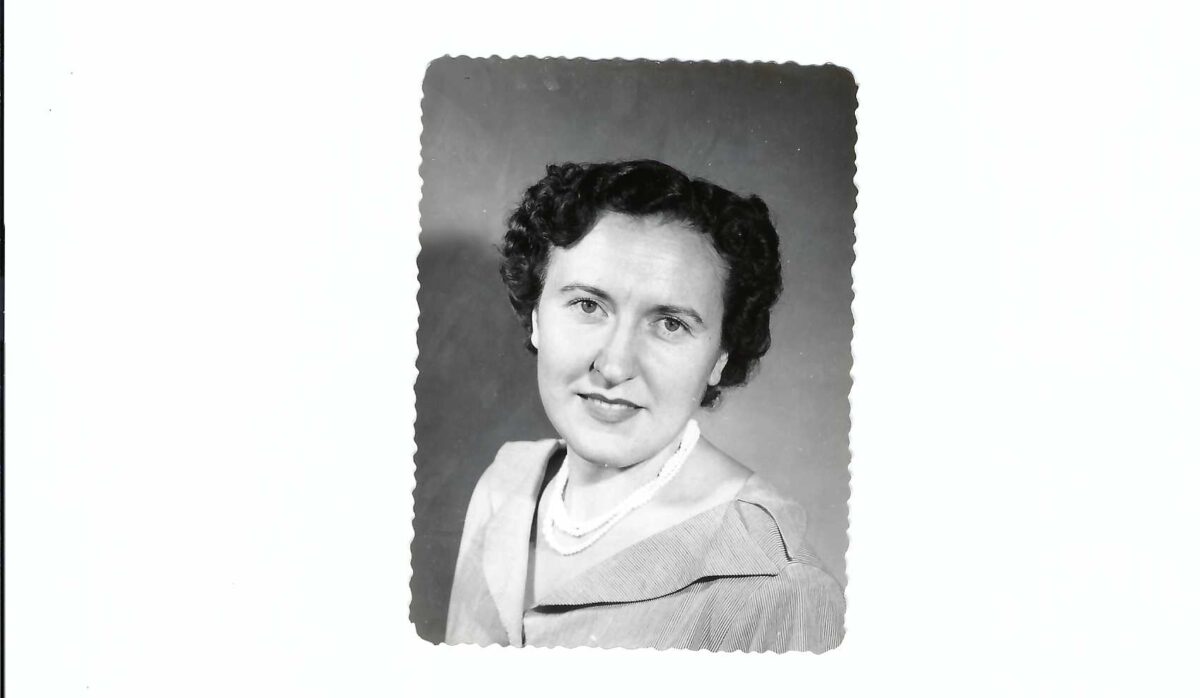 We still had the family farm where we grew nuts and fruits, and every year at harvest, Mother would dry fruit. So we pulled out the bowls, the flour, the nuts, and the dried fruit, rolled up our sleeves, and went to work.
We took out the meat grinder that we used for making ravioli filling and started grinding up the fruit. We added a cup of toasted walnuts, 1/4 cup at a time, to clean the grinder every so often before we added more fruit. We added a bit of brandy and tasted the mixture. Something was just not right. What was missing? We added a bit of sugar and a bit of honey and tasted again. Nope. We added some spices and tasted. No. We added water and a drop more brandy and tasted. Nope. We added some instant coffee. Almost, but not quite right.
Then my mother looked at me and grinned. She really should have been a chemist. She ran to the cupboard and pulled out the black pepper, and into the mix it went.
"Perfect!" she cried. And so it was.
For every year thereafter until Mother died, we made these fig bars the first weekend in December. We'd already had made other cookies and would wrap those and give them away, but we never gave away the fig bars. Instead, Mother would wrap them up and freeze them. Then, every month of the year when I would come home to visit, she would parcel out just enough bars for each of us to have with our tea and a nice long chat. In this way, a batch of bars would last all year, until we made the next batch again on the first weekend in December.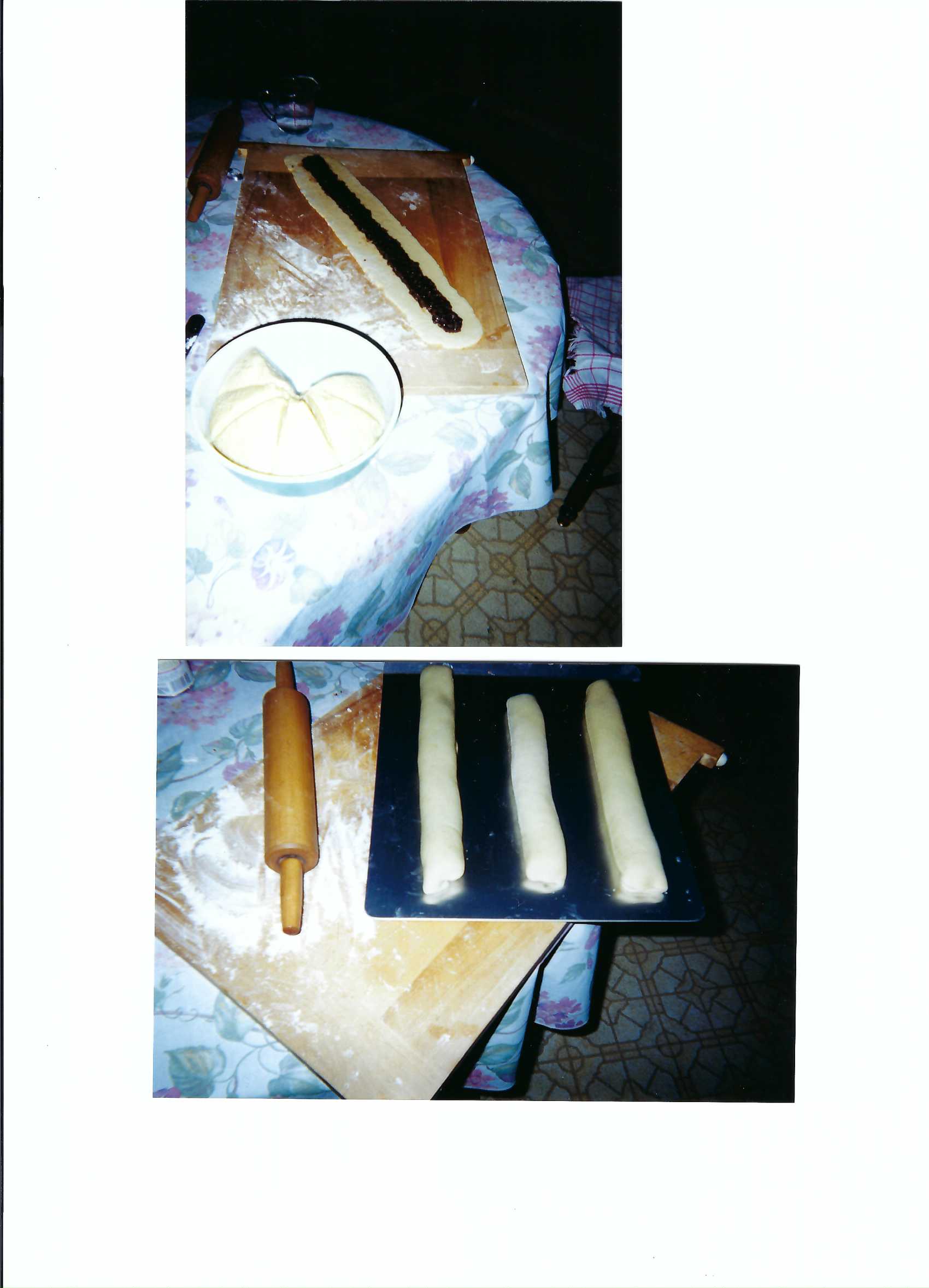 Mother's Fig Bars
Makes about 64 bars
For the Filling
4 cups ground dried figs
1 cup ground raisins
1 cup ground toasted walnuts
3 tablespoons honey
1/2 cup sugar
1/2 teaspoon cinnamon
1/2 teaspoon cloves
1 tablespoon brandy
2 teaspoons instant coffee
1 cup water
1 tablespoon black pepper
For the Dough
6 eggs, plus 1 egg yolk, divided
1 cup milk
1 tablespoon vanilla extract
1 3/4 cup sugar
1 cup shortening, melted and cooled
7 teaspoons baking powder
12 cups all-purpose flour
For the filling: Grind the figs, raisins, and nuts to about the consistency of mincemeat. The exact coarseness is up to the baker; you want to chop them enough that they don't stick through the dough, but not so much that they're mush. My nonno undoubtedly chopped them by hand, but a food processor would also work.
Combine with the remaining filling ingredients in a pot on the stovetop and cook at a simmer until thickened. Remove from heat to cool.
For the dough: Lightly beat the 6 eggs. Mix in the milk, vanilla, and sugar. Mix in the shortening, then the baking powder and flour. The dough should be like a soft pie crust dough, something you can roll out easily.
Make the fig bars: Heat the oven to 350 degrees F. Grease 2 cookie sheets.
Divide the dough into 8 parts. Roll out each part into a long piece, a few inches wide and just long enough to fit on the cookie sheet. Spread the filling in a line down the middle of the dough, enough to suit how thick you want the bars to be. Wet the edges of the dough and fold over the filling, forming a roll, seam side down. Carefully move the rolls to the cookie sheets and brush with the beaten egg yolk.
Bake for 15 to 20 minutes. Then ice with a mixture of confectioner's sugar, milk, and a few red sugar sprinkles. When cool, cut each roll into 8 bars, or according to your desired sizes. These freeze exceptionally well.
=====
Cookie Cakes Meant to Be Shared
Submitted by Maria C. Garriga, Covington, Kentucky
When my husband Todd and I first got married, we moved to Washington, D.C. He looked for jobs on Capitol Hill, eventually working at the Republican National Committee, and I taught high school in Bethesda. It was at Christmastime when I received a cookie cake from a student, Devon Goozh. The cookie cake was delicious, so I asked her for the recipe—see the card that she gave me at the time. Note how the card has been loved, handled, and put to good use.
In the 34 years since, I have baked these cookies countless times. The recipe is forgiving, bountiful, and consistent.
It is forgiving because it accepts shortcuts. You can melt all the butter until it is liquid, and you can leave the batter as a ball, without the need to spread it.
It is bountiful because each recipe makes two cookie cakes. You can always keep one and give one away, or double the recipe and advance four at the same time. You can also eat a tablespoon (or two) of dough and not affect the outcome.
It is consistent because it is always delicious, and there is no need to worry about the time: 375 degrees F for 20 minutes, regardless of the type of oven or size of baking pan. My family prefers them slightly undercooked.
Throughout the years, I have incorporated whole wheat flour and lowered the sugar content. They still taste amazing.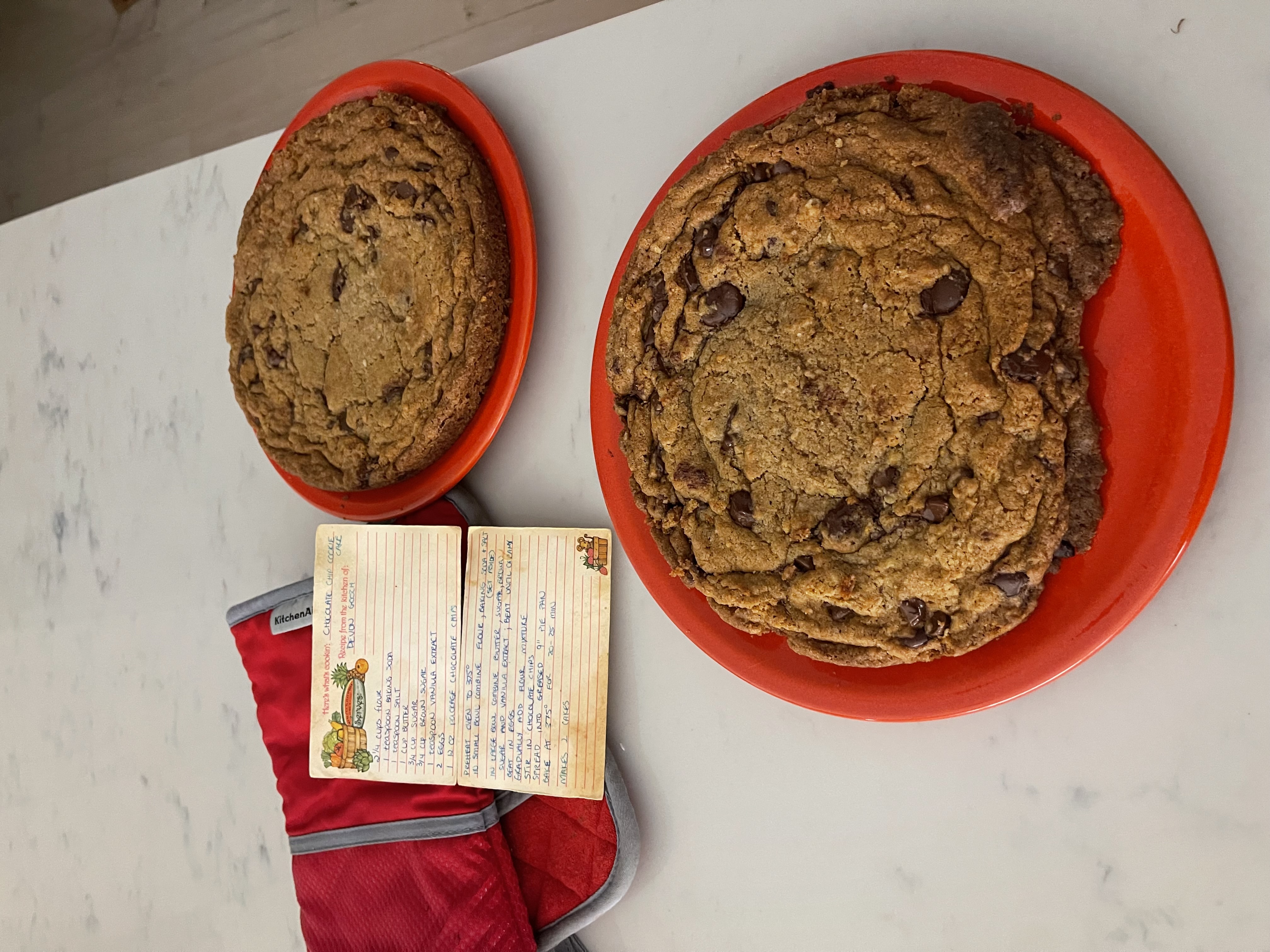 When our three children started preschool, I would bake these cookies for their teachers at Christmastime, much like it was baked for me. As the children grew, they contributed more to the baking—from holding the measuring cups to coating the mold, to baking independently. They each delivered one of these cookie cakes to each of their professors throughout their academic careers! In this sense, baking the cookie cakes today brings back images of the three kids, now grown, at different stages in their lives.
I have also baked these as the dessert component of any meal taken to sick friends, new neighbors, expectant mothers, and promoted colleagues, and as contributions to bake sales for fundraisers. For us, the cookie cakes represent respect for learning, gratitude to educators, and generosity to all.
We now have twin grandchildren who started a Mothers-Day-Out program in the fall. My daughter has said that Christmas 2021 will see their teachers receive cookie cakes.
But the baking prowess is not limited to the children. I recently baked two cookie cakes, one as part of a meal for a friend recovering from COVID, and one to take to work. I surprised myself by, much like in old times, being able to assemble the cookie cake in the time it took for the oven to preheat. I am glad to maintain this particular skill as I get older. I still have what it takes, world!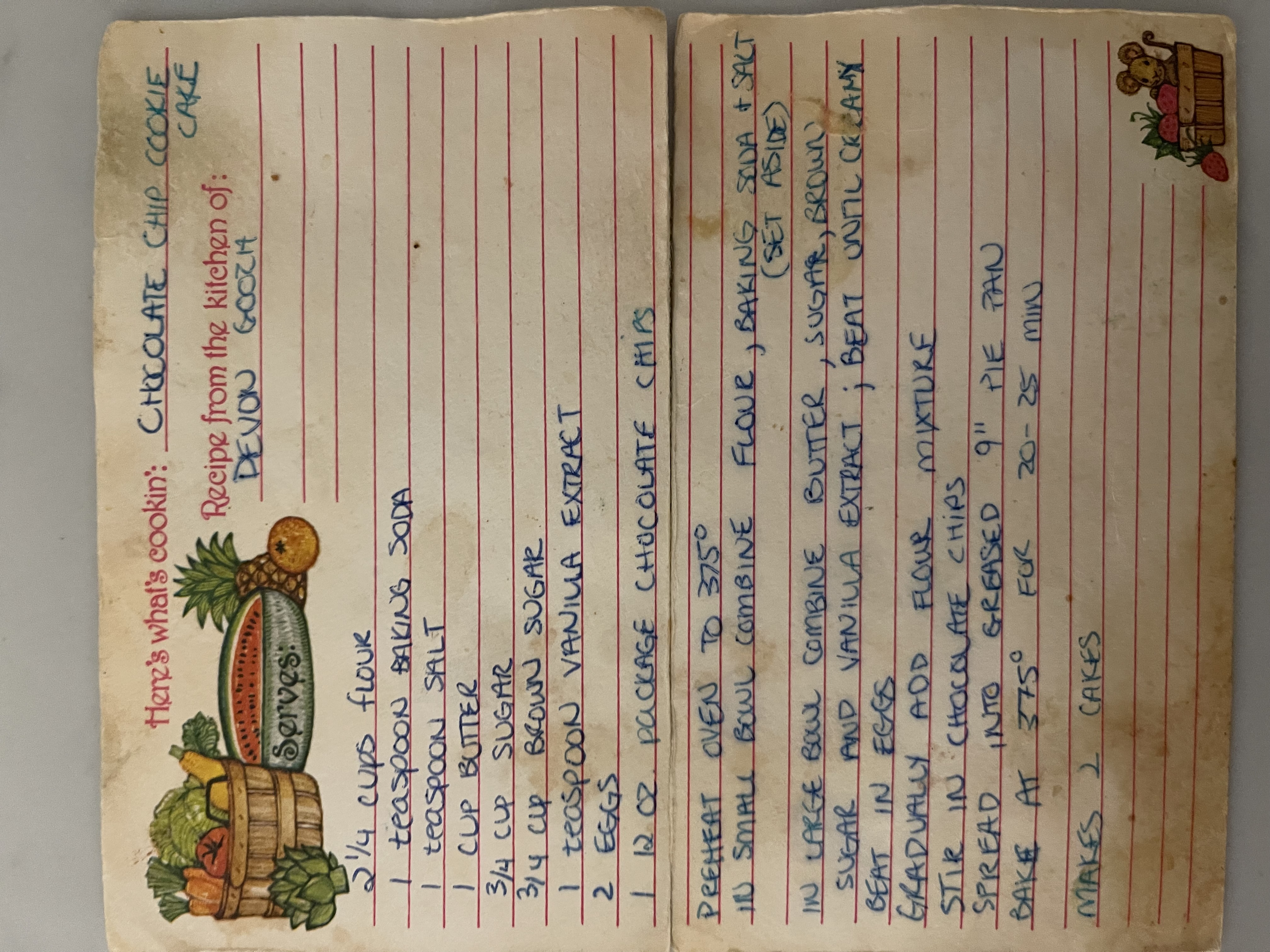 Chocolate Chip Cookie Cakes
Makes two 9-inch cakes
2 1/4 cups flour
1 teaspoon baking soda
1 teaspoon salt
1 cup butter
3/4 cup sugar
3/4 cup brown sugar
1 teaspoon vanilla extract
2 eggs
1 12-ounce package chocolate chips
Preheat oven to 375 degrees F.
In small bowl, combine flour, baking soda, and salt. Set aside.
In large bowl, combine butter, sugar, brown sugar, and vanilla extract; beat until creamy.
Beat in eggs.
Gradually add flour mixture.
Stir in chocolate chips.
Spread into two greased 9-inch pie pans. Bake at 375 degrees for 20 to 25 minutes.
=====
Paying Forward the Love of a Remarkable Woman
Submitted by Corinne M. Shibley, Mechanicsville, Virginia
Sophie Haney, my husband's maternal grandmother, was a remarkable woman in so many ways. A farm wife in Spotsylvania, Virginia, whose husband took early retirement from the railroad due to an injury, she never physically traveled far from the farm. The love of family and their needs always came first. She traveled throughout the world in her love of books and her great curiosity. These same qualities she instilled in her children and grandchildren.
Every year on Christmas Eve, she fixed the entire extended family a traditional Christmas dinner in her farmhouse. She welcomed new family members with open arms and a warm heart. My first Christmas with the family was simply magical. We lived with her briefly for a few months while we were restoring an old house in Fredericksburg. During that time, she went to the Outer Banks for a week, leaving me to tend her chickens. Was I ever glad when she came home! I certainly got raising chickens out of my system in that week.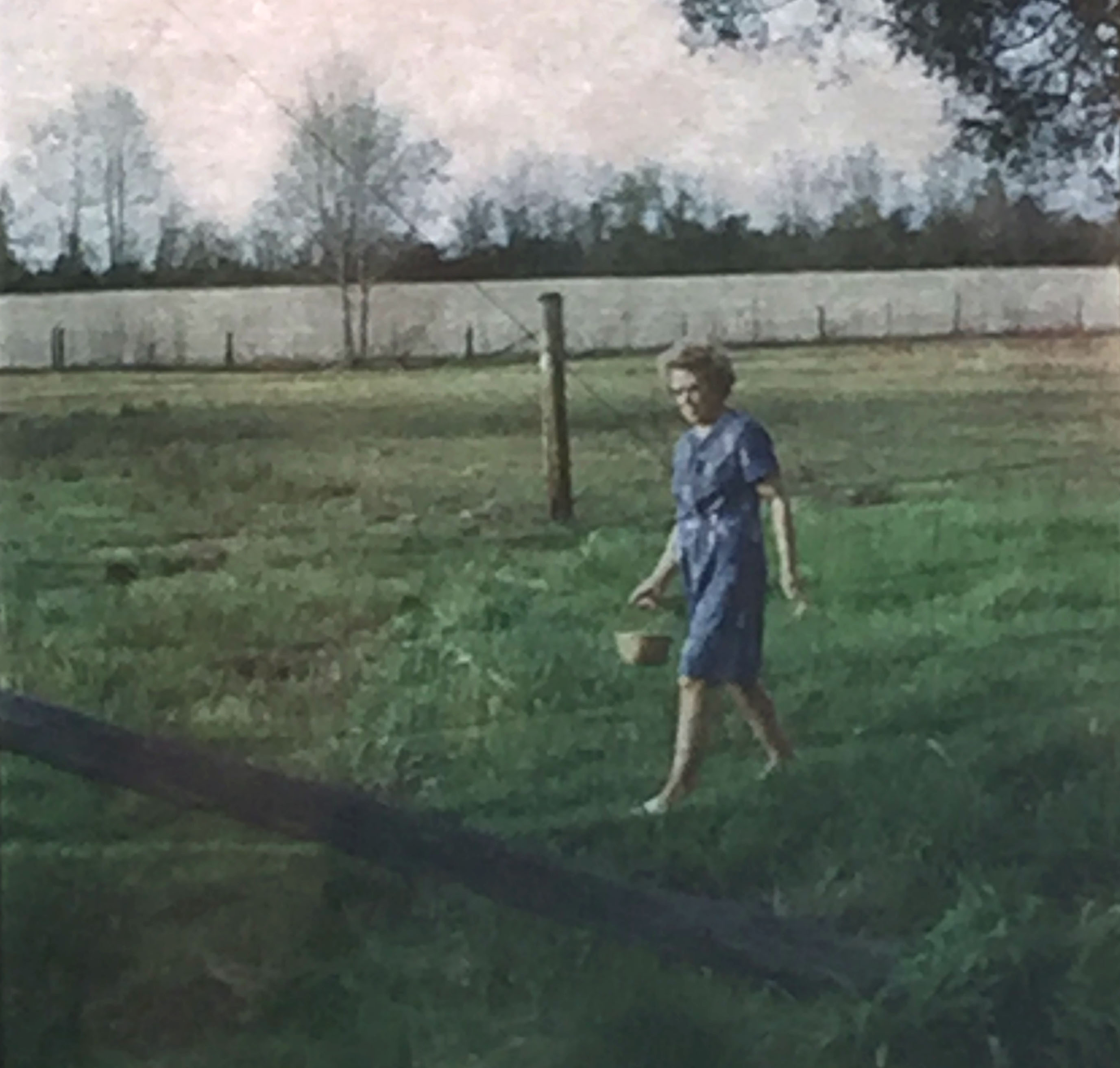 Every family or church event she attended was blessed with her sugar cookies. Delightfully thin and crisp, they melt in the mouth, leaving a sugary, buttery, and lemony taste on the palate. The recipe she used was simply a list of ingredients. Someone who wanted the recipe looked at the list and asked me, "What kind of recipe is that?" Recipes then didn't come with explicit directions; the know-how was assumed.
What distinguishes these sugar cookies from any other is their extra thin, sugary crispness. Sophie Haney made these using a jelly jar to press them. The secret is to press them so thin it would be almost possible to read a cookbook through the dough.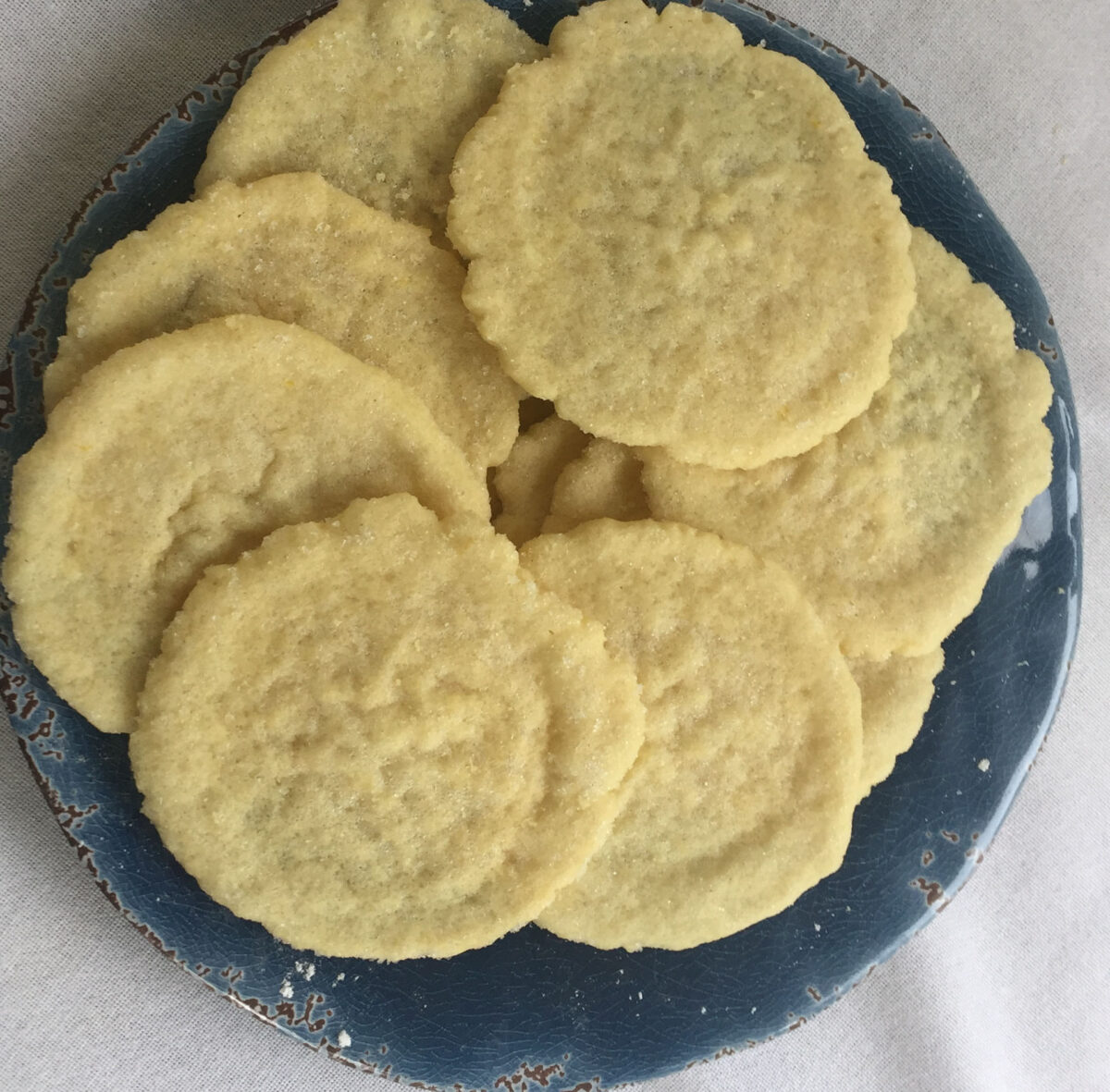 After she was gone, I continued to make the cookies for family events, especially Christmas. The first Christmas I baked them, one of her grandsons looked as if he had seen a ghost when he saw them.
As the different branches of the family eventually went their separate ways at Christmas, I have kept the tradition of these cookies as a reminder of a remarkable loving wife, mother, grandmother, and great-grandmother. My grandson, who never knew her, developed a great love for cinnamon, which I share. Sometimes, for him, I make them and add cinnamon to the sugar when I press them.
Even though I have scaled the recipe down by half, this makes about 2 dozen cookies while cutting the baking time in half. Yes, it's possible to use just half an egg. By sharing this recipe, I hope to pay forward the love of a woman who valued family above all.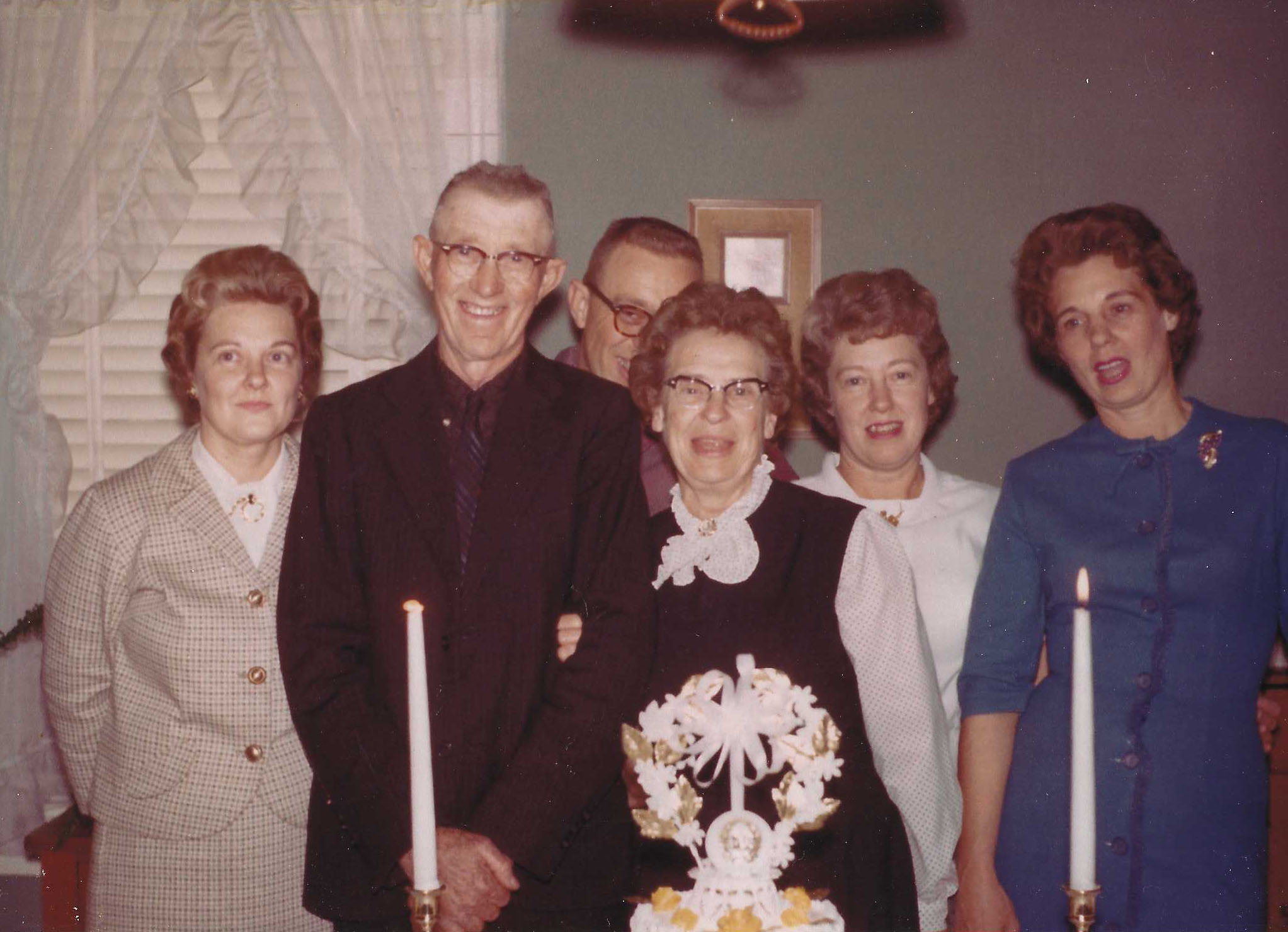 Sophie Haney's Sugar Cookies
Makes 2 dozen cookies
1 1/4 cup flour
1/4 teaspoon baking soda
1/8 teaspoon salt
1/4 cup butter, softened
1/4 cup shortening
1/2 cup sugar
1/2 beaten egg (2 tablespoons, or 1 ounce)
1/2 teaspoon vanilla extract
1/2 teaspoon lemon extract
2 teaspoons grated lemon zest
1 tablespoon milk
For Pressing
Stoneware or other cookie stamp (or jelly jar)
Shortening
Small bowl of sugar
Stir the flour, baking soda, and salt together. Set aside.
Beat the butter and shortening together. Add the sugar, creaming until light. Add the egg, beating well. Add the vanilla and lemon extracts and lemon zest, beating well.
Alternate adding the flour mixture and the milk to the butter-sugar mixture, mixing well. The dough should be about the texture of Play-Doh and easy to handle.
Form the dough into small (about 3/4-inch) balls. Place the balls onto unlined cookie sheets greased with shortening, at least 2 inches apart.
Grease the cookie stamp (or bottom of a jelly jar) with shortening and dip in sugar. Press each ball twice with the cookie stamp, dipping the stamp in sugar again before the second time. The middle should be thin enough to see through to the pan. The edges will squish out and be thicker; that's OK.
Bake at 350 degrees F for 5 to 7 minutes, just until the edges start to color. They will be a little puffy when hot. Transfer immediately to a cooling rack to crisp as they cool. There's no need to wait for the cookie sheet to cool between batches.
=====
Cookie Tin Missions, and Other Christmas Memories
Submitted by Lisa Palmé Jacobs, North Fort Myers, Florida
In our family, church service marks the inaugural kickoff of Christmas Eve. We arrive 45 minutes prior to the start of service, and our family of eight occupies the entire pew along with aunts, uncles, cousins, and loved ones surrounding the celebration. After a stressful egress, we load back in the family wagon to return to a cold house that is begging for a warm fire. Eager eyes wander past the nativity scene toward the tree that we hope will be worthy of a visit from Santa and be littered with gifts in the morning. The youngest places the baby Jesus in as my mother tries to gently catch any pieces of straw that might have fallen.
My father dons his conductor hat, and with the greatest precision, flips all of the switches and electrical connections to make the train set light up even the most sour of countenances. The train whistle wails, the lineman makes an appearance, and Santa bounces on demand when the hidden button is initiated. All is well in Plasticville.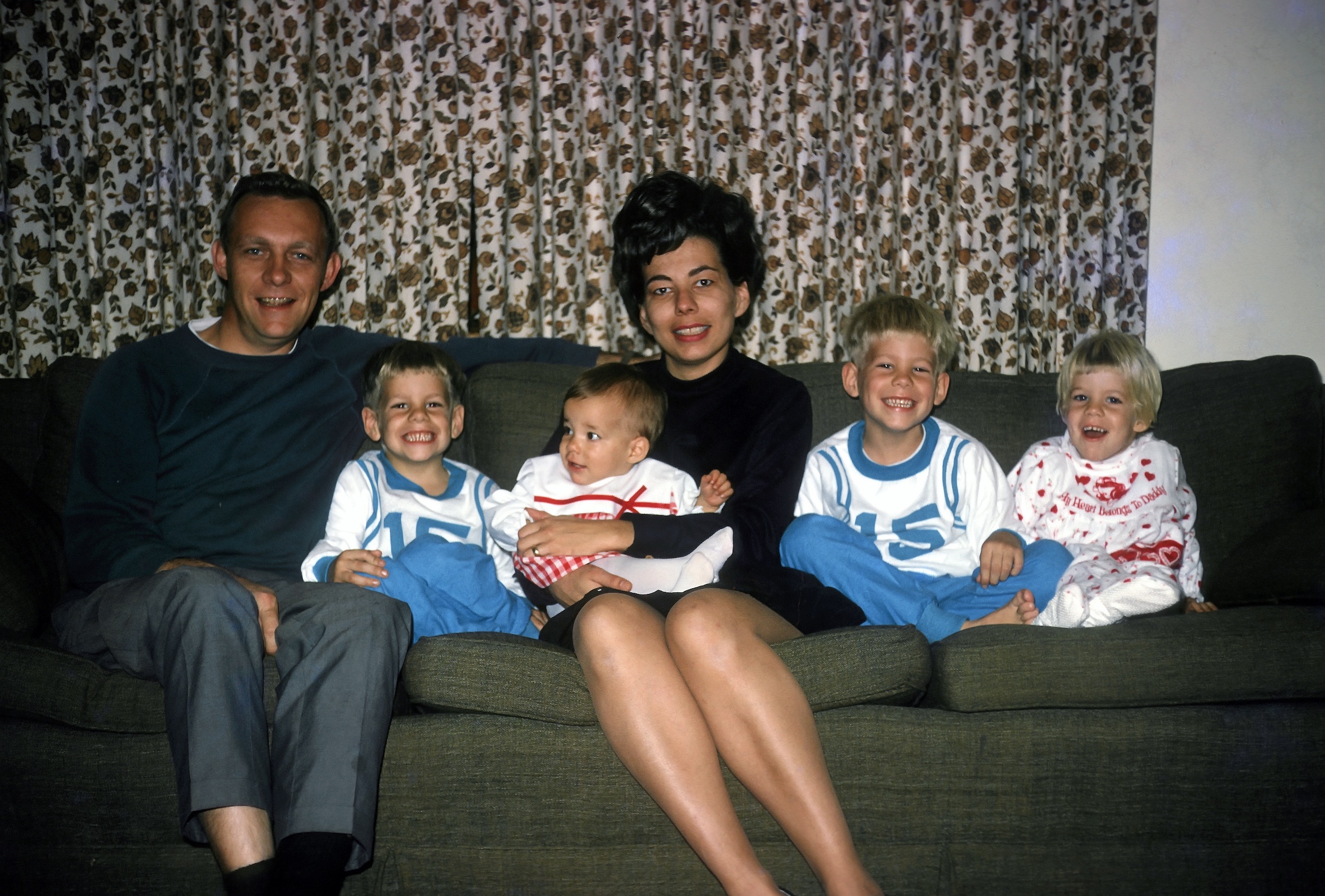 As the celebration continues, a silver tray appears. It is littered with the most amazing sweets, all made by hand with love by a woman who made the words cookie and tradition interchangeable. Hands converge from all sides. Who can get the best of the best, and who will be left with the rum balls and fruit cake?
It may all seem like a Norman Rockwell moment, but those in the know are more aware. These cookies started weeks ago. As soon as the Thanksgiving turkey was transformed into soup and every version of turkey casserole known to man, stacks of butter, flour, and sugar appeared. The mixer made up permanent residence on the counter for the next several weeks. You only needed to reference the "list" on the counter to see what was on deck for that day, and whether or not you should take cover at a friend's house.
Ever so slowly, empty cookie tins were filled with layers of wax paper and heavenly concoctions. The lure of the cookie tins was overwhelming. Friends would visit, and tempt us to crawl army-style into my parents' bedroom to open the canisters as silently as possible while my nocturnal working nurse mother slept. Some missions were deemed a success, while others ended with empty palms and rug burns. Never would you take too many and be the one who emptied the tin before Christmas.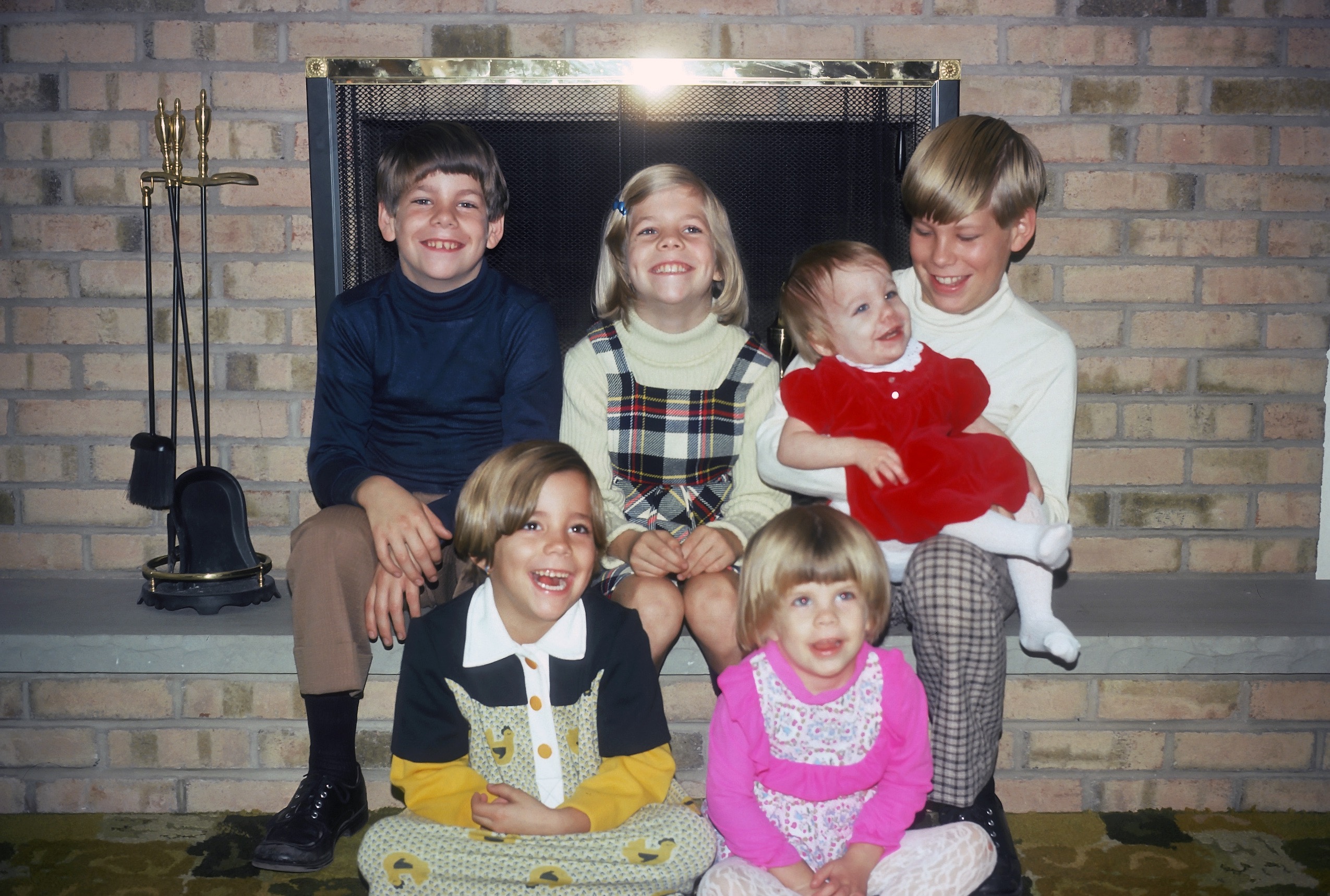 This is just one of the cookie recipes that my mother, Lorraine, had on her list. Her recipes came from various places: an old newspaper clipping from the 1970s, handwritten recipe cards from neighbors and relatives, and copies of old cookbooks.
All of these memories return annually as I start the same tradition with my daughter, Grace. This recipe, along with all of the other treasured Christmas cookies, has been lovingly published by her children in a family recipe book, gifted back to her in 2014.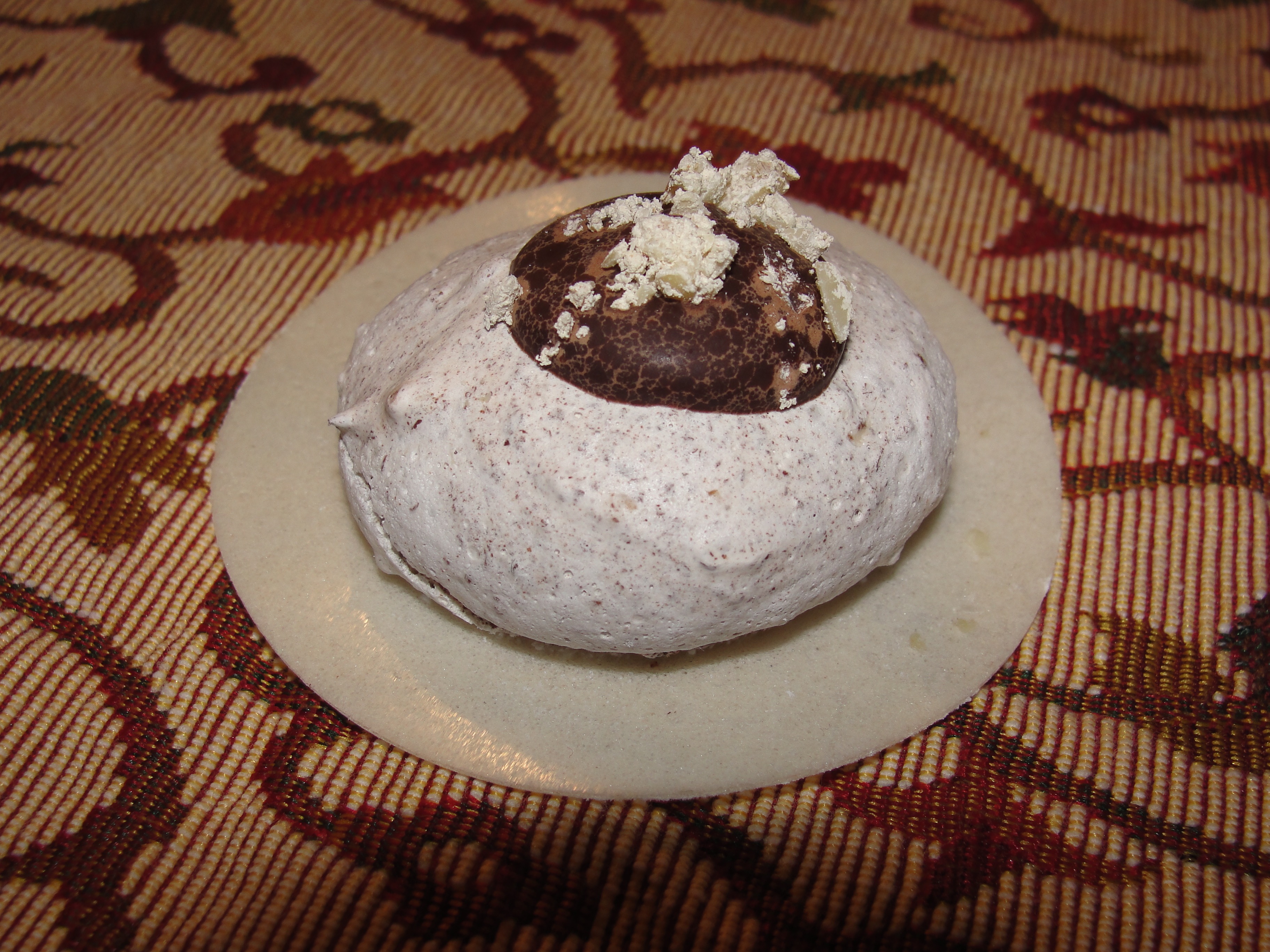 Lorraine Palmé's Chocolate Almond Kisses
You can find the wafers at any German grocery. If not, Amazon is a winner!
Makes about 10 dozen cookies
3 egg whites
1/2 teaspoon salt
1/4 teaspoon cream of tartar
1 cup superfine sugar
1 cup finely chopped almonds
4 squares semisweet chocolate, grated
Back-Oblaten (wafer papers) (70 mm), for baking
6 ounces chocolate chips
1 tablespoon vegetable shortening
1/3 cup finely chopped pistachios
Preheat oven to 275 degrees F.
In a medium bowl, beat egg whites with salt and cream of tartar until they are foamy-white and doubled in volume. Add sugar, 1 tablespoon at a time, until meringue stands in firm peaks. Gently fold in almonds and grated chocolate.
Place Back-Oblaten on ungreased cookie sheets. Drop dough by rounded teaspoons onto wafers. Bake for 20 minutes, or until set. Remove and cool.
Melt chocolate chips with shortening in double-broiler, or jump into the new millennium and use the microwave. Drizzle chocolate on cookies and top with crushed pistachios. Let cool and store.
___________________________
Do you have a treasured family recipe that holds a special place in your family history, heritage, or traditions? We would be honored if you would share it with us.
Along with the recipe, tell us its story—who gave it to you, its journey through the generations, and the personal meanings and memories it carries. Is it a special-occasion dish, or an everyday family favorite? Does it connect you to your cultural heritage, or to a certain loved one?
How have you kept the recipe alive, and why is it important to you to do so?
Send your recipe and comments, along with your full name, state, and contact information, to home@epochtimes.com, or mail it to: Home, The Epoch Times, 229 W. 28th St., Floor 7, New York, NY 10001.