The Delicious Journey of Waldy's Pizza
March 21, 2013 3:31 am Last Updated: August 14, 2015 5:19 pm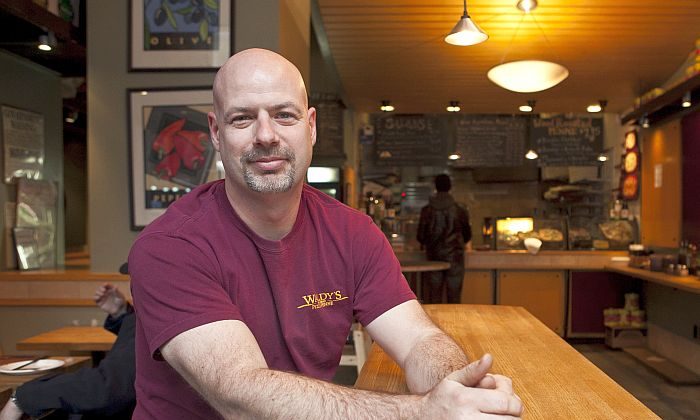 NEW YORK—Robert Dixon is a thin-crust kind of guy. So much so, he dismisses deep-dish pizzas. "To me, deep-dish is not even a pizza. It's a pie of some sort," he said.
Dixon is owner of the popular Waldy's Wood Fired Pizza & Penne on Sixth Ave. between 27th and 28th streets. One glance through the Waldy's reviews on Yelp has many New Yorkers saying that Dixon and his crew serve up the best pizza in the city.
Founded in 2005, Waldy's was created to solve a business problem. Dixon was working at a restaurant, but found the overhead was too high to make the business profitable.
"So I decided to take one of the items that sold well and made a store out of it." That item, of course, was the thin crust pizza, which was sold as an appetizer. Dixon has now taken that same appetizer item and brought it into a league of its own, wowing patrons and creating a loyal local following.
Purists give a stamp of approval to Waldy's ultra-thin crust, which is simultaneously thin and crunchy, strong enough to hold the mountain of different toppings offered.
A typical Waldy's pie comes in many intriguing combos such as the Braised Lamb, Roasted Lemon, & Oregano pie, the Arugula, Garlic, and Sunny Side Egg pie, and the Clam with Garlic, Crumbs & Ricotta pie. And don't miss, of course, the Chicken Bacon pie, complete with spicy little peppers for a fiery twist.
"We try to put together ingredients that work that nobody else is doing," Dixon said.

It's not all wild combos, though. With 11 signature pizzas on the menu, there are plenty of oldies-but-goodies to choose from, such as the best-selling Margherita pizza.
And for New Yorkers in a hurry, Dixon's shop can bang out pizzas in five to seven minutes.
All pizzas are fresh and made to order. "I never liked ordering a pizza that's been just sitting there," Dixon said. To make it both fast and fresh, the cooks bake the crust a little beforehand, and then customize the orders as they are made. The mozzarella and ricotta Waldy's uses come fresh from Joe's Dairy in Soho.
To top it off, diners can take advantage of the snip-it-yourself mini-herb garden. Basil, oregano, parsley, and rosemary sprinkled on a just-out-of-the-oven pizza makes it all the better. Waldy's fans love this particular feature, which is apparent as they flock to "clip their herbs" to sprinkle on their pizza as it exits fresh from the oven. And for the 10 percent of pizza eaters out there who are devout anchovy fans, Waldy's offers them free of charge.

Waldy's space is small, but warm, with rustic bench seating. All the pizzas are cooked in a wood-fired oven, just like in Italy, and the kiln is within view from the ordering counter.
Waldy's also carries a selection of drinks, including beer and wine by the glass (sold simply as "Good red, Better red, Good white, and Better white"). Pastas and a small selection of desserts are also available, but are not nearly as popular as the pizza. The joint is a popular lunch spot for many of the young professionals in the area, and is suitable for a casual dinner as well.
Dixon has seen the neighborhood change so much since the establishment of the shop.
"It used to be that there was nothing to eat around here," he said. "The five high-rises you see here, back then there were only three. Now there are so many new hotels around here, and the area has changed tremendously."
With more mouths to feed, Dixon is planning to expand Waldy's to another location in Manhattan. The location is yet to be determined, but at the current location, hungry people can look forward to some new seasonal items this spring.
Diners can also get a Belly card or the Belly mobile app to reap rewards from Waldy's. Each pizza purchased earns you five points, which is redeemable for a high-five from one of the staff members. 20 points earns a brownie, 40 points a small pizza on the house, and 100 points will get you a large pizza to split with a friend—unless you're really hungry.
Waldy's Wood Fired Pizza & Penne
800 6th Ave. (at 27th Street)
212-213-5042
http://waldyspizza.com
Monday-Saturday: 11 a.m.–11 p.m.
Sunday: 11 a.m.–10 p.m.
The Epoch Times publishes in 35 countries and in 21 languages. Subscribe to our e-newsletter.