On a 50-minute Aegean Airlines flight from Athens, Greece to Heraklion on Crete, you can easily scan everything in the winter issue (#37) of the in-flight magazine "Blue"—cover to cover. You also have time to trace the outlines of the blue, the white, and the gray panels of the seatback in front of you. If you are quick, you can even snatch a dozen glimpses out the window and down into the deep blue Aegean.
Then it appears as Homer described it—Atlantis rising out of the "wine-dark sea"—just outside the cabin window, the island paradise you've read about and reviewed videos of before booking your trip. Crete, the land of the Minotaur, a haven of endless Blue Flag beaches, this unbelievable isle is many things to many people. As for me, I remember my excitement on first seeing the mountainous wonder from above. So, I must tell you honestly, about paradise since the dawn of time.
Our family visited Crete for the first time during the off-season in 2014, at the end of March just before winter-worn tourists begin the migration toward the Aegean sun.
Tiny Uncommon Considerations
Nikos Kazantzakis Airport is right on the shores of the Cretan Sea, and March can be a blustery season where a chilly wind churns frothy the waves of the north shore.
I'll never forget my first sensations as we descended the stairs from the plane to the tarmac and the shuttle waiting. At the top that unmistakable freshness the salty breeze brings, it struck me like an old friend surprising me from the side. Ten years living in the landlocked Trier region of Germany had left me longing for that scent, that enveloping dampness seafarers know so well. Oh, but old sailors come back to the briny seas is not the story here. Next we headed to the customary and trivial matter of gates, luggage carousels, and so forth on our way to amazement.
"Mr. Butler, Mr. Karatarakis sent me to collect you. I am so sorry for the bad weather," the taxi driver said, smiling warmly.
My wife tugged at my arm and whispered, "Does he know we just arrived from Germany?"
We stood still looking out across the churning sea, stunned a bit, happy from somewhere deep inside, and then we climbed into our driver's Mercedes.
As I recollect this small miracle showing how Cretan people are, I recall that our little boy Paul-Jules had not spoken since we left the aircraft. Now that I think back on that moment, I am sure that Crete's special magnetism had gripped him then. The middle of March, the worst weather day on Crete in months, temperature around 63 degrees Fahrenheit, a delightful 10–15-knot wind, and a cab driver worried we'd be disappointed after leaving the land of perpetual clouds and gloom. Amazing!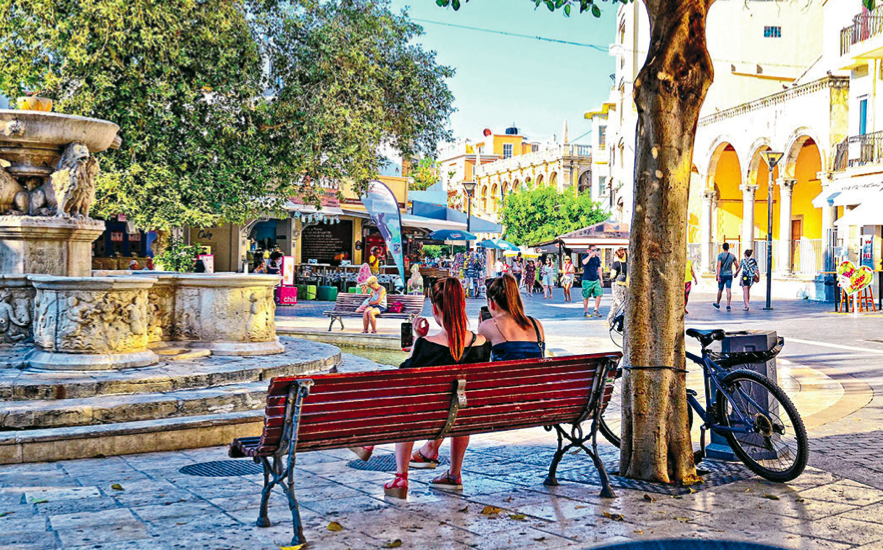 There Must Be Amazement
Maybe everybody out there is not enamored with the sea. I mean, some people love the mountains like my wife does. Wait, though!
What if you woke up in a hotel suite with a view out over Crete's craggy and rugged northern coastline dipping into the endless aquamarine? The island is a mountain rising to amazing hills and peaks, straight up out of the pool of legends. Our first full morning here was an ongoing reminder of this.
Once we took possession of a great little rental car, an ordinary Peugeot our cheerful Cretan car agent assured us was "the finest car on all of Crete," we headed up the main highway toward Chania, and a villa we'd rented. It was during this drive we sealed our ongoing love affair with the island. The mountains meet the sea here, and Crete is, as the Egyptians once claimed, the pillar that holds up the sky. For most people, the two hours or so it takes to get from Heraklion to Chania is a revelation. But, if they are lucky, really lucky, a stop along the roadside can be miraculous.
A few kilometers outside Chania, Crete's second biggest town, my wife asked that we stop and buy some oranges from an old lady dressed in traditionally all-black attire, who was sitting by the roadside. As I relate this to you today, I am convinced that lady was no mortal, but an angel sent to "convert us" somehow.
My wife relates the story better, but the kindness the woman exuded, her unmistakable goodness, it left an indelible effect. Of course, the oranges were sweeter than those in Central Florida or Valencia (I've had every kind), but the tears streaming down my wife's face as we drove off are what's fresh in my memory. She turned to me as we jetted off, "Phil, no matter what you do, make sure we move here."
Three and a half years later, I kept my promise. I only wish I was Hemingway or Mark Twain, so that I might relate the miracle more precisely.
By now you've noticed that all these allusions toward "paradise" are as much about human interaction as they are Eden-like landscapes painted with clumsy words across these pages.
"But, what makes these human moments on Crete so special?" some of you may ask. I'm happy to tell you the answer is simple. What makes Crete an unbelievable exception to the rules of human logic is that "density" of kindness and positivity here.

The Cretans call their uncommon brand of hospitality "philoxenia," which translated means "the love of strangers." Here on Crete, this love is expressed in every facet of life. Its roots go as deep as prehistory, all the way to our beginnings, and there's a truth in this virtue whether you're Christian, Hebrew, Muslim, agnostic, or an atheist historian.
The Bible tells us: "Be not forgetful to entertain strangers: for thereby some have entertained angels unawares." (Hebrews 13:2)
Alternatively, the Roman poet Ovid wrote a beautiful story in 8 A.D. about Zeus and Hermes disguised as poor travelers, which narrates the sacred relation between host and guest. The story embodies the tradition of philoxenia from the Greek standpoint, and as everyone knows, Zeus was born here on Crete. Perhaps this is why the sheer density of love for strangers is concentrated so obviously here.
As much as I would love to roll out the cinematic effect of the human and geographic gems of Crete island, all I have are my memories to share. I remember the old lady dressed in all black who pumped our gas on the road to Falasarna. And the beautiful young checkout girl who smiled wryly and produced the homemade raki (tsikoudia) from behind the counter when we asked for the "good stuff."
You Shall Be Known as …
Back in 2014 there were the road workers who smiled and waved when we passed, and the patriarch of the hamlet we stayed in was sneaking fresh eggs onto our window sill every other morning.
Oh, and I also remember my friend, the brilliant architect VanGos Tsourlakis, who showed us the path to Crete's rural villages and the wonders they contain.
More recently, we befriended Kostas Manias, the coffee shop owner who knew the perfect hangover treatment for my wife. Mentioning these few reminds me of the Amari Valley where the god Zeus grew up, and of our friend Lambros Papoutsakis and his magnificent daughters, Maria and Eleftheria who run the tavern that sits on the throne of the god, Thronos.
Oh my, there is so much to tell you and so many amazing people here—I feel my task is impossible. But, before I stress you with 500 more unbelievable friends and experiences, let me tell you how important your name is here on Crete. It's a short story of brotherhood, with lifelong implications.
Minas Liapakis and I met back in 2014 at a business meeting at a hotel on the beach in Rethymno. He owns one of the region's biggest hospitality marketing firms, and we were on the island to review the best places for travelers. Long story short, when we decided to move to Crete Minas bent over backward to help us get settled. However, we had no inkling what he was talking about when he told me one day, "Phil, don't worry, Crete takes care of people." I have a hundred stories to tell about our "adventures" just since the summer of 2017, but one in particular puts a frame on this article.
The name Liapakis is well known in this big family that is all of Crete. If you Google the name you'll probably find either Minas, his world-renowned plastic surgeon brother Ioannis, or his father. In any search of Crete you will also find the name of a small village called Ano Asites, up in the hills of Heraklion Prefecture. It was in this little hamlet I received my "official" Cretan name (or nickname)—as I was adopted by the families of Minas and his wife Kallia.
I must mention Kallia's Arkalochori as Crete's most beautiful village here, or she will "kill" Minas and me.  For those unaware, hamlets here are like family too. Brother, sister, mother, and father—relatives separated by several million olive trees, and so on, each of whom is jealous of the other. Anyway, how I got my nickname on one of our Ano Asites expeditions I will never forget.
It was Sunday, I know that for sure. A group of us, five I think, walked the narrow streets of Ano Asites, Minas turned first to me and then to our friend Tomasz from Poland: "Here, we must stop here, or Manolis will never let me hear the end of it." Manolis, as anyone would suspect, was yet another cousin of my adoptive brother, Minas. At length, after my best friend from America, fitness fanatic Mike Parrish had refused his sixth toast with raki, the elder Manolis raised his glass and stared stone-cold seriously into my eyes.
"You must have a proper Cretan name," he said without a hint of humor. Then Manolis glanced around the small wooden table at Minas, then across at Nikos, then to Tomasz, at my American chum Mike, and finally at me. Pausing briefly to make sure all glasses were filled, his face lit up with a smile like I've never seen before. Manolis announced to the taverna, "From this moment forward you shall be known as Fillipos Butlerakis." My Cretan brothers, Minas and Nikos choked on the raki that was only halfway down when "Phil Butler" transposed into Fillipos Butlerakis hit them.
What's in a name? Or, in Shakespeare's Romeo & Juliet, "A rose by any other name would smell as sweet," is a proof Crete is my personal paradise. This is so because the Cretans' special feelings for visitors enable them to sense the sweetness or goodness in others. I am sure that it is their uncommon consideration for others, their amazement for life, and their mirroring what is best in the people they meet that reminds me of that unspoiled garden in Eden. Now you know of my self-assurance that you will find your personal paradise here too.
Phil Butler is a publisher, editor, author, and analyst who is a widely cited expert on subjects from digital and social media to travel technology. He's covered the spectrum of writing assignments for The Epoch Times, The Huffington Post, Travel Daily News, HospitalityNet, and many others worldwide.