With one hand fully exposed to the minus-20-degree chill, I struggled with my pack's zipper.
My long, skinny fingers are functionally mediocre at best, borderline incapable when they're cold, but I desperately needed the layer of clothing inside the pack to be on my body. Specifically, I needed it out of the bag and under the Gore-Tex jacket I was wearing, then both of those zipped and my hand back in the mitten.
Above the treeline, the wind speed had amplified, threatening to blow it all away if I wasn't careful. In the most protected spot I could find, crouched toward the wall of a boarded-up hut, I barely pulled the maneuver off. I was chilled to the core with an icicle for a hand, yet the day was still young because that was just the first of 10 peaks I intended to hit that day.
"If the weather stays like this, I might die," I thought. My inner dialogue is quite the realist, an asset in moments like these. It was worth the risk to keep going; conditions improved, and I certainly didn't die. I'm all smiles recalling James Hunt's famous saying, "The closer you are to death, the more alive you feel." Confirmed, again!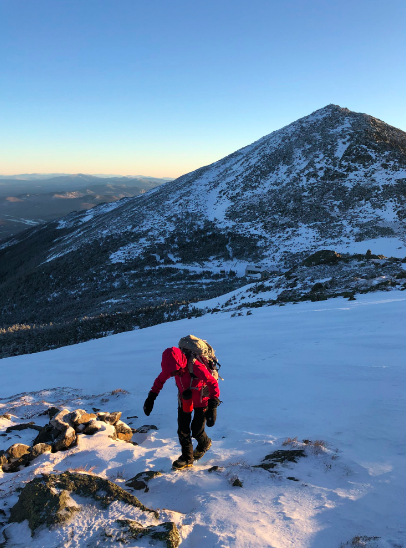 You don't have to be cut from the same peculiar cloth as me to enjoy a getaway to New Hampshire's White Mountains. As part of the northern Appalachians and covering about a quarter of the state, it's a four-season adventure playground for skiing, ice-climbing, snowmobiling, dog sledding, hiking, biking, zip lining, rock climbing, kayaking, and canoeing.
Not a fan of activity? Simply feast your eyes on a scenic drive, or take in the views from a helicopter, train, or gondola, or spend time shopping and exploring the robust dining scene. I guarantee you'll find something to fall in love with. While every season has its draw, winter offers the Northeast's pinnacle of outdoor adventure. Should you want to push the envelope, the opportunity awaits.
Mount Washington and the Presidential Traverse
The majestic White Mountain range's Mount Washington (6,288 feet) is the highest peak in the Northeast, with views extending beyond New Hampshire to Vermont, New York, Massachusetts, Maine, Quebec, and the Atlantic Ocean on a clear day. It's the most topographically prominent mountain east of the Mississippi River, with the Appalachian Trail passing right over the top. It's also where the world's highest surface wind speed, at 231 miles per hour, has ever been observed. In January of 2004, summit weather observation registered a temperature of minus 43.6 F and sustained winds of 87.5 miles per hour, resulting in a wind chill of minus 102.59 F.
Frankly, Mount Washington has the worst weather in America, arguably the world, and that piques the interest of outdoor extremists from far and wide, present company included. It's peak five of the 10-peak Presidential Traverse, known as the "Death March" when attempted during the winter months—and it had been on my bucket list for years.
After gathering the mountaineering experience, skills, and gear necessary to handle such an endeavor, including knowing what to do if the weather went awry, and securing a trusted companion, crossing the winter Presidential Traverse in person and off my bucket list came into the realm of possibility.
After carefully stalking the weather outlook, we identified a probable window of visibility large enough to make it a reality. Carpe diem. On Dec. 27, my partner and I woke up at 1:30 a.m., dropped the car where we'd finish if all went as planned, and caught a ride to the start of the traverse.
The 20-plus-mile trek began at 3 a.m., and 16 hours and 15 minutes later, after enduring temperatures in the minus 30s F with 64- to 69-mph winds, the task was completed. We got it while the getting was good. The next day, visibility was back to "poor," and winds raged as high as 104 mph.
For a Milder Mt. Washington Experience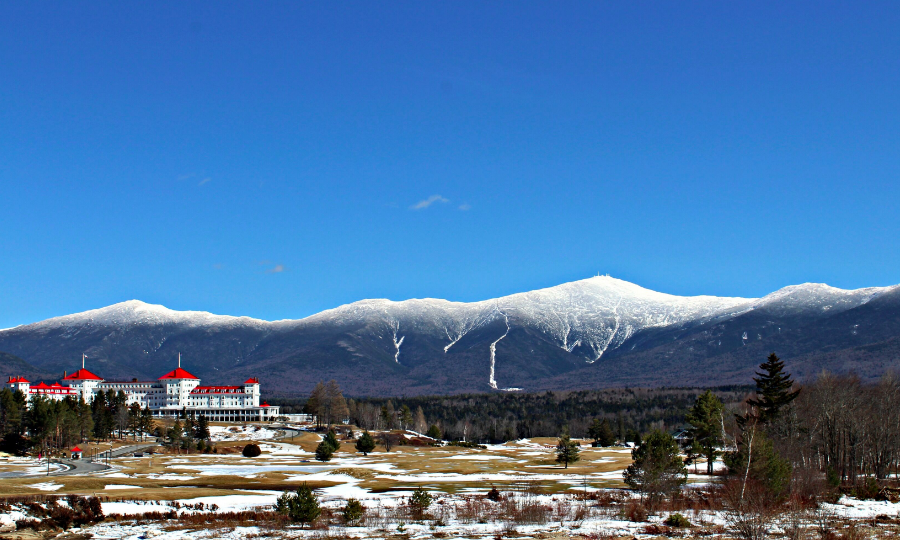 The most spectacular views in the White Mountains come from the top of Mount Washington. At the summit, the 60-acre Mount Washington State Park borders the White Mountain National Forest. Within the park, the Sherman Adams Visitor Center, with its weather station and Extreme Mount Washington Museum, is open May through October, which are the same months the Mount Washington Cog Railway and Auto Road are open.
Hiking
Any time of year, the trek should only be attempted by experienced hikers as the weather is unpredictable. For those up to the challenge, two main trails lead to the summit: The easier Jewell Trail or steeper Ammonoosuc Ravine Trail, each taking around five hours each way.
From May through October, reward yourself by hitching a ride back down on the cog railway or venture in other directions on foot. There are hundreds of miles of trails to explore, and the Appalachian Mountain Club has maintained mountain huts for more than 125 years.
During high season, all eight are open (starting at $32/night), allowing hikers to travel hut to hut with sleeping bags and gear, enjoy a home-cooked dinner and breakfast, and cold running water to freshen up. Several of the huts are open on a self-serve basis during the off-season, but it's worth noting that the two huts along the Presidential Traverse are closed during the winter, and you'll have to crouch outside, freezing, like I did.
Cog Railway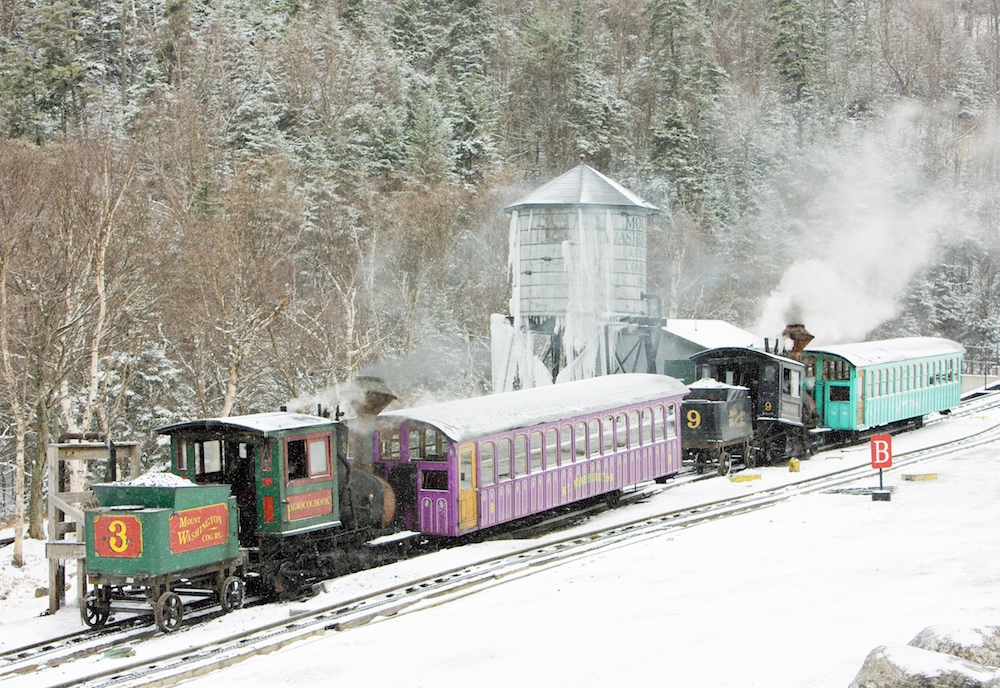 The most popular way to the summit is the Mount Washington Cog Railway. In operation since 1869, and celebrating its 150th anniversary this year, "the cog" was the world's first mountain climbing railway of its kind. The locomotive cars offer a narrated, three-hour round-trip train ride, averaging one hour each way and an hour-long stop at the summit, long enough to take in the views, explore the visitors center, and snap the all-important picture with the summit marker.
The newly renovated Cog Railway Museum at the base offers visitors a behind-the-scenes glimpse into one of the nation's most iconic railways. When in season, this attraction, like the vista it takes you to, is a must (from $51 for adults, $41 for children, museum is free).
Auto Road
Located on scenic NH Route 16, the Mt. Washington Auto Road takes you, visibility permitting, up a stunning stretch to the summit with spectacular panoramic views into the Great Gulf Wilderness and the Presidential Mountain Range. From May through October, either drive yourself or take a guided trip. Either way, you'll pass through four distinct climate zones. Elevation doesn't get any easier than this.
More Winter Outdoor Fun
Skiing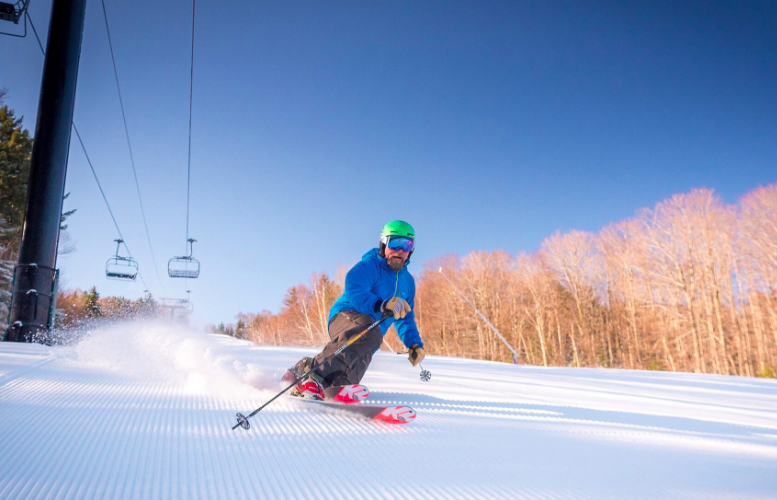 The White Mountains are home to the popular downhill ski areas of Attitash, Cannon, Loon, Wildcat, Bretton Woods, King Pine, Waterville Valley, and the region's original ski destination, Cranmore Mountain Resort, with its 56 trails and seven lifts over 170 acres.
As a Mainiac, meaning I hail from "The Pine Tree State" of Maine, I grew up on similar ice-cold runs. Be prepared to brush up on icy-condition skills, especially if you're used to skiing deep powder. My refresher, wiping out several times, was put in stark contrast by tiny children skiing effortless routes around me.
Not into downhill? The Whites offer plenty of cross-country skiing, boasting the largest trail network in the Northeast. Many of these trail systems are connected to resorts, and downhill ski areas often double as cross-country touring centers.
Ice Climbing
Blame the long, wet winters for ice forming on seemingly every square foot of exposed rock in New Hampshire. Most ice climbing is focused around Frankenstein Cliffs in Crawford Notch State Park, where I climbed the past two winters, enjoying the proximity to North Conway. It's never been crowded but certainly is popular, with enough routes to spread the climbers out.
Step up the adventure with a trip to Canon Cliff in Franconia Notch State Park, the largest vertical rock face in the Northeast, or Cathedral Ledge. Anyone looking to break into this sport (I'll admit, it was initially intimidating to me) can call International Mountain Climbing School. They've been guiding and teaching these skills for more than 30 years. Intro classesstart at $170.
Year-Round Scenery and Hospitality
No matter when you go, take full advantage of some of the most beautiful scenery in America. The White Mountains National Scenic Byway is a 100-mile loop known for its year-round natural splendor, winding through sections of the 800,000-acre national forest, Kancamagus Highway, Franconia Notch State Park, and Crawford Notch. During the spring thaw, awe-inspiring waterfalls emerge and the autumn months showcase breathtaking foliage.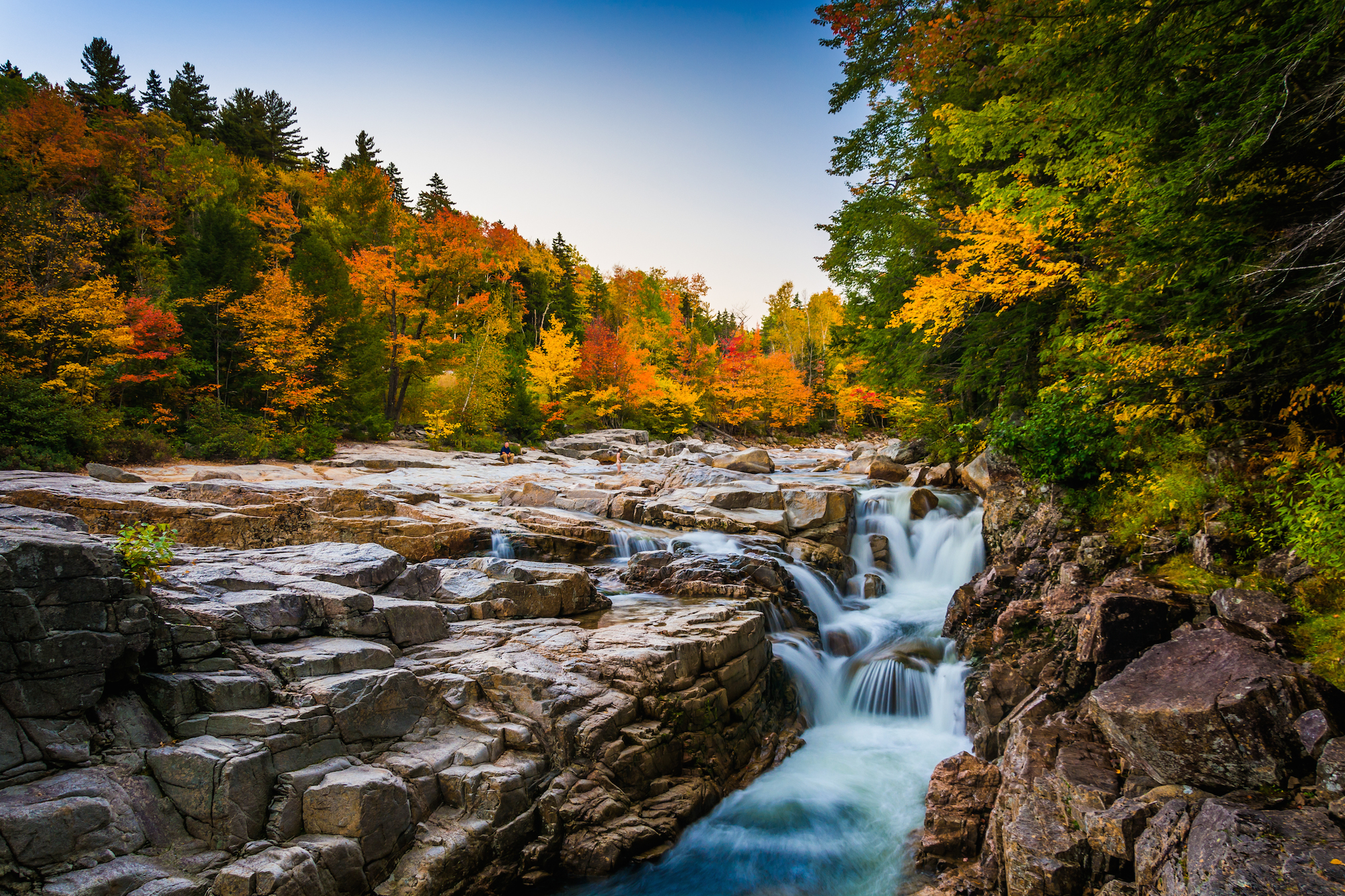 Driving around, you'll get a sense that in many ways, what you see is how life has always been. Full itineraries can be built around touring country general stores, maple syrup producers, and postcard-ready covered bridges. When the weather takes a turn for the worse, it's time to visit the multitude of tax-free outlets and boutiques before finding some good eats, retiring to your lodging of choice, and resting up for another day of fun.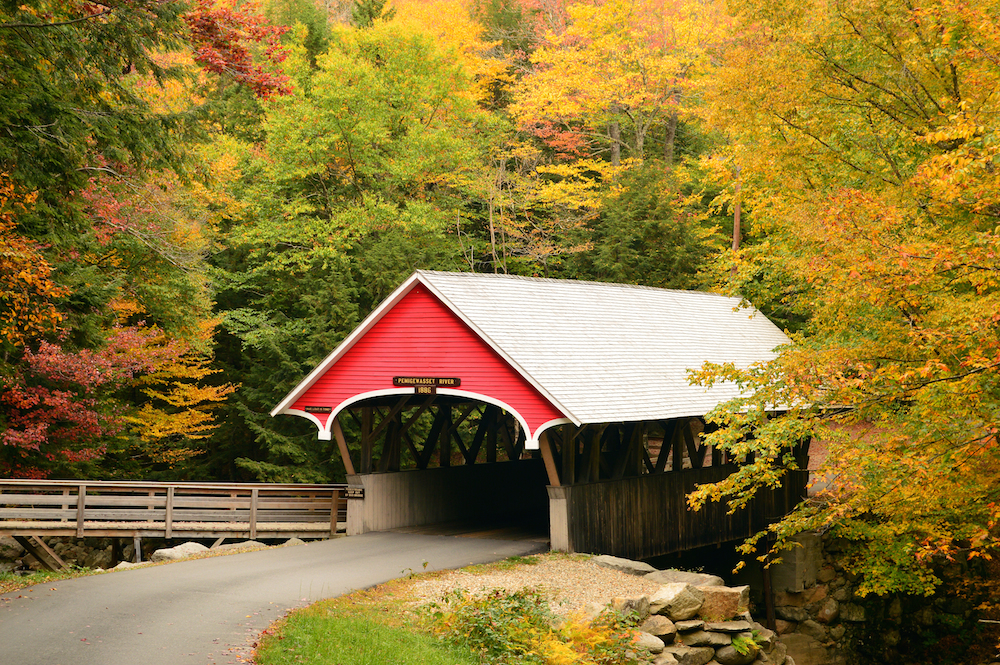 North Conway, Historic Rail Hub
Where to anchor a trip to the Whites depends on the agenda. For exclusivity, stay in the northern White Mountains near Bretton Woods but to really take it all in, opt for Mount Washington Valley's popular resort town of North Conway. Here you'll find countless food and lodging options in close driving proximity to trailheads and ski lifts. North Conway is also home to the Mount Washington Observatory Weather Discovery Center, an interactive science museum with hands-on exhibits, seasonal interaction with observers on the summit, and a recreation of the mountain's record-setting wind.
The yellow Victorian train station on Main Street is the site of the Conway Scenic Railroad. The station has changed little since it was built in 1874, when the town was the northern terminus of the Portsmouth, Great Falls, and Conway Railroad. In 1932, "Snow trains" began, making North Conway and Cranmore Mountain the birthplace of American skiing, bringing skiers from Boston to fill its slopes.
For nearly 90 years, the station was a landmark for train travelers, but by the 1950s, cars were commonplace, and the last passenger train ran in 1961. The last freight train ran in 1971 and the station was boarded up until 1974, when the Conway Scenic Railroad restored it to its original character. Spring through fall, relive the golden days of railroad travel on one-hour excursions to Conway and Bartlett or up to five-hour rides north (don't worry, there's a dining car) through Crawford Notch.
Where to Stay
 Omni Mount Washington Resort, Bretton Woods
Stay at or tour this historic masterpiece of Spanish Renaissance Architecture, a stone's throw from New Hampshire's largest ski area, Bretton Woods. As one of New England's few remaining grand hotels, to visit is to time-travel back to the railroad-era, when wealthy city dwellers journeyed north to spend the summer breathing fresh mountain air (from $249 per night).
Christmas Farm Inn, Jackson
Part jail, part church, and part farmhouse, this country inn has a rich, 200-year history. the Christmas Farm Inn got its name from the "gifting" of the farm as a Christmas present. While there's always a touch of the season, it's not decked out for the holiday year-round. What is available year-round is the seasonal cuisine in their restaurant, offering a menu that is eclectic (Elk Roulade, for example) yet approachable (from $99 per night).
Green Granite Inn, North Conway
Off North Conway's main strip, the Green Granite Inn welcomes you with the warm ambiance of a cozy lodge and unmatched access to an array of recreational activities. Hotel specials with local attractions are designed to get you out and about. I'm certainly not spending much time in my hotel when there's so much to do outside, but after a long day of sport, this affordable option, and its jacuzzi tub, certainly did the trick (from $70 per night).
Where to Eat
With many a restaurant, pub, coffee, and ice cream shop, there are plenty of options to fuel the adventure.
Stairway Café, North Conway
Hands down the best breakfast I've ever had in the area. Fresh, local, homemade, and delicious. Must-tries include the Wild Game Sausage and Fresh Maine Lobster Benedict. You won't leave hungry.
Red Parka Steakhouse and Pub, Glen
The steakhouse and pub are connected but separate, but feel free to order from the full dinner menu at the pub. The weekends are rocking with live music, but the real weekend treat is the 14-ounce prime rib slow-roasted to medium-rare, Friday through Sunday only.
Flatbread Company, North Conway
Located inside the Eastern Slope Inn, the Flatbread Company specializes in all natural, wood-fired, clay oven pizza, with or without their organic, wood-fired, cauldron tomato sauce. I recommend the pepperoni and mushroom pizza with sauce. Don't forget the seasonal whoopie pie for dessert.
Amanda Burrill sees through an adventurous lens, typically focused on culinary and travel. Her education includes a bachelor's in archaeology, a master's in journalism, a culinary degree from Le Cordon Bleu, and wine and spirits credentials earned while living in Paris. She is a U.S. Navy veteran, Ironman triathlete, high-alpine mountaineer, and injury connoisseur who ruminates on UnchartedLifestyleMag.com
She was a guest of Visit New Hampshire.