MONTELPARO, Italy—The view from the southbound train from Ancona, Italy, threw me for a loop. I'd come to hike, but gazed upon breezy palm trees and seaside boardwalks along water so turquoise it seemed tropical, not Italian. 
Though easily accessible by plane, train, and car, the sparsely populated region of Le Marche stays well below the radar of mainstream tourism. The best way to take in Italy's rich cultural heritage without the crowds or inflated price tags is by exploring the gem for yourself.
This region's geographic anomalies are no mirage, and just 30 miles west of the Adriatic lies majestic Monti Sibillini National Park. In 1993, these (almost) 300 square miles, with 10 mountains standing more than 6,500 feet above sea level, were set aside to preserve its magic.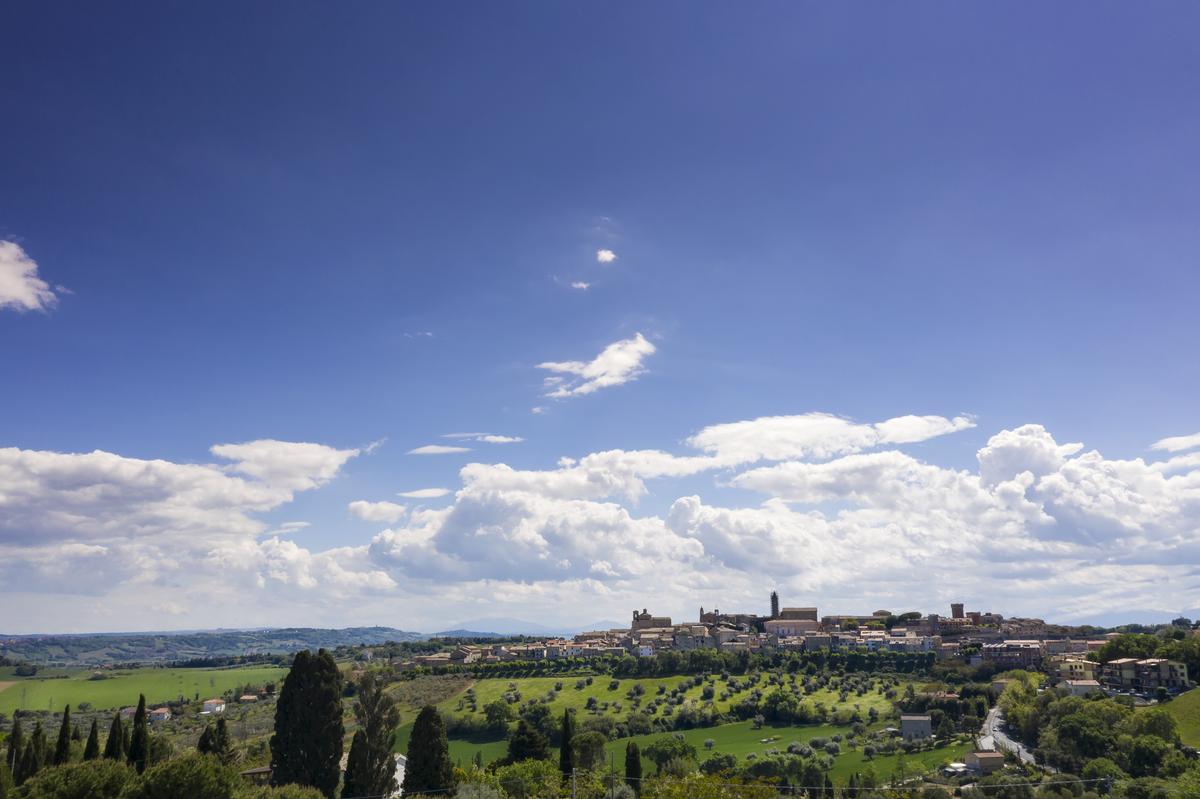 Of the miles of flora and fauna rich trails, the most famous route is the "Big Ring" that encircles the whole of the park and can be covered in nine stages. Many paths are designed specifically for families and others cut right through the centers of nearby hilltop towns. In winter, the highest peaks are covered in snow, providing opportunities for peaceful skiing, but the vast trekking network should be the center of any spring through fall trip to Le Marche.
Montelparo
If your Italian is rusty, as mine is, the dialect in Le Marche may prove frustrating, perhaps for the same reason many struggle with understanding French—they drop the final letters of most words! 
This isn't Rome, Florence, or Venice, where mostly everyone speaks English. I was saved, thankfully, as most of the knowledge I gathered on my Italian hiking trip came from British expats. They spoke Italian well, and their combined knowledge of hiking, food, and wine made them the ultimate hosts. 
Also helpful: They co-own the only hotel of its kind in the area. Madeline and Tim Jones spent more than five years looking for the perfect Italian opportunity, viewing hundreds of properties before finding and purchasing a palazzo dating back to 1501 and renovating the three-floored, historic townhouse into what is now Hotel Leone in the town of Montelparo. I highly recommended this all-inclusive base to first-time visitors who don't speak Italian.
The hilltop town of Montelparo rests midway between coastal Pedaso and the Sibillinis, affording unobstructed views of both rolling land and blue sea. From almost any part of town, gaze past green valleys from one walled hilltop (these are medieval fortifications) to the next. Wander the winding streets and well-worn stone steps that meander in no particular fashion from churches to historic piazzas to open courtyards where locals meet up and converse. Those are the obvious routes around town.
What is now the hotel's wine cellar was a happy accident that uncovered other paths. Upon studying some old plans during the renovation, the Jones discovered an area that had clearly been blocked off, and after excavating hundreds of years' worth of mud and silt, found a blocked-off tunnel. Most of these towns preside over a hidden network of passageways. The previous owners had, at some point, blocked the tunnel off. This is only one of many enchanting stories the Joneses can share about their enchanting labor of love.
Each Town Has a Story
Italians don't really visit Le Marche as tourists; rather many of the city-dwellers escape to their second homes here during the summer months, when Montelparo goes from 600 residents to 3,000. 
The other traditions that swell populations for a few days, along with the local economies of these postcard-perfect medieval hilltops, are the unique annual festivals. In Montelparo, it's the bacalao (salted cod) festival, and Smerillo has a popular chestnut festival.
Every nearby village also houses a museum unlike any other in the region. Montelparo's is wholly devoted to tradesman's bicycles. Others showcase fossils, sacred art, anthropological and artifacts; Santa Vittoria, just four miles from Hotel Leone, has a museum of monks. Visiting these small museums only takes an hour or two, and each reveals a distinctive layer of the region's tradition not showcased anywhere else.
While there's been much talk of mountains, don't forget Le Marche's 100 miles of beach, varying from remote to busy. Shore topography ranges from jagged cliffs to pebbles to the finest of white sand. As for me, I have yet to truly explore Le Marche's Riviera. Next visit.
Where to Stay
Hotel Leone
is a luxurious but not at all stuffy boutique hotel with expansive views, onsite pool, Art Deco reception, bar area, and room interiors personally appointed by Madeline. She runs the ins and outs of daily management and serves as onsite sommelier at the hotel's restaurant. The executive chef is none other than her husband and hiker-extraordinaire Tim, who attended culinary school while the couple lived in Singapore. His passion for innovative food is woven throughout the seasonal menus but regional cuisine stands front and center. Of special note is the world-class wood-fired oven, which produces delicious pizzas, focaccia, and other breads. The hotel also offers bespoke excursions throughout the seasons featuring food, wine, hiking and walking, and truffle hunting. From $160, includes breakfast.
Best for ultimate luxury and exclusivity or the perfect Italian wedding.
Though Le Marche has been called "The New Tuscany," tourist accommodations are hit or miss. These home-base alternatives offer something different.  
Set among rolling hills and olive groves (hence the name), this newly renovated villa offers year-round luxury less than 10 minutes from the beach, although you'll be staring at the Adriatic Sea the entirety of your stay through each level's floor-to-ceiling glass.
Opting for the white-glove full-service staff is an option but isn't necessary. Professionals can come to teach cooking courses, prepare meals, provide massages, or train guests in the onsite gym, but guests can just as easily buy their own groceries and enjoy a restful staycation with family. Either way, the villa has entertaining in mind starting with the top of the line kitchen, which made me swoon. There are two large dining tables indoors, al-fresco dining by the grill, two terraces, and infinity pool. The six king-sized bedrooms are bathed in natural light and neutral décor providing a tranquil match to the expansive views. The cherry on top of Villa Olivo is the full spa with six-seat jacuzzi, steam room, and Swedish sauna.
Best for a romantic hideaway or comfortable home base while exploring the region
While this apartment is fully refurbished, it retains its 15th-century, vaulted ceiling charm. I felt like royalty in a medieval castle, sleeping in the king-sized bed below an antique Italian chandelier, waking to the roosters and rolling green hills of Le Marche. There's no mistaking where you are when you wake up to that view. The kitchen is fully equipped with modern appliances and dining table if opting to eat in, and underfloor heating throughout makes this gem ideal for winter stays. The quaint village of Petritoli sits atop a panoramic hill with views of the Adriatic, Sibillini mountains, and hilltop villages. Petritoli is worth at least a day of exploration itself, with three highly regarded restaurants, several bars, churches, piazza, restored civic tower with viewing terrace, theater, and the three arches that clearly mark the entrance to the village. Note: Those with mobility issues may find accessibility challenging, as this apartment is accessed from a cobblestone street with several steps.
Regional Towns to Visit
I suggest renting a car because Le Marche is without reliable local public transportation, which adds to its charm. Traffic is a non-issue and stick-shift driving through hills is fun.
Ascoli Piceno
is an ancient town built of travertine and known for its Piazza del Popolo, considered among the most beautiful piazzas in Italy. Café Meletti, in one of the piazza's corners, is the perfect place for coffee, gelato, or its namesake anisette liquor.
Loreto
is famous for the Basilica della Santa Casa, a pilgrimage site believed to be built around the home where the Virgin Mary once lived. (Angels were believed to have moved the house from Nazareth to Croatia to Loreto.) The atmosphere, airy piazzas, and panoramic views are captivating.
Macerata
is popular for its opera tradition and home to the annual Sferisterio Opera Festival, held in the huge neoclassical arena in July and August. The University of Macerata, founded in 1290, is one of Italy's oldest and its grand hall, with intricate woodwork, frescoes, and antique chandeliers, is a must-see.
Amanda Burrill sees through an adventurous lens, typically focused on food and travel. Her education includes a bachelor's in archaeology, a master's in journalism, a culinary degree from Le Cordon Bleu, and wine and spirits credentials earned while living in Paris. She is a U.S. Navy veteran, Ironman triathlete, high-alpine mountaineer, and injury connoisseur who ruminates on
UnchartedLifestyleMag.com