If you've ever carried your groceries home in a paper bag, you can thank Margaret E. Knight. It is a name that you have almost certainly never heard of, associated with an invention that seems too obvious to notice. But the brown paper bag is one of many useful modern conveniences that, trivial in hindsight, was by no means self-evident before its conception. The sweat and sacrifice its creator endured to bring this apparently simple object into our lives deserves our admiration. In a time where it was assumed that women were not smart enough to invent things, Margaret Knight showed a spirited resolve to realize her ingenuity and not allow others to take credit for her original work.
Curiosity and a Toolbox
Her father died not long after she was born in 1838, leaving her family in poverty. But he left something behind—an old toolbox—and from this container the natural aptitude of young "Mattie" blossomed. She used it to build toys for her brothers and local children, later recalling, "I was famous for my kites, and my sleds were the envy and admiration of all the boys in town." In a notebook titled "My Inventions," she started a lifelong habit of making drawings of her ideas.
At the age of 12, she left school to work in a textile mill, suffering grueling hours under appalling conditions. One day, a thread snapped on a nearby machine, causing a steel-tipped shuttle (the part of the loom used to weave threads) to break loose. A girl who lived next door to Mattie was hit in the head and badly injured, an occurrence all too common in cotton mills at the time.
Mattie sketched a solution to the problem in her notebook, which involved adding a metal guard to the box plate that would prevent a shuttle from flying off its track. She showed the drawing to a worker in a local machine shop, who passed the idea up the corporate ladder. Soon this "shuttle restraint" became a standard incorporation in looms across the nation. Mattie, however, received no compensation for her life-saving invention, since she was too young to register one.
She continued to work in the mill until she was 18, then dabbled in a variety of trades over the next 10 years—daguerreotype, photography, engraving, upholstery, and house repair, among others. But it was after the Civil War that she landed the job that changed her life: a machinist at the Columbia Paper Bag Company in Springfield, Massachusetts. While there, she received two thirds of the wages of male employees who performed the same work; it was thought that women were not only less competent with machinery than men, but also wore "objectionable" clothing that took up too much room and posed a hazard to the workplace (according to one of the superintendents).

During her employment at the company, she studied the machines and noted shortcomings in their efficiency, as well as problems with the then-current paper bag, which was shaped like an envelope and could neither stand upright nor hold much weight without tearing. Over the next two years, working in the basement of her living quarters, she proceeded to sketch improvements and make elementary models for her designs.
When the time came to make a wooden prototype, Knight opened up her father's old toolbox. She had kept it with her all these years, taking it with her everywhere she went, keeping his memory alive. Using only the rusty objects in this cherished, decaying heirloom, she built a device that could successfully cut, fold, and glue paper to make the flat-bottomed brown bags we know so well today. It was a machine that could do the work of thirty factory laborers in a fraction of the time. These new bags could stand upright and hold more weight than the current ones being produced, potentially revolutionizing the industry—if only Knight could acquire the necessary rights to sell the machine.
Fighting Discrimination
Intent on obtaining a patent, she traveled to a machine shop in Boston and gave instructions to have an iron model built from her wooden prototype. After this was done, she headed to the patent office, only to discover that someone else had just submitted a design for the same invention a few days prior. Knight was baffled, then outraged. She learned that a man named Charles F. Annan had made frequent trips to the machine shop, studied Knight's prototype under false pretenses, and passed it off as his own.
She filed a lawsuit against Annan, using the last of her savings to hire a lawyer. During a trial that lasted over two weeks, she spent a hundred dollars per day (in 1870 currency) as witnesses were brought out to testify to Knight's priority of invention. The defense tried to build a case against her based on feminine inferiority, with Annan stating under oath that "Miss Knight could not possibly understand the mechanical complexities of the machine." To counter these accusations, Knight took the stand, telling the court, "I have from my earliest recollection been connected in some way with machinery." She described her history of employment in manufacturing before exhibiting her blueprints, early models of the design, and intimate diary entries detailing her work progress over a two-year span.
Faced with proof that a woman had indeed invented the thing, the defense lawyer tried to pivot the case in Annan's favor by arguing that too much time had passed in between Knight's conception of the machine and its patent application. The process should have taken months, not years. The Patent Office examiners, however, took into account the hindrances of Knight's circumstances and gender, adding that she had exerted a "proper diligence" of "most notable character" in seeing her project through. The judge ruled in her favor, then closed the case with the remark, "Mr. Annan shall be forever disgraced in history."
After the trial, Knight attracted international attention. She refused an offer of $50,000 to purchase the patent from her and partnered with a financial backer to open the Eastern Paper Bag Company. Included in the business agreement was an up-front payment to her, as well as royalties on each bag made and shares in the company's stock.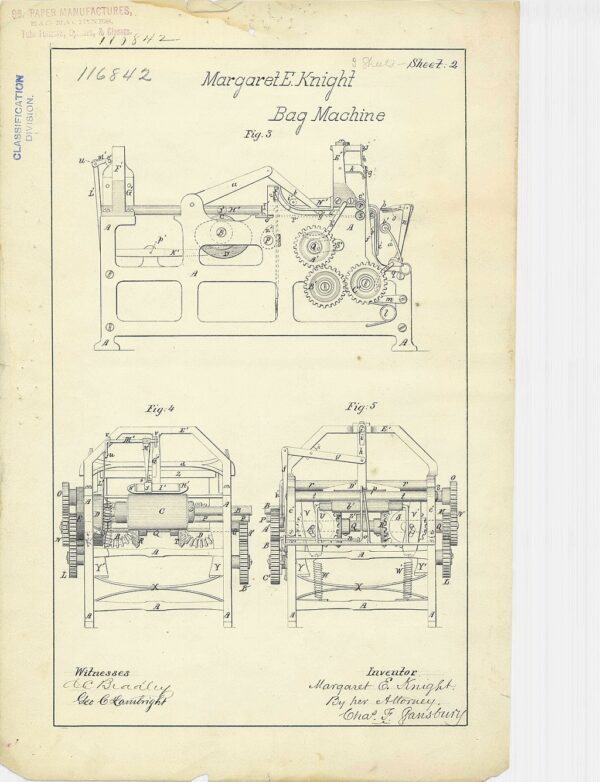 Later Inventions and Legacy
Over the next four decades, Knight expanded into the shoe, rubber, and automobile industries. She obtained patents for (among other things) a machine that cut shoe soles, tires that were "non-skiddable," an internal combustion engine, and a rotary engine that was dubbed the "Knight Silent Motor." Still other inventions included a numbering machine, a machine that made window sashes, and a "dress and skirt shield." At the time of her death in 1914, she held 22 patents in her name, and she is credited with an additional 65 inventions under patents held by her investors and employers. After passing away at the age of 76, a local obituary called her the "woman Edison."
In an 1872 interview with "Woman's Journal," Knight was asked how a woman with no formal education could have invented her paper-bag machine. In response, she cited her inborn disposition:
I was only following out nature. As a child I never cared for the things that girls usually do; dolls never had any charms for me. … The only things I wanted were a jackknife, a gimlet, and pieces of wood. My friends were horrified.
She concluded by saying, "I'm not surprised at what I've done; I'm only sorry I couldn't have had as good a chance as a boy." In a time when a woman's role was not associated with entrepreneurship and when the small number of other female inventors out there were mostly submitting patents related to the domestic sphere (even then concealing their gender on the patent paperwork), Knight was contributing to the manufacturing industry under her own name. Her success story makes her one of the first women to embody the American Dream of achieving material prosperity through creativity and diligence.
Parents who are interested in teaching their children about this inventor have several resources at their disposal. Two excellent children's books have been written on the subject: "In the Bag!: Margaret Knight Wraps it Up," and "Marvelous Mattie: How Margaret E. Knight Became an Inventor." The second of these illustrated biographies, by Caldecott Medal winner Emily Arnold McCully, tells Knight's story through watercolors and includes panels of da Vinci-esque designs similar to those sketched in her famous notebook.
The paper bag design has undergone a few improvements since Knight patented her machine. Most notably, today's versions have pleated sides that make folding more compact. In essence, though, they remain the same, and Knight would still be able to recognize her invention that, over 150 years after it was patented, remains widely used everywhere. So the next time you go grocery shopping, give a thought to the inventor Margaret Knight.
This article was originally published in American Essence magazine.