At any Thanksgiving table across the country, you're likely to find the usual suspects: turkey, a glistening centerpiece, joined by stuffing and a motley cast of sides. But look more closely, and singularities will arise: a soy sauce glaze on one bird, oysters tucked into another's stuffing, miso butter melted into the mashed potatoes that accompany a third.
On this American holiday, we feast on foods as varied as the cultural fabric of America itself.
Here, three chefs from three backgrounds share the family dishes and traditions that make their Thanksgivings taste and feel uniquely their own. They prove that even a classic turkey dinner can take on countless faces. (The secret, it seems, lies in the stuffing.)
A Sticky Rice Stuffing From Vietnam

Helene An
Founder and master chef, House of An and Crustacean Beverly Hills
Beverly Hills, California
When Helene An fled from Vietnam to America during the Vietnam war, she took with her family recipes that were near and dear to her heart. One of them was her mother's sticky rice stuffing, which has found its place at the literal center of a new tradition: Thanksgiving turkey.
The Dish: This dish was inspired by my mother's sticky rice-stuffed roast game hen recipe from when I was a child in Vietnam. It was one of my father's favorite dishes. The sticky rice stuffing recipe was passed down from my mother, and I am now passing it on to my daughters. My mother made this dish to make new memories in a new country after we moved to the United States.
In this recipe, I use turkey instead of a hen to embrace the "American Thanksgiving." It became such a huge hit with family and friends that, when we launched An Catering, it became a classic holiday menu item for not only us, but for many other families in Los Angeles. That is a special feeling, to know that something you put so much love into is also being served for other families.
This dish is special to my family because it represents our Vietnamese history, blended with our American life now. It pays tribute to my mother and represents the flavors of the authentic Vietnamese cuisine that have been in my family for generations.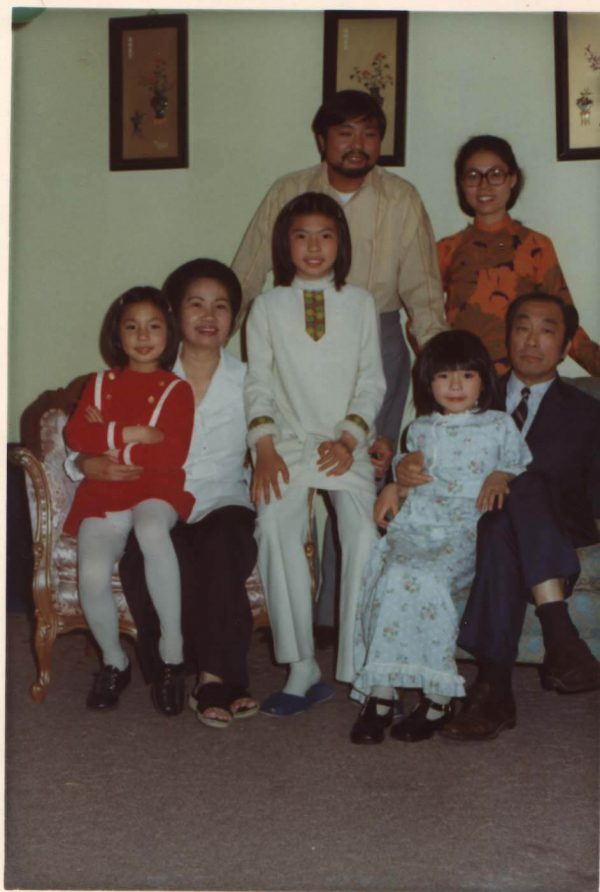 The Scene: I am lucky enough to have five daughters, so Thanksgiving has always been a big family affair. My daughters usually bring desserts, and I make homemade ice cream to complement the various dessert dishes.
Thanksgiving is a time for our growing family to come together, catch up with one another, and share stories over great food. In Asian culture, it's common for family stories and traditions to be passed down orally, and it's something we truly cherish, to preserve our legacy and share with the next generations of the An family.
We make sure that everyone puts away their cell phones, in order to truly embrace these times with family when we're all under one roof. After all, it's story-sharing times like these that [allow us] to pass down the An family secret kitchen recipes throughout the generations. And as our family grows, so do new traditions, as we learn about other cultures that have married into the family.
RECIPE: Turkey Stuffed With Sticky Rice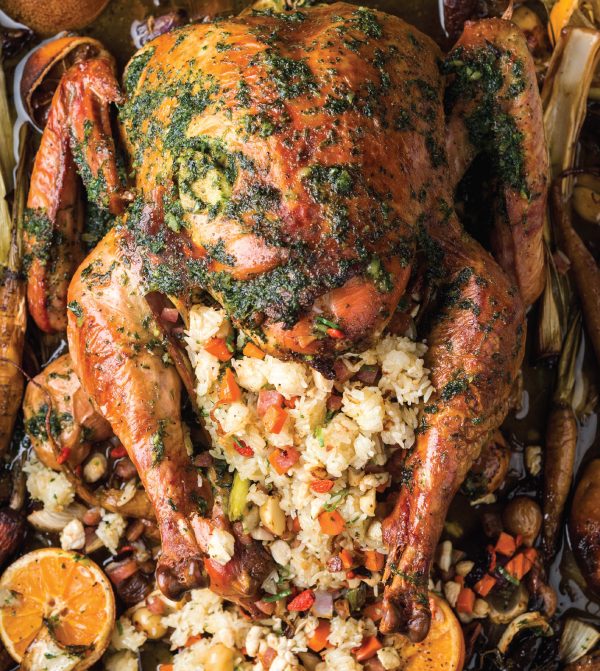 Consider the Oyster
Chris Stam
Executive chef, db Bistro Moderne
New York City
Back when oysters nearly paved the coasts of New England, the abundant and inexpensive shellfish made it into dishes from soups and stews to pies—even turkey stuffing. Chris Stam, a New England native, pays tribute to this American tradition with his own.
The Dish: Most Thanksgivings, we just do the traditional turkey, mashed potatoes, all that stuff. But every once in a while, my family will put together, for the turkey, an oyster stuffing.
I grew up in New England, right outside of Boston, and one side of my family is from Martha's Vineyard. We grew up right on the water. My family has a shellfish license, and every year we'd go out and we would go clamming, to make big stuffed quahogs and pick up bay scallops. Occasionally, at the right time of year, you can go out into the oyster beds and get Katama Bay oysters.
You bring them back and it's like making any other stuffing: sauteed vegetables, breading, a little bit of celery root instead of celery to give it a little bit more sweetness. You put a little spice in it, like Tabasco, and then when it's all done, you fold into it the shucked, chopped oysters and put it inside the bird.
It's not like you're eating a seafood dish. It just comes across really savory. You get a little oceanic flavor from the oysters, but it's more just a nice meatiness that you get from them, more than anything. We get a little creative with it sometimes—stout and oysters is a pairing from way, way back.
People have a misconception of what an oyster is or was, naturally. These were abundant creatures, back in the day, that you could feed your family with. Some of them could grow up to a foot and a half long, not just like the little things we eat now. In the middle of winter, when all the animals were sleeping and hiding, they were right there, so they helped people get through the harsh winters in New England. It's up to debate, but I'm standing by that the original Thanksgiving turkey had oyster stuffing in it.
The Scene: I come from a pretty small family. Growing up, it was just my mom, my dad, and my brother, and my aunt and uncle would come, so it'd be the six of us at Thanksgiving. Now, it's a little different—my brother's a little older, he's married and has two kids, so there are a few more mouths to feed at the table.
My brother will design a specialty cocktail every single Thanksgiving. When we all arrive, he'll start shaking up a cocktail for a cocktail hour with the family, and usually somebody will make a round of little appetizers—canapes, big stuffed mushrooms, dumplings, spring rolls. Whoever's house it is, is in charge of the turkey; whoever's house it's not, is in charge of the sides.
My aunt Kathy always brings the dessert, because she's the baker in the family. She changes it every single year; she's not one to stick with just one presentation. My father's father was a baker, and he had a recipe for a pumpkin cheesecake that we have every year. That's something that's really special to our family that we do every year, to the point where my dad begs us not to, and we tell him no.
They try not to make me cook too much, which I appreciate. They do what they can with the food, and then it's usually like, "Hey Chris, go in there and fix what we did." I appreciate it, though, because that's part of the experience, too. I get to hang out with them and I get to teach them things. I know it's a rare opportunity for a son to be able to teach his father or mother something, so I guess I'm lucky in that way.
For us, it's just really a time to catch up with each other. We're all so busy, my brother has a new family, I'm down in New York, they're all still up in New England. It's just kind of the rare opportunity to slow down and be together as a family, because we did grow up with a small family, and I'm really close with everybody. Obviously, they get to spend more time with each other than I do, but when I do get to go and participate, it's really, really special for me, and I hope it's special for them.
RECIPE: Oyster Stuffing With Apple, Celery Root, and Guinness
For New Yorkers outsourcing Thanksgiving dinner this year, db Bistro Moderne will be offering a special holiday menu.
An Italian-American Feast
Donatella Arpaia
Iron Chef judge and founder, Prova Pizzabar
New York City
Italian meets American in Donatella Arpaia's Italian sausage stuffing, created by her parents when they came to the United States over 50 years ago.
The Dish: Every person tends to bring their own cultural heritage to Thanksgiving. Instead of the traditional bread stuffing, my parents created a sausage mushroom risotto stuffing, using Arborio rice and wild rice—combining the Italian rice with the whole American harvest rice. You're kind of taking the base of risotto, but also adding harvest wild rice, and then all the juices from the turkey.
This is a dish that my mom and dad created here. They were born in Italy, and they created this original dish that I grew up with, that now I make as well for Thanksgiving. We've been doing this ever since I was a child, so it's the only stuffing I've had. With Thanksgiving being such an American holiday, this is very much my parents' twist on it—and it happens to be really delicious, most importantly.
I was born in the United States, but I spent every summer in Italy, in my mom's birthplace, Bari, and Naples, my father's. I've always felt like I had one foot in the New World and one in the Old World. My summers spent in Italy absolutely affect my cooking style, and everything about my food sensibility comes from there.
What I love about this dish is it absolutely reflects my upbringing: I was this American girl that grew up in Long Island, but with my roots and my summers in Italy, I relate to both worlds. The dish kind of reflects me, the two cultures and roots.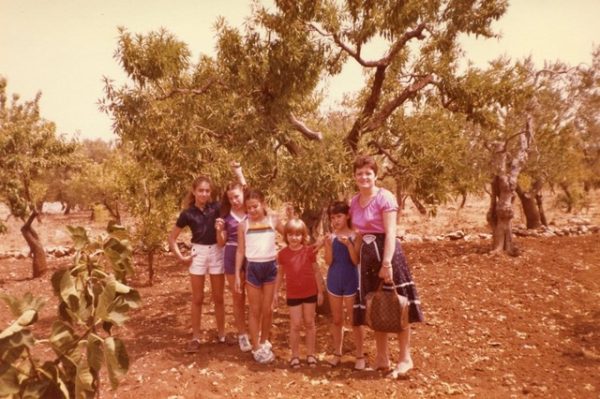 The Scene: When I was young, everyone came to my family's little home, and we used to set up in the basement for 30 to 35 people. When you get older, it kind of diminishes. But now that I have my own home—and we traditionally do it in my home in Connecticut—it's grown again to 30 to 35. The amount of people keeps growing.
It's obscene amounts of food, and it's a bunch of Italians. It's a great day of all-day eating festivities, with a bunch of Italians discussing the food at length. Everyone's a chef, and everyone has large opinions looming around. Everyone's an Iron Chef judge in my family, it seems, everyone's a critic—my husband thinks it's hysterical.
But I love it. I grew up with the big family Thanksgiving, and Christmas is huge, too. I love to host it at my home. It's what it's all about.
And I don't know what it is, but especially with the holidays, I end up doing all the dishes that I grew up with. There have been times where I've tried to do something different and break the mold, but everyone, including me, is like, "No, but I miss Mommy's mushrooms …" It's part of our sense history of childhood, and I think everyone has that in common. You have a certain taste or whiff of something and it brings you back to your childhood, and memories of parents, or people that are no longer with us.
I think that's what the holidays are part of. I think the food and the smells really bring back so many memories for so many people, and I think that's what's very special about Thanksgiving. It's really important, now that I'm a mom, that I pass on these traditions. And I do.
RECIPE: Mushroom and Sausage Rice Stuffing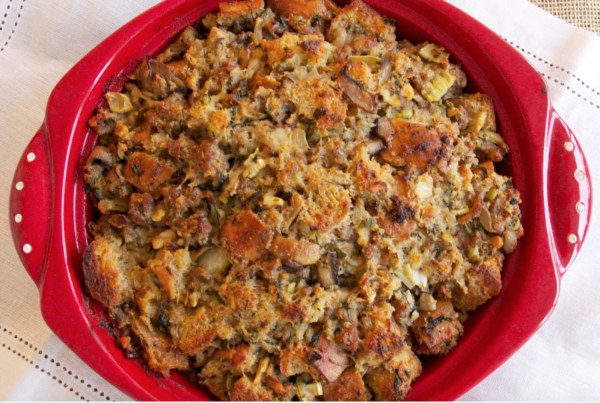 Interviews have been edited for clarity and brevity.