'Taste of Pamplona' at La Fonda del Sol
July 5, 2013 6:58 pm Last Updated: July 5, 2013 6:58 pm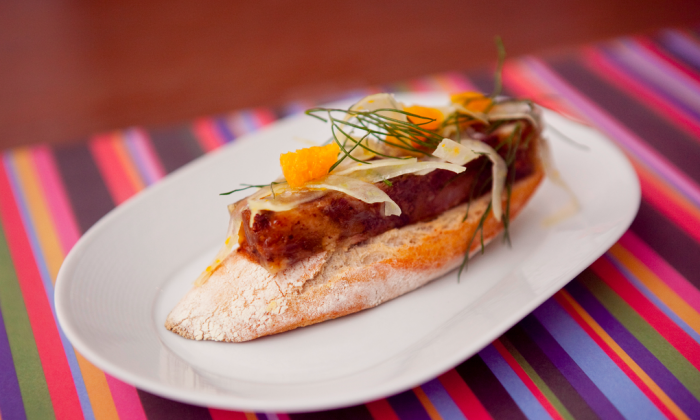 The bulls will be running through the streets of Pamplona, Spain, from July 6 to July 14. And you can it take it all in from the safety of La Fonda del Sol, a comfortable tapas lounge in Midtown, with a glass of sangria and some tapas especially served for the occasion.
Executive chef Chris DeLuna has prepared a special tapas menu, inspired by the San Fermin festival, and its traditions of bull-fighting and bull-running, immortalized by Ernest Hemingway in "The Sun Also Rises."
The iconic rabo de toro (tail of the bull) will be offered in a Braised Oxtail Montadito with Garlic Aïoli and Chimichurri. Other festival tapas include a Matrimonio made with Spanish Anchovies, Grated Tomato and Country Bread and a Trucha of Smoked-Pickled Trout, Marinated Peppers, Fennel and Aïoli. ($8 each or 3 for $22.)
Other tapas on the menu include Potatoes "Bravas," Gazpacho "Salmorejo," Basque Chorizo Braised in Cider with Onions, Paella Croquettas with Lemon Aïoli, and Albondigas, Veal Meatballs with Tomato and Manchego.
The Taste of Pamplona tapas menu coincides with the San Fermin Festival, July 6–14.
Executive chef Chris DeLuna offers his recipe for the Braised Oxtail Montadito, which is perfect paired with Fonda del Sol's sangria.
Braised Oxtail Montadito
5 oxtails cut into sections
2 onions chopped
1 head of garlic cut in half
2 carrots chopped
3 oranges, peels and pulp only
1 bottle of white wine
6 quarts of chicken stock
6 sprigs of thyme
6 sprigs of rosemary
5 bay leaves
Salt and pepper to taste
Brown the oxtails in a large casserole. Once all of the oxtails are browned, set them aside.
Add your vegetables and cook until golden brown, add the wine and reduce by half.
Add the oxtails back to the pan and cover with chicken stock. Bring up to a boil, cover and place in a 350 degree oven for three hours. Remove the oxtails from the cooking liquid to cool.
While the oxtails are cooling, strain the cooking liquid and skim off the fat. Reduce the strained cooking liquid and reduce by half.
Pick the oxtail meat into whole chunks, place the meat in a layer on the bottom of a baking pan and pour the cooking liquid over the meat to cover.
Leave the terrine to set for at least 12 hours. Cut into serving sized pieces. Serve over a piece of toasted country bread coated with a thick layer of chimichurri.
La Fonda del Sol Sangria
5 liters red wine
½ cup peach schnapps
½ cup brandy
½ cup triple sec/orange liquor
1 cup OJ
4 green apples, sliced
2 oranges, sliced
2 limes, sliced
2 lemons, sliced
1 pint ginger syrup
Mix ingredients together, give it time for the flavors to blend. Serve in wine glasses over ice.

La Fonda del Sol
200 Park Avenue in the Met Life Building, 44th Street at Vanderbilt Avenue
212-867-6767
www.lafondadelsolnyc.com 
Tapas Lounge Hours:
Monday through Friday: 11:30 a.m.–10:30 p.m.
Saturday: 5 pm–10:30 p.m.