TALKEETNA, Alaska—I dreamed of Alaska long before setting foot there. After my first trip to Denali National Park, I spent months marching around Manhattan in my weighted vest thinking about my return; Alaska had even taken over my waking hours.
In May 2018 my incessant dreaming coalesced into something inexplicable. It defies definition, though my best stab at it is gratitude. America's last frontier has a way of overwriting the preconceived, presenting what you never expected. After all, how could you possibly know what's missing, when Alaska is unlike anything else?
Waiting on Weather
For days we'd been waiting for "the call." On the other end, Talkeetna Air Taxi would tell us about a good weather window, and to get there within a half hour to confirm our spots on the hop out to Kahiltna Glacier. Once there, my teammate and I, each equipped with 125 pounds of gear and 28 days' worth of food, would be left to our own devices.
If we stayed mentally intact and technically vigilant, with a few strokes of luck we'd return with the same air taxi having achieved what we'd dreamed hard and trained even harder for—a view from the top of America. The goal was to summit the picturesque centerpiece of Denali National Park.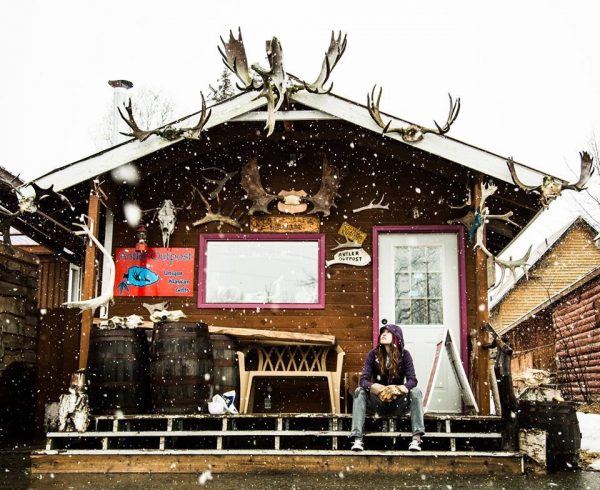 Formerly known as Mount McKinley, Denali is North America's highest peak with a summit elevation of 20,310 feet. Each year over a thousand climbers attempt to climb it, but first, they come to Talkeetna to pick up their permits. Few hike in to make the climb; most, like us, fly into a base camp to start their summit attempt.
Sitting at The Roadhouse this dreary, overcast morning, I knew no call, and therefore no flight, was in the cards. I sipped my coffee, worked on my enormous reindeer pastry, and scanned the walls; their "wallpaper" of framed outdoor photographs and paraphernalia. Two categories of diners sat around us, locals and those in town answering an outdoorsy call. This early in the climbing season—park rangers not out there yet, seasonal camps not set up yet—the diners were mostly locals.
One, a preteen boy quietly eating with his father, had a magnificent dirty blond mullet flowing down his back. I texted my climbing partner to turn around and subtly behold the majesty. She shared my respect. That's the spirit of Talkeetna: Be yourself, no one is judging. In the coming weeks the mental image of that legendary coif would boost my morale, bringing many smiles to my windburned, cracked, often bleeding face.
Neither of my trips to Talkeetna were as a tourist. Talkeetna is 59 miles (as the crow flies) from Denali, and you can see it on clear days. On my first visit, to attend an early April 2017 mountaineering course with Alaska Mountaineering School, the town was slow and quiet. This second time around, late April 2018, the community got livelier by the day.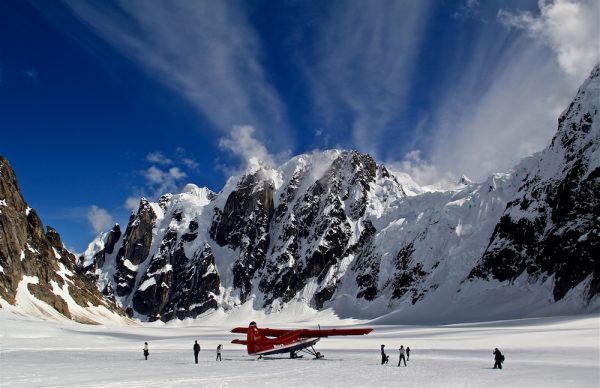 After eight days, the call finally came. On the morning of May 2, 2018, Curious Compass (our expedition team name) was dropped off where Kahiltna Glacier's base camp would soon spring up. We'd elected to start our expedition early, accepting colder temperatures in exchange for fewer mountaineers—more mountain to ourselves. We tied in to our rope, and with our packs strapped on and sleds dragging behind us, started our traverse.
Destinations earn a spot in our hearts one of two ways: Either the place itself moves us, or something that happened there does. When it's both, the feeling that the lasting memory elicits is greater than the sum of its parts. The convergence of the overwhelmingly beautiful setting—the United States's last frontier—our strengthened team bond, and the gratification of achieving the mission at hand on our first attempt renders May 2018 among the most poignant months of my life.
You don't have to set foot on Denali, but a proper visit to Alaska includes Denali National Park, and a trip to the park goes hand in hand with visiting Talkeetna.
Talkeetna
Main Street, the only paved road in town, greets you with a hand-made sign reading "Welcome to Beautiful Downtown Talkeetna." With its log cabins and clapboard storefronts lining the dirt streets, Talkeetna has retained much of its early-Alaskan flair. The town is 115 miles north of Anchorage, situated at the confluence of the Susitna, Chulitna, and Talkeetna Rivers. Here, everything circles back to mining, railroad, aviation, mountaineering or a combination thereof.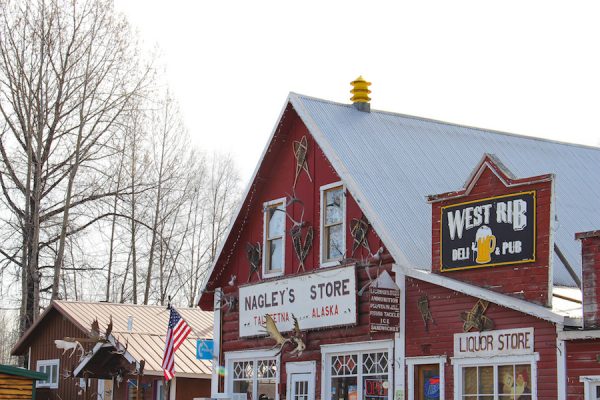 Gold brought miners in 1896. By 1910, Talkeetna was a riverboat steamer station, supplying miners and trappers in the nearby districts. The village of Talkeetna was established in 1916 when the area was chosen as a district headquarters for the Alaska Railroad. It's still a rail stop.
The town's population peaked at more than 1,000 during World War I, declined after the Alaska Railroad was completed, and has bounced back as the staging area for ascents of Denali, Mount Foraker, The Moose's Tooth, and scores of other high peaks. The 2010 census population recorded 876 residents.
What to Do
The Talkeetna Historic District is on the register of National Historic Places, and these early 1900s buildings are a must-visit. Go to Nagley's General Store to buy any necessities, and wander across the street to the Fairview Inn, the town watering hole. The iconic Talkeetna Roadhouse, built in 1917, served fur trappers, miners, prospectors, and other wanderers making their way through the territory. It still does! I caught a few showers—to include the all-important post-expedition shower—and did several loads of laundry there, all for a good price.
With the intent to climb or not, visitors can get a feeling for high adventure at the cozy Talkeetna Ranger Station, which processes the numerous expeditions to Denali and features a display and video program for those thinking of scaling the peak. The history of Denali and the climbers who made the first ascents is well-preserved at the Talkeetna Historical Society Museum, a small complex of four restored buildings. One of them, the Section House, contains a giant relief model of Denali and its climbing routes surrounded by Bradford Washburn's famous photos of the mountain. Spending time with this display before our climb put the enormity of the mountain, and what we were setting out to do, into perspective.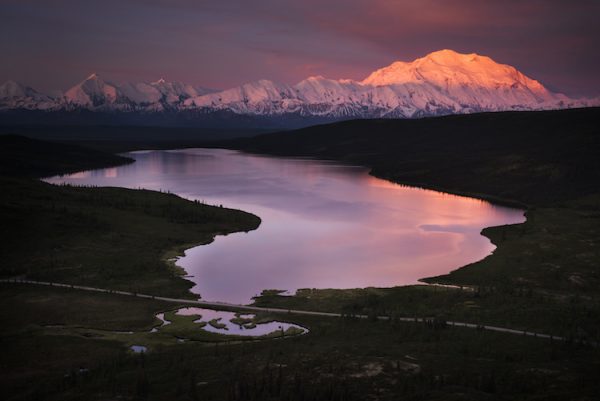 By all means, do not settle for that view of Denali. Better ones can be had by booking a flightseeing tour from the local airstrip. At times, usually May through July, passengers on such tours can even catch a glimpse of climbing parties en route to the summit. Scenic flights of the mountain and the Alaska Range are awe-inspiring, to say the least, and a glacier landing amongst the magnificent peaks, even for just a few minutes, offers an incredible frame of reference: No matter the enormity of what life throws at us, we are small.
While I consider a flightseeing tour a must-do, more outdoor adventures abound. Riverboat and jet boat tours up Talkeetna Canyon, Devil's Canyon, Chulitna River, and Tokositna River are popular, and the boats can also be chartered for fishing trips. Horseback excursions wander trails with majestic views. ATV tours wind through scenic trails to an original Alaskan homestead, where you'll break for lunch before panning for gold.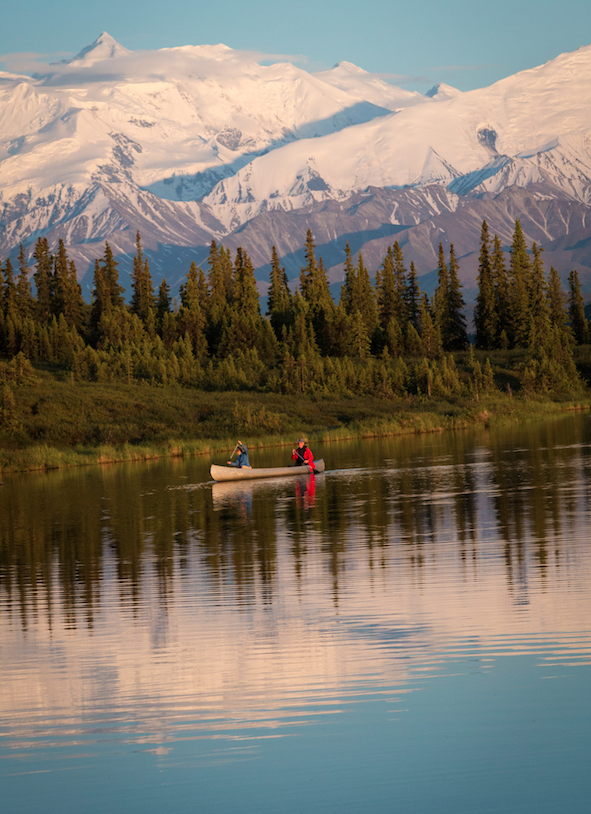 Talkeetna's outdoorsy, artistic residents hold proudly to the character of their community and celebrate the influence of Denali, as evidenced by what's for sale in the local shops and galleries and seasonal Talkeetna Farmer's Market. You'd need a little less than a week to try all the eateries and every brew from Denali Brewing Company. I would know.
Eating My Way Through Town
Inclement weather means air taxis and flightseeing tours are suspended. This somewhat regular occurrence results in what's called the "Talkeetna Hang," which we spent a week doing while waiting for "the call." Having what could be a three-plus week expedition delayed on the front end is a bit of a buzzkill, but I capitalized on the time, turning it into an opportunity to experience each of Talkeetna's dining establishments, some more than once.
Wildflower Cafe: We'd been impressed by Wildflower Cafe before the expedition. On an especially trying day, as I often do, I turned the conversation to food. We decided we'd hold our post-expedition feed here too. The extensive menu utilizes fresh and mostly locally produced ingredients and the beer and wine lists are respectable. The seafood here is the freshest in town and I enjoyed the salmon and crab cakes most. I'm not much of salad gal but after weeks on the mountain by body ached for what it'd been missing most, fresh vegetables.
Flying Squirrel Bakery is family-owned and -operated, serving pastries, artisan bread, and creative savory food year-round. Try all the breakfasts and their wood-fired pizza (weekends only) and minestrone soup. The cafe, with colorful, local art hanging on the walls, is slightly off the main drag, surrounded by Alaskan forest.

Talkeetna Roadhouse: Showers, laundry, and minimalist lodging aren't all they've got. The meals are hearty. Because The Roadhouse feels like Talkeetna, we had our final meal here before heading back to Anchorage. No one judged me for my burnt face or swollen lips, in fact, I saw many similarly beat up and familiar faces from the mountain.
Talkeetna in Season
It took a couple of days to get from the summit back down to base camp, by late May a bustling metropolis of tents, climbers, and skiers. A flightseeing tour was our ride back to civilization, and the bulk of the tour happened after it picked us up. In the sky, my teammate crashed hard, face against the window, and I didn't have the heart to wake her up. Instead, I gave Denali National Park one long last look. From on high, all of our time and hard work spent in the vastness, a vastness ironically suffocating at times, was summed up in the short distance between my thumb and forefinger. Furthermore, I was relatively warm. Had I imagined the struggle? After weeks of the same, things were changing too fast to register as reality.
As we flew toward Talkeetna I saw some green below, not the white of snow or the black of rock that had become my new normal. Soon, everything was green.
Getting off the plane, stepping down on terra firma, not snow or ice, was a jolt to the senses. I can only liken it to my early Navy days; being out to sea for (what seemed like) eternity, then having to reacquaint myself with the land. How quickly we adapt … or how quickly we forget?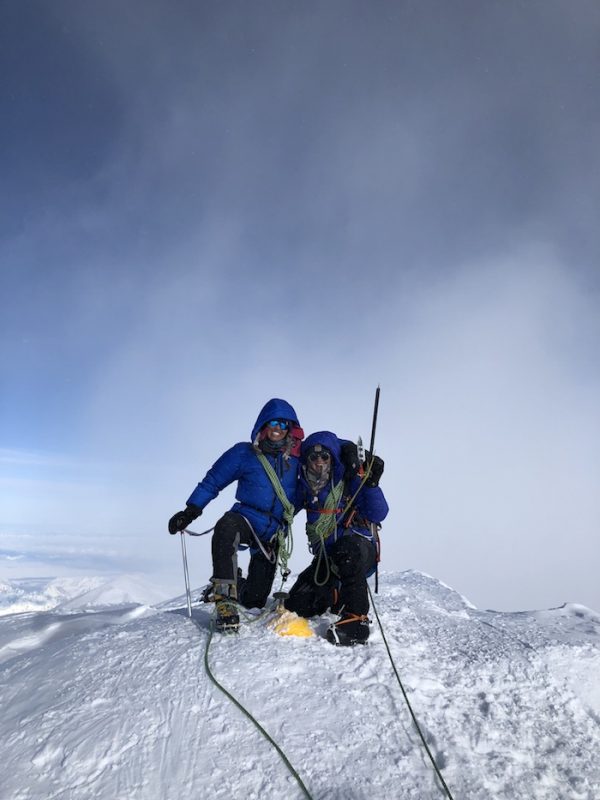 I was then hit by a bulldozer of smell—there was a smell consuming my whole head. Aside from a malfunctioning cooking stove, occasional hot food, and the slight smell of my underarms, I'd smelt nothing for weeks. The vibrant colors and sounds in the air were almost as overwhelming.
I couldn't pinpoint to the genesis of my tears—the return to such splendor? Gratitude for our success? Reluctance to assimilate back into a complicated world after the simplicity of putting one foot in front of the other? Even now, a year later, all I know is that I wasn't sad. Perhaps I was just changed, appreciating nature's bright, warm bounty in close juxtaposition to our monochrome adventure.
Before long we were back on the main drag: Talkeetna was a town transformed. A frenzy of tourists of all ages lined the streets, a taco food truck served a long line, climbers with their telltale gear bags zigzagged about, preparing for the journey we'd just completed. Stripped down to a single layer of clothes, comfortable, birds chirping: This Talkeetna, late May through August, is the one to revel in. We showered, ate, and did just that.
Amanda Burrill sees through an adventurous lens, typically focused on culinary and travel. Her education includes a bachelor's in archaeology, a master's in journalism, a culinary degree from Le Cordon Bleu, and wine and spirits credentials earned while living in Paris. She is a U.S. Navy veteran, Ironman triathlete, high-alpine mountaineer, and injury connoisseur who ruminates on UnchartedLifestyleMag.com
Sidebox:
Denali National Park
Denali National Park, which encompasses 6 million acres of wild land, is bisected by a singular road. It can be enjoyed by novice hikers with only a few hours to spare, backcountry enthusiasts trekking for days into the wilderness or travelers content with sightseeing from the comfort of a bus.
From the main gate, visitors can take the park's bus system all the way to the end of the 92-mile road to Kantishna, but be sure to stop at Mile 85 at Wonder Lake for the coveted view of the reflection of Denali in the water. Hikers can debark at various trailheads along the way.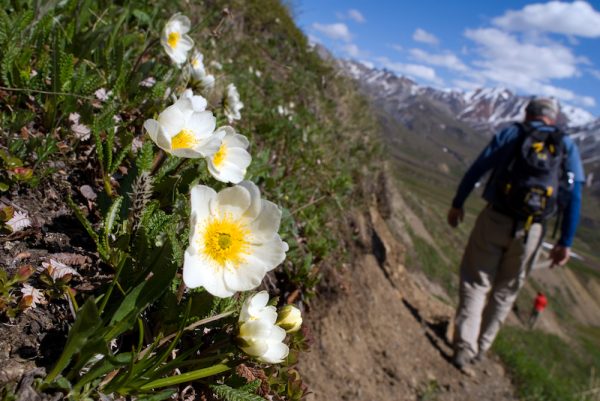 Bus tickets and backcountry permits for more extended hikes can be purchased at the Denali Visitor Center, where park rangers provide instruction on wildlife viewing and safety. Possible wildlife sights include blonde grizzlies, moose, wolves, and with any luck, a wolverine.
Getting there: The park's main gate is 237 miles north of Anchorage and 120 miles south of Fairbanks via George Parks Highway, Alaska Route 3, open year-round. Bus companies provide service to the park in summer. The Alaska Railroad offers daily summer passenger service to the park from Anchorage and Fairbanks. Service is limited in winter. AlaskaRailroad.com
Sidebox:
Climbing Denali
At 8 p.m. on May 22, 2018, the Curious Compass team of Amanda Burrill and Naomi Schware summited Denali, becoming the first all-female, unguided military veteran team to do so.
During the 2018 season, 1,114 climbers attempted Denali and 496 summited, a 45 percent success rate. Women comprised 12 percent of those climbers (136), with a 40 percent success rate.
Those interested in embarking on an expedition should start the planning process at NPS.gov/dena/planyourvisit/mountaineering.htm