Surgeon Appreciates Shen Yun's Beauty
'It is the world's gain to see this classical Chinese dance,' Says Surgeon
April 10, 2014 8:31 pm Last Updated: April 11, 2014 12:40 am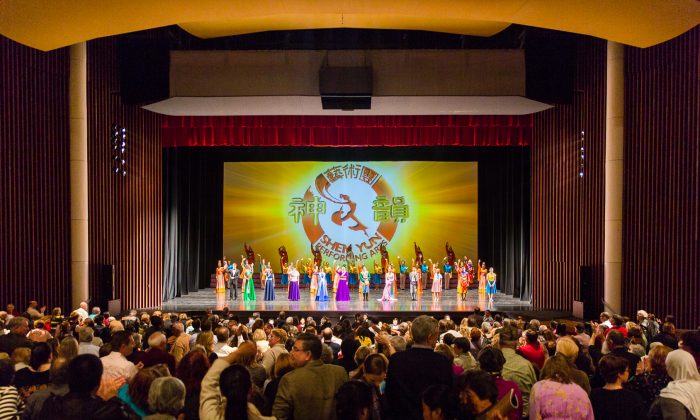 SPRINGFIELD, Ill.—"It's mesmerizing," said Dr. Randy Kneezel, an oral and maxillofacial surgeon from Decatur, Ill., about Shen Yun Performing Arts's presentation of 5,000 years of divinely inspired civilization through dance, music, and song.
It was the first time he and his wife, Rita, had seen Shen Yun. The performance was at Sangamon Auditorium on University of Illinois campus.
Ms. Kneezel's overall impression of Shen Yun was that it was "gorgeous. The choreography is just beautiful."
"The costumes are beautiful. The dance is athletic and beautiful at the same time. The choreography is amazing. The sequencing, the timing of it—it's just beautiful! And, athletic," he said.
Dr. Kneezel was awed by the music, as well, and said, "I love the underpinning of the symphony, and [they] have these beautiful Chinese instruments that are kind of lilting over the top of it. It's full of mystery and it has a surreal, ethereal type feeling to it that just creates more of a mood of China."
According to the company's website, "The Shen Yun Orchestra combines the spirit, beauty, and distinctiveness of Chinese music with the precision, power, and grandeur of the Western symphony orchestra. The result—two great traditions producing one refreshing sound."
A high-technology backdrop has been created for each of the 20 mini-dance performances. These interact with the performers to move them back and forth between heavenly and earthly realms.
"And what I absolutely love is how they do the animation in the back and how those characters come right out of the back and come to life in the space. That's cool; I mean I haven't seen that before, so that is really exciting to see that. Its very well done," he said.
"For 5,000 years, divine culture flourished in the land of China. Humanity's treasure was nearly lost, but through breathtaking music and dance, Shen Yun is bringing back this glorious culture," states the Shen Yun website. The loss of the culture is due to the 60-plus years of communist rule.
Dr. Kneezel explained his experience further, saying, "It's so enlightening. It's just very optimistic. It gives you a buoyant feeling too. It lifts up your spirits."
What did he enlighten to? "The beauty that can be, I appreciate it. Yes, there are a lot of things, and you can see the contrast between [traditional culture] and what's happening in China now," he said.
"It's a shame … the persecution there [of the spiritual faith based group, Falun Dafa]. I know they are trying to fight to bring this enlightenment to that setting. The thing is that they are able to, without being defeated, to share this 5,000 years of civilization from China with the world. They are not able to do that in China, it's sad, but it is their loss now. It is the world's gain to see this classical Chinese dance. It's to our benefit.
"It gives us initially, [it] enlarges our world view to see the culture, the history, and the beauty of China, so that is what it is doing for me," Dr. Kneezel said.
Reporting by Stacey Tang and Cat Rooney
New York-based Shen Yun Performing Arts has four touring companies that perform simultaneously around the world. For more information, visit Shen Yun Performing Arts.
The Epoch Times considers Shen Yun Performing Arts the significant cultural event of our time. We have proudly covered audience reactions since Shen Yun's inception in 2006