Subway Etiquette: Dos, Don'ts, and a Social Media Debate
September 10, 2013 3:31 pm Last Updated: September 10, 2013 3:31 pm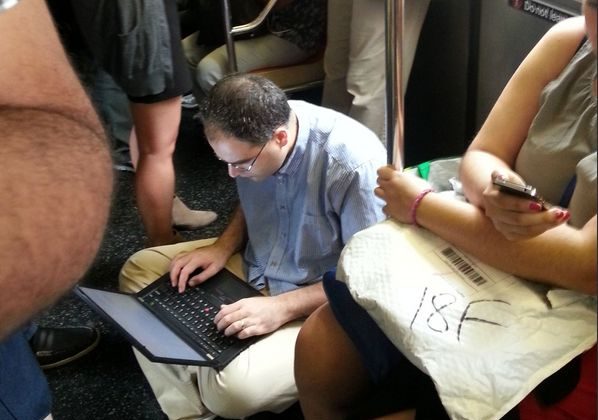 A Reddit user posted a photo of a man sitting on the subway floor on his laptop Tuesday morning, with a caption that used an expletive to berate him, saying "being a workaholic is no excuse." The man was on the 1 train in New York City. 
One user noted the person who took the photo was rude and breached subway etiquette for doing so. Another noted someone should have offered him a seat. 
The man in the photo saw it on Reddit and responded with an apology and explanation, which garnered sympathy from many Reddit users:
Hey, that's me!! Didn't notice you're snapping this, I would have waved in order to get a more flattering photo. My front looks less bald than my top, honest!
Some background: I'm wrapping up my PhD thesis. In parallel, I started a new job, my wife went back to school, and we have a new baby (second kid). My wife and I generally sleep 3-4 hours on a good night. Rest of the time is work, work, work, weekends included, with the exception of one free weeknight a week each of us gets in order to preserve some meager amount of sanity.
This means I could either get some work done on the subway or reduce the aforementioned amount of sleep even further. (BTW, at this specific instant I am reviewing the latest comments my adviser gave to my method section.) Usually I manage to get a sit but I got delayed at daycare this morning, hence this pitiful situation. I apologize for inconveniencing you- personally, I did not feel that the train was so packed (the aisle was quite empty). I switched to a sit at 72nd St.
Anyhow, have a good day and I hope poor sods such as myself will be your greatest sources of consternation in life. And to all of the worried parties, the subway floor is relatively clean (you discover this when your toddler throws a temper tantrum on it…). As far as I can see my pants are fine.
On the topic of subway etiquette, here are some tips, compiled from a New York Daily News video, a Village Voice blog, and various other comments from subway riders.
1. Always walk on the right side of the staircase. Move to the left only if you're moving fast.
2. Don't clip your nails. Yes, this has warranted mention in multiple subway etiquette articles, so people do this. Various other acts related to personal hygiene have also been mentioned.
3. Have swipe card ready long before arriving at the turnstile.  
4. Dress appropriately so you won't sweat so much and smell bad.
5. Wear shoes that allow you to move fast. Change to heels when you get out of the station.
6. Give your seat to the elderly or pregnant. 
7. Don't eat, especially hot food with a strong smell. 
8. Turn down your music so others can't hear it.