A stray mixed-breed dog, hungry and searching for food, back in October tagged along with some hikers south of the border who were feeding him, and together they scaled Pico de Orizaba, the highest mountain in Mexico.
But when it came time for the humans to make the treacherous decent back down, the dog straggled behind; while the humans went home, he endured subzero temperatures for almost a month—until a climber eventually snapped a photo of him, posted it on social media, and it went viral.
An online buzz ensued surrounding this dog, named El Canelo, and eventually word reached Layo Aguilar, an experienced hiker and teacher from nearby Veracruz. Previously, on Oct. 18, one Pedro Ruiz Guerrero had visited the mountain with his SUV in bid to retrieve Canelo but had no luck—nor did anyone else who tried.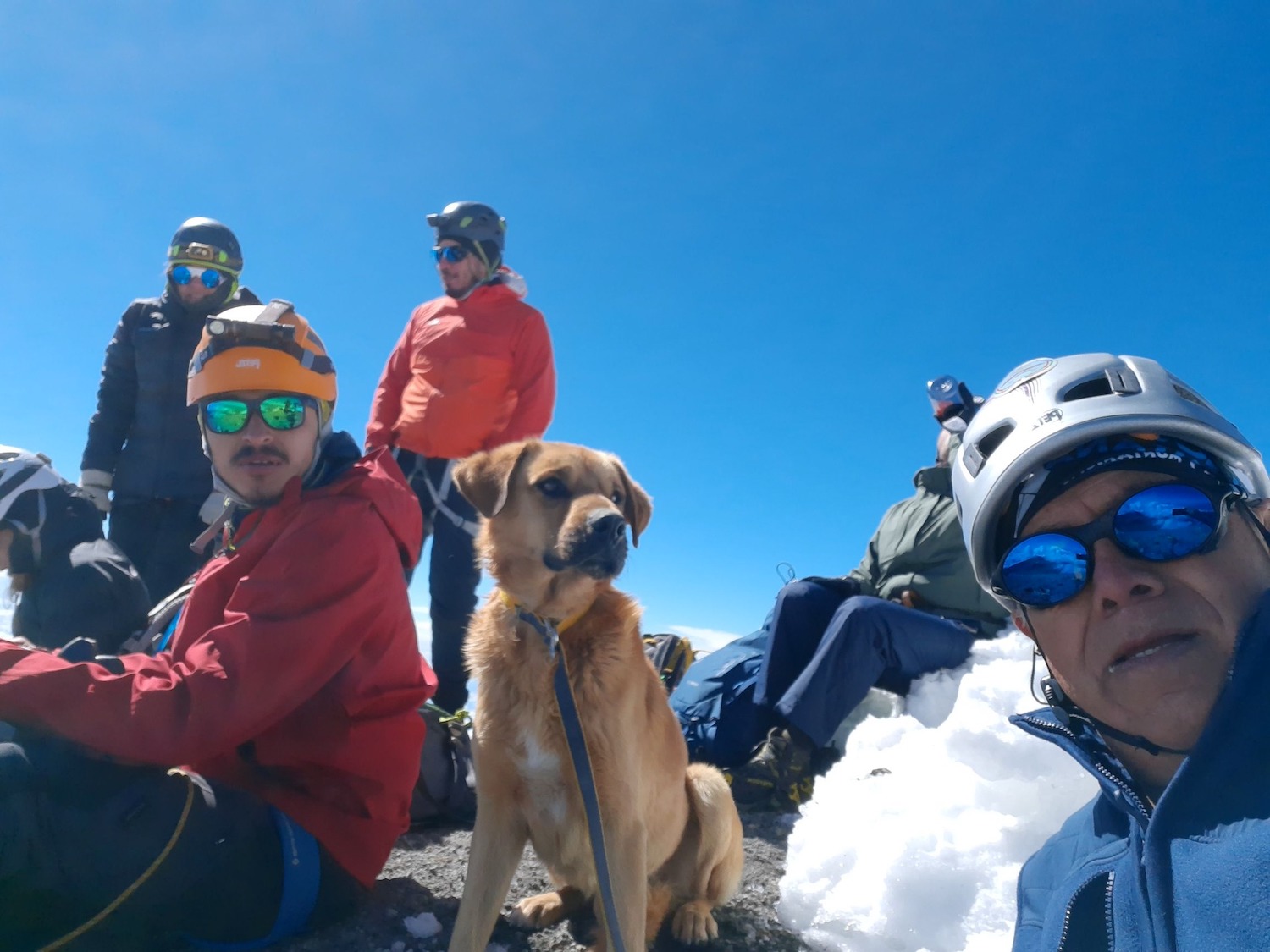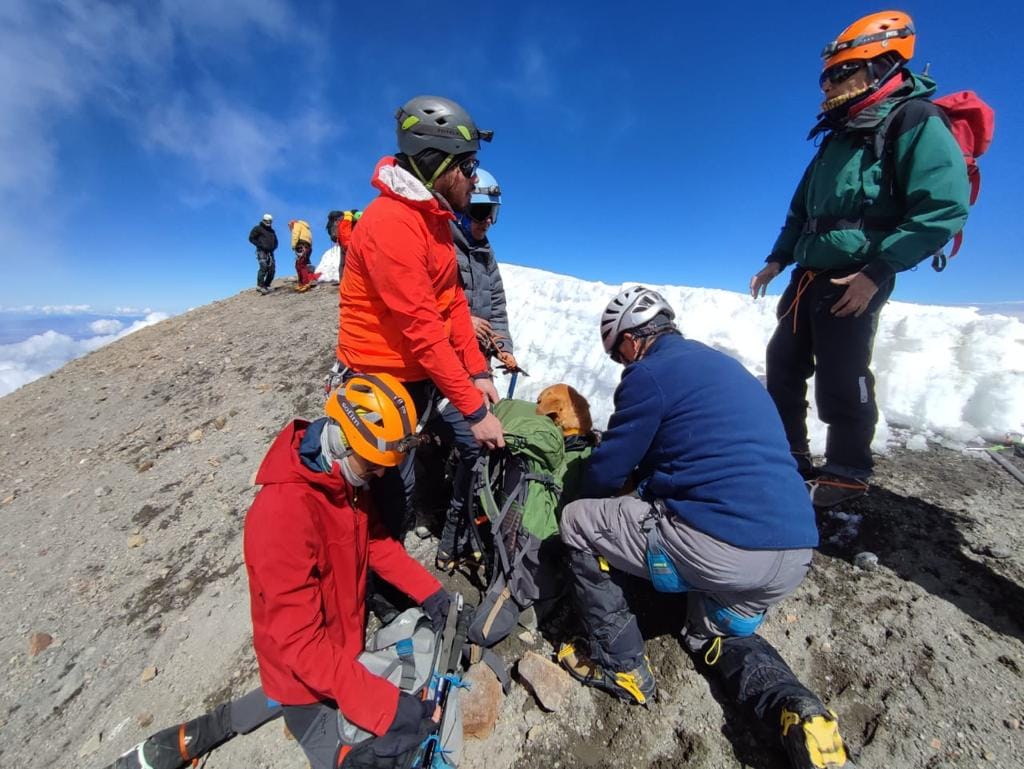 Guerrero contacted Aguilar who offered to help, and he set out with a group of 30 hikers, including a number of his own students; on Nov. 21, they summitted Pico de Orizaba and found Canelo right where he'd been uncomfortably lodged for the last several weeks.
"He appeared malnourished, with a lesion [on his] leg and very red eyes due to the solar radiation due to the height," Aguilar shared on social media, reported Mexican media outlet Milenio. "After five thousand meters, the ultraviolet rays and the reflections of the sun in the snow could have made him blind."
Aguilar cuddled the cold dog and found that he responded to human speaking. One of Aguilar's friend hikers gave Canelo water from his thermos and he drank almost the whole thing.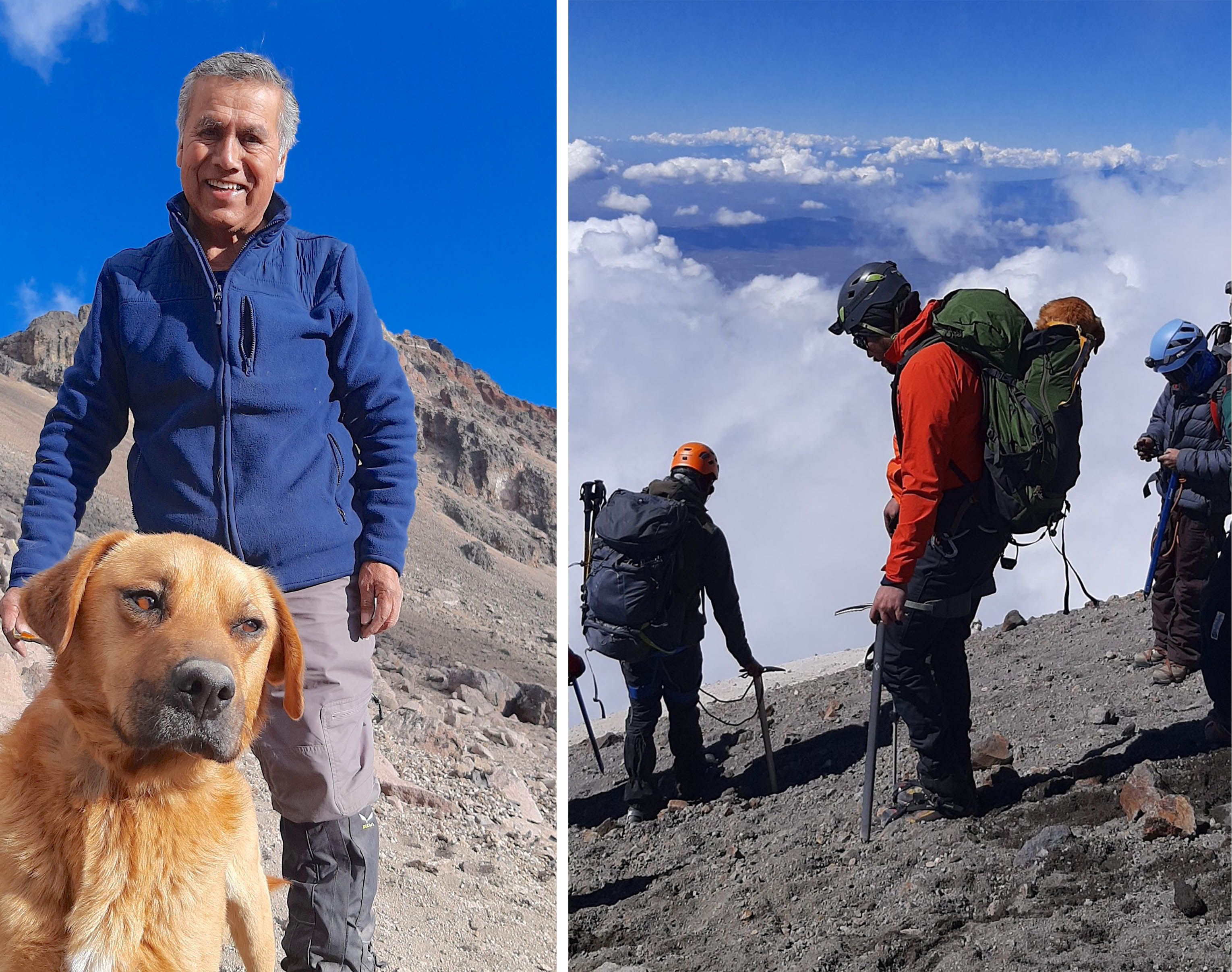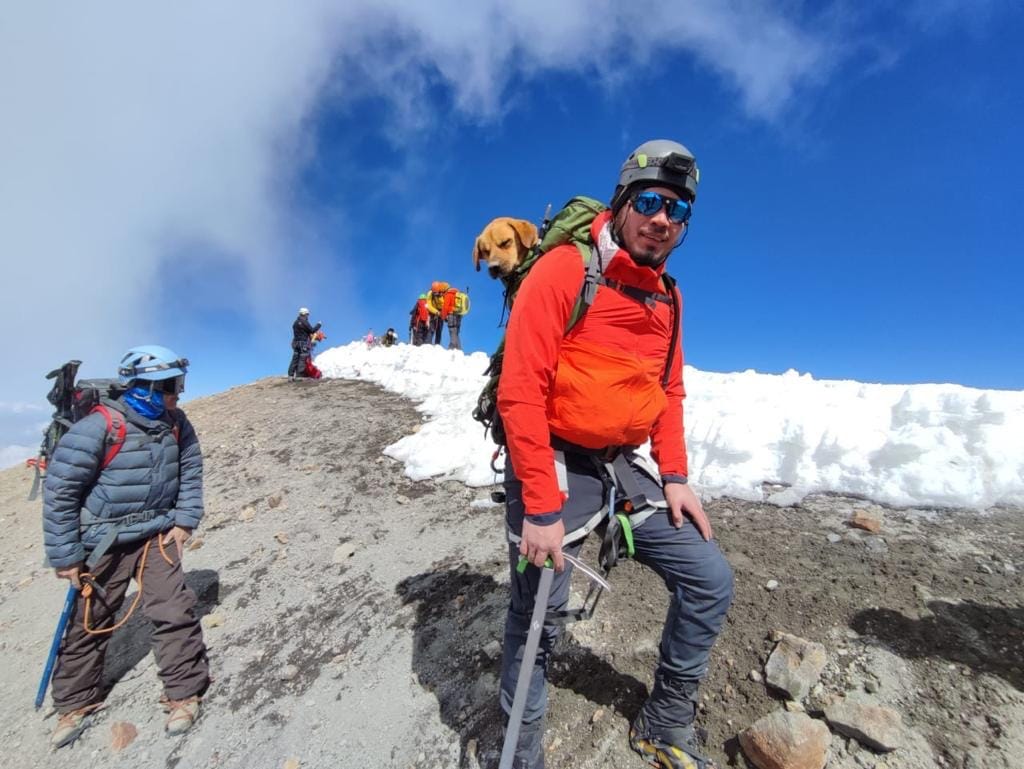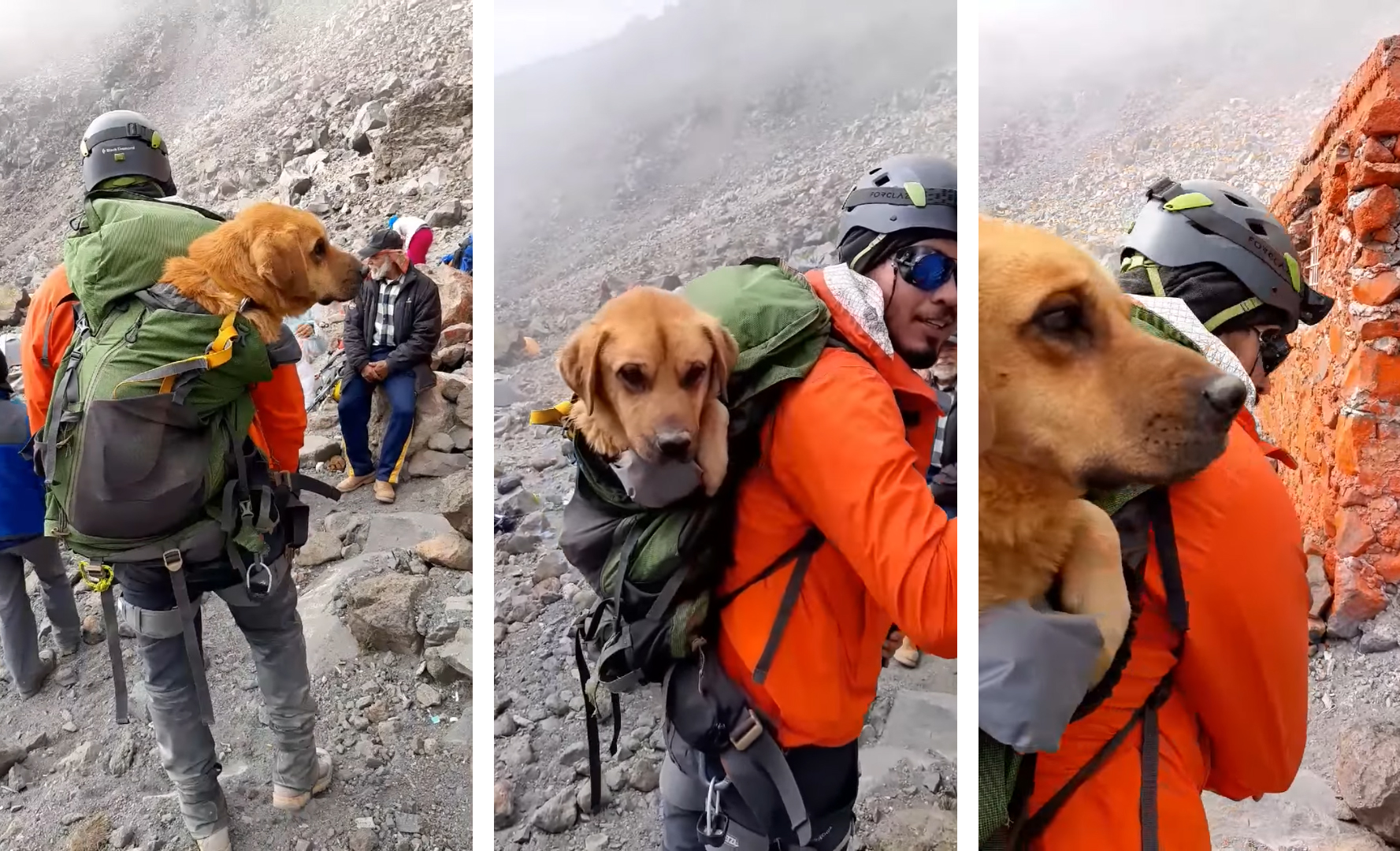 The treacherous trek down the volcano is tough enough for humans let alone for a weakened four-legged friend. Improvising, they rigged up a backpack doggy carrier and, with some initial resistance, "convinced" him to go along with it. His head can be seen peaking out the pack in some of Aguilar's photos.
By and by, the rescue team reached level ground. Aguilar took Canelo home to his two other dogs, Rocco and Pachito Botas, who tolerated but weren't too friendly with the rescue stray. Aguilar knew that caring for a third dog was too much for him, however.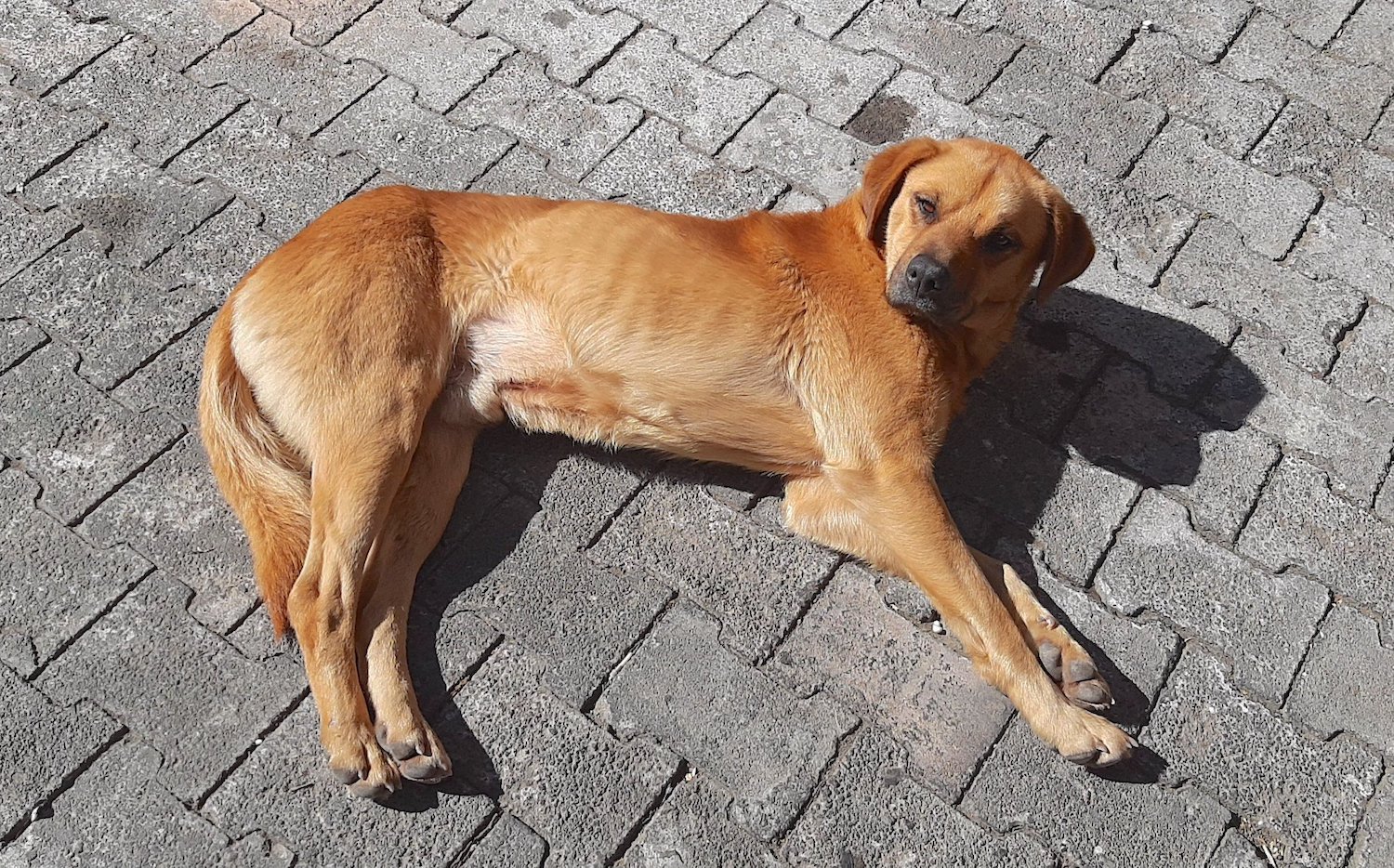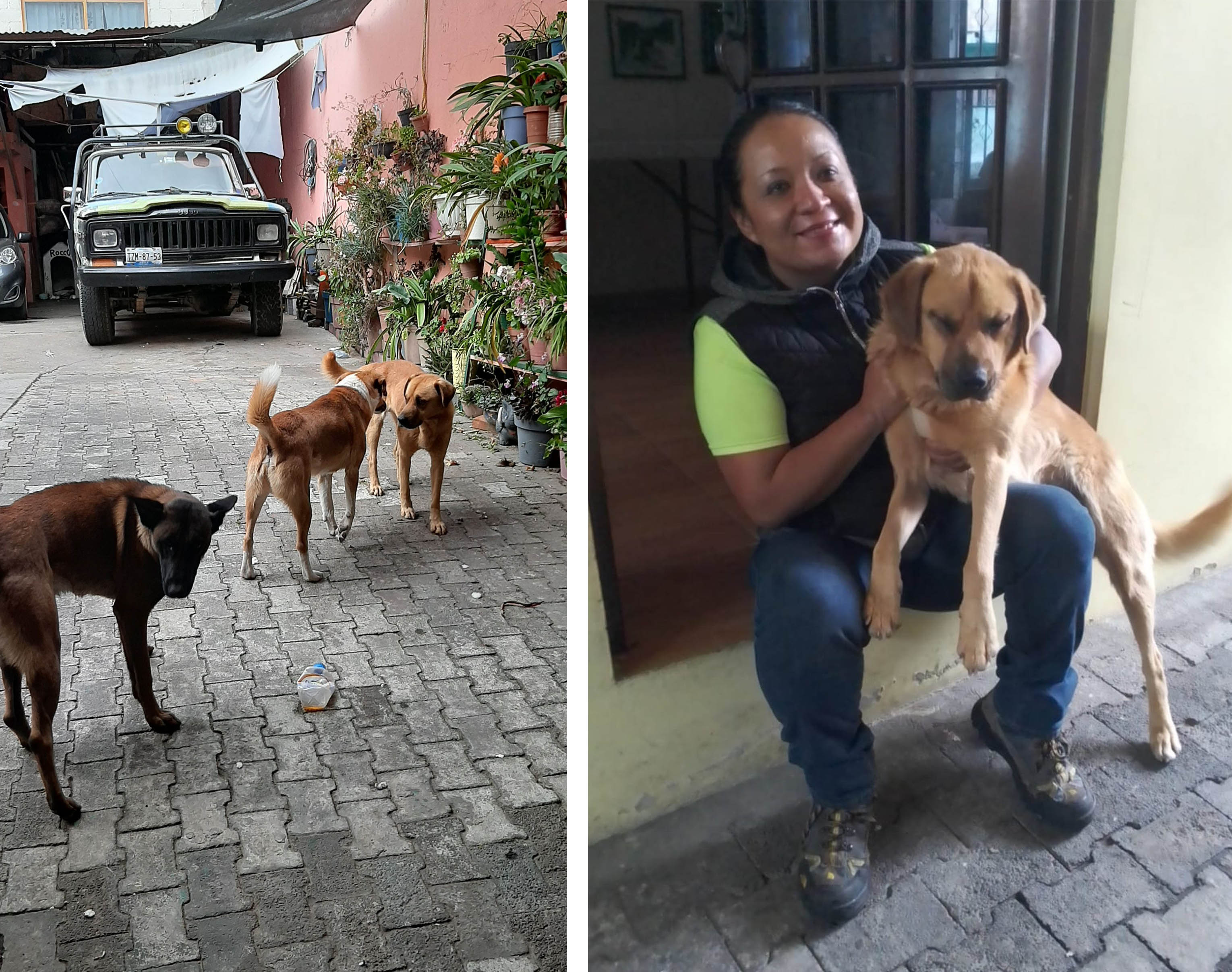 Yet, finding Canelo a forever home proved easy, as he'd become a star on social media. Animal rescuer Fátima del Ángel had contacted Aguilar and agreed to take him to the vet and tend to him while adoption offers were already flooding in via social media.
But El Canelo had gotten comfortable staying with Aguilar—his savior.
"I never imagined how a puppy in three days loves you so much, to the degree that he didn't let the terrible Rocco get close to me," he wrote. "I felt ugly when I said goodbye to him, when I put him on the transporter he got sad and angry, but it is for his good and I could not and should not keep him."
Share your stories with us at emg.inspired@epochtimes.com, and continue to get your daily dose of inspiration by signing up for the Epoch Inspired newsletter at TheEpochTimes.com/newsletter