On a recent venture to the farmers market, sure signs of spring greeted me—and fellow face mask-donning shoppers—at every turn.
There were piles of ramps, those pungent-sweet wild leeks with broad-leaved tops, purple-pink stems, and legions of devoted fans, sold at seemingly every other stand. 
There was a glut of green garlic, young garlic with tall green stalks and tender, immature cloves, resembling thicker, sturdier versions of their scallion cousins.
There were fat, handsome leeks fading dark green to white; delicate pea leaves sprouting cute, curling tendrils; bright bunches of radishes flaunting vibrant red among all the green.
Spring is in full swing. But how best to celebrate all of its beautiful bounty? I turned to a new cookbook by Susan Spungen for inspiration.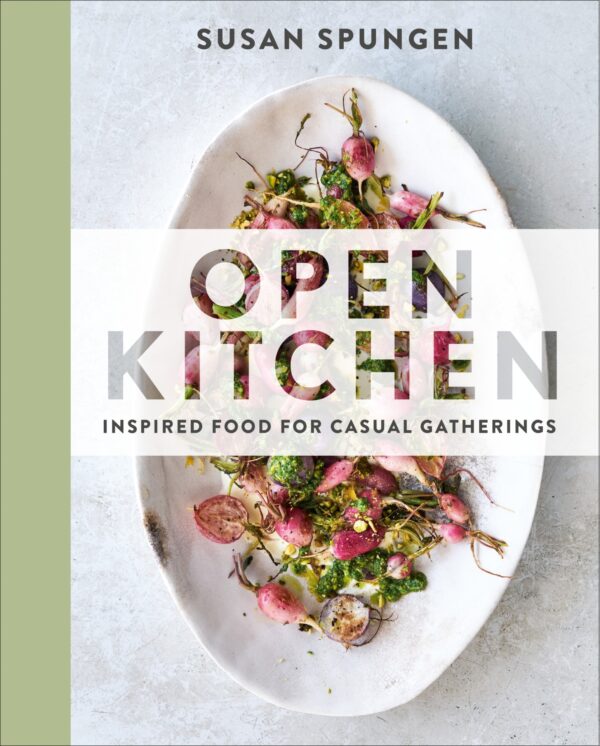 "This time of year is my favorite time, when everything starts up again," Spungen said. As a professional home cook, food stylist, and recipe developer—not to mention the founding food editor of Martha Stewart Living—she draws much of her own inspiration and creativity from seasonal ingredients, evident throughout the recipes in her recently released "Open Kitchen."
"It's ingredients first when I'm cooking spontaneously for myself; I'm looking to see what's fresh and what's coming into season," she said. 
This seasonal inspiration and excitement is part of what makes cooking "a pleasurable experience, and one that can be deeply satisfying," Spungen said. "It's not just drudgery, trying to get food on the table. This kind of cooking is meant to comfort the cook as much as the people that the cook is cooking for."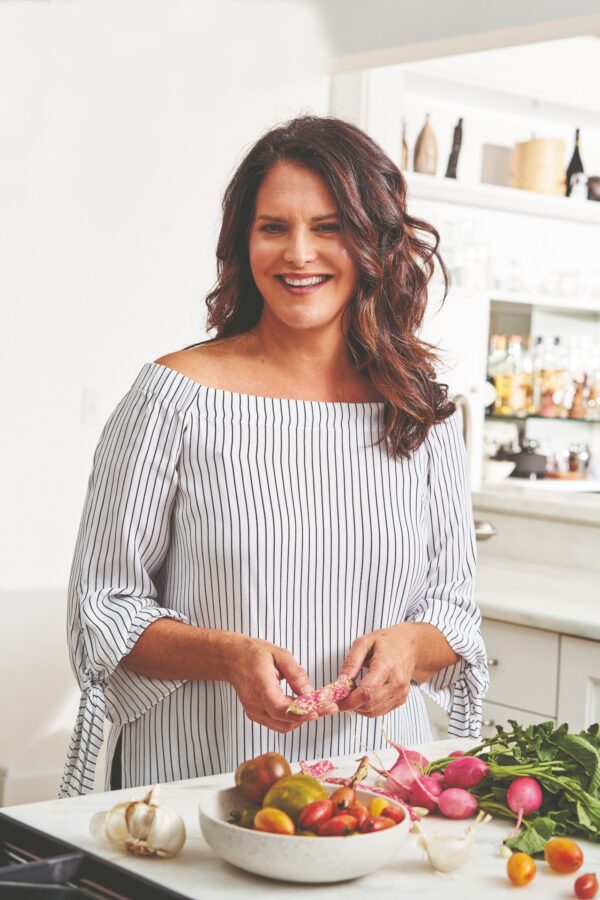 Green Garlic
Green garlic, for instance, prized for its mild, part garlicky, part oniony flavor, is made the star of a spring potato salad. It gets blended into a zippy, garlicky dressing, tossed with baby potatoes, scallions, and chive blossoms and served on a bed of arugula, for a perfectly "right now" dish, Spungen noted, and also one of her favorites from the book.
"This dressing is so good, and it'll keep for a while, too. So it's a way of preserving the green garlic a little bit." If you miss the short season, she suggests using garlic scapes or a mix of scallions and garlic instead.
RECIPE: Spring Potato Salad With Green Garlic Dressing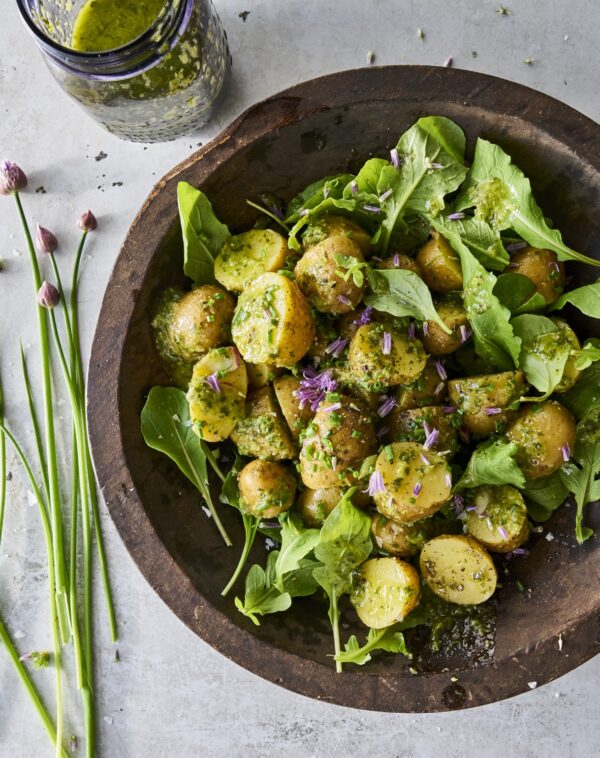 Sugar Snap Peas
Another favorite is a simple salad of sweet, tender sugar snap peas, kept raw for maximum crunch. They're slivered and combined with fresh mint and paper-thin radish slices in a honey mustard vinaigrette. 
Since the starring snap peas are processed so little, "you really want them to be very fresh, not wrinkled and on their way," Spungen said. Look for peas that really "feel crispy in your hand, not soft at all," ideally with their stems and strings still attached. You'll have the additional step of removing them, but the extra freshness is worth it.
If you do end up with less-than-perfect peas, Spungen offers a favorite trick: let them sit in salted ice water for 10 to 15 minutes to crisp back up. The same trick can be applied to any veggies that have slightly wilted or dried out. "You'd be surprised to see how they perk up," Spungen said.
RECIPE: Sugar Snap Pea and Radish Salad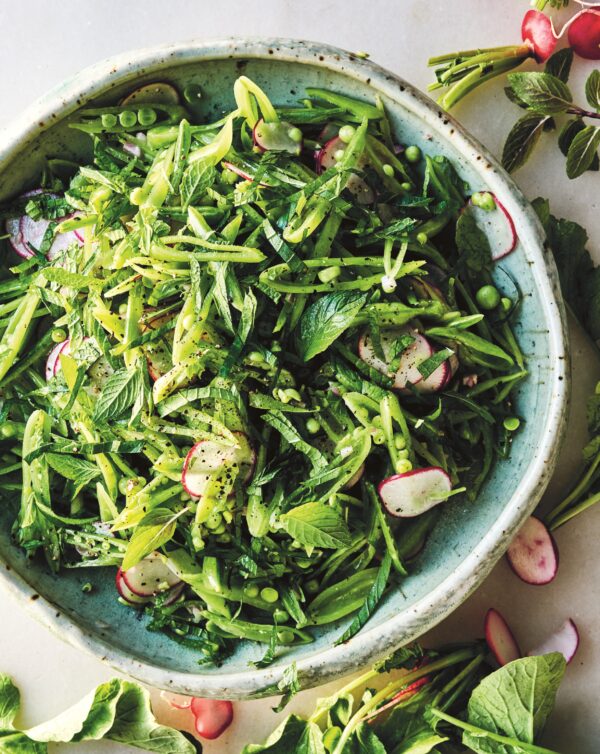 Radishes
To switch up your radish game, try roasting them—"they turn the most gorgeous pink color, and they taste so good," Spungen said.
"And for people who think they don't like radishes because of the sharpness that they have—they lose that when you roast them, they just become kind of sweet and juicy," she added. "A few of my readers have told me that they served [my recipe] to their kids, and they were so shocked that they not only liked it, but asked for more. It's kid-friendly, believe it or not."
In the book's recipe, Spungen serves the roasted radishes over a swipe of crème fraîche, though yogurt, mascarpone, or "anything kind of creamy" would work just as well. And don't toss those leafy tops—Spungen whizzes them into a radish green pesto to drizzle over the radishes, for a resourceful, root-to-tip dish. (If the greens are looking a bit droopy, remember that ice water trick.)
RECIPE: Roasted Radishes With Radish Green Pesto and Crème Fraîche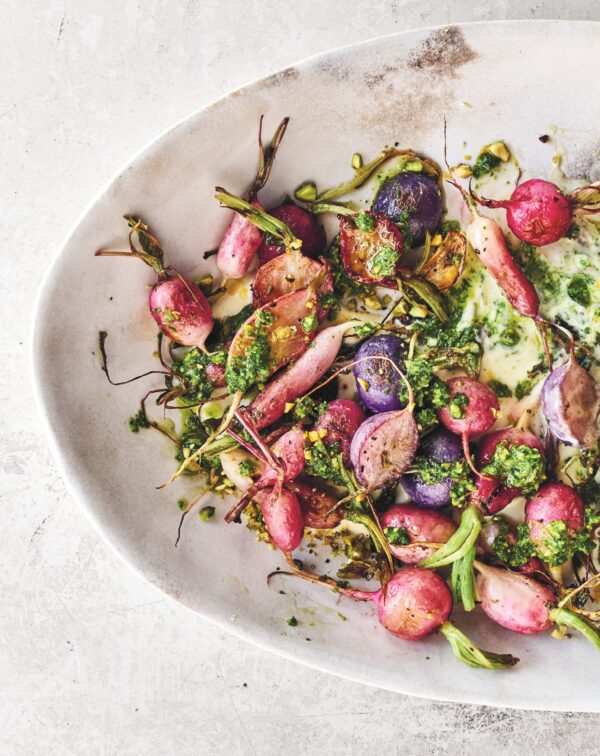 Asparagus and Fava Beans
Finally, if you're looking for more of a project, how about handmade pasta? Gnocchi is a great entry point, and Spungen has a lighter, springtime recipe for the pillowy bites: She cooks them with asparagus and fava beans (though frozen peas would work perfectly in a pinch), and finishes them with a squeeze of Meyer lemon and fresh herbs. 
"Very often people put a big, creamy sauce on them," Spungen said, "but they don't really need [it] because they're quite satisfying on their own."
They're not difficult to make, but the process is fairly time-consuming. Luckily, the recipe makes a big batch, so you can freeze the extras for another meal. The second time around, try tossing them in that radish top pesto—or simply look to whatever produce is at its best near you, for plenty more fresh, springtime inspiration. 
RECIPE: Meyer Lemon Gnocchi With Spring Vegetables