These are true statement pieces.
Like the world-class performances they draw inspiration from, the exquisite jewelry, scarves, and other wares from the Shen Yun Shop each have their own story to tell. These stories are rooted not in fleeting fashion trends or stylistic whims, but in 5,000 years of divinely imparted Chinese culture.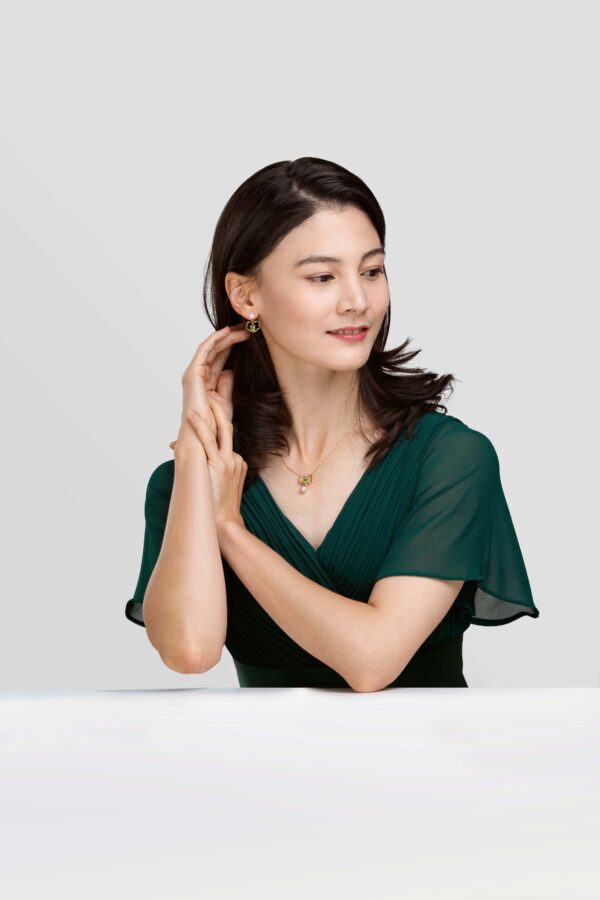 Take the Tang Flower jewelry collection, featuring peonies in full bloom intricately carved into each piece. In the East, the peony is considered the "Queen of Flowers," a title bestowed for its courage in the face of a ruthless Tang empress. As the legend goes, when the empress ordered all the flowers in her royal garden to bloom in the dead of winter, defying the course of nature, the brave peonies were the only ones to refuse. The outraged empress burned them to the ground—only for them to bloom even more beautifully the next spring, becoming a symbol of always taking the righteous path, even when it's not the easiest path.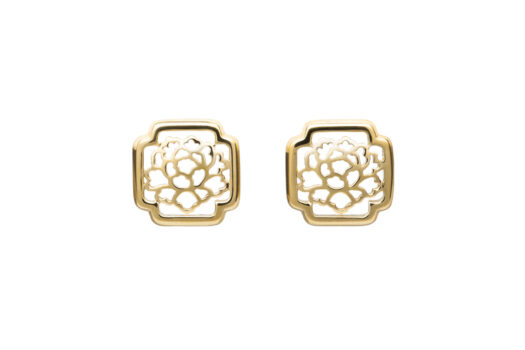 Or for the gentlemen, consider the Devotion tie and scarf, both patterned after the armor of famed Tang Dynasty general Xue Rengui. A skilled scholar and leader, Xue was forced to leave home for 18 years to fight for his country. The collection honors both his selfless devotion on the battlefield and the devotion of his wife, who faithfully waited for him in the humble cave-dwelling they made their home, until his victorious return.
These universal values—courage, righteousness, compassion, and piety—are woven into the fabric of ancient Chinese civilization, a culture believed to have been passed down from the divine. In ancient times, Chinese people believed in harmony between heaven, earth, and humankind.
This is the traditional heritage, a "China before communism," that Shen Yun, a New York-based classical Chinese dance and music company, is reviving through the arts. Shen Yun Shop, a subsidiary of the performing arts group, hopes to extend that mission—by jumping off the stage and becoming part of people's daily lives.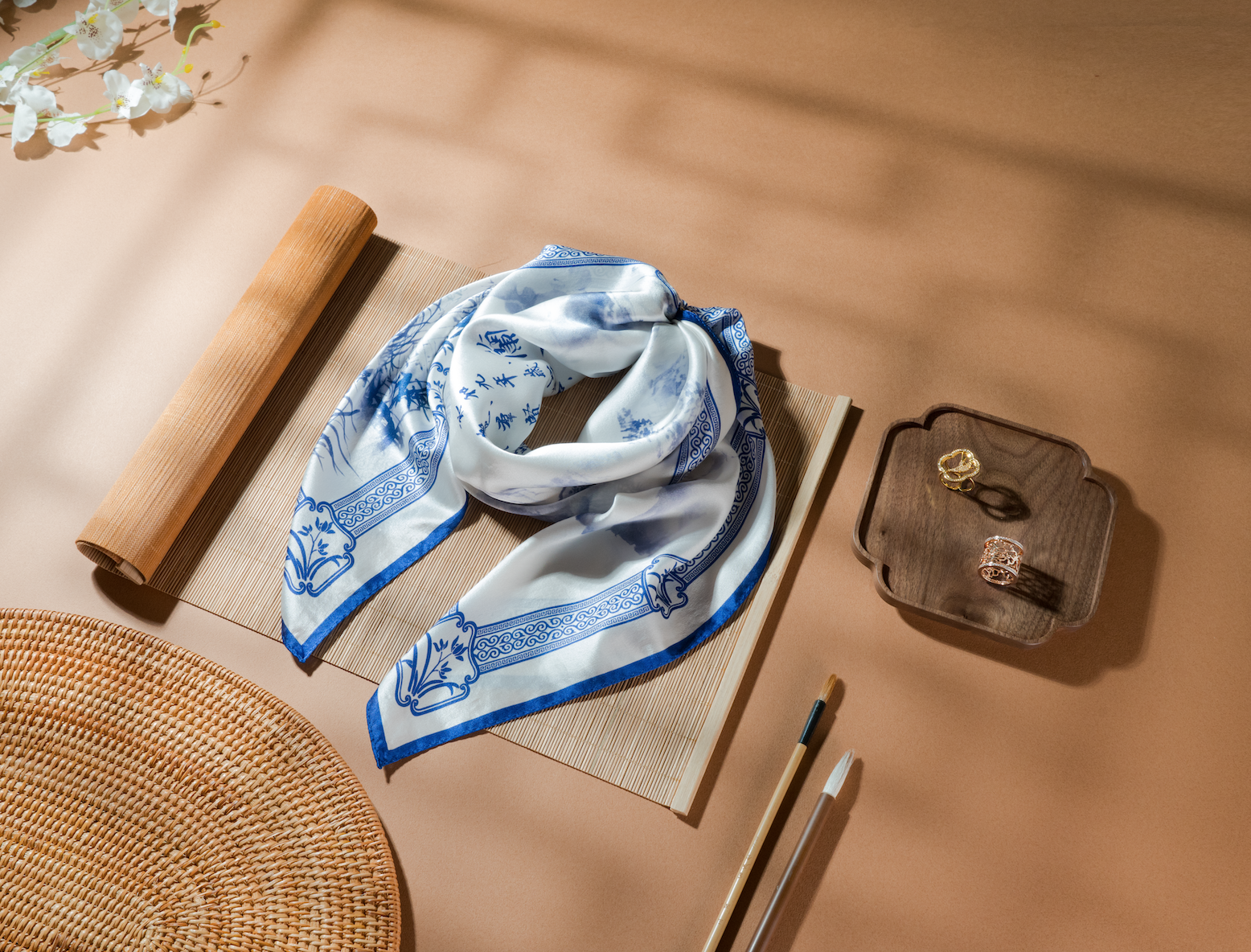 Inspiration From the Stage
In previous years, Shen Yun's audience members were so touched by the performances that they wanted to bring something home with them, a memento of the beautiful experience—but there were only posters to offer. Audience members were quick to buy even those.
To meet the rising demand, the official Shen Yun Shop was established in 2012. The company evolved from focusing on pop-up shops at theaters during Shen Yun's touring season to growing a significant online presence and extensive product line in order to reach customers far and wide.
According to CEO Hubert Zhou, each product is designed with everyday practicality in mind, while also capturing "the traditional culture and values displayed in Shen Yun performances, including the essence of the stories portrayed in the dances, the spirit, and the meaning they convey."
There are elegant silk scarves painted with scenes of heavenly maidens dancing, exuding femininity and grace; and handsome ties emblazoned with patterns from Tang Dynasty armor, embodying strength and courage. Some items incorporate motifs embedded throughout China's ancient history, such as the auspicious "ruyi" symbol, two mirrored swirls curling inward, which appears on many Shen Yun costumes. Others draw from specific historical tales and legends brought to life in the performance's popular storytelling programs.
Whether gemstones or fabrics, they shine with the same vivid, uplifting colors that flash and twirl across the stage, in line with Shen Yun's traditional sense of color and beauty. Unlike other modern designs that may emphasize dark shadows or dramatic contrasts, Zhou said, "what Shen Yun's colors show are light and hope."
Beauty From Within
With such rich source material, there's no shortage of inspiration for Shen Yun Shop's creations. The process of capturing that essence in a design, however, is a meticulous one.
Before jewelry designer Vivian Ni puts pen to paper, she takes a moment to clear her mind and heart.
"It starts from within, finding in myself goodness and beauty," she said. Only then does she feel ready to take on her task.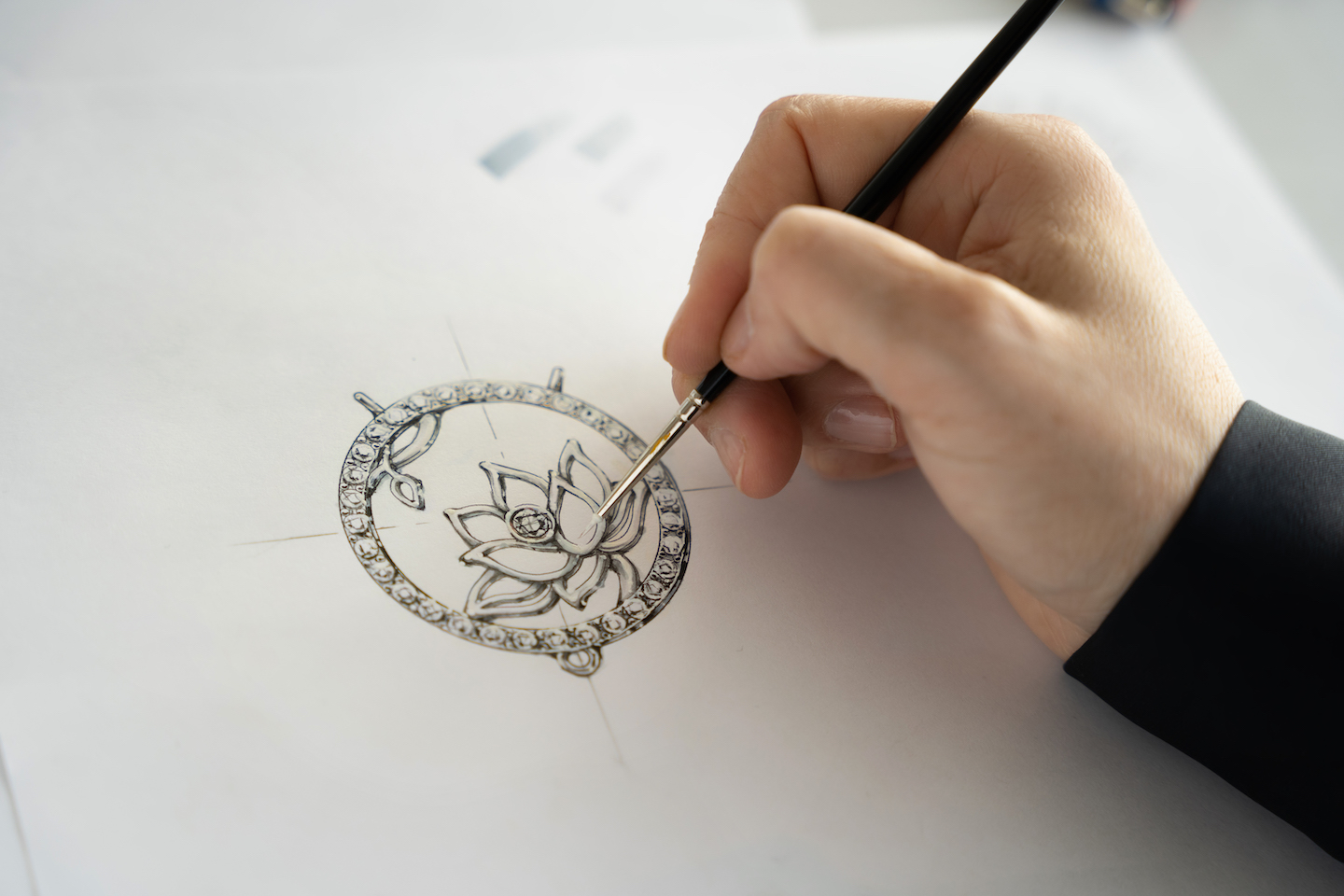 Before joining the Shen Yun Shop team, Taiwanese-born Ni studied industrial arts in Taiwan, received her master's degree in industrial design from the Pratt Institute in New York City, and worked with high-profile clients in the home and fashion industries. But her work now, she said, is "completely different."
There's a unique purity she finds in Shen Yun's performances, from the lines and colors of the costumes to the layers of meaning behind each dance.
"How do we take these pure things and put them in our products? This is the most challenging," she said. But it's also most important in setting their products apart—taking "this inner virtue, this inner meaning" as the starting point for every design. In ancient times, after all, people believed that in order to be beautiful on the surface, you had to start by cultivating beauty from within.
She points out the new Divine Grace fine jewelry collection, sophisticated in its simplicity, as a good example—and her personal favorite.
"It's just a very simple, round shape, but there are so many layers of meaning there," she said.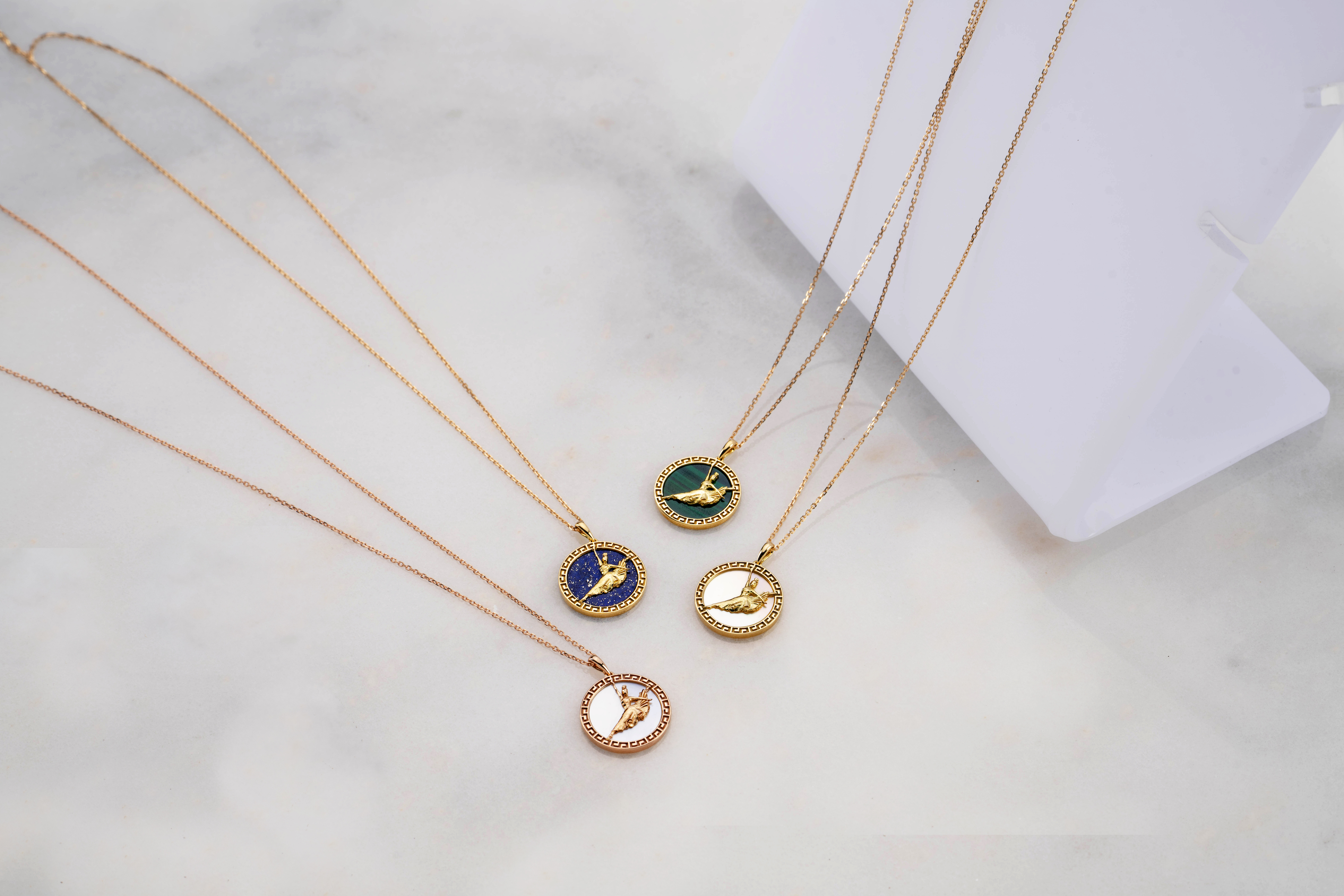 Each 18-karat gold piece features a circular pendant, inspired by traditional Chinese culture's emphasis on roundness, representing harmony and togetherness. "A circle is considered the cleanest, purest shape in the universe," Ni said. In ancient China, it was used to symbolize the heavens.
Within this heavenly circle is the graceful silhouette of a dancer in the "da she yan" pose—an image you might recognize from Shen Yun Shop's logo—set against a luminous background of mother of pearl, lapis, or malachite—precious materials representing the earth. She's surrounded by a delicate border of Chinese knots, another ancient motif rich in history and symbolism.
Instead of following fickle trends, chasing the dramatic or sensational, Ni aims to "take these purest, most original elements and refine them into something beautiful," she said. "I think that approach to design is righteous."
Manufacturing Challenges
After Ni and her team finalize their designs, they're sent to a partner manufacturer to bring to life. Here, another one of the company's biggest challenges comes into play.
They refuse to consider manufacturers in mainland China—"even though the costs there are very low," Zhou said. Instead, they seek out ethical manufacturers around the world who are aligned with Shen Yun Shop's mission and take pride in the quality of their craftsmanship.
Their jewelry is thus crafted in Taiwan, South Korea, and Thailand, with the fine jewelry collections featuring authentic sapphire, aquamarine, tsavorite garnet, and akoya pearls against 18-karat white and yellow gold. Silk and cashmere scarves and ties are made in Italy, and T-shirts, cushion covers, and other keepsake products right here in the USA.
Finally, all products are individually inspected by hand before making their way to customers across the country.
Spreading Hope and Heritage
The company hopes its products can be a force of good in today's world.
The Plum Blossom collection, for instance, may especially resonate with people today. These winter-blooming flowers, captured in rings and a cashmere scarf, have long been celebrated in Chinese arts and poetry as a symbol of faith and perseverance through adversity—and a promise of spring's imminent arrival.
Even the 3-D puzzles and coloring books, featuring a Tang imperial palace and the kid-favorite character Monkey King, were conceived with care: to give kids an outlet for creativity away from screens, while passing on these ancient stories and cultural heritage to the next generation.
"We really hope that every customer who comes to buy our products can gain something from them," said Zhou, "and bring the beauty of Shen Yun to even more people."
Think of each one as a little piece of Shen Yun, a reminder of beauty and goodness, to accompany you through the everyday.
The Epoch Times is a proud sponsor of Shen Yun Performing Arts. For more information please visit ShenYunPerformingArts.org