In this series, columnist Sibylle Eschapasse interviews some of France's top chefs, the Maîtres Cuisiniers de France.
Name:
Olivier Desaintmartin
Hometown:
Chauny (Picardy)
Age:
55
Restaurants:
ZINC and Caribou Café, in Philadelphia
Years of Experience with French Cuisine: 
39 years
Maitre Cuisinier de France since:
2009
Sibylle Eschapasse: What does it mean to you to be a Maître Cuisinier de France, a most admired title?
Olivier Desaintmartin: Being a MCF is like being a pioneer of this French heritage called the classic cuisine. The most rewarding part is to be able to share your knowledge with the next generation.
Ms. Eschapasse: Why did you choose to become a chef?
Mr. Desaintmartin: I always cooked alongside my mother. We were a hunting family and we entertained a lot, serving what we hunted. I love cooking and I love remembering flavors that came out of my mom's kitchen.
Ms. Eschapasse: If a close friend were to describe your cooking, what would they say?
Mr. Desaintmartin: Simple, tasty, flavorful.
Ms. Eschapasse: If you weren't a chef, what would you be?
Mr. Desaintmartin: Geologist or architect.
Ms. Eschapasse: Who would you consider to be your greatest culinary influence?
Mr. Desaintmartin: Michel Guérard.
Ms. Eschapasse: How would you define French cuisine?
Mr. Desaintmartin: Fresh, tasty, balanced, flavorful, and, if it's well done, unforgettable.
Ms. Eschapasse: Tell us about the recipe you chose.
Mr. Desaintmartin: Skatefish is a French classic. I have had skate on my menu for 25 years. I couldn't help it. 
Skatefish With Bean Ragout and Caper Sauce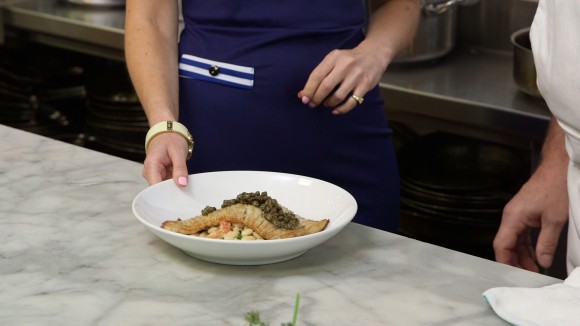 Introduction
This is a simple recipe, but all ingredients must be ripe and fresh, and the butter for the sauce must be excellent!
Number Serves
4
Ingredients
1 cup Great Northern beans, soaked overnight
1 bay leaf
2 ounces ​butter, for cooking
4 Roma tomatoes, diced large 
3 shallots
Salt and black pepper, to taste
2 tablespoons fresh thyme flowers
1/4 cup​ white wine
3/4 cup​ heavy cream
4 skate fillets (can substitute cod or salmon)
Flour, for dredging fillets (white fish only)
2 tablespoons oil, for frying
4 tablespoons capers, rinsed and drained
4 tablespoons thinly sliced Italian parsley
3 tablespoons ​high-quality butter (Plugra or farmer's butter)
Directions
For the Beans:
Boil the soaked beans in salty water (three times the volume of the beans) with the bay leaf until tender, about 45 minutes. Strain the beans and discard the water.
In the same pot, heat the cooking butter, then add chopped tomatoes and shallots. Season with salt and pepper, then add the thyme. Cook for 10 minutes, then add beans and wine.
Cook for 10 more minutes, then add the cream and cook for 10 more minutes.
For the Fish:
Season the fish with salt and pepper. If using white fish (skate or cod), flour the fillets and tap off excess flour.
Heat oil in a frying pan. When hot, sear the fish until golden brown. Flip and sear the other side.
When the fish is almost cooked, add the capers. Let them fry gently for 1 minute. Remove fish from pan.
Plating the Beans:
At the same time, reheat the beans. Please note: The sauce should coat each bean, but the mix shouldn't be dry. Add the parsley and toss until it is well distributed throughout beans.
Check seasoning and spoon onto the center of each plate.
Plating the Fish:
In the frying pan, heat the high-quality butter until lightly browned. Add the fillets and spoon the butter sauce over them repeatedly to coat and allow the butter to soak in.
When the fish is fully cooked, place atop the beans and drizzle with the sauce.
Recipe by chef Olivier Desaintmartin
Sibylle Eschapasse is from Paris and lives in New York City. In addition to working at the United Nations, she contributes to various publications and is the host of "Sibylle's Top French Chefs," a series being aired on "Celebrity Taste Makers." She may be reached at sibylle.eschapasse@gmail.com