In this series, columnist Sibylle Eschapasse interviews some of France's top chefs, the Maîtres Cuisiniers de France.
Name:
Hervé Malivert
Hometown:
Rhône-Alpes region 
Age:
48
Occupation:
Director of culinary technology and chef coordinator, International Culinary Center
Years of experience with French cuisine:
Over 30 years
Maitre Cuisinier de France since:
2013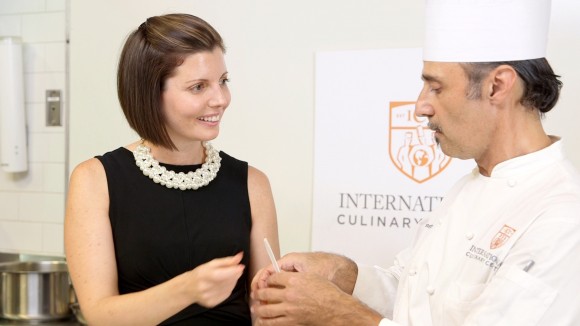 Sibylle Eschapasse: What does it mean to you to be a Maître Cuisinier de France, a most envied title?
Hervé Malivert: It's an honor to be part of this great association, and it's a great responsibility to share your knowledge and teach the new generation the foundation of French cuisine in the culinary world.
Ms. Eschapasse: Why did you choose to become a chef?
Mr. Malivert: It was evident by the time I was 12 that I had a passion for food and being in a kitchen. My father was a cheesemaker, and although I spent time with him making cheese, it was really when I would go with him on deliveries to restaurants and spend time with chefs and restaurant owners that I fell in love with cooking.
Ms. Eschapasse: If a close friend were to describe your cooking, what would they say?
Mr. Malivert: I cannot respond for my friends, but when I cook for them, it must be fresh, seasoned flawlessly, cooked to perfection, with a good balance of the ingredients—the same way I would do for any of my guests, because that's what we are supposed to do as chefs.
Ms. Eschapasse: If you weren't a chef, what would you be?
Mr. Malivert: Photographer.
Ms. Eschapasse: Who would you consider to be your greatest culinary influence?
Mr. Malivert: So many, but I will say Paul Bocuse in France.
Ms. Eschapasse: You spent a year and a half traveling through Africa. What was most meaningful to you about this experience?
Mr. Malivert: The beauty of the landscape, the adventure and danger you can encounter living in the wilderness of Africa, and the freedom from the rest of the world. I didn't have the responsibility for anything other than myself. Just to be clear, I will not do this again. I need the comfort of a hotel with air conditioning and room service now.
Ms. Eschapasse: How would you define French cuisine?
Mr. Malivert: French cuisine is the foundation of cooking. It is the love of the job, and the respect of the ingredients.
Ms. Eschapasse: Tell us about the recipe you chose.
Mr. Malivert: I have been in the Northeast [United States] for 20 years, and I love a classic lobster roll, something I didn't know before moving here. In this recipe, I want to recreate the flavor of the classic lobster roll in a fine dining experience I can present to my guest.
You can watch Malivert demonstrate the full recipe on "Celebrity Taste Makers" on Saturday, Jan. 7 at 6 p.m on PIX11.
Lobster en Brioche


Amount Makes
4 rolls
Ingredients
For the Court Bouillon (Stock):
4 gallons of water
14 ounces leeks (white part only), diced
14 ounces carrots, diced
10 ounces onions, diced
7 ounces fennel, diced
1 bouquet garni (parsley, thyme, and bay leaves)
1/2 ounce black peppercorns
7 ounces dry white wine
100 milliliters (3.5 ounces) of dry vermouth
100 milliliters (3.5 ounces) white wine vinegar
For the Lobster Roll:
4 lobsters, each weighing 1 1/2 pounds 
4 thin slices of brioche
2 egg whites
Few sprigs of Affilla cress (living microgreen)
Butter, for searing
For the Pea Purée:
18 ounces peas
4 1/2 ounces shallots
1 ounce rice vinegar
3 to 7 ounces vegetable stock
For the Orange Jam:
18 ounces orange
4.5 ounces sugar (or 25 percent of sugar of the weight of the orange)
1 ounce corn oil
For the Garnish:
4 pearl onions
1 Persian cucumber
Few sprigs of micro tangerine lace
Few sprigs of micro celery
Directions
For the Court Bouillon:
1. Combine all the ingredients and simmer for 20 minutes.
For the Lobster Rolls:
1. Using string, tie each lobster's tail to keep it straight. In a large pot, bring the court bouillon to a boil and add the lobsters. Boil for 1 minute. Remove the pot from the heat and let the lobsters stand in the liquid for 10 minutes. Remove the lobsters and let cool for 15 minutes, then chill. (If you cannot fit all of the lobsters in the pot at one time, boil in batches.)
2. Over a bowl, separate each lobster tail from the body. Remove the shell, reserving the tail meat and claws in complete pieces.
3. Cut each piece of tail meat in half lengthwise.
4.  To make each roll, brush a slice of brioche with the egg white and place on a sheet of plastic wrap. Sprinkled with a pinch of the Affilla cress. Place a piece of tail meat on one edge of the brioche and sprinkle with more cress. Roll up the brioche so the lobster is wrapped in the middle. Wrap in plastic. Repeat with remaining brioche and lobster.
5. Let rolls set in fridge for 3 hours.
For the Pea Purée:
1. Remove peas from shells and save a few nice shells for garnish.
2. Steam the peas.
3. Peel and slice the shallots. In a pan over medium heat, sweat the shallots in oil until slightly golden brown, then deglaze the pan with the rice vinegar.
4. Transfer the peas and shallots to a blender (Vita Prep is my preference). Blend at high speed while slowly adding the vegetable stock until desired consistency is reache, and taste for seasoning.
For the Jam:
1. Wash the orange under warm water. Weigh the orange to determine its exact weight. You will need to add sugar equivalent to 25 percent of the weight of the orange.
2. Cut the orange into slices, and combine with sugar.
3. Place orange and sugar in a closed mason jar. Cook submerged in water in a pressure cooker for 2 hours.
4. Blend and add the oil.
To Finish and Assemble:
1. Peel the pearl onion and cut it in half lengthwise. In a very hot pan (cast iron recommended), char onions lightly.
2. Clean the Persian cucumber. Slice it on a mandoline, sprinkle with salt, and let disgorge for 3 minutes.
3. To finish the lobster rolls, heat butter over medium-high heat and sear each roll until brioche is golden brown and lobster is just warmed through.
4. To assemble, place the roll on a plate. Place the slices of cucumber on the plate and lay the claw meat on top. Arrange the pearl onions, a smear of pea purée, and dollops of jam around the plate. Garnish with microgreens. Et voilà!
Recipe by chef Hervé Malivert
Sibylle Eschapasse is from Paris and lives in New York City. In addition to working at the United Nations, she contributes to various publications and is the host of "Sibylle's Top French Chefs," a series being aired on "Celebrity Taste Makers." She may be reached at sibylle.eschapasse@gmail.com