In this series, columnist Sibylle Eschapasse interviews some of France's top chefs, the Maîtres Cuisiniers de France.
Name:
Guy Reuge
Hometown:
Orléans
Age:
64
Restaurants:
Mirabelle (Stony Brook, N.Y.), Sandbar (Cold Spring Harbor, N.Y.), Le Vin (Lake Grove, N.Y.)
Years of Experience with French Cuisine: 
50
Maitre Cuisinier de France since:
1991
Sibylle Eschapasse: What does it mean to you to be a Maître Cuisinier de France, a most admired title?
Guy Reuge: To be an MCF always has been an honor and a privilege for me. To persevere in a challenging profession that I love, it's inspiring.
Ms. Eschapasse: Why did you choose to become a chef?
Mr. Reuge: I became a chef because of my mother's cooking and the smells of great food being cooked. I explain all about this journey in my book "A Chef's Odyssey" (FriesenPress, 2015).
Ms. Eschapasse: If a close friend were to describe your cooking, what would they say?
Mr. Reuge: Tasty, simple, inspired.
Ms. Eschapasse: If you weren't a chef, what would you be?
Mr. Reuge: I would have loved to have been a photo journalist—a very exciting job!
Ms. Eschapasse: Who would you consider to be your greatest culinary influence?
Mr. Reuge: Frédy Girardet and Alain Chapel.
Ms. Eschapasse: How would you define French cuisine?
Mr. Reuge: French cuisine is the mother of Western cuisine.
Ms. Eschapasse: Of France's many regional cuisines, which do you prefer to cook and why?
Mr. Reuge: I love the region where I grew up, the Loire Valley, and more specifically La Sologne, where cooking always started as wild mushroom hunting, fishing for pike, hunting game and game birds. This region of France also provides beautiful fruits and vegetables, a concerto of amazing products that provide instant inspiration to a chef.
Ms. Eschapasse: Tell us more about the recipe you chose. 
Mr. Reuge: I chose this recipe because it is easy to prepare, it is delicious, and it surprises people in a good way. I made this recipe a complete dish, as opposed to being used only as a garnish. Panisses are a treat from southeastern France. They are made with a chickpea flour batter that is deep-fried. I serve panisses as a snack, and they are one our most requested menu items.
Ms. Eschapasse: What's your advice to people who would like to improve their cooking skills or learn to cook?
Mr. Reuge: Keep trying the same dish again and again to perfect it. Develop a feeling for seasoning and do not shy away from creativity. Understand the chemistry of cooking, and watch videos of professional cooking—these are great tools for everyone.
You can watch Guy Reuge demonstrate the full recipe on "Celebrity Taste Makers" on Saturday, Jan. 21, at 6 p.m. on Pix11.
Panisses (Chickpea Fries) with Harissa Mayonnaise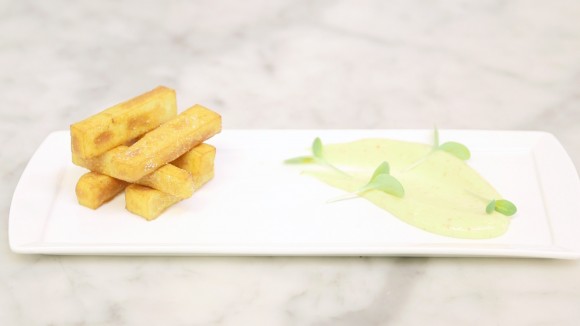 Amount Makes
50 panisses
Ingredients
4 cups whole milk
2 cups heavy cream
1/4 cup sliced shallots
1 sprig of thyme
Salt and pepper
3 cups chickpea flour, sifted
Olive oil, for greasing
Vegetable oil, for deep frying
2 cups mayonnaise, chilled
1 tablespoon harissa paste or sriracha
Directions
In a large saucepan, combine the milk, cream, shallots, and thyme, season the mixture with salt and pepper, and bring the liquid to a boil over moderately high heat. Reduce the heat to moderate and simmer the mixture for 5 minutes. Pass the mixture through a sieve into another saucepan and return the liquid to a boil over moderately high heat. Whisk in the chickpea flour and continue whisking as it thickens, then whisk for another 4 minutes. Transfer the batter to a food processor fitted with a steel blade and process for 2 minutes, or until it is smooth.
Grease a 9 by 13 1/2-inch sheet tray with the olive oil and spoon the batter into the tray, spreading it out. Level and smooth the top of the batter with an offset spatula. Chill the batter for 2 hours. When the batter is solid, unmold it by turning the tray onto a cutting board. Cut the batter into 2 1/2-inch lengths that look like thick French fries.
In a deep-fryer, heat the vegetable oil to 375 F and fry the pieces in small batches until they are golden. Transfer to paper towels and sprinkle with salt.
In a bowl, combine the mayonnaise with the harissa. Serve the panisses with the mayonnaise on the side.
Note:
The uncooked batter can be stored in a container fitted with a tight lid in the refrigerator for up to 3 days.
Recipe by Guy Reuge
Sibylle Eschapasse is from Paris and lives in New York City. In addition to working at the United Nations, she contributes to various publications and is the host of "Sibylle's Top French Chefs," a series being aired on "Celebrity Taste Makers." She may be reached at sibylle.eschapasse@gmail.com