WELLINGTON, New Zealand—After a long wait, Shen Yun Performing Arts is back in New Zealand for another tour.
The world's highly acclaimed and premier classical Chinese dance and music company arrived in Wellington on Wednesday, April 12 for the beginning of a 10-day tour, much to the delight of its many fans and supporters who were waiting to welcome the performers at the airport.
The company has touched and amazed audiences all around the world with its brilliant rendition of 5,000 years of traditional Chinese culture and history seen through story-based classical Chinese dance.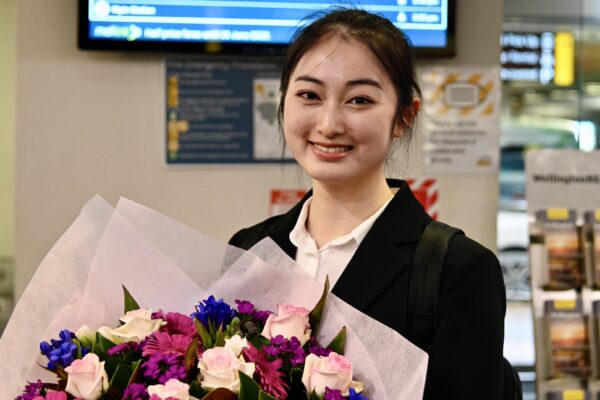 Teresa Du talked about how she hopes Shen Yun audience members will relax and enjoy the cultural dance and music experience. She hopes the performances will "make every body feel better and really uplift everyone's spirits and show them there is hope in the world."
"As an emcee of the performance, I really feel like every time I see the dancers and every time I hear the orchestra, I feel like, 'Wow, we are in this together.' And when I say my lines, I just feel like I want to give everything I have to this audience."
Established in New York in 2006, Shen Yun's popularity has soared to the point that it now boasts eight individual companies in order to keep up with demand from theatregoers worldwide. Ironically, Shen Yun is banned from performing in China.
After a hiatus of nearly four years to enable earthquake strengthening and renovation work, the iconic St James Theatre, located in the heart of New Zealand's capital City, Wellington, will host Shen Yun, with its opening performance on April 13. The theatre has five sold-out performances.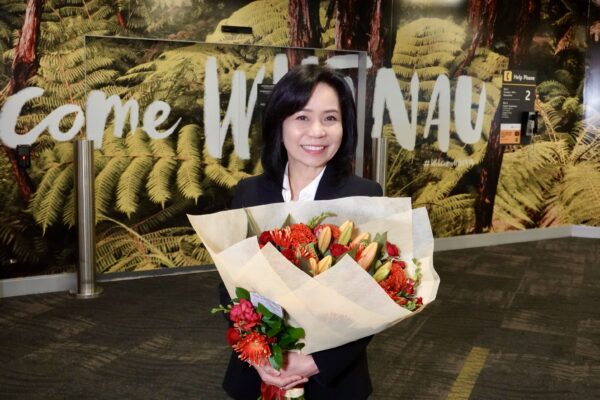 Lin Chia-Chi has visited New Zealand several times before in her role as conductor. She says each time Shen Yun has brought something "unique and showcases a different aspect of Chinese culture."
She encourages New Zealanders not to miss this chance because, "when they come to watch Shen Yun performances, they find hope. … Some audience members have said they have been hearing about Shen Yun for ten years, but never had the chance to come until now. They regret not coming earlier. So when the time comes, they should definitely come and watch, so don't miss it."
The company will then travel to Auckland April 20-23 to perform in the Kiri de Kanawa Theatre at the Aotea Centre. Dame Kiri de Kanawa is celebrated as one of New Zealand's most loved sopranos, and is known for her virtuoso renditions of the music of Wolfgang Amadeus Mozart and Richard Strauss.
Among the local officials who have sent greetings to the Shen Yun company are Wellington City Councillor Ray Chung.
Mr. Chung said, "I'm delighted to welcome Shen Yun Performing Arts troupe to Wellington … I'm already impressed with what I've seen in the advertisements and believe the spectacular performers, costumes, and art will keep this culture alive for future generations.
"I'm sure that when Wellingtonians watch this show, it'll inspire many of them to emulate and learn this ancient art."
MPs Maureen Pugh and Mark Cameron also sent their greetings.
National MP Mrs. Pugh said, "lt gives me great pleasure to welcome the performers, musicians, and support crew that will be in New Zealand as part of your world tour. We are truly privileged to host you in both Auckland and Wellington as part of your visit to our country.
"I wish the whole team a very enjoyable visit to New Zealand and trust your shows will be well attended by people of all backgrounds. lt is a very colourful, athletic, and skilled performance, and I am sure the audiences will be extremely impressed. Thank you for sharing this aspect of Chinese culture with us in such a beautiful performance."
Northland-based list MP Mr. Cameron also extended a warm welcome to New York-based Shen Yun.
"I can only imagine the fantastic display and fanfare that celebrates the over 5,000 years of the unique Chinese culture," he said of the upcoming performances.
"It is a privilege that New Zealanders will get to share in this unique and special occasion. Best wishes for all the performers and those fortunate enough to attend."
With reporting by Diane Cordemans.
The Epoch Times is a proud sponsor of Shen Yun Performing Arts. We have covered audience reactions since Shen Yun's inception in 2006.