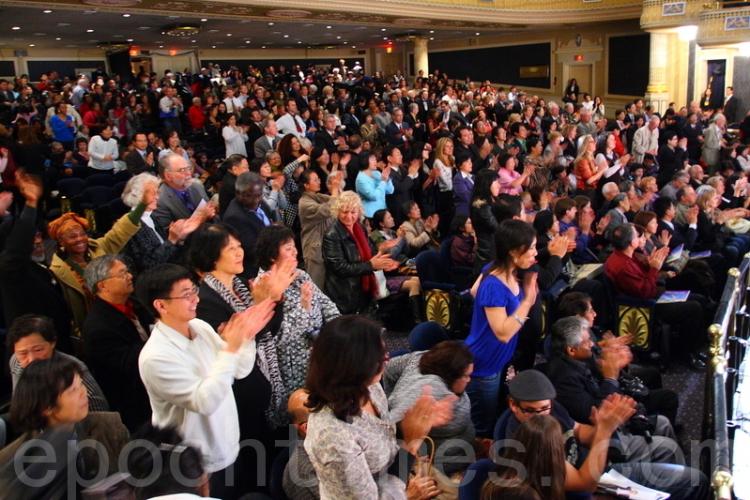 TORONTO—Shen Yun Performing Arts presented classical Chinese dance at Toronto's historic Canon theatre on Friday night, earning praise from a principal at school of another classical dance discipline–ballet.
Mr. Maitland is academic principal at Canada's leading ballet school. He found a strong connection with classical Chinese dance after seeing the performance. While ballet primarily attracts female dancers, he said he was pleased to see that classical Chinese dance drew from both genders.
"It was nice to see so many men involved tonight, I would love Canadian culture to see this. I think we can learn a lot more dances."
Mr. Maitland directed special praise to Tia Zhang, a choreographer and company manager of the New York company of Shen Yun Performing Arts. Zhang is an accomplished performer and dancer of both ballet and classical Chinese dance.
"I have to congratulate her on what she as done here, it is totally magnificent."
"The water dance [Nymphs of the Sea] was a beautiful piece, but putting the dance aside, the drumming was amazing, and the piece with the chopsticks I find delightful."
That chopstick piece, Chopstick Zest, is an ethnic Mongolian dance characterized by bold steps and staccato rhythms, with the striking movements of hundreds of chopsticks.
"I will have to come back and see it all again, some of the singing, like the operatic pieces were totally amazing. The orchestra itself was worthy of listening to even if there was no dance. The drumming I really enjoyed. I think, overall, it was just a wonderful example of the professional arts and performing arts coming together in one show–you have the dance, the singing the orchestra, the choreography, all of that working together to produce a magnificent evening of entertainment.
Mr. Maitland said he would tell all his friends to come and see Shen Yun.
Shen Yun Performing Arts will present three more shows in Toronto over the weekend. The company is scheduled to return to Canada in January to present its all-new 2010 performance tour.
Shen Yun Performing Arts will present three more shows in Toronto over the weeked before leaving Toronto until next year. The company is scheduled to return to Toronto in January to present it's all-new 2010 tour.
For more information, visit www.ShenYunPerformingArts.org.