Shen Yun Symphony Orchestra Impresses in DC
September 28, 2013 3:02 am Last Updated: December 24, 2013 11:48 pm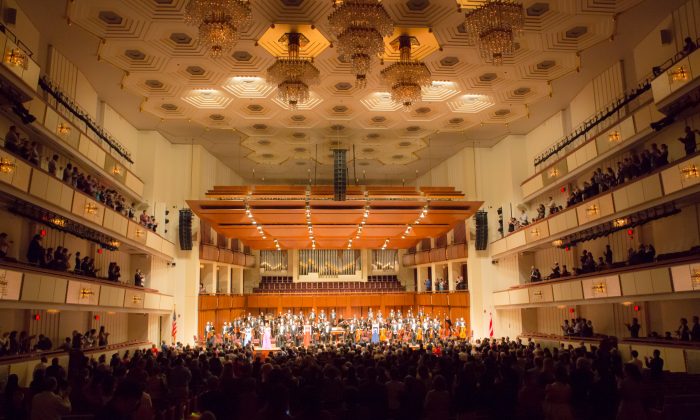 WASHINGTON—With four encores and several minutes of standing ovation granted by an ecstatic audience at the Kennedy Center Concert Hall on Friday evening, Shen Yun Symphony Orchestra concluded the opening performance of its seven-city tour.
Michelle Hodgkins, who works for the federal government, said she was moved by the orchestral performance she experienced.
"We had excellent seats, and seeing each of the performers, how the harmony came together and watching the different sections of instruments playing … it kept my interest the entire show," Ms. Hodgkins said. 
The orchestra, part of the world-renowned classical Chinese dance company Shen Yun Performing Arts, is the only orchestra in the world that combines classical Western and Chinese instruments. 
The works presented include original works by Shen Yun composers who draw upon China's millennia-old history, as well as masterpieces of the Western classical tradition. 
Ms. Hodgkins, who came to the concert with her husband, said they both enjoyed the performance. 
"We had an excellent time, and I will definitely be looking forward to this performance next time it comes to town."
Ms. Hodgkins said she also intends to attend the Shen Yun Performing Arts classical Chinese dance performance once the New York-based company embarks on its 2014 world tour, and visits Washington, D.C. in January.
"I'm really looking forward to that more so now than I was before," she said.
West and East Combination 'Impressive'
Graphic designer Silvestre Acedillo said it was impressive how the Shen Yun Symphony Orchestra was able to combine classical Western and traditional Chinese instruments together and called the blend of musical traditions amazing.
"I was excited to listen to it," he said. 
"Knowing Western but not really knowing Eastern, and to hear it mixed together, it's wonderful."
Shen Yun Symphony Orchestra is on a seven-city tour with performances in Washington, D.C., New York, Boston, Houston, Dallas, Los Angeles, and San Francisco, from Sept. 27-Oct. 22. For more information, visit Symphony.Shenyun.com