Shen Yun, 'So Magical'
April 4, 2014 1:04 am Last Updated: April 5, 2014 5:34 am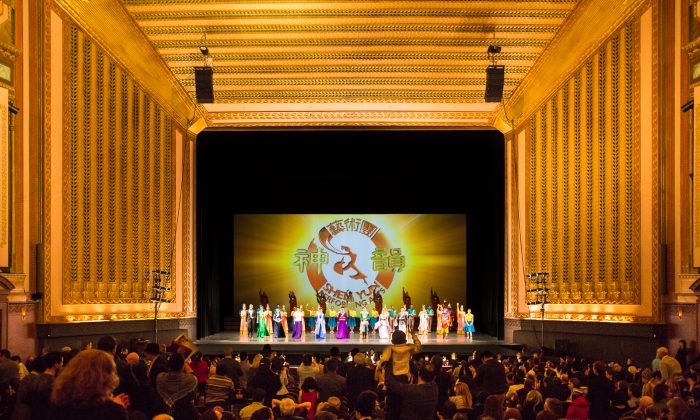 CHICAGO—" It's so magical," said Pat Medema. She had just seen the first half of Shen Performing Arts's performance at the Civic Opera House on April 3.
Shen Yun, based in New York, presents classical Chinese dance and music to the world as it tours over 20 countries and 100 cities. The evening includes orchestral music played by both Western and Chinese instruments, colorful backdrops and costumes, and award-winning vocalists.
Ms. Medema explained that she and her husband, Rich, a retired middle school teacher, hadn't known what to expect when they decided to come.
"I think it's pretty cool. It's really different. We were just talking about it," Mr. Medema said.
"I'm not that well acquainted with ancient Chinese culture, and it does seem kind of mystical to me. It certainly doesn't seem like early America or anything like that. It's mystical; it's very magical and pretty," Ms. Medema said. She, also retired, was branch manager of a suburban Harris Bank.
"We like dance, and I've never seen anything like this. It's very pretty, very pretty," she said.
One feature of Shen Yun that Ms. Medema enjoyed was the digitally animated projections: "The way they disappear into the screen is fascinating. I think it's really clever."
"The backdrops are magical windows to completely different realms. From vast open grasslands in one dance to the stately elegance of Tang Dynasty pavilions in another; from dusty yellow battlegrounds to tropical beaches to Himalayan peaks to picturesque scenery of the Yellow River Delta—the digital projection infinitely expands and transforms the stage," according to the company's website.
Ms. Medema would recommend the performance to their daughter and son-in-law.
"Very beautiful," Mr. Medema said.
Reporting by Valerie Avore and Sharon Kilarski
New York-based Shen Yun Performing Arts has four touring companies that perform simultaneously around the world. For more information, visit Shen Yun Performing Arts.
The Epoch Times considers Shen Yun Performing Arts the significant cultural event of our time. We have proudly covered audience reactions since Shen Yun's inception in 2006