Shen Yun 'Like a Painting Come to Life,' Says Artist
April 20, 2014 12:49 pm Last Updated: April 20, 2014 12:49 pm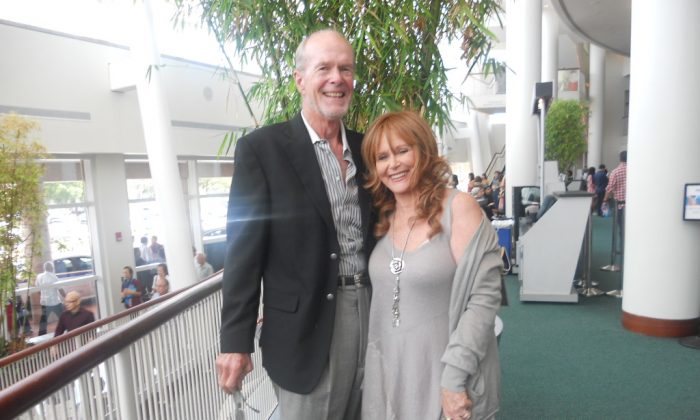 MIAMI—"I think this was the most incredible theatrical performance I've seen in my life," said Richard Deilke. He and his wife, Karen, had just experienced the Shen Yun performance at the Adrienne Arsht Center for the Performing Arts on April 19.
As a retired commercial airline pilot, Mr. Deilke has had the opportunity to experience the cultures and sights of many countries. "I think I've seen theater and opera in almost all the capitals of the world, and this has been the best," he said.
Watching Shen Yun, with its expressive art forms, inspired Mrs. Deilke, a lifelong artist and painter. "The color was almost blindingly beautiful. The movement was remarkable. The whole production was like a painting come to life," she said.
Mrs. Deilke paints in acrylic, oils, and watercolor. She also creates mixed-media collages. Her work has won juried show awards and can be found in galleries in the United States and the Caribbean, according to her website.
In particular, Mrs. Deilke was touched by the depiction of the Buddha: "Oh, the Buddha! It was very moving."
"Throughout history almost every culture looked toward the divine for inspiration," the Shen Yun website states. "Art was meant to uplift, bringing joy to both the people who created and experienced it. It is this principle that drives Shen Yun performers and their art."
Mrs. Deilke felt this divine inspiration and joy, but she also was sad to hear Shen Yun cannot be shown in China.
Shen Yun's mission is to revive 5,000 years of traditional Chinese culture, which has all but vanished under Communist Party rule. Shen Yun's website explains, "The mere representation of this lost heritage and its virtues immediately, by way of contrast, unmasks the Party and its ideology of struggle." 
This is why the Communist Party fears Shen Yun's message and will not allow the New York-based company to perform in China.
Mr. Deilke enjoyed the traditional message of harmony among heaven, earth, and man: "in every way it was presented, from good versus evil, and love versus hate, and old versus young," he said.
Shen Yun "opens up your mind again, and your heart and your imagination," he said. "It rolls it into one great big ball of happiness." 
Mrs. Deilke added, "And it makes you realize how simple it all is or could be, that we're all one and should be." She said she would tell her friends, "If you miss this, you're out of your mind."
Reporting by Edie Bassen and Adam Miller
New York-based Shen Yun Performing Arts has four touring companies that perform simultaneously around the world. For more information, visit ShenYunPerformingArts.org
The Epoch Times considers Shen Yun Performing Arts the significant cultural event of our time. We have proudly covered audience reactions since Shen Yun's inception in 2006.