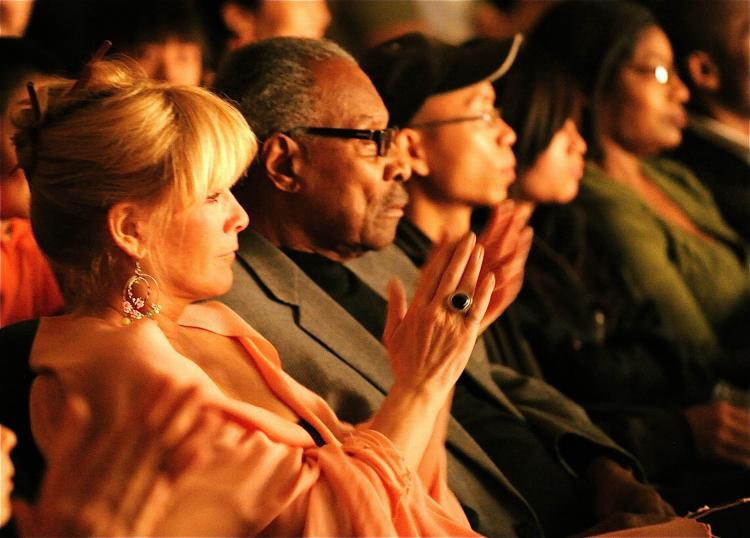 TORONTO—Shen Yun left one of Toronto's most distinguished citizens with memories he said he will carry with him forever, after the Saturday evening performance at Canon Theatre.
"It's wonderful, beautiful, unforgettable. It's a wonderful expression of Chinese culture that brings mountains to you, blue water, lovely girls with silk, and dancing in the clouds," said Lincoln Alexander, Ontario's former Lieutenant Governor and Canada's first black Member of Parliament.
Mr. Alexander praised the agility of the dancers and particularly complimented Shen Yun on its trademark animated backdrops for the effect they brought to the show.
"I really liked all the backdrops, how they brought different scenes in, people coming out of the mountains onto the stage, which is very tricky, but it's unforgettable, beautiful, and I'll never forget it."
"I liked the women dancing with the shawls, they always seemed to be dancing on clouds, like the white clouds are there and they are in the middle of it—very, very, very, very believable."
Mr. Alexander made his mark on the Canadian political scene when he was first elected to Parliament in 1968. He held his seat until he resigned in 1980 to serve as chairman of the Worker's Compensation Board. From 1985 to 1991 he was Lieutenant Governor, the first black person to serve as a vice-regal, representing the Queen, in Canada.
He has been appointed to the Order of Ontario as well as the Order of Canada. He served as Chancellor of the University of Guelph from 1991 to 2007 and was named Chair of the Canadian Race Relations Foundation in 2000.
After watching the show, Mr. Alexander reflected on the broad impact the Chinese civilization has had on the world.
"When you think of 5,000 years and the Chinese culture is still affecting us, even as of today.
"I think what people will take away [from the show] is the fact that the Chinese are very powerful people, and that their thinking still affects the world and they're a group of people who don't give up under any kind of adversity."
He described Shen Yun as a "beautiful expression" of that culture.
"The dancing was just out of this world, you couldn't help but try to imitate what they were doing. They are strong of body and nimble of foot."
With him was partner Marni Beal, who works in advertising. She said she was also deeply touched.
"It was exquisite. The costumes were phenomenal. The finesse, the number of people who were onstage and you can't hear a footstep. They are just so professional and absolutely exquisite."
Ms. Beal also reflected on some of the themes of the night's presentation, including the traditional Chinese emphasis on forbearance.
"You appreciate how people can derive some strength through adversity … It is all very uplifting, it is enlightening."
This spiritual element also touched Mr. Alexander.
"The spiritual part is really what it is all about. When you think things are hard, tough, and you can't get ahead, there is a divine being that's behind every thought, every movement, so that affects me too," he said.
"It is quite a show. I urge everybody to come and see it once they have an opportunity."
"I can't say anymore, I am just dumbfounded," Mr. Alexander said, adding that it was the best show he had ever seen.
"Number one … I see a lot of shows, they all affect me, but this one affected me even more so."
Shen Yun will stage one more performance at Canon Theatre on Sunday afternoon. For more information, please visit www.ShenYunPerformingArts.org.