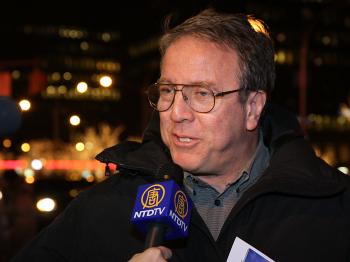 A show lauded worldwide for its flawless Chinese dance, brilliant traditional costumes, and story-based dance dramas depicting the spirit and essence of China's age-old culture, is coming to Vancouver.
As part of its 80-city world tour, New York- based Shen Yun Performing Arts (formerly Divine Performing Arts) is set to play seven shows at the Queen Elizabeth Theatre from April 3 – 9. After Vancouver, the production will move on to Calgary, Edmonton, and Regina.
The following are comments from audience members who have seen—and loved—the show.

"I was very moved, almost to tears. It's rare to have someone move you so much… The [erhu player] can express more feelings from her simple little instrument than years of conservatory and PR hype. She really feels the music—the goosebumps on my arm proved it."
Eric Shumsky, acclaimed violist and son of legendary violinist Oscar Shumsky
"I'm very touched; I am leaving with a lot of music in my soul and my heart. Tonight's show has touched us deeply."
Mr. Nedelescu, renowned Romanian tenor from Germany

"I have a new feeling, a new sensation. It is a very thrilling show. I am deeply moved.
It is very rare to have the opportunity to learn about Chinese culture. When the culture disappears, it is like the nation disappears. After watching the show, I feel the importance of restoring the culture of Korea and reviving the spirituality of the Korean people."
Yi Seok, the last prince still living on Korean soil, a professor of history at Jeonju University, and the president of The Imperial Grandson Association, devoted to preserving the culture of the royal court
"It's a wonderful performance."
Yoine Goldstein, Canadian Senator
"I was astonished and surprised. … I saw a sacred difference here in how to go about things. The most beautiful moment I experienced this evening, where I was deeply moved, was with the performance number, the piano with the traditional [Chinese] instrument [the erhu]. I caught my breath. I dared not even breathe. It was very, very beautiful."
Touve Ratovondrahety, pianist for the Paris Opera House
"It was so marvelous; it transported me back in time, in the sense of a beautiful, wonderful, quintessential Chinese culture…it's extraordinarily high quality. It enhances all of us."
Prof. Cyril Dabydeen, award-winning Canadian writer, poet and critic, co-winner of the top Guyana Prize for Fiction in 2007, nominee for Int'l IMPAC Dublin Literary Award
"The show is spectacular. I was surprised, honestly. I can only say, stunning, I must repeat again—I'm stunned. It's beautiful, they are very professional, the dancers are excellent, the costumes are beautiful and I loved them."
Dan Liu, fashion designer and creator of the Tatsuaki fashion line sold at Holt Renfrew
"Magnificent! Lots of variety and truly expresses the Chinese history."
Jeffrey Kluger, Senior writer at TIME magazine and co-author of Lost Moon: The Perilous Voyage of Apollo 13, adapted for the 1995 Academy Award-winning movie Apollo 13
[caption id="attachment_83679″ align="alignleft" width="320″ caption="Ms. Fang Quiting, editor-in-chief of