Shen Yun Brings Spring to Chicago
April 6, 2014 5:04 pm Last Updated: April 6, 2014 5:04 pm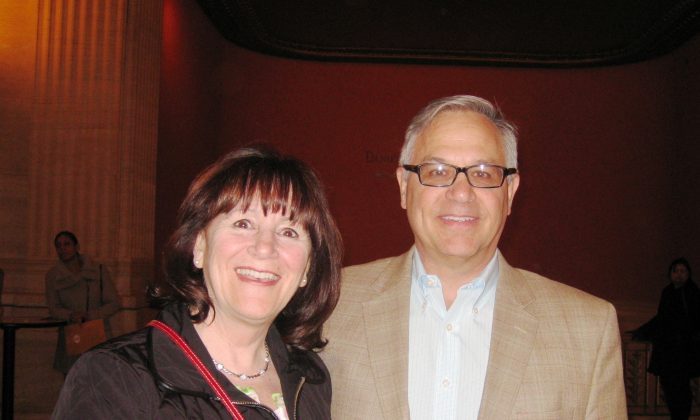 CHICAGO—All week the weather had been in the low 40 degrees in Chicago, with Saturday's temperatures finally edging toward the 50's. But Shen Yun Performing Arts changed all that.
"It made me feel like spring after this long, long winter," said Barbara Hill who saw the classical Chinese music and dance performance on Saturday, April 5, with her husband, Peter.
"We liked it a lot. I didn't know what to expect," said, Mr. Hill, regional sales manager at Velcor Leasing Corporation.
At the heart of Shen Yun is classical Chinese dance, known for its expressiveness and ability to tell stories. Thus Shen Yun uses it as a vehicle to share the myths, legends and values from 5,000 years of China's civilization.
Audience members often comment on the grace of the dancers.
"The flow of movement was so spectacular," Ms. Hill said who notice that when the dancers land, there is barely a sound, so light is their dancing. "It was lovely. … They were so smooth and quiet. I really enjoyed it. Very light and beautiful." she said.
In addition, audience members often remark on the visual aspects of the performance, the backdrops and costumes.
"I loved all of the colors. I thought they were vibrant," Ms. Hill said.
Although Mr. Hill had just been to Beijing, he felt that Shen Yun left him feeling a great deal more respect for the culture. He was interested in learning more about China, and considered Shen Yun "a perfect follow-up."
How did the performance make Ms. Hill feel? "It made me very happy. It was very energetic, yet energizing," she said.
With reporting by Teresa You and Sharon Kilarski
New York-based Shen Yun Performing Arts has four touring companies that perform simultaneously around the world. For more information, visit Shen Yun Performing Arts.
The Epoch Times considers Shen Yun Performing Arts the significant cultural event of our time. We have proudly covered audience reactions since Shen Yun's inception in 2006.