Ethnic Chinese: Shen Yun 'Better than a Thousand Words'
April 8, 2014 9:22 am Last Updated: April 9, 2014 9:40 pm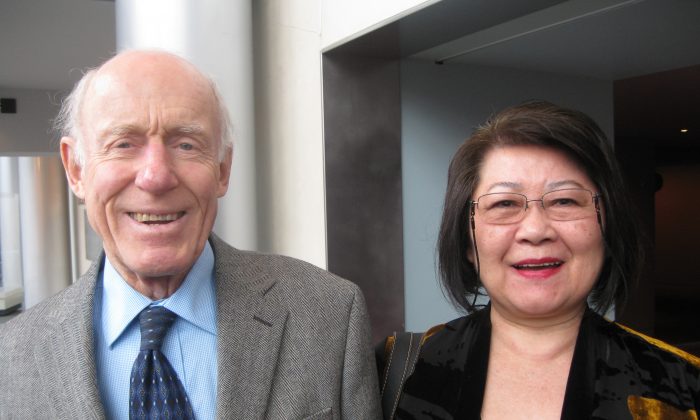 SEATTLE—Attorney Ronald Hendry and his wife, Mulan, were at the Marion Oliver McCaw Hall to watch Shen Yun Performing Arts' matinee performance on Saturday, April 5.
Mr. Hendry said that he was overwhelmed by the performance, explaining: "The colors of the costumes, the backdrop, and the sense of depth perception creating the various scenes—it's amazing. I've never seen anything like that. And the dancing itself—the whole thing just hits you … I wish there was more, actually."
The New York-based nonprofit Shen Yun Performing Arts was established in 2006 with the mission of reviving Chinese culture through dance stories choreographed to a philharmonic orchestra, which offers a combination of Chinese and Western instruments.
"Classical Chinese dance has a long history of thousands of years," reads the company's website, "and while soaking up profound wisdom from every era and dynasty, it has become a complete system of dance, embodying traditional aesthetic principles."
Mr. Hendry repeated that he was impressed with the dancing: "I enjoyed the dancing. It's just the totality of it all, is the best way I can describe it."
His wife was delighted as well, saying, "It's one of a kind. I've never seen a backdrop—just beautiful—the engineering part."
"The backdrops are magical windows to completely different realms," reads Shen Yun's website. "From vast open grasslands in one dance to the stately elegance of Tang Dynasty pavilions in another … the digital projection infinitely expands and transforms the stage."
The couple was delighted with the live orchestra, especially a masterful combination of traditional Chinese and Western instruments.
"Especially the Eastern and Western, blending them together—it just brings out the best, the best music there is," said Mrs. Hendry. "You feel like you are in heaven, in a different world actually."
"It's a lifetime show," she continued. "You don't see them every single day. It's a must see, awesome, wonderful, it's just amazing. There's no word to describe it. Fantastic, it's just really fantastic."
Shen Yun's mission is to revive 5,000 years of traditional Chinese culture, with the beliefs and values that were nearly lost through decades of communist rule, according to the company's website.
"It touched me so deeply," said Mrs. Hendry. "I was sitting there in the theater thinking, 'I wish the whole world would see it; I wish my grandkids, my kids, my whole family can see it.'"
She elaborated on why she wanted the whole world to see it: "Because they can see the great art work, and they might learn a different culture from different countries, and they might appreciate the world—bring a beautiful part of the world here."
The performance had a special meaning for Mrs. Hendry, who is ethnic Chinese. "I already know my history; it's nice to know how [Shen Yun] brings it out and expresses it for all of us," she said. "That's the reason I want all my children, friends, and family to see it—so it can really be honored. It's better than a thousand words that you could tell anybody about the culture."
Having watched 'most of the people's facial expressions', Mrs. Hendry concluded that the audience "probably feels the same way we do. I'm very grateful to be able to see [Shen Yun]."
"It's a must-see!" concluded Mr. Hendry.
Reporting by Michael Green and Nataly Teplitsky
New York-based Shen Yun Performing Arts has four touring companies that perform simultaneously around the world. For more information, visit Shen Yun Performing Arts.
The Epoch Times considers Shen Yun Performing Arts the significant cultural event of our time. We have proudly covered audience reactions since Shen Yun's inception in 2006.