One of my favorite aspects of cooking is that it isn't instant. 
Don't get me wrong, there are definitely days when I reach for the boxed macaroni and cheese, or scroll through my phone looking for recipes that promise me a beautifully plated meal on the table within five minutes, even with two small children running around at my feet.
But when I have the time and energy to put into it, I love the fact that good cooking takes time. I've learned to make foods like pasta and pastry from scratch, and while it's more time consuming than reaching for the pre-made versions, I've learned that when we resist the shortcut, we are almost always more satisfied with the end result. I love the reminder that the best things in our life are not fast, and that they take some patience and arm muscle. 
Enter homemade butter: I have long wanted to make my own, ever since a class lesson on pioneer cooking in fifth grade. I decided if I brought my 3-year-old daughter into the project with me, it could become a fun activity for us at home.
I used a recipe for making butter in a mason jar, from a new cookbook by chef Suzanne Vizethann of Buttermilk Kitchen in Atlanta. Vizethann believes in real, from-scratch cooking, which lies at the heart of her breakfast and lunch restaurant.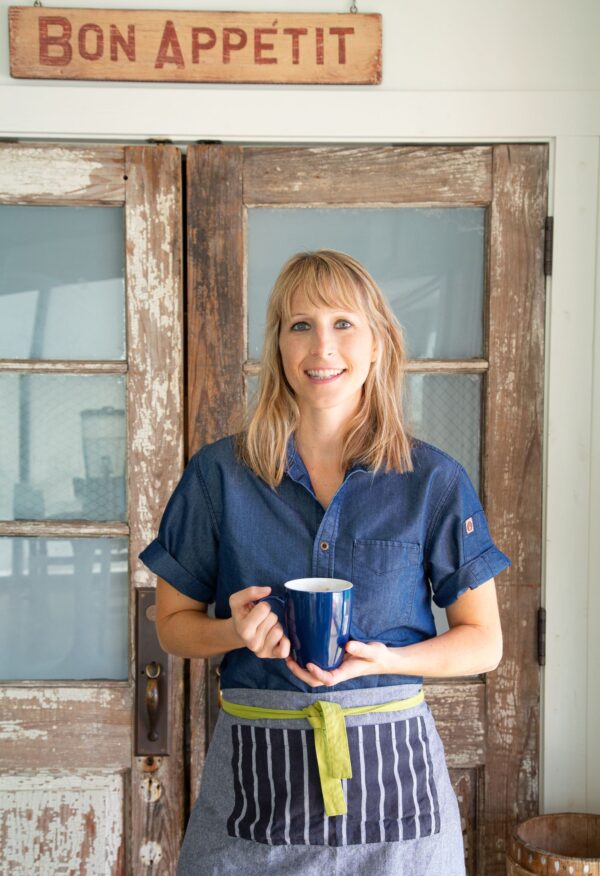 Vizethann's cookbook, "Welcome to Buttermilk Kitchen," highlights some of the popular recipes at the restaurant. What I love most about it, though, is the way she brings her kitchen staples into the spotlight. That's the secret to delicious food: making the building-block ingredients we tend to buy at the store. The cookbook's pages are filled with recipes from homemade chicken stock and pickling brine to salad dressings and condiments, all of which make the final product more flavorful and satisfying.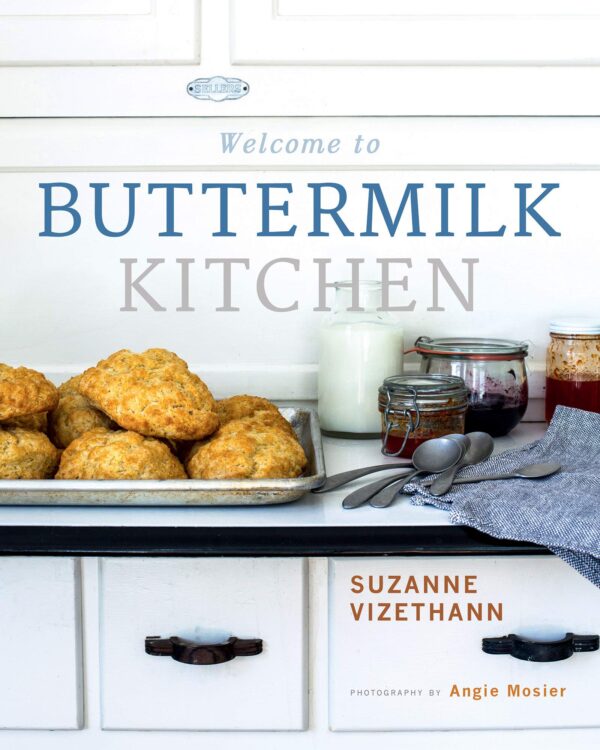 "Food is how you flourish and nourish your body, so you should know what you put in it each day," Vizethann said. "An easy way to do this is learning how to cook and prepare ingredients for yourself."
Butter Basics
You might have accidentally made butter by over-whipping cream. That's essentially how it is made. 
Traditionally, butter was made in a churn, a device typically made out of wood. Cream was separated from the milk and placed into the churn, where a staff repeatedly plunged up and down would whip the cream inside, until it separated into solid butterfat and liquid. The liquid—buttermilk—was drained off, and the solid lump that remained was the butter. 
Vizethann learned to make mason jar butter from an article she read years ago.
"It's a great recipe to learn," she said. "Most people don't realize how simple something like making butter can be. It may be more work, but the flavor and satisfaction you get from making it yourself is worth it."
Though smaller in scale, the process behind mason jar butter works in a similar fashion as that of a churn: whipping the cream—by shaking it, to be exact—until it separates into solid butter and liquid buttermilk. Vizethann's instructions are to pour the cream, plus a touch of sour cream, into the mason jar and shake it for six to eight minutes (Vizethann says she and her fiancé make this together and compete to see who is faster).
The remaining buttermilk can be saved to use in a variety of recipes. In her book, Vizethann includes a recipe for buttermilk whipped cream, which sounds like it would be delightful on waffles. 
A Little Helper
I told my 3-year-old we would be making butter together, and she immediately ran to the fridge and pulled out a stick. When I responded that we were making it from scratch, she looked at me like I had lost my mind. 
But she came around: Give any 3-year-old a jar filled with cream and tell her to shake it to her heart's content, and you are bound to receive a thrilled smile in return.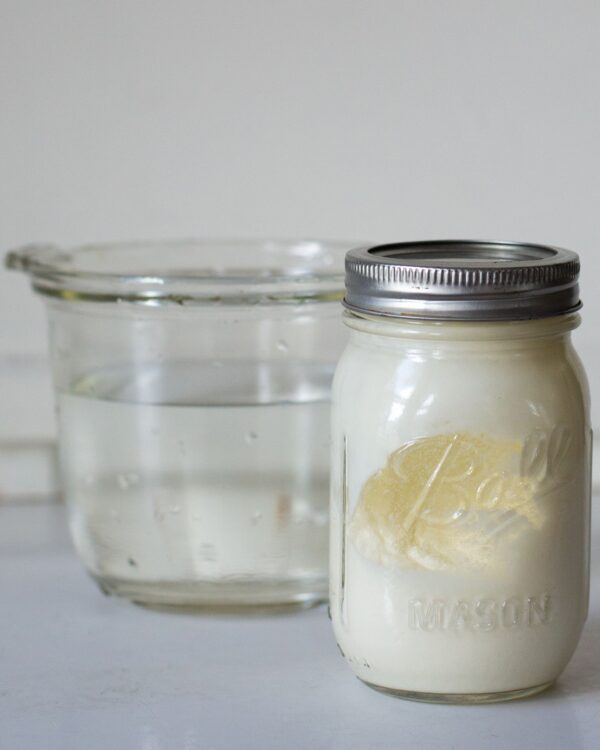 She shook for about one minute before saying she was tired, but a little bit of Frozen music can go a long way when it comes to keeping children motivated. After a few rounds of "Let It Go," we had whipped cream, and then a little while later, we had a lump of butter.
We transferred our lump of fresh butter into a bowl, poured cold water over the top to firm it up, and then squished the solids together into a ball.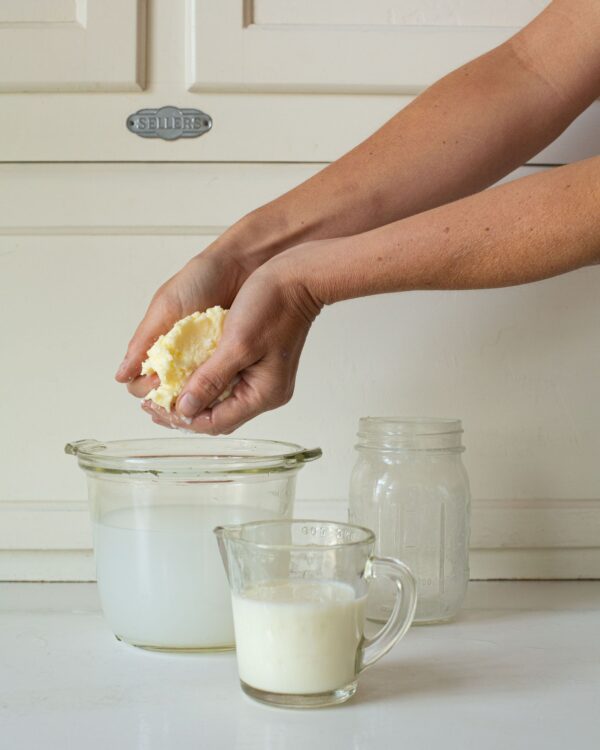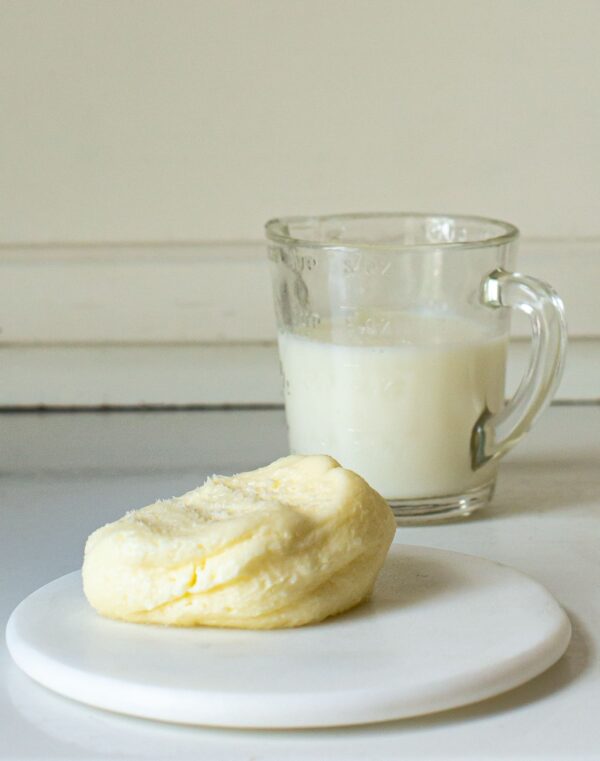 "It's like Play-Doh!" my daughter squealed as she molded our butter together. 
The nice thing about butter is that it is so easy to play around with different flavorings—garlic, sage, lemon. Vizethann includes a lavender-honey variation in her cookbook. We decided to make a rosemary-thyme version, mixing the chopped herbs into the butter at room temperature. 
I made cheddar rolls that night, and my daughter couldn't wait to slather them with our homemade butter. We had guests for dinner, and she kept explaining to them that this was special butter that you had to shake for a really long time.
Vizethann believes that it's important for children to learn about food and where it comes from. "You truly are what you eat, and we need to educate children on that philosophy from a young age," she said. "I grew up cooking and was fortunate to be raised by a family that appreciated good food."
Homemade butter certainly takes more time and effort than pulling a stick out of the fridge, but watching my daughter animatedly explain its backstory made it feel worth it.
As for myself, spreading my own thick, creamy, perfectly herbed butter on my own homemade cheddar rolls gave me a feeling of satisfaction and appreciation for the pleasure of eating that I've never found at the bottom of a box.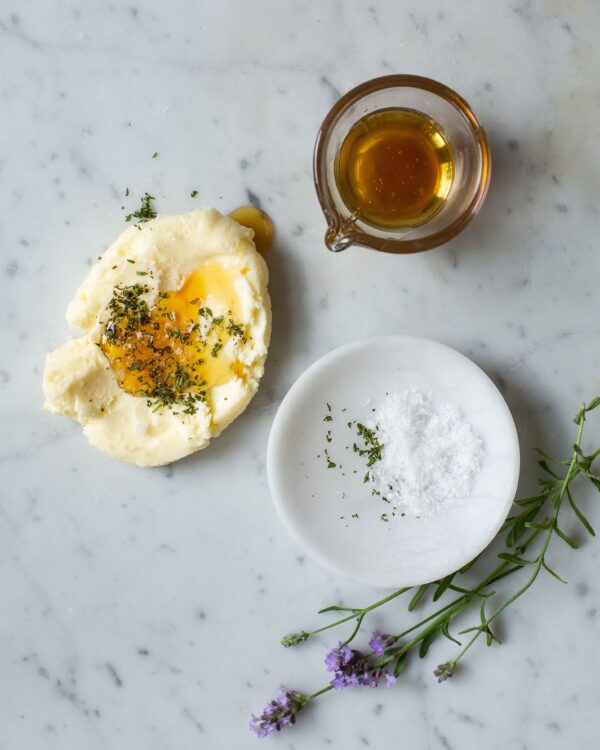 Rachael Dymski is an author, florist, and mom to two little girls. She is currently writing a novel about the German occupation of the Channel Islands and blogs on her website, RachaelDymski.com