Senior Law Partner 'Enthralled Throughout' Shen Yun
April 15, 2014 12:21 pm Last Updated: April 16, 2014 1:44 am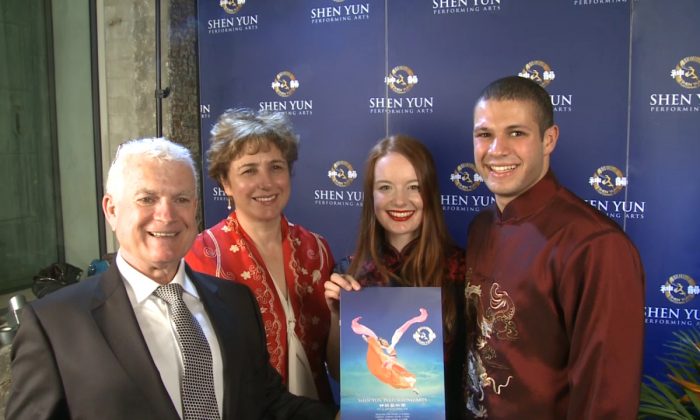 SYDNEY, Australia—Shen Yun Performing Arts International Company opened at the Sydney Theatre, on April 15, amidst enthusiastic applause.
The Khoury family were there to experience the wonder of the New York-based Shen Yun. Deib Khoury, a senior partner of Benjamin & Khoury Solicitors for forty-five years came with his wife, Farida, and one of their nine sons, Werrdan Khoury[Woody], a law student, and Werrdan Khoury's girlfriend Jennifer Catterson, a finance student.
This was Mr. Khoury's first experience of Shen Yun and he was "enthralled throughout."
He said, "I thought it was fantastic, really really nice. … very, very impressed."
"Chinese dance is at the heart of what Shen Yun does. Known for its incredible flips and spins, and its gentle elegance, it is one of the most rigorous and expressive art forms in the world," according to the Shen Yun website.
Mr. Khoury was particularly impressed with the dancing and the costumes.
"It was lovely, it was fantastic," he said.
"I was impressed with the coordination, the colour."
Established in 2006, New York-based Shen Yun revives 5,000 years of Chinese civilization through the performing arts.
"Some of the themes … very very impressive," he explained.
As well as classical Chinese dance, Shen Yun has folk and ethnic dance as well as mini-dramas and solo singing performances.
Mr. Khoury liked the dance the Mongolian Chopsticks.
According to the program, "against a vista of endless blue sky, Mongolian men are gathered in companionship. … they pull together to perform a traditional dance. Alternating between fast, furious footwork and long, extended arm movements, Mongolian dance is a vivid testament to free-spirited vitality and boundless expansive expression."
"It just gave a nice story and a nice follow through with that," he said.
He also appreciated the Grand Descent of the Deities where "in the upper reaches of the cosmos, divine beings dance in a golden paradise," explains the program book.
"The Creator themes … I thought was very good. … the way they did it was very, very nice you could follow through.
"The screen, the screen behind plays a major part I think that really, really enhances the performance and lets you really be a part of it a little more," he said.
Mr. Khoury, was referring to the state-of-the-art digital backdrops which is a unique feature of Shen Yun.
Mr. Khoury enjoyed Shen Yun so much he said he was looking forward to next year's performance.
"I'll a 100% be here and I'll be recommending it to others."
'Extravagant, Beautiful'
Mrs. Khoury added, "I look forward to next year."
She said, "It was an extravagant, beautiful show, we really enjoyed it.
"I loved the colours and the material it was just a wonderful exhilarating feeling, … it's a lovely feeling to be part of all this.
"We're so happy that we came here tonight, even though we have a very, very busy life, but we made the time to be here today—so were really enjoying it."
'I felt the Divine'
Their son Woody was also very taken with the whole performance.
"It was a beautiful night, a beautiful night."
He said, "I felt like I was able to capture the spirit of China.
"I felt the Divine, I felt the nature manifested in the dances, in the colours in the movements, in the songs, in the music, it was, it was absolutely beautiful. It tantalized every sense.
"It was a stunning evening."
The variety of dances and their depth of expression left a lasting impression on him.
"The fast pace and then the ribbon dances and the movements and the flow, it was like a river, it was lovely," he explained.
Reporting by NTD Television and Leigh Smith
New York-based Shen Yun Performing Arts has four touring companies that perform simultaneously around the world. For more information, visit Shen Yun Performing Arts.
The Epoch Times considers Shen Yun Performing Arts the significant cultural event of our time. We have proudly covered audience reactions since Shen Yun's inception in 2006.