In this series, we ask chefs about the secret ingredients they love—and how you can use them at home. Here, executive chef Michael C. Brown of Barrel Republic and Jalisco Cantina in San Diego shares an easy DIY ingredient to spice up your guacamole, and more. 
Secret Ingredient: I enjoy using oils that are infused with herbs, vegetables, or spices—the sky is the limit! Infused oils are widely used around the world and are very versatile. My current favorite is the charred jalapeño oil that I make from scratch. I also often reach for spinach and poblano oils.
Although infused oils can be purchased at specialty shops, they are fairly simple and inexpensive to make at home with the help of a blender, heat, time, or all of the above. You are in control of the flavor of the oil, so infuse away with any herb, spice, or vegetable you wish. Oil in general picks up flavor very easily, so you are in control of the intensity.
When talking about the charred jalapeño oil specifically, I prefer to use a more tasteless oil—I personally use a canola-olive blend. For other recipes, I recommend using extra-virgin olive oil. Once you get comfortable with one infused oil recipe, you can start experimenting by adding other spices and herbs and mixing oils.
How to Use It: The charred jalapeño-infused oil can be added to just about any dish for aroma and flavor. Pour a little in your soup, drizzle some over your pasta, or even mix it in with your favorite salad dressing to turn up the flavor. I use it to add flavor and heat to Jalisco Cantina's signature spicy shrimp guacamole.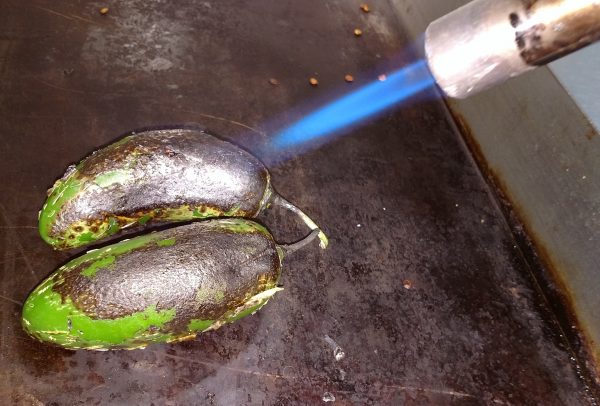 Charred Jalapeño Oil
Makes 1 cup
2 jalapeño peppers
1 cup neutral-tasting oil, such as a canola-olive oil blend
Sea salt, to taste
Char the jalapeño peppers. Essentially, you are just blistering them; the jalapeños should be black on the outside but only slightly cooked inside. If you are an avid home cook and have access to a kitchen torch, then that's the easiest way to get the job done. Otherwise, you can achieve the same flavor by throwing the jalapeños on a grill, or an open flame of your gas stove top.  The times can vary depending on your source of fire, but it's easy to eye it—just be on the lookout for the char on the outside.
Puree the charred jalapeños with oil and sea salt in a blender.
Recipe courtesy of chef Michael C. Brown