Monarch butterflies have a friend in Jeff and Roxanne Stelle of Springfield, Illinois, who have set up "butterfly gardens" throughout their back and front yards that will help the insects survive.
A chief nursing officer at an Illinois hospital, Roxanne Stelle began last summer working in the garden when she returned home from long hours at work during the COVID-19 pandemic.
"I just started learning about the decline in butterflies, and I think I just started kind of shifting my focus that way," Roxanne Stelle told Radiant Life. "Something in my heartstrings tugged … (butterflies) have had an 80 percent decline."
Having contrasting colors of black and orange, monarch butterflies need "a warm climate and food plants (milkweeds for larvae, nectar from general flowers for adults)" to survive, the Smithsonian said.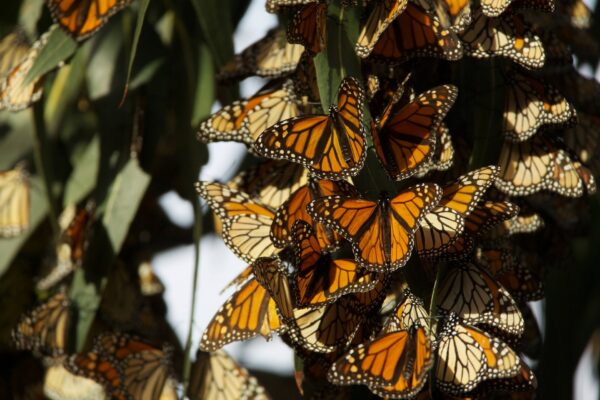 "Several broods are produced throughout the year. After migrating and overwintering in the south (California and Mexico), the adults travel north in the spring, laying eggs along the way," the Smithsonian said.
The survival of the eastern monarch butterfly population, in particular, has been of grave concern for several groups that have been tracing their decline for years. Butterflies east of the Rocky Mountains make up the eastern monarch population, which is approximately "99% of all North American monarchs," the Center for Biological Diversity said.
Eastern monarch butterflies "used to number in the hundreds of millions but the population has declined by approximately 80%," said the Xerces Society for Invertebrate Conservation. The monarch butterflies have lost their habitat, and thus, the ability to survive mostly through loss of milkweed host plants from herbicide use, the Xerces Society's "Monarch Nectar Plant Guides" said. "…and loss or degradation of nectar-rich habitat from other causes, natural disease and predation, climate change, and widespread insecticide use are probably also contributing to declines," the Xerces Society's "Monarch Nectar Plant Guides" said.
Watching for monarchs
Several groups such as Monarch Watch are rallying others to "create, conserve and protect monarch habitats" that contain milkweed and nectar plants needed for the monarch's survival. Monarch Watch promotes a "Monarch Waystation Program" to encourage the creation of "Monarch Waystations… places that provide resources necessary for monarchs to produce successive generations and sustain their migration."
"Creating a Monarch Waystation can be as simple as adding milkweeds and nectar sources to existing gardens or maintaining natural habitats with milkweeds. No effort is too small to have a positive impact," the Monarch Waystation Program said.
The Stelles showed their support of monarch conservation by having their monarch habitat areas certified as an official Monarch Waystation by Monarch Watch. The online Monarch Waystation Registry, which lists Monarch Waystations worldwide, listed 33,356 Monarch Waystation habitats registered as of May 12, 2021.
Several areas in the Stelles' front and back yards have plants and flowers conducive to helping monarch butterflies.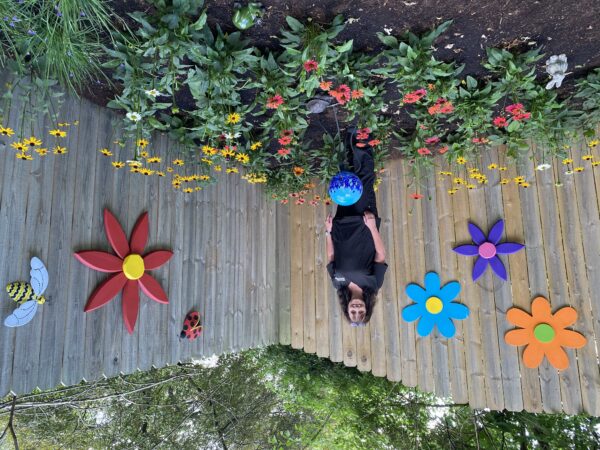 Monarch butterflies have several resources to avail themselves with in the Stelles' areas, including milkweed, zinnias, coneflowers, black-eyed Susans and phlox.
"Just try to spread it out so they have different areas to go to — different stages. It's important to have things like spring, summer, fall so that throughout the growing season they have food and nectar sources throughout the season," said Roxanne Stelle, whose garden also has been designated a "Pollinator Habitat" by the Xerces Society for Invertebrate Conservation. "Really focusing on native plants to your area is what they recommend because that's what the butterflies… grew up on back in the day before they declined."
The Monarch Waystation Program divides the United States into four eco-regions (Northeast, South Central, Southeast and West), and for each region, suggests milkweeds that are native to that particular region that people may plant. The suggested milkweeds are "preferred by monarchs and relatively easy to establish in gardens and fields," the Monarch Waystation Program said.
For example, for the Northeast Region that includes states such as New York, New Jersey, Pennsylvania, Ohio, Indiana, Illinois, Missouri and more, the following are the suggested milkweeds: common milkweed, swamp milkweed, butterfly milkweed and poke milkweed.
"Monarch Nectar Plant Guides" by states offered on the Xerces Society's website helps primarily gardeners and landscape designers determine what nectar plants are food for their locations. Examples of monarch nectar plants good for the Midwest states of Iowa, Missouri, Illinois and Indiana include prairie blazing star, false boneset, New England aster, Ontario blazing star, sawtooth sunflower, stiff goldenrod, tall blazing star, hoary verbena and wild bergamot.
"At first, you just think they just need the nectar, but … they talk a lot about the milkweed and the host plants where they can have their eggs and become caterpillars and then go from there," Roxanne Stelle said.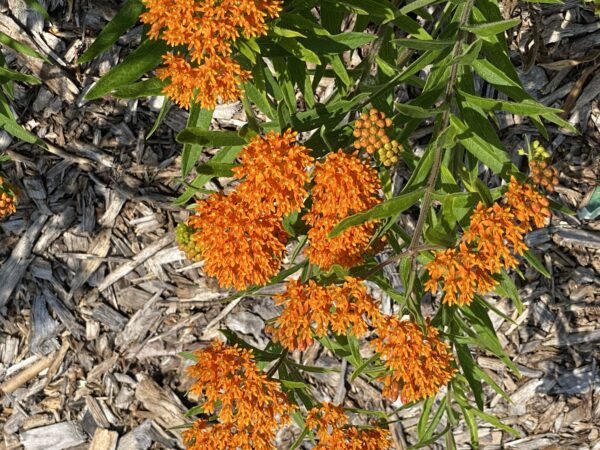 People should "read up on nectar and host plants native to the area that they live in" so that they may include in their yards native plants that butterflies like best, Roxanne Stelle said.
"At first I included some other types, but I always found the butterflies around the native ones – and so I switched them out," Roxanne Stelle said. "Different butterflies like different things, just like people. I would also suggest if (individuals) are on social media to join groups. They are really helpful for asking questions and learning."