Sam Doumany Says Shen Yun Brings Chinese Culture to Life
April 24, 2014 8:19 am Last Updated: April 24, 2014 9:07 pm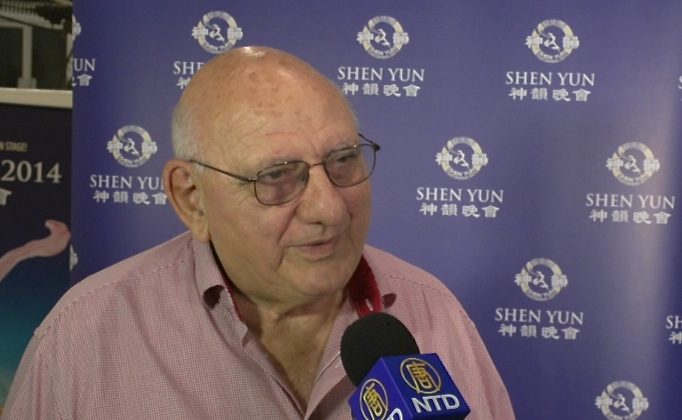 GOLD COAST, Australia–In its debut performance at The Arts Centre Gold Coast, Arts Theatre, Shen Yun Performing Arts opened a whole new world of traditional Chinese culture to former Liberal Party Deputy Leader, Sam Doumany.
Being no stranger to the public eye Mr. Doumany gladly shared his vivid Shen Yun experience.
"It is tremendous. It is very interesting, very stimulating. It brings all of the traditions of China from thousands of years, it brings them to life."
The Honourable Sam Doumany had a successful career amongst the Queensland political landscape into the early 80's having first served as the Minister for Welfare and Corrective Services and then as Minister for Justice and Attorney-General for Queensland before ending his Parliamentary career as Deputy Leader of the Liberal Party. Currently residing on the Gold Coast with his wife Sam, he runs a consultancy practice serving on a range of public and private Boards, both as chairman and as a non-Executive director. He is the current president of Hope Island Rotary Club.
Mr. Doumany said he felt Shen Yun's performance was stimulating as it depicts a very live philosophy. He appreciated the narrative power of the stories being told through dance.
"It tells you the magnitude of what China represents as a country, as a society, with its history, its complex history."
For thousands of years, China was known as the Divine Land. But under 60 years of communist rule, authentic Chinese culture, including traditional arts, have been almost lost. That is why you cannot see a performance like Shen Yun in China today according to the Shen Yun website.
"I feel that there is a tremendous amount to be done for the people in China who want to preserve their traditions and their culture, and who don't want to be swamped by technocracy and the sheer weight of ideology, political ideology, economic ideology.
"I think in a large part it is a very human story. Human beings wanting to retain the basis of their civilization"
Based in New York, Shen Yun is entirely non-profit. Its artists have come from around the world to revive this glorious heritage.
Mr Doumany recommended others come and see they show with an open mind and offered encouraging words for the performers of Shen Yun.
"I would say to the performers to maintain their vigilance and their enthusiasm and their energy. Their spirit is here and they want to leave it behind with the people here who come to view the show and enjoy it."

Reporting by NTD and Emma-Kate Stampton
New York-based Shen Yun Performing Arts has four touring companies that perform simultaneously around the world. For more information, visit Shen Yun Performing Arts.
The Epoch Times considers Shen Yun Performing Arts the significant cultural event of our time. We have proudly covered audience reactions since Shen Yun's inception in 2006