Rustic and Industrial, Dylan Prime Offers Eclectic Finds
April 11, 2014 12:01 pm Last Updated: April 11, 2014 10:44 am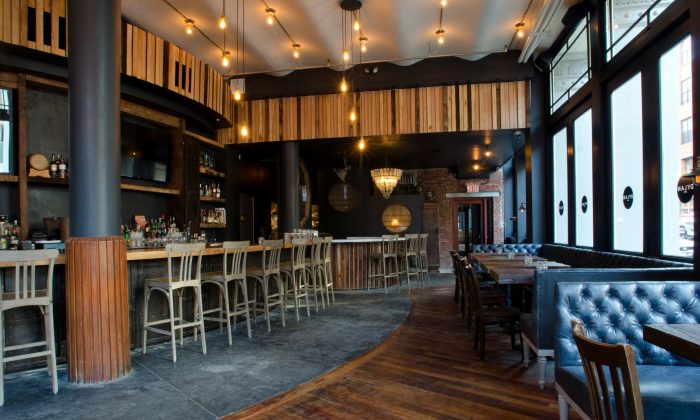 Tucked away on a quiet street in Tribeca, Dylan Prime recently reopened in the same building that was once home to the Dietz lantern manufacturing company. The restaurant's setting pays homage to its origins—industrial and rustic—with reclaimed wood and original scalloped ceilings. 
As you enter, you are faced with the chef's table, with room for 12, where guests can watch the chef prepare the meal. On the left is the lounge area with a handsome bar, made with 150-year-old reclaimed wood and iron shutters. One end of the bar is used strictly as a raw bar. 
The main dining room has the same industrial and rustic feel and yet is warm and cozy. It is very spacious with its original high, scalloped ceilings. The centerpiece is a wine room framed by industrial glass windows. 
There are also two other private dining rooms, the Vault Room and the Dietz Room.
An Eclectic Selection
Dylan Prime is not only a steakhouse. The menu celebrates an eclectic selection, with new creations in addition to some of its originals, such as the succulent cuts of New York strips (bone in and out), rib eye, and porterhouse, as well as slow-cooked pork chops. 
The menu also features the almost forgotten chateaubriand. 
There are also dishes that are seasonally driven and farm-to-table that are new menu highlights, and I believe are inspired from different parts of the world.
For example, an interesting appetizer off the menu was the grilled porcini mushrooms from South Africa with a poached egg on top, much like a snow-capped mountain, served with black garlic vinaigrette ($16). Or try the sweet and melt-in-your-mouth sea scallops with a slight crunch, over a creamy cauliflower purée and Jerusalem artichoke pickles ($16).
The unusual surf and turf got my attention because it is made with bone marrow and fried oysters. My friend loved the oysters. They were sweet and tender yet crispy on the outside complemented with an herb salad and the good old Bayonaise. 
The Arctic char was fabulous ($28). It was decadent—rich and buttery yet light. The sautéed Jerusalem artichoke was a nice complement. 
My friend had the filet mignon (8-ounce, $24 and 12-ounce, $36). The sides were substantial and good. I can still taste the creamed kale ($10) and the buttermilk mash ($10) we had for sides. The service, professional and knowledgeable, made the experience even better. 
A smart wine and beer list is available. The best part is that you have a chance to build your own martini from interesting choices of assorted stuffed olives; pick among lobster, oyster, kimchee, and Hudson red cheese. Other seasonal and playful cocktails are also available.
The sweet note to end my meal was a delicious, warm rhubarb tart ($10) with almond crumble and honey cream. 

(Dylan Prime)
Dylan Prime 
62 Laight St. 
212-334-4783 
dylanprime.com
Hours
Lunch
Monday–Friday 11:30 a.m.–3 p.m.
Dinner
Daily, 4 p.m.–11 p.m.
Oyster Happy Hour 
Monday–Friday 3:30 p.m.–7 p.m. 
Saturday and Sunday 4 p.m.–6 p.m.