For many New Englanders, lobster rolls are synonymous with summer. 
Classic lobster rolls come in two main styles, distinguished by the preparation of the lobster: Connecticut-style, tossed in drawn butter and served warm; and Maine-style, slicked with mayo and served chilled. In either case, the chunks of sweet, tender lobster meat are heaped into a warm, toasted, buttery bun, making for a perfect summertime meal best enjoyed with sunshine and an ocean breeze.
Regardless of where you are this season, you can bring a taste of coastal New England home by making your own lobster rolls. Below, three New England-based chefs share their best tips for homemade lobster-roll success. 
Use Good Lobster
Fresh lobster is non-negotiable; never use frozen lobster meat. As Brian Dandro, executive chef of ArtBar at Royal Sonesta Boston, explains, not only does the freezing process ruin the meat's texture, but the liquid released as it thaws also carries away much of the flavor. 
Instead, Dandro recommends sourcing live, hard-shell lobsters—which have more and denser meat than their soft-shell counterparts—weighing around two and a half to three pounds. Bigger lobsters run the risk of having less sweetness and flavor, he says.
Cook It Right
For Patrick Bassett, executive chef of Forge & Vine at The Groton Inn in Massachusetts, "lobster-roll success starts with perfectly steamed meat." He suggests steaming lobsters whole for 10 to 15 minutes, depending on their size, to optimally concentrate the sweetness of the meat. 
Whether you choose to steam or boil your lobster, the key is to not overcook it—the meat will turn unpleasantly rubbery. Keep a timer close, and once time is up, immediately transfer your lobster to an ice bath for five to 10 minutes to stop it from further cooking, Dandro suggests.
To take your lobster to the next level, try a trick from Gil Plaster, executive chef of BlueFin at the Portland Harbor Hotel in Maine: He poaches his lobster in beurre monte, an emulsion of butter, water, and lemon juice. "It makes the lobster very light and tender, and the flavors really penetrate to the meat," he said.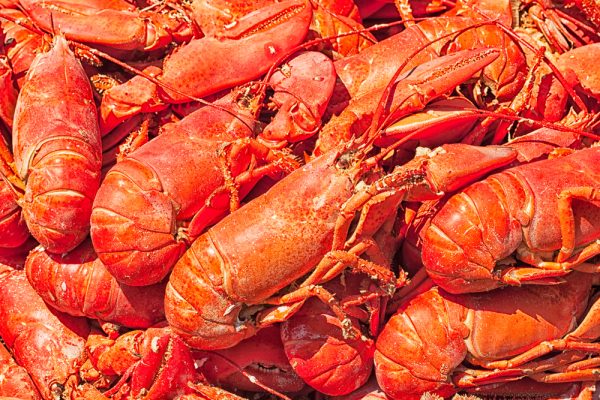 Bun Basics
New England lobster rolls are traditionally served on New England-style hot dog buns. Also known as split-top or top-loading rolls, these buns stand straight up, open from the top, and have soft, flat sides perfect for toasting in butter on a griddle for crusty outsides and pillowy-soft insides.
Be sure to adequately toast both sides, but go easy on the butter, Dandro warns, since there's "nothing worse than a greasy bun while trying to enjoy your fresh lobster." He prefers using a fresh, New England-style brioche bun, which "already comes loaded with butter, so you don't need to add much." For a good store-bought option, he recommends St Pierre Bakery's brioche rolls.
Let the Lobster Shine
When it comes time to assemble your roll, remember that the lobster should be the star of the show. Bassett suggests using a good mix of tail, knuckle, and claw meat for a variety of textures and flavors. Any other ingredients—the supporting characters—should be added with a judicious hand.
As Dandro put it, "Anything you do should enhance the flavor [of the lobster]; you do not want to mask the taste."
For purists, that might mean nothing more than a thin coating of butter or mayo (Dandro uses about one teaspoon per four ounces of lobster, just enough to hold it together without overpowering the flavor), plus a squeeze of lemon and salt and pepper.
Others may line their buns with a leaf or two of fresh, crisp Bibb lettuce, maybe mix in a sprinkling of finely chopped celery for refreshing crunch, or add pinches of chives, tarragon, and cayenne for extra brightness and a little kick. In any case, be sure that no ingredient overshadows the lobster.
Lobster Roll Memories
Brian Dandro
Executive chef, ArtBar at Royal Sonesta Boston
Cambridge, Massachusetts
What do lobster rolls mean to you?
Growing up in New England, lobster and steamers were a sign of summer. I actually remember the first time I had lobster in the winter and it was so strange to me … I really had no idea you could get lobster in the winter until I was out of high school.
I've been preparing lobster rolls for most of my life, since my first job as a prep cook at 14. Thinking about it now, it's one of the things that I can track with the growth of my career as a chef. When I started here at Sonesta 11 years ago, they used frozen lobster meat that they would prepare in a gallon bucket, soaked in a lemon-tarragon mayo. Now my team cooks and breaks down two-and-a-half-pound lobsters that are prepared to order. It's a labor of love.
Describe your perfect lobster roll. 
I'm a bit boring on this one. I love to warm my lobster in a pat of butter and put it in a griddled hot dog roll with Bibb lettuce, then add just a squeeze of lemon on top.
Gil Plaster
Executive chef, BlueFin at the Portland Harbor Hotel
Portland, Maine
What do lobster rolls mean to you?
For me, lobster is indicative of celebration. During my childhood living in Florida, whenever we had a special occasion or something to celebrate, my father would always buy a big lobster, two pounds or more, and eat it every which way possible, from rolls with warm butter to lobster "salad"—and even for breakfast.
Describe your perfect lobster roll. 
A split-top brioche New England-style roll, buttered and toasted on both sides. Filled with Bibb lettuce leaves, topped with chilled lobster meat seasoned with salt and pepper, and then finished with a light drizzle of mayo and a little fresh lemon juice—that's perfection.
Patrick Bassett
Executive chef, Forge & Vine at The Groton Inn
Groton, Massachusetts
What do lobster rolls mean to you?
For me, the lobster roll is a summertime staple. Growing up in a coastal town, on our way home from the beach, covered in sand, we would stop by the local lobster pound to pick up lobsters and bushels of steamers, to have what was a typical dinner on a summer Sunday evening on the south shore of Massachusetts. Growing up, I thought everyone ate lobster. We would take the leftover meat and make lobster salad and lobster rolls.
Describe your perfect lobster roll. 
My perfect lobster roll would be pretty simply done, allowing the focus—the lobster—to really stand out. Dressed up with what has to be Hellmann's mayonnaise, lemon, salt, white pepper, and a little celery. Large chunks of meat, lightly dressed, put into a buttered hot dog roll. Salt of the sea in the air, the sound of crashing waves, and the call of a hungry seagull looking for a snack. For me, it's a total package. 
Traditional Lobster Roll 
Makes 1 lobster roll
1 New England-style brioche hot dog bun

2 tablespoons butter

1/4 head iceberg lettuce

3 1/2 ounces fresh lobster meat

Zest of 1/4 of a lemon

2 thyme sprigs (use leaves and discard stems)

1/4 cup mayonnaise

1/2 teaspoon salt 

1/2 teaspoon pepper 
Butter both sides of roll and place on griddle on medium heat. Toast each side for 3 minutes, or until golden brown. 
Shred lettuce with a sharp knife to prevent browning and liquifying the lettuce. A dull knife will make the natural water from the lettuce come out, causing it to quickly become soggy and unenjoyable.
Roughly chop the lobster, still leaving large chunks. Combine lemon zest, thyme leaves, mayonnaise, and salt and pepper in a bowl. Mix thoroughly, then add lobster meat and lightly toss. Place toasted bun on plate, fill with shredded lettuce, and top with lobster meat. Serve with a lemon wedge. 
Recipe courtesy of Gil Plaster
Chipotle Lobster Roll With Grilled Corn
For a twist on the traditional lobster roll, ArtBar executive chef Brian Dandro mixes smoky chipotle peppers into the mayo to bump up the heat—being careful, still, not to overpower the lobster itself. Grilled corn, meanwhile, complements the natural sweetness of the meat.
Makes 2 lobster rolls
1 ear sweet corn

2 (1 1/4-pound) lobsters

1 lemon, halved

2 bay leaves

1 teaspoon black peppercorns

2 New England-style brioche hot dog buns

2 teaspoons chipotle aioli (recipe follows)

2 leaves Bibb lettuce
Remove corn from husk and place on the grill, turning until all sides have some color and are cooked through. When cooled, remove kernels from cob and set aside.
In a large pot, cook the lobsters in boiling water with lemon, bay leaves, and black peppercorns. Cook for 9 minutes and transfer to a pot of ice water for 10 minutes, to stop the cooking.
Break down the lobster and chop the meat (using the whole lobster) into thick chunks.
Griddle brioche hot dog rolls on both sides and set aside.
Combine lobster meat with 2 teaspoons chipotle aioli and 1/2 cup grilled corn.
Line each roll with one leaf of lettuce, and divide meat evenly between both rolls. You should have plenty of lobster for two overflowing rolls, plus some to snack on during the process.
Chipotle Aioli
1/2 cup mayo

1 tablespoon finely chopped chipotles in adobo sauce

1 tablespoon freshly squeezed lime juice

Salt and pepper, to taste
Mix all ingredients together.
Recipe courtesy of Brian Dandro