Rub Shoulders With Remarkable Chefs, for a Good Cause
Biggest ever Celebrate Flatiron Chefs! comes to Madison Square Park
July 4, 2013 4:17 pm Last Updated: July 5, 2013 2:02 pm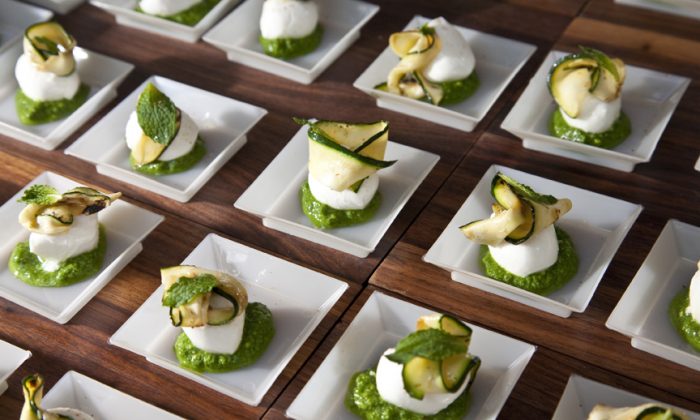 NEW YORK—In the slim shadow of the Flatiron Building, the seven-acre urban oasis that is Madison Square Park will soon play host to the annual summertime party cum tasting celebration, Celebrate Flatiron Chefs!
The park is at the epicenter of a remarkable number of the city's best-loved and most popular restaurants, from standby Gramercy Tavern to relative newcomer Hanjan; and of course, onsite, the classic Shake Shack. 
Imagine meandering in the leafy, lush park, sampling the restaurants' signature dishes, cool drink in hand—without standing in long lines (even for the Shack Shack tent, I'm told—is this really possible, New York?). On July 16, Celebrate Flatiron Chefs! promises to be a delightful time.
"There will be over 30 chefs and restaurants on site this year—our biggest event yet," said Eric Cova, who coordinates special events for the Madison Square Park Conservancy. 
The chefs, restaurants, and drink purveyors are banding together to donate their time, talent, food, and drinks to help raise funds for the park's maintenance, horticulture, and free cultural programming, including the public art, music, and kids' programs. Tickets start at $200 per person for all you can eat and drink ($350 for early entry).
To attendees, Cova offered the following tips: "Make your way around and try each of the restaurants, talk to the chefs. Celebrate Flatiron Chefs! provides a unique opportunity to interact with some of the best chefs New York City and Flatiron has to offer."
About 800 attendees are expected. But they won't be the only ones excited about the event.
"The chefs love the event too because they also get to experience the culinary creations of their peers," said Cova.
The menu looks amazing—take a peek:
Hanjan
Hooni Kim, Chef/Owner
Soft Tofu with Perilla Vinaigrette
Salmon Sashimi with Spicy
Chojang Salad
Manzanilla
Dani Garcia, Chef Partner
Steamed Brioche Buns, Pulled Oxtail, Mushroom, Kale
Creamy Spanish Vanilla Rice Pudding
craftbar
Tom Colicchio, Chef/Owner
Lauren Hirschberg, Chef de Cuisine
Craftbar Burger – Bibb Lettuce, Roasted Tomato, Bacon Jam, Pickled Red Onion, & Consider Bardwell Pawlet
Craftbar "Hot Dog" – Kielbasa, Pickled Green Tomato Relish, Beer Mustard, Cabbage
Eleven Madison Park
Angela Pinkerton, Pastry Chef
Sassafras Float with Roasted Banana Ice Cream
Maysville
Kyle Knall, Chef
Blistered Corn Salad with Sungold Tomatoes & Pickled Onions
Compressed Watermelon with Country Ham
Celebrate Flatiron Chefs!
Tuesday, June 16
Tickets: $350 for early admission at 5:30 p.m., and $200 for general entry at 6:30 p.m. 
For tickets or more information, visit www.madisonsquarepark.org
2013 Restaurants and Chefs:
A Voce
Almond – Jason Weiner and Geoffrey Kornberg
Blue Smoke – Kenny Callaghan
Boqueria – Marc Vidal
The Cannibal – Preston Clark
Choza Taqueria – Dominic Giuliano
craftbar Tom Colicchio and Lauren Hirschberg 
Eataly – Alex Pilas
Eleven Madison Park – Angela Pinkerton
Gramercy Tavern – Nancy Olson
Hanjan – Hooni Kim
Hill Country Barbecue Market – Elizabeth Karmel and Charles Grund Jr.
Hill Country Chicken Elizabeth Karmel and Charles Grund Jr.
The Hurricane Steak & Sushi Craig Koketsu 
ilili Restaurant – Philippe Massoud, Brandon Hicks, John Shim, Matthew O'Haver
Junoon – Vikas Khanna and Aliya LeeKong
L&W Oyster Co. – Jason Weiner and David Belknap
La Mar Cebicheria – Victoriano Lopez
Maialino – Nicholas Anderer and Rachel Binder
Manzanilla – Dani Garcia
Maysville – Kyle Knall
No. 7 Sub – Tyler Kord
The NoMad – Abram Bissell
Num Pang Sandwich Shop – Ratha Chaupoly and Ben Daitz
Pranna – Toshi Nukui
Resto – Preston Clark
SD26 Restaurant and Wine Bar – Matteo Bergamini
Shake Shack
Ciao Bella
2013 Beverages:
Brooklyn Brewery
Bronx Brewery
El Buho Mezcal
Four Roses Bourbon
Greenhook Ginsmiths
Jack From Brooklyn
Long Island Wine Country
Pipeline Brands
Pisco Portón
Rhum Clement
Rockaway Brewing Co.
Sorel
Tito's Handmade Vodka