Rockin' Out on Parliament Hill for Canada Day (+Photos)
July 1, 2013 4:54 pm Last Updated: July 1, 2013 6:24 pm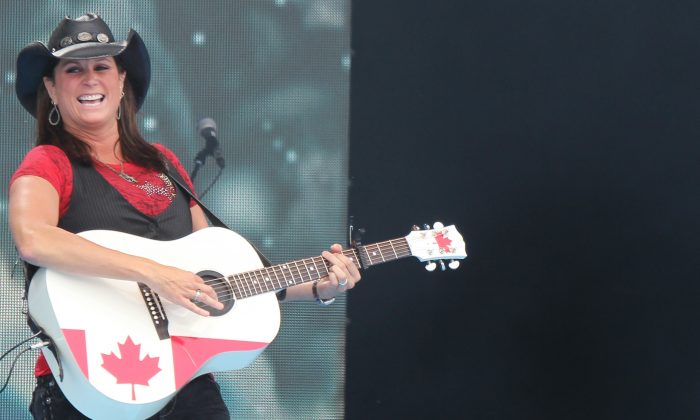 OTTAWA—A crush of red and white clad patriots squeezed onto Parliament Hill Monday afternoon to celebrate Canada Day with the help of an A-list group of entertainers and gentle overcast skies that kept the sun from burning them up.
The afternoon entertainment, which includes superstar Carly Rae Jepsen, will largely be repeated this evening when a more adult, and sometimes intoxicated crowd, is expected to live it up on the Hill.
It's Canada's 146th anniversary, noted the Prime Minister Stephen Harper in his address. The PM lauded Canada's achievements and took a moment to acknowledge those wrestling with a hard recovery from flooding in Southern Alberta.
"When floods forced so many from their homes, communities dug deep, neighbours helped neighbours, and people sheltered complete strangers. That's the spirit that makes Canada the best country in the world—The best, bar none," said Harper.
"Compassionate neighbours, courageous warriors, and confident partners, a bastion of freedom in an un-free world, a standard-bearer of goodwill, in a time when too many choose to hate, a land of hope in a sea of uncertainty."
Governor General David Johnston, officially Canada's head of state, also spoke to the crowd. In a statement he sent out earlier, he took note of all the people he has met across the country. 
"Their backgrounds are as diverse as the nations and cultures of the Earth, but they all have one thing in common: They are citizens of Canada.
"Canada did not happen by accident, and we must never take for granted all that has been accomplished."
Besides cultural performances and speeches, the day's entertainment included musical performances from Jepsen, Metric, Karim Ouellet, as well as beloved Astronaut Chris Hadfield.
Meanwhile, concerts in Trafalgar Square in London, England feature other iconic Canadian bands. The Tragically Hip and Jann Arden are in the London lineup, while Spirit of the West and others played in Central Park, New York over the weekend.