Use eggplants that are the same size, and make this when tomatoes are ripe and flavorful. This is such a great dish that I usually calculate a whole eggplant per person for a first course, and half an eggplant when used for a buffet or a side.
I love using tomatoes of different colors and sizes, such as a combination of heirloom and baby tomatoes, as the variety adds great charm to the colorful dish. It will still be perfect if you just use one, but for the best results, it is critical to have ripe tomatoes.
Serve it at room temperature or even slightly warm as the heat of the eggplant will soften the tomatoes slightly, bringing out their juiciness and flavor.
Serves 4 as a first course
4 small to medium eggplants
1/2 cup plus 4 tablespoons olive oil, divided
4 cloves garlic, peeled and thinly sliced
2 large tomatoes, diced (about 2 cups)
1/2 cup mint leaves, stems removed, chopped
2 tablespoons white wine vinegar
1/4 teaspoon sea salt, or more to taste
1/4 teaspoon freshly ground black pepper, or more to taste
Heat the oven to 400 degrees F and line a baking sheet with parchment paper.
Slice the eggplants in half lengthwise, keeping the crown portion. Using a small paring knife, score the flesh of the eggplants in a diamond cross-hatch pattern, being careful not to slice through the skin.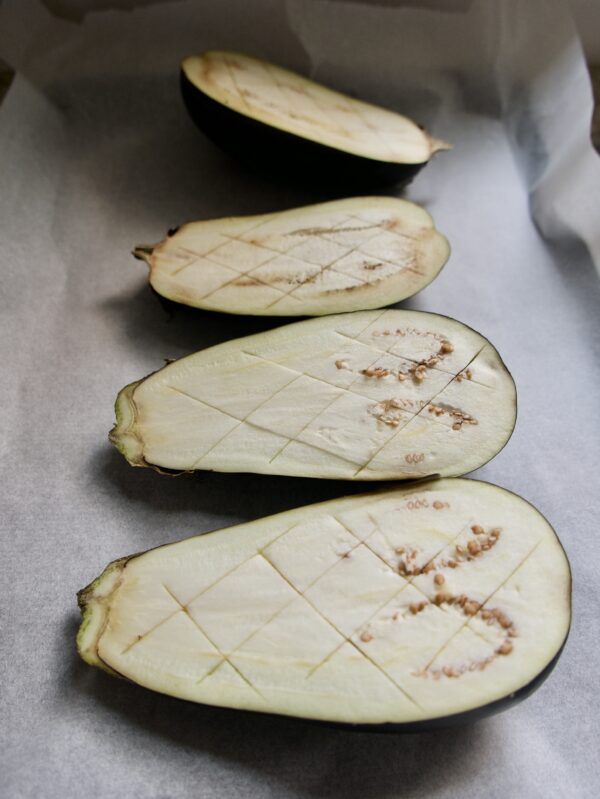 Transfer to the baking sheet, drizzle each half with 1/2 tablespoon of olive oil, and season with salt and pepper. Bake the eggplants until soft, about 40 minutes. They should be soft but still hold their shape.
In the meantime, heat the 1/2 cup olive oil in a small pan and cook the garlic until golden and crisp. Remove the garlic with a slotted spoon, and reserve both the garlic and the oil. Let the oil cool.
Before serving, mix together the tomatoes, mint, garlic oil, and vinegar. Season with sea salt and pepper.
When ready to serve, transfer the eggplants to a serving platter and spoon the tomato mixture on top. Garnish with the reserved crispy garlic.