Roast chicken, seasoned simply with salt, pepper, lemon juice, and herbs, is perhaps the epitome of effortless cooking.
For six people, look for an organic or free-range oven roaster (5 to 7 pounds) or two smaller birds (3 to 4 pounds), knowing that either way you will have some leftovers.
I started adding hot Italian sausages to roast chicken when I had to enlarge dinner for unexpected guests. They add such great flavor that they have now become a permanent part of my roast chicken recipe, even when there is plenty of chicken to go around. If Italian sausages aren't your thing, try chorizo, kielbasa, or Cajun sausages.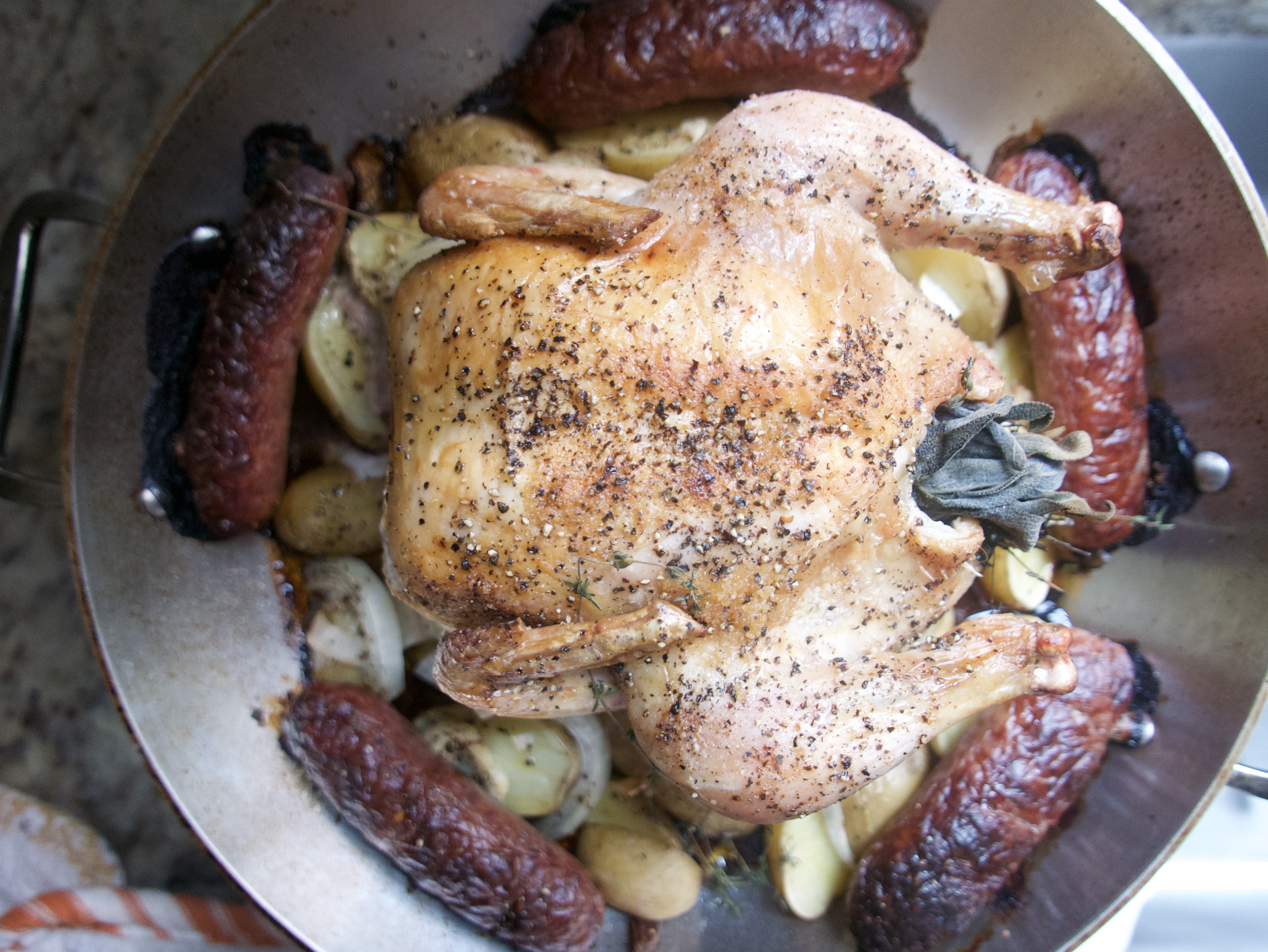 Lay the chicken and sausages on a bed of baby Yukon gold potatoes, the ones with pale yellow skin and creamy golden interiors, so that the potatoes absorb all the juices and flavor from the meat as they roast. I mix in sliced onions and a few cloves of garlic just to add some extra flavor to the dish.
Serves 6 to 8
One 5- to 7-pound or two 3- to 4-pound whole chickens
6 tablespoons olive oil, divided
1 1/2 pound baby Yukon gold potatoes, skins on, halved
2 pounds hot Italian sausage (5 to 6 links)
1 small bunch fresh herbs, such as dill, parsley, tarragon, rosemary
1 medium onion, sliced
2 cloves garlic, chopped
Juice of 1 lemon
Sea salt and freshly ground black pepper, to taste
Preheat the oven to 375 degrees F.
Remove the neck and giblets from the chicken(s), rinse, and pat very dry.
In a roasting pan, drizzle 4 tablespoons of olive oil, arrange the potatoes in one layer, and place the sausages around the edges. Prick the sausages a few times with a fork or a knife. Sprinkle the onions and garlic on top and season lightly with salt and pepper.
Place the chicken(s) on top of the potatoes. Stuff the cavity with the herbs, rub the skin with the remaining 2 tablespoons of olive oil and the lemon juice, and season with sea salt and pepper.
Place in the oven and roast for 1 hour and 15 minutes, or longer for a bigger bird (about 20 minutes per pound), until the skin is golden and the juices run clear when pierced with a fork between the breast and the thigh.
To serve, carve each chicken into 6 pieces, arrange on a platter, and serve with the potatoes and sliced sausages alongside. Spoon the juices on top.