In "Crazy Stupid Love," the movie opens, and the camera is examining … feet. Feet under tables. Not so much feet—but "footsie." Upscale shoes; people on dates—feet playing footsie. All of a sudden, there's an upscale pair of women's shoes, paired with, on the other side, under the table … chinos and puffy dad sneakers. Does that look like a footsie situation? Can this end well?
What's one of the main reasons relationships end? Women think they can change men—and men generally don't change. Men, on the other hand, think the girl they married will stay the same. But women change. They can quickly outgrow men. A guy showing up for date night in comfy, schlubby dad sneakers is asking for trouble.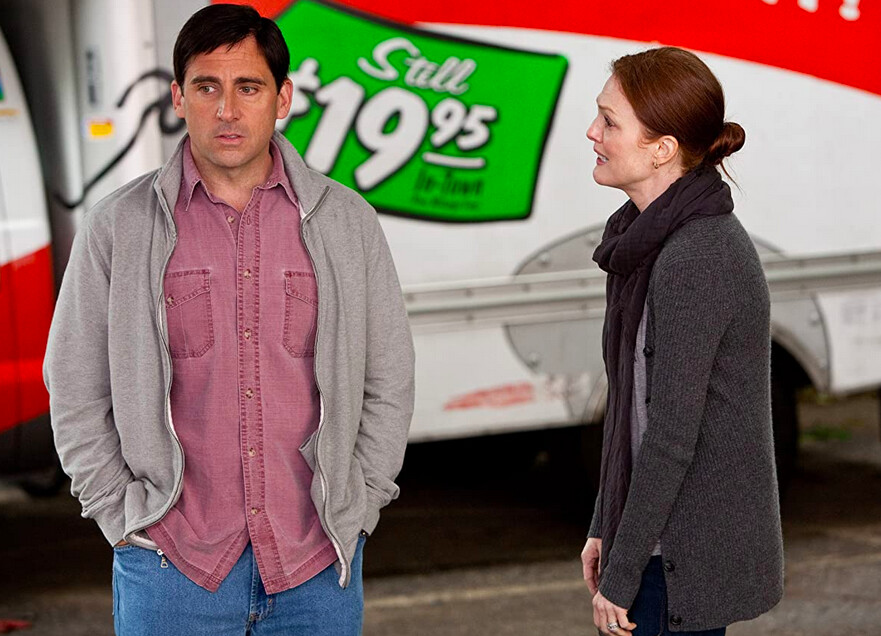 After 25 years of marriage, Emily (Julianne Moore) asks her husband, Cal (Steve Carell), for a divorce. She's had an affair with her boss, David Lindhagen (Kevin Bacon). Cal's a great dad, a solid family man, but he's gotten too unexciting, habit-bound, and predictable. It didn't help that they married out of high school and had their first kid at age 17. Cal didn't know he needed to change—so change came to Cal.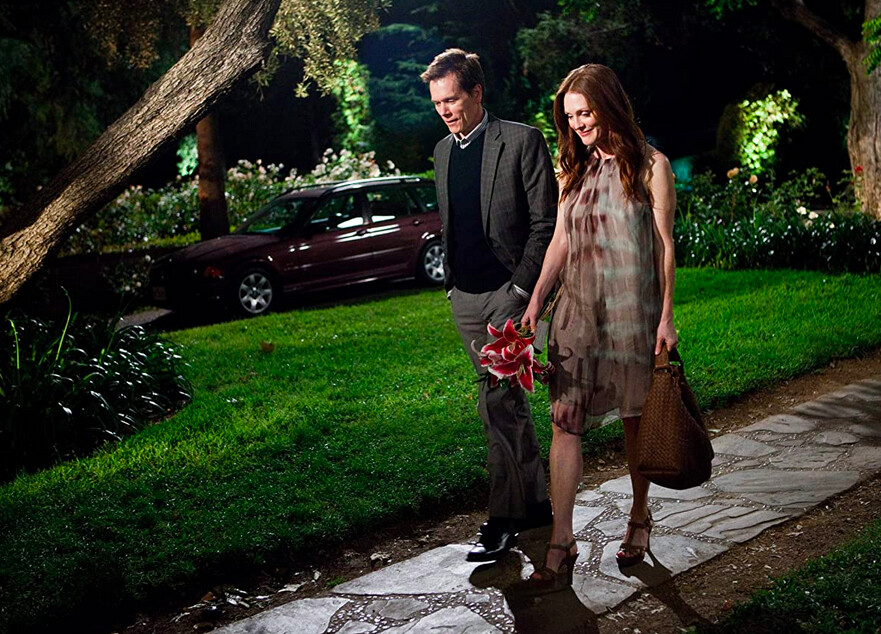 "Crazy, Stupid, Love" is about being hit in the heart with Cupid's arrow, along with a wide range of crazy, stupid things people do to chase love down, their attempts to keep it, and what happens when someone pulls out that arrow and throws it in the trash. It's not really a romcom, a comedy, or a drama. It's real-life-ish, with quite a bit of excellent comedy, and forgivable, over-the-top situations that tie up loose ends a bit too neatly. It's a movie you'll want to see a few times.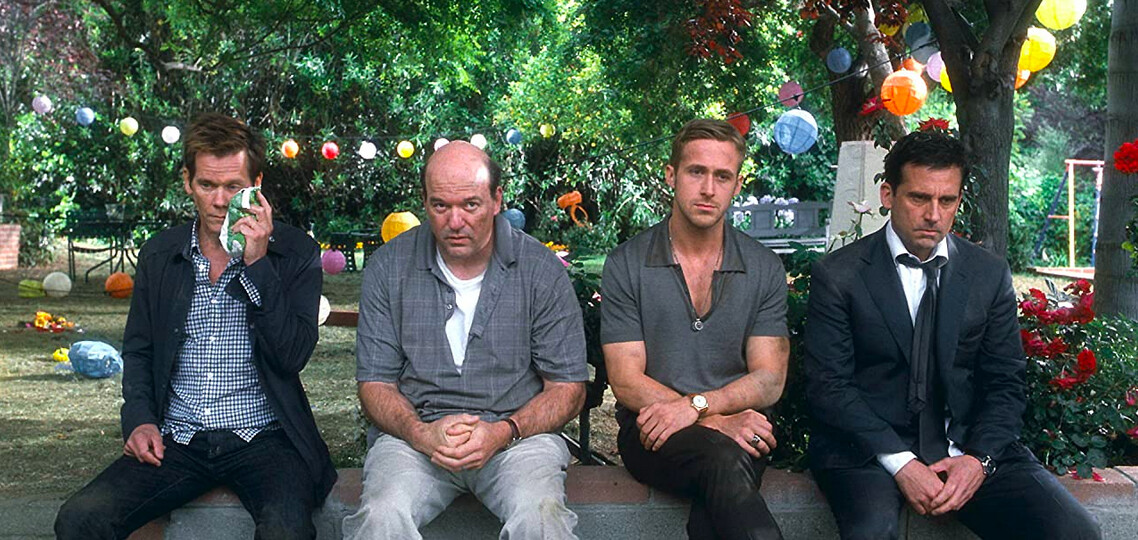 A Three-Tiered Multigenerational Sort-of-Romcom
There's something for everyone! Take the whole family! Actually, this isn't really a harmless family movie,  but the filmmakers have all aspects and ages of crazy, stupid love covered.

For the middle-aged, there's Cal and Emily. For the 20-somethings, there's Jacob (Ryan Gosling)—a dapper, Brylcreem-ed lawyer and incorrigible, prolific player in bespoke suits, with ripped abs—who eventually (and incredibly satisfyingly) falls head over heels for soon-to-be-lawyer Hannah (Emma Stone) who, herself, recently dumped her bland, noncommittal boyfriend (soft-rock musician Josh Groban).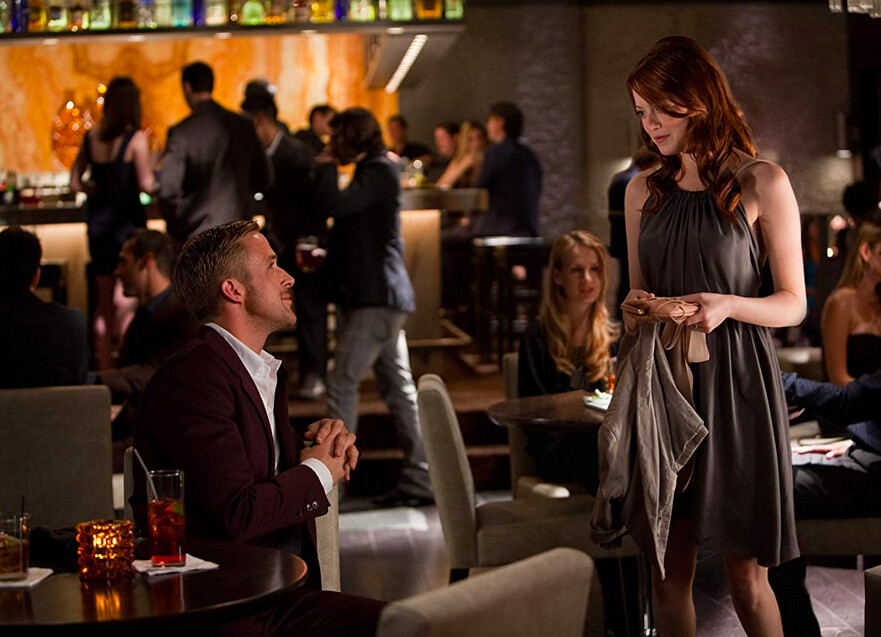 And for the teens, Cal and Emily's tween son Robbie (Jonah Bobo) has an overwhelming crush on his 17-year-old babysitter Jessica (Analeigh Tipton), who, to bring it full circle, has a hugely inappropriate, massive crush on … Cal. As much as we'd like to ignore it, this dangerous dynamic runs rampant all across our fine nation (my high school was rife with it), but luckily it's played here strictly for laughs.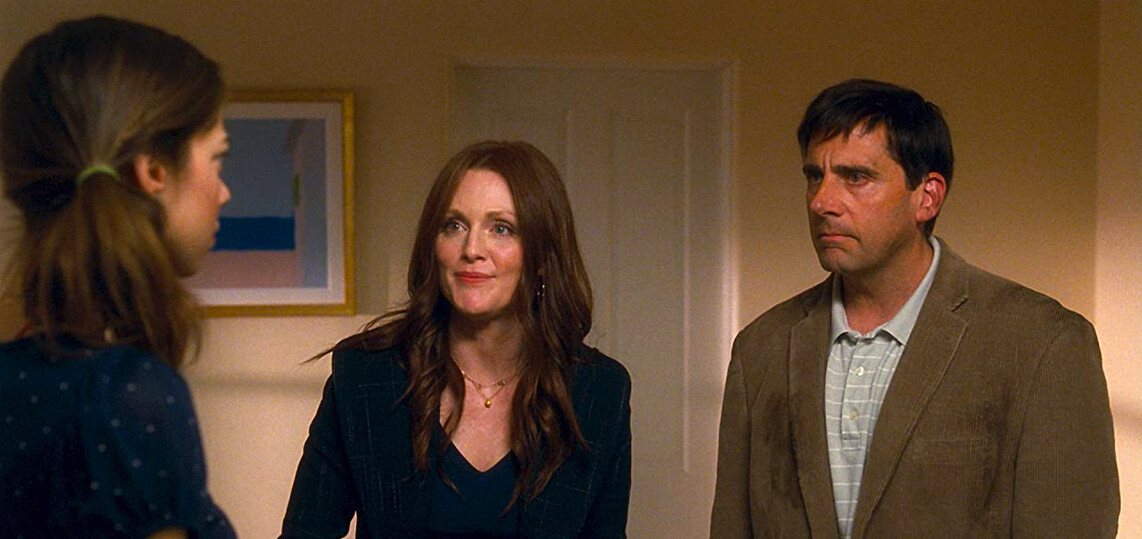 Cal's Makeover
After Cal gets the boot, he begins drowning his sorrows in cranberry and vodka at a local hotspot, loudly and pathetically telling anyone who will listen about being cuckolded, which is a particular bit of loser-ish business that resides squarely in Steve Carell's wheelhouse of affable, loser schlubs.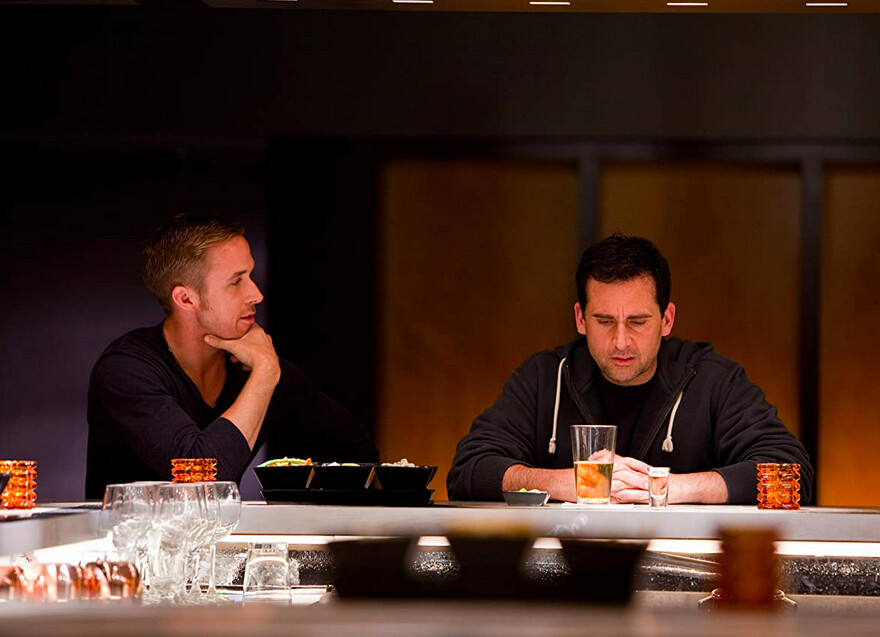 Lothario Jacob takes pity on Cal, taking him under his wing and accompanying him on a makeover spree. He informs Cal that one of the advantages of being a middle-aged schlub is that Cal has the financial wherewithal to drop a ton of money on a brand-new extensive wardrobe and a $60 haircut.
Then, Jacob, taking the role of Mr. Miyagi in "The Karate Kid," has Cal watch and learn, quickly turning him into a (more or less) smooth operator.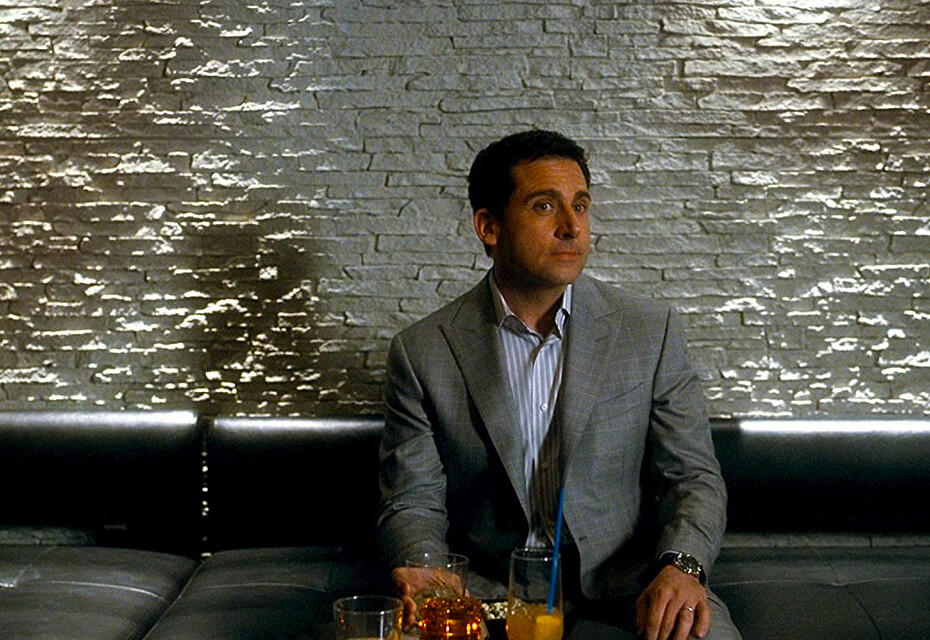 Jacob's Makeover
Back to Jacob and Hannah: Hannah insists on going home with Jacob, intending not to have a PG-rated night, and Jacob falls for Hannah in what might be one of the most delightful date scenes in romcoms. The two actors have enormous natural chemistry—which Hollywood later cashed in on with 2016's Oscar winner "La La Land." My favorite bit of dialogue goes something like this (all from memory):
Hannah: "So what's your big move?"
Jacob: "You can't handle the big move."
Hannah: "Show me the big move already!"
Jacob: "I work 'Dirty Dancing' into the conversation."
Hannah: "What do you mean? You end up dancing with them?"
Jacob: "No, you know the thing where Patrick Swayze picks up Jennifer Grey and holds her over his head? I can do that."
Hannah: "Hahaha omg, that's the stupidest thing I ever heard of!"
Jacob: "I agree with you. But it works. Every. Single. Time."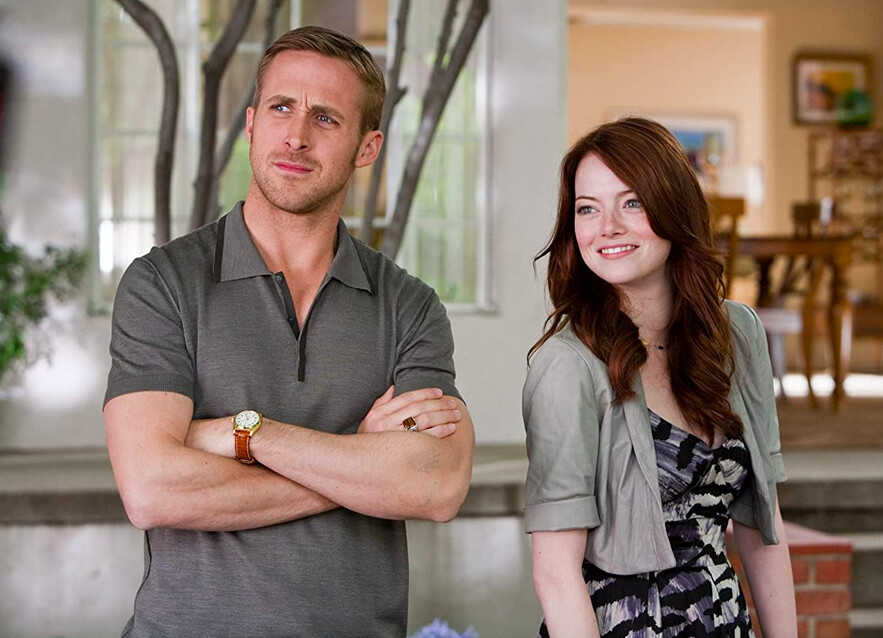 Later, Hannah becomes aware that Jacob's pillow conforms exactly to the shape of her head, and asks him if it's a Brookstone pillow. It is. She intuits that he's probably got a Brookstone vibrating chair too. He does. It's in the garage. "How much was it?" "Five thousand dollars." "Bahahahaha!" She tries it out: "I hate it!" He nods in chagrined acquiescence. "I'm wildly unhappy. I try to buy happiness." They talk and holler with laughter—the way true soulmates do—until he falls asleep and she gives him a sweet PG-kiss goodnight. I could watch this scene a hundred times; it never gets old.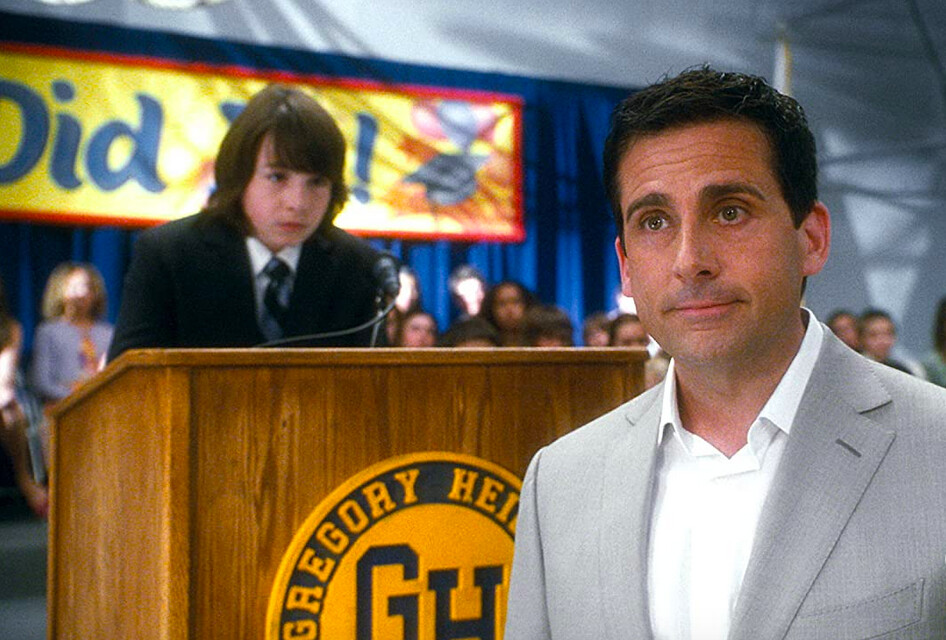 There are lots of twists and turns, and turns of the knife that hurt, but I cared about all these characters and their loves, both lost and gained. I wanted them all to be happy in the end. I'm pretty sure you will too.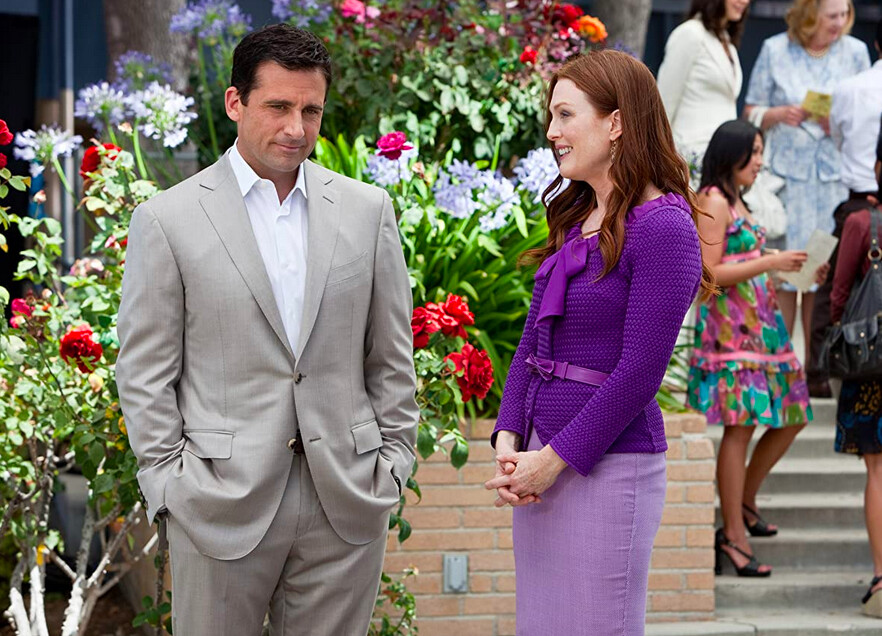 'Crazy, Stupid, Love.'
Directors: John Requa, Glenn Ficarra
Starring: Steve Carell, Julianne Moore, Emma Stone, Ryan Gosling, Kevin Bacon, Marisa Tomei, Analeigh Tipton, Jonah Bobo, Josh Groban
Running Time: 1 hour, 58 minutes
Rating: PG-13
Release Date: July 29, 2011
Rating: 4 out of 5 stars; 2 stars for not being clear this is not exactly a family movie 
Mark Jackson is the senior film critic for The Epoch Times. Mark has 20 years' experience as a professional New York actor, classical theater training, and a BA in philosophy. He recently narrated the Epoch Times audiobook "How the Specter of Communism is Ruling Our World," and has a Rotten Tomatoes author page.