Not Rated | 1h 41min | Comedy, Romance | 11 August 1945 (USA)
Before Christmas, why not see a buoyant, breezy comedy film that can be viewed by the entire family?
Directed by Peter Godfrey, "Christmas in Connecticut" stars Barbara Stanwyck as Elizabeth Lane, who writes a popular syndicated column called "Diary of a Housewife" for a major magazine. She's set herself up as the epitome of the perfect housewife: She writes about her devoted husband and their baby, as well as her idyllic farm in Connecticut, complete with livestock. And of course, she's a marvelous cook who just loves to share her recipes with her readers. The only thing is that she's a total fraud.
In reality, Elizabeth lives in the smog-choked borough of Manhattan. Instead of the country dishes she describes in her column, she mainly eats canned foods or saunters down to her Uncle Felix Bassenak's restaurant (S.Z. Sakall) to dine. Not only that, but all of the delicious recipes she shares with her readers were created by her uncle. In other words, her cooking skills are zilch, nada, zero, non-existent.
Elizabeth is far from domestic, but a couple of things that she does have going for her are charm and cunning. Not even her "stickler for truth" boss, publishing magnate Mr.  Alexander Yardley (Sydney Greenstreet, "The Maltese Falcon"), is hip to her scheme.
Everything seems to be going fine until a major problem comes knocking. Yardley is contacted by a nurse (via letter) who had once treated Yardley's granddaughter when she was sick. The nurse, Mary Lee (Joyce Compton), is in love with the Navy war hero Jefferson Jones (Dennis Morgan).
Jefferson served in World War II and barely survived a German submarine attack. He ended up stranded out at sea on a raft for 18 days before being rescued. During his hospital recovery, Jefferson is placed on a milk diet and forbidden solid foods. He becomes so desperate to eat real food that he proposes to his assigned nurse, Mary, so she will bring him what he craves.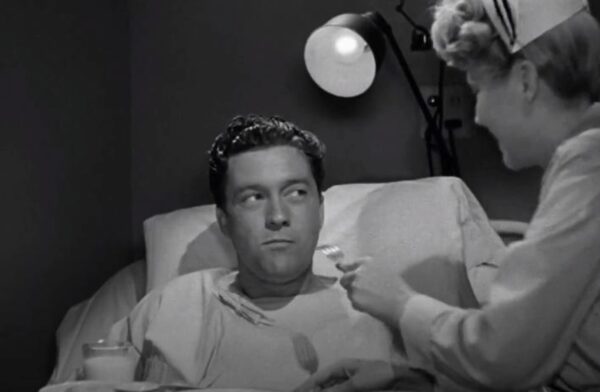 However, after spending six weeks in the hospital and eventually being able to eat as he pleases, he's no longer interested in getting married.  Mary thinks that if Jefferson experiences a bit of cozy-home life over the Christmas holiday, she might convince him to follow through with their marriage plans.
Mary's plea (ala cashing in on a favor) to Yardley has the desired effect—he convinces Elizabeth that it would be just splendid if she'd have Jefferson and Mary over for Christmas. A sizeable hitch is that Yardley then promptly invites himself along as well.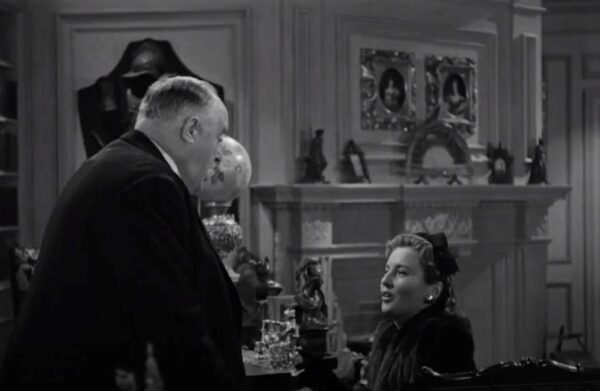 These unforeseen (and unfortunate) circumstances force Elizabeth into scramble mode. She has to come up with a husband, their supposed baby, and an entire farm in Connecticut, where she can entertain her guests and fulfill her boss's wishes—either that or she'll most likely lose her coveted job.
Elizabeth seemingly has an ace in her pocket—John Sloan (Reginald Gardiner), a snobby, dull, well-off architect whom she has finally agreed to marry—for security, not love. Now, John happens to own a ranch in Connecticut and his housekeeper helps to take care of a neighbor's baby. Thus, the fix is in.
Elizabeth convinces Sloan to pull off the grand deception. Jefferson arrives ahead of Mary and when he does, there's an immediately a romantic spark between him and Elizabeth. But it's when Yardley shows up that the real fun begins.
Will Elizabeth be able to pull off her charade and keep her job or will Yardley finally find out the truth?
A Comic Romp
First of all, Stanwyck's performance is phenomenal, and you can see why she was considered one of the greatest actresses from the Golden Age of Hollywood. Her ability to deftly shift between comedic, romantic, and dramatic moments, sometimes all in the same scene, is on full display for those who appreciate true thespianism.
Secondly, this is a surprisingly multi-faceted film that has many twists and turns throughout its one-hour, forty-one-minute runtime. Just when you think you can predict what's going to happen next, it throws you for a loop—in other words it's a film that will keep you on your toes.
The classy movie also showcases the natural charm and elegance of the 1940s. No, you won't find any of the lewd and raunchy smut associated with much of today's cinema. Instead, you'll find a well-paced romantic comedy that can easily capture your attention, and keep it with provide plenty of laughs.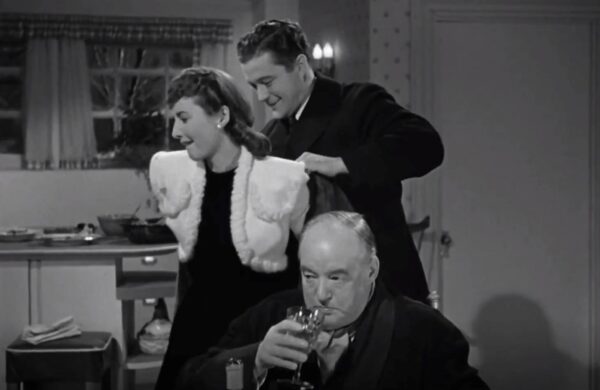 As this is my final pre-Christmas review, I extend this wish: may you be blessed with the happiest of holidays and enjoy this season with your family and loved ones. See you next week!
'Christmas in Connecticut'
Director: Peter Godfrey
Starring: Barbara Stanwyck, Dennis Morgan, Sydney Greenstreet
Rated: Not Rated
Running time: 1 hour, 41 minutes
Release Date: Aug. 11, 1945 (USA)
Rated: 4 stars out of 5

Ian Kane is a filmmaker and author based out of Los Angeles. To learn more, visit DreamFlightEnt.com or contact him at Twitter.com/ImIanKane.