PHOENIX, Ariz.—Andrew Kaczmarek's demeanor reflected joy and happiness as he came out of the Phoenix Orpheum where he had been watching Shen Yun Performing Arts.
It's a remarkable presentation.
The performance was phenomenal, Kaczmarek said, a retired Chief Operating Officer for Lydian International. "It's a remarkable presentation."
Together with its breathtaking animated digital backdrops and one-of-a-kind orchestra, Shen Yun uses art, dance, and music to revive a 5,000-year-old culture that was once almost lost.
"You can see so much dedication goes into performing. The colors, the presentation, the backdrop is just very clever. It's very enjoyable," Kaczmarek said.
Included in the program were solo performances by Shen Yun's singers and instrumentalists, who treated the audience to musical sounds that reach back into China's history.
One instrument that impressed Kaczmarek was the erhu or two-stringed Chinese violin. The erhu has a history of over 4,000 years and conveys a wide range of emotions.
"It's a unique sound," Kaczmarek said. "It's the first time I've heard it. [There's] a lot of skill involved in playing that instrument."
"I just relaxed and enjoyed it—it was a very pleasant sound," he said.
Chinese traditional culture was virtually destroyed in mainland China after the Chinese Communist Party came to power in 1949. The party then attempted to eradicate all traces of China's spiritual roots.
"First of all, [Shen Yun] talks about creation and … there's a divinity, it's a universal divinity as [there is a] Buddhist component to one of the acts.
"[One can see] that atheism is rejected, and evolution is also rejected … the presentation emphasizes Divine Creation," Kaczmarek said of his impression of the performance.
"[Shen Yun] gives one cause to think and rethink one's values, and I think one can see why the communist party is so much against this show," he said, adding that his own parents and grandparents had suffered under a communist regime.
Ancient Chinese culture placed enormous importance on virtue—living in accordance with the moral and spiritual values emanating from the influence of Taoism, Buddhism, and Confucianism in the Middle Kingdom.
Kaczmarek thought it was critical work for Shen Yun to revive China's traditional culture.
"The sad thing is that the current regime is … trying to obliterate it. I can see why. [Shen Yun] is contrary to what the communists want," he said.
Company Owner Appreciates Shen Yun

Mark Rogers, the owner of a software company, praised the color and elegance of Shen Yun.
"I appreciate the fact that it is portraying the authentic culture of China as opposed to the communist ways that have taken over," he said.
Some of Shen Yun's storytelling dances depict ancient legends and heavenly beliefs that have been passed down in China. Other pieces portray modern-day China, where followers of one of the country's ancient spiritual practices are now persecuted at the hands of the Chinese Communist Party (CCP).
Rogers enjoyed the contrast in the presentations. "I did like the part that was illustrating how the Falun Gong is persecuted. I felt it was good that the show not only had the fun portions but also the reality of what is going on [in China]," he said.
The spiritual practice of Falun Gong (also known as Falun Dafa) is based on Truthfulness, Compassion, and Tolerance, and has been persecuted by the communist regime since 1999.
"So, [Shen Yun is] also making a statement about these persecutions and the things that need to change in China," Rogers said.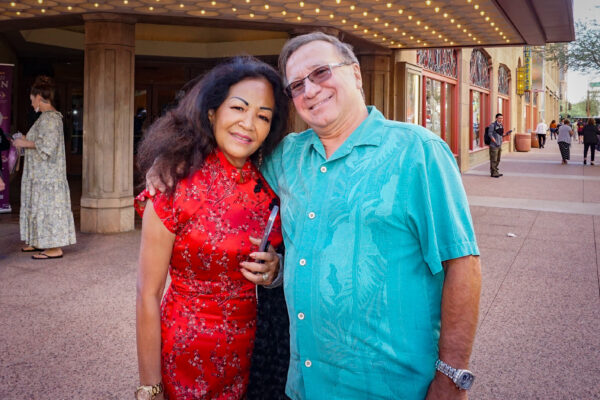 Watching Shen Yun was an eye-opening experience for Amy and Steve Hitsman. It was their 27th wedding anniversary and their daughter bought them tickets to see the Shen Yun.
Amy, who is a nurse, said, "It's exhilarating, it's beautiful … excellent."
Shen Yun was formed in 2006 with a mission to share traditional Chinese culture on the world's stage through art and music.
"It was pretty amazing," Steve, the owner of an air conditioning company, agreed.
"There is more to the world than what you just read," he added.
"I mean, (just) the ancient history and the practicing of a different belief, like [Falun] Dafa. I didn't realize you could get killed for practicing [Falun Dafa in China,]"
Reporting by Mary Mann and Diane Cordemans.
The Epoch Times considers Shen Yun Performing Arts the significant cultural event of our time. We have proudly covered audience reactions since Shen Yun's inception in 2006.