A retired carpenter from New Brunswick recently utilized his tradesmanship—and some free time afforded by the pandemic—to build a pirate ship from an old boat and salvaged furniture.
Bob Winslow took eight months to build the ship before recently setting sail on her maiden voyage at Skiff Lake in June.
The boat, which he named "Menacing Manner," drew its inspiration from a 13-inch model which he'd bought two years earlier.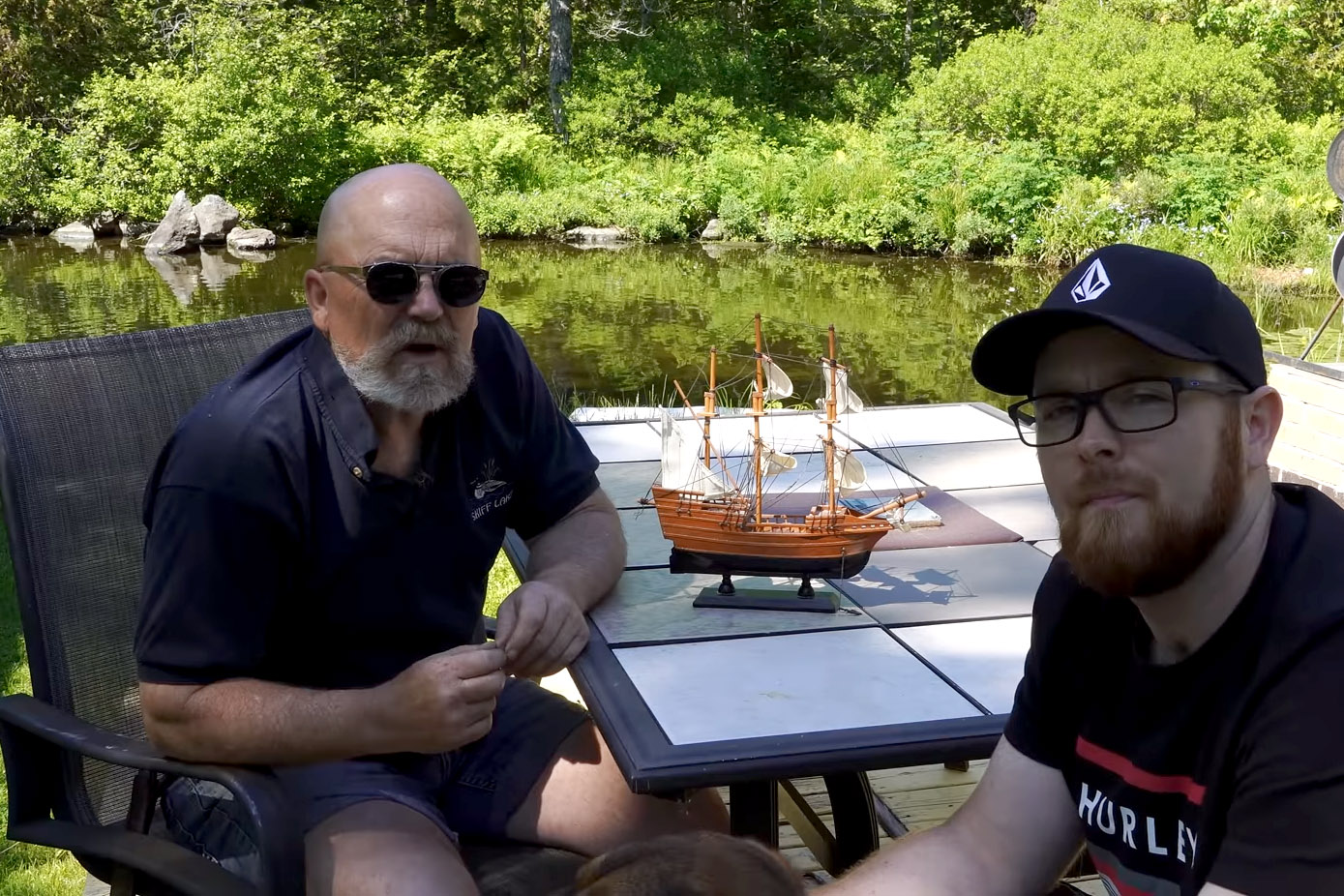 The mock-up represented the Mayflower, an bygone ship that once carried some of Bob's ancestors to North America in 1620.
He purchased the $5 model at a secondhand store to serve as a reminder of his heritage, before curiosity inspired him to make his own ship based on its likeness.
"I would also like to add that it is built out of two old beds, water beds that I got from people's scrap," said Bob in a YouTube video posted on his son John's channel Winslow Red Beard. "They no longer wanted it, I put things to use."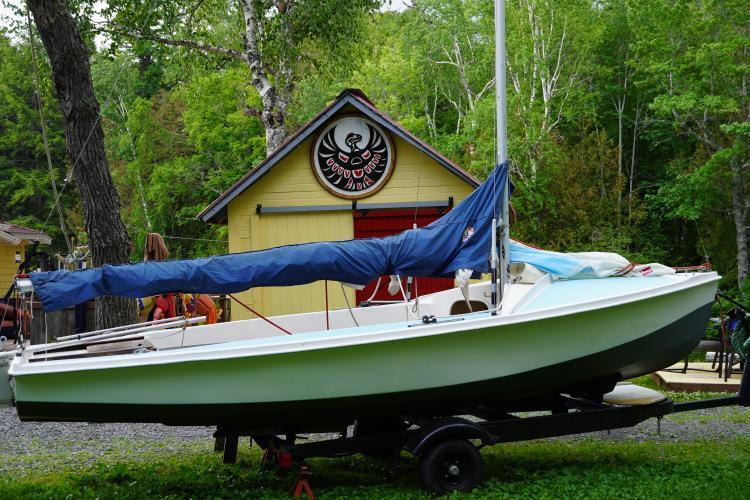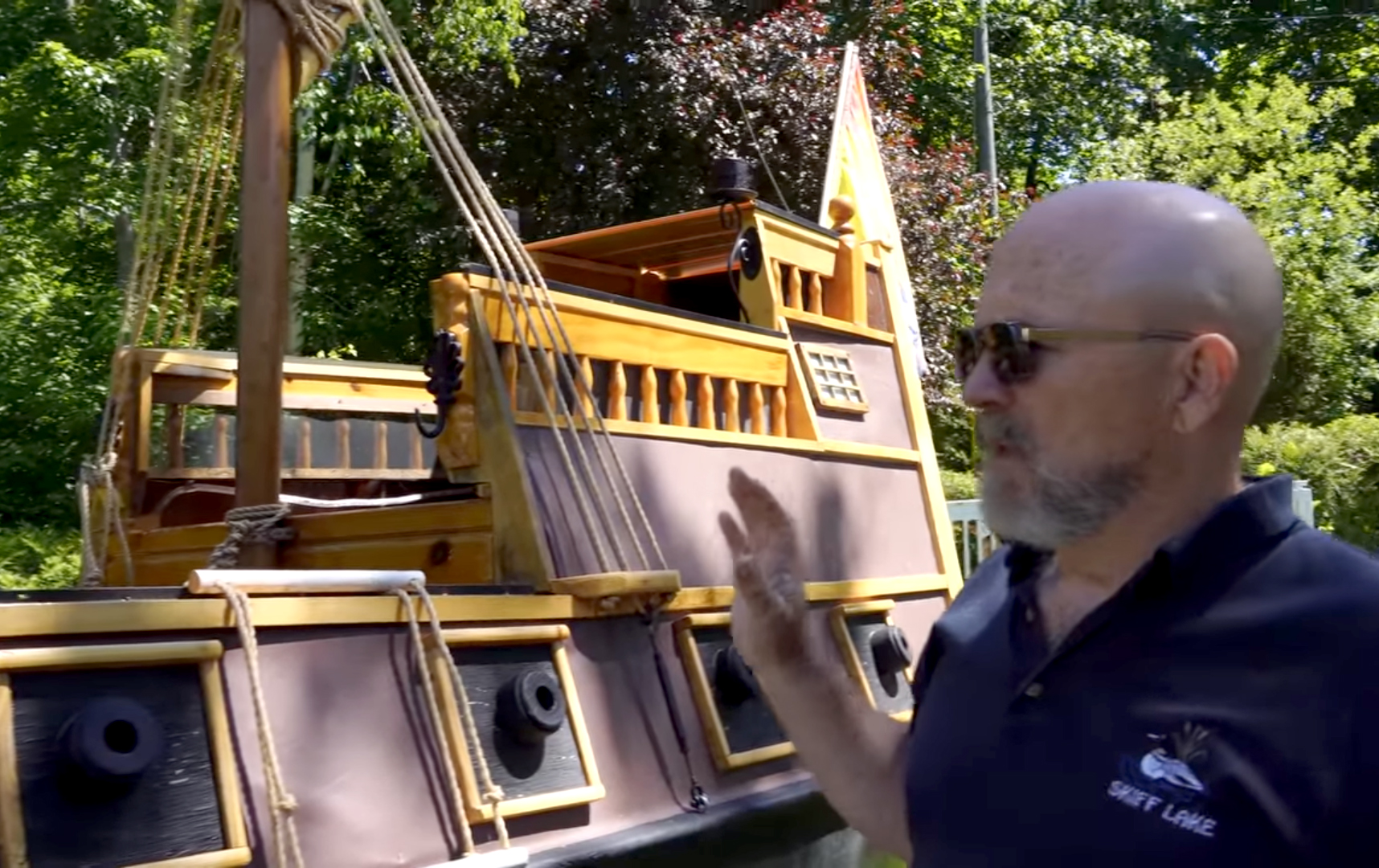 He added that he also used driftwood that he found floating on the lake, as well as simply "junk" from the junkyard.
Last year, Bob's dear friend Gerald had passed away and bequeathed a 13-foot fiber glass boat to Bob, who used it as the base for his pirate ship.
"It is powered by a 9.8 Tohatsu motor that I had," said Bob. "It is covered with vinyl flooring."
The boat has an old tractor seat and functional lamps which he got from the dollar store, along with artistic finishing touches, including trim and a decorative prow, artfully carved out of wood.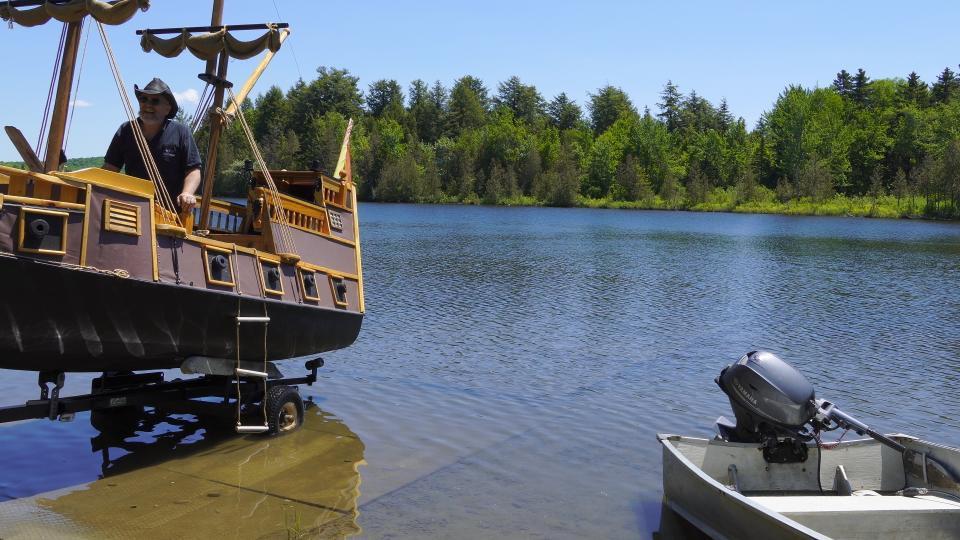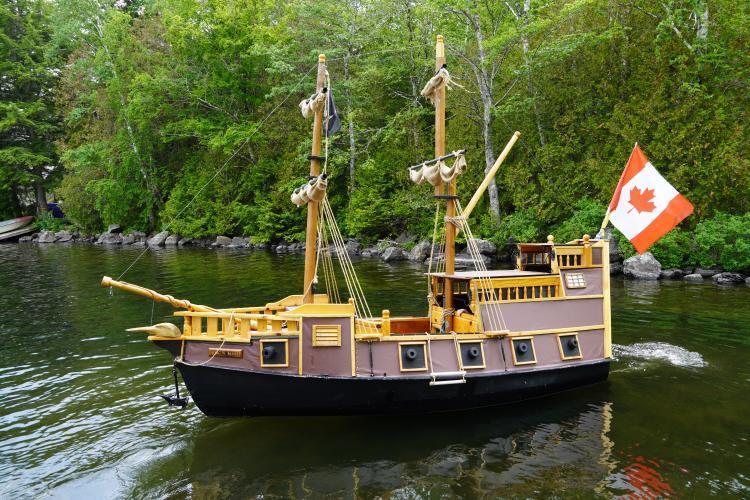 "The total wood weight would be about 180 pounds, so there is a lot of bed frame, an old set of cupboards I got from a little job I did for the Bowling family here on the lake," he said, adding that a lot of the things he used came from the dump.
The ship also features masts with realistic-looking faux sails, cannon ports with "menacing" mock cannons, and even a real rope ladder for the crew to board after being "keelhauled," as Bob joked.
"This thing is legendary!" John exclaimed. "Like, who does this? Only Bob's boats."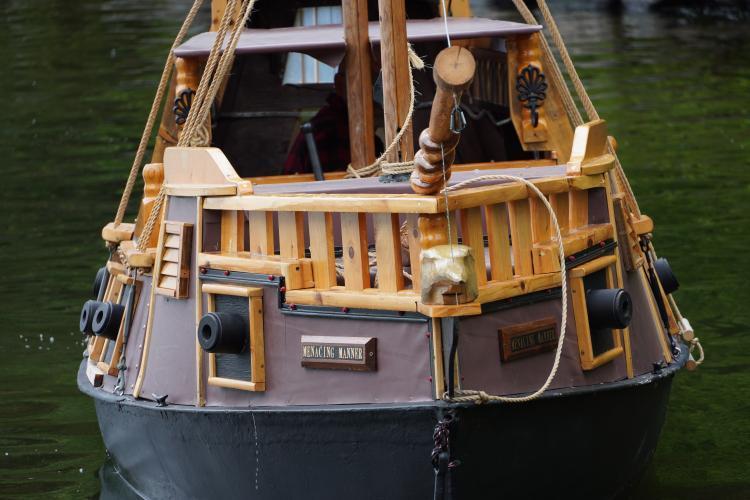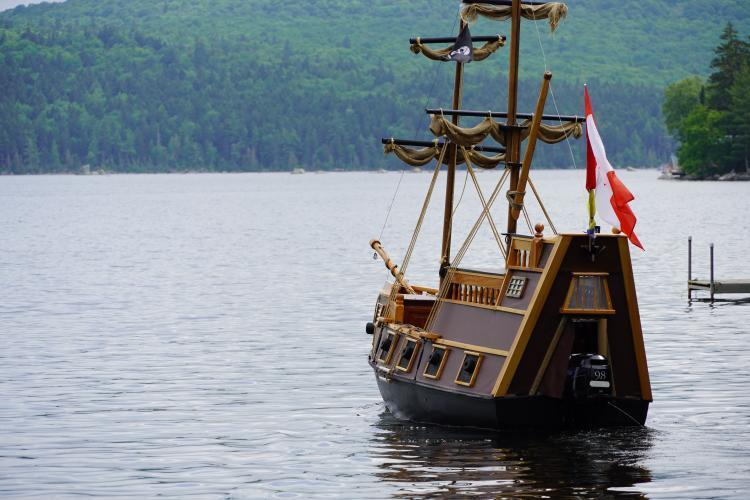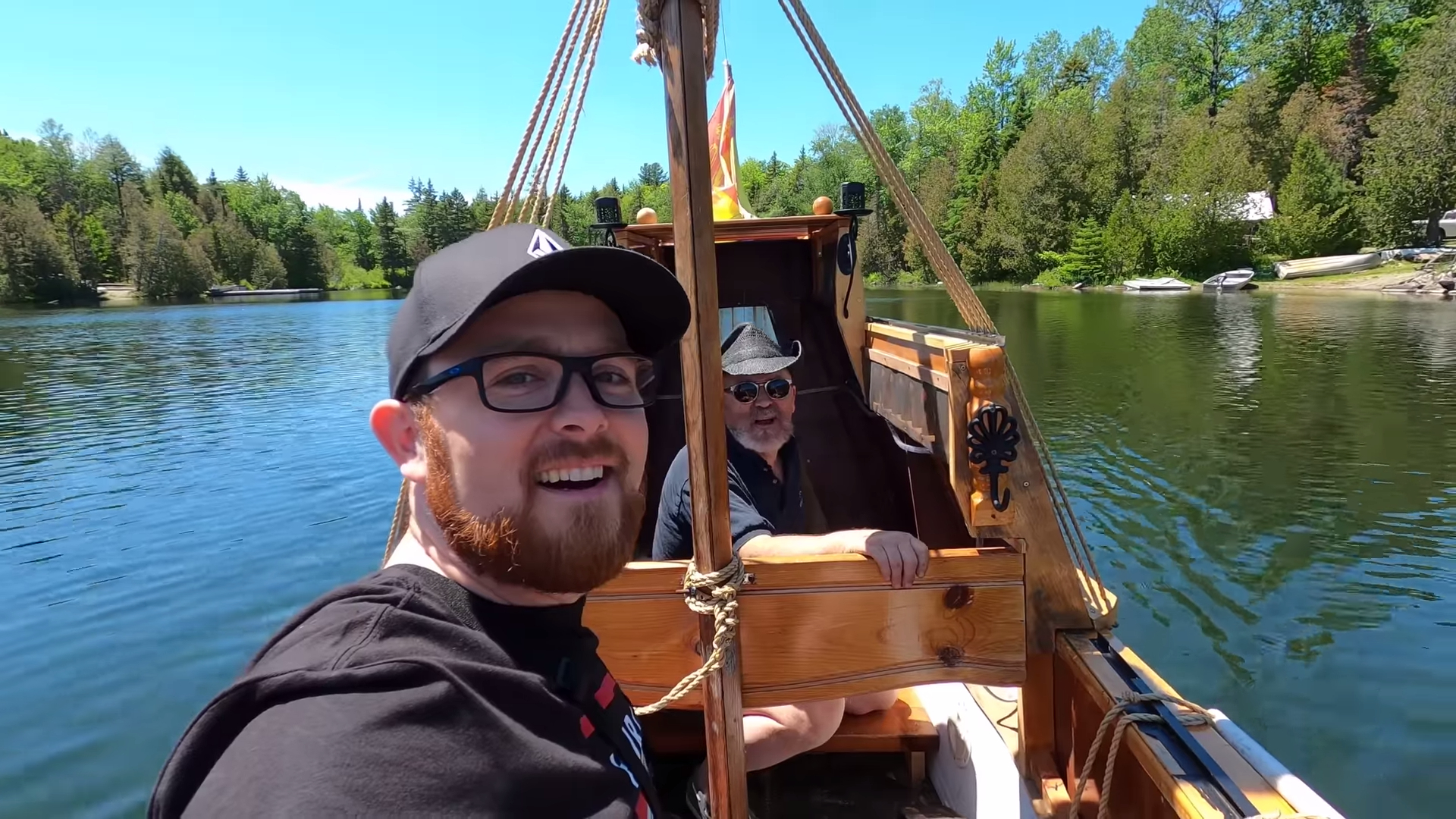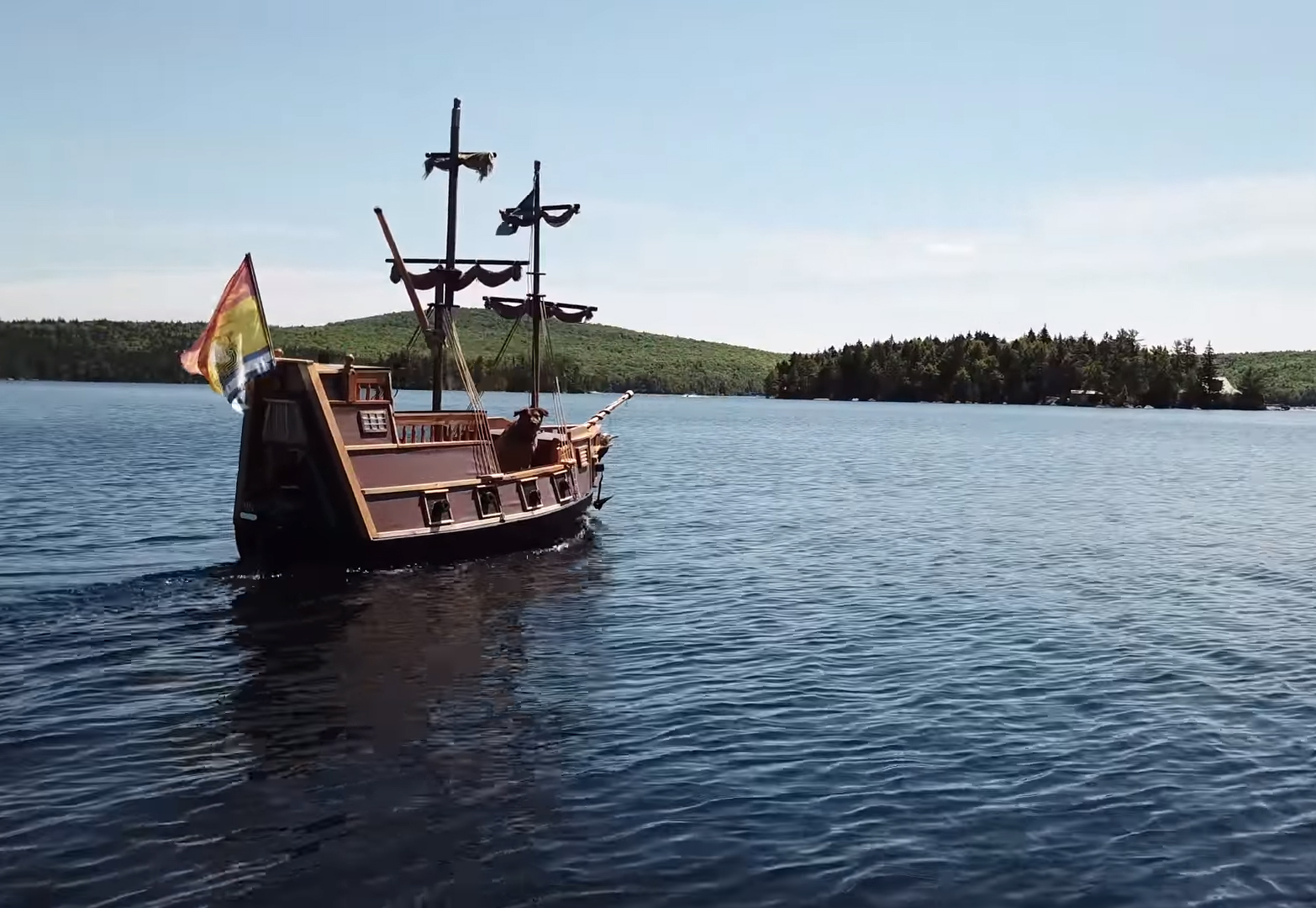 "The Menacing Manner comes from the writeup in the New York Times in 1987 that describes the Skiff Lake Monster. Apparently there was a monster cited here several times that disported itself across the lake in a menacing manner, thus the name," said Bob, explaining his ship's christening.
The vessel cost him $100; and he hopes it will outperform other pirate boats on the lake. John helped him launch the vessel on her maiden voyage.
"So we are going to blow them out of the water," said Bob.
Share your stories with us at emg.inspired@epochtimes.com, and continue to get your daily dose of inspiration by signing up for the Epoch Inspired Newsletter at TheEpochTimes.com/newsletter