Rescuers from an animal rescue in Minnesota were overcome by emotion with the story of a grieving mother dog and the 10 orphaned puppies she readily adopted, making their union a miracle.
When Ruff Start Rescue of Minnesota's Twin Cities took in a shy female rescue, named Poppy, from a Houston-area shelter, they had no idea she was pregnant.
"I didn't really get to touch her for about two days," Ruff Start Rescue foster carer, Lexi Johnson, 30, told The Epoch Times. "She just kind of hid. Then once her and I bonded, we were inseparable … she slept right next to me, in her kennel next to my bed."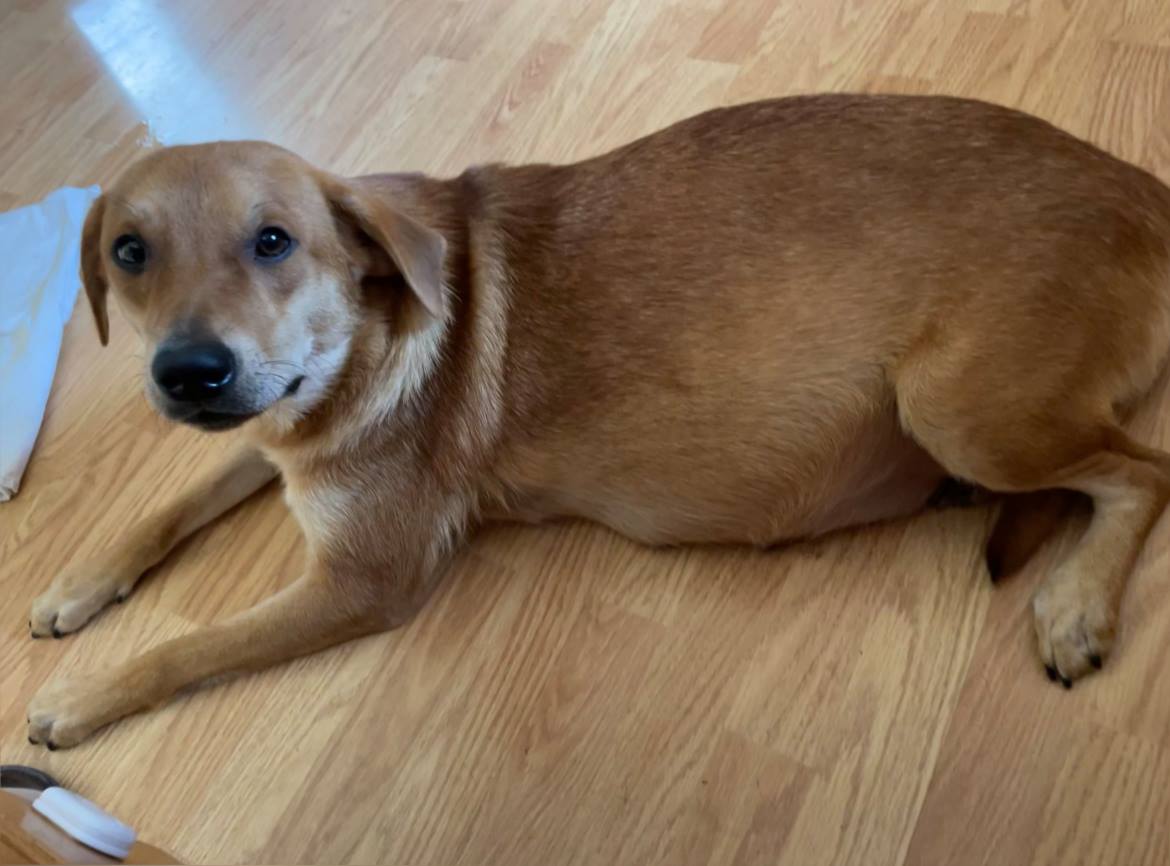 Poppy gave birth at the rescue center on July 7, surprising volunteers with 10 puppies, but died within 24 hours of birth with suspected heart failure due to heartworm disease. Devastated by the news, Lexi leapt into action to save Poppy's orphaned litter.
She and another volunteer tended to the puppies until almost midnight when Lexi's husband took over for the complicated 90-minute feeds every three hours.
"We just frantically tried to get food into all their bellies," said Lexi, who has a toddler son. "We weren't sure how much they had eaten at that point. They were all nursing off of Poppy, but if she was on her way out, I'm not sure how much she was actually producing."

The next day, seven puppies went to different foster homes while Lexi kept three. In the days that followed, Lexi and her husband had a lot of different challenges such as putting the puppies on a strict schedule, difficulties with bottle feeding as there are many different types of bottles, syringes, and trying to understand which puppy liked what.
However, two weeks after Poppy's passing, a savior came along.
Pine Ridge Reservation of South Dakota had a grieving female dog in their care named Pepper, who had lost her own litter. Yet it seemed, Lexi said, that "she looked like she really wanted to be a mom." Lexi was hesitant, yet moved by Pepper's photo, so she decided to take her in.
She collected Pepper on July 22 and put her in a separate kennel next to the orphaned puppies in the back of her car.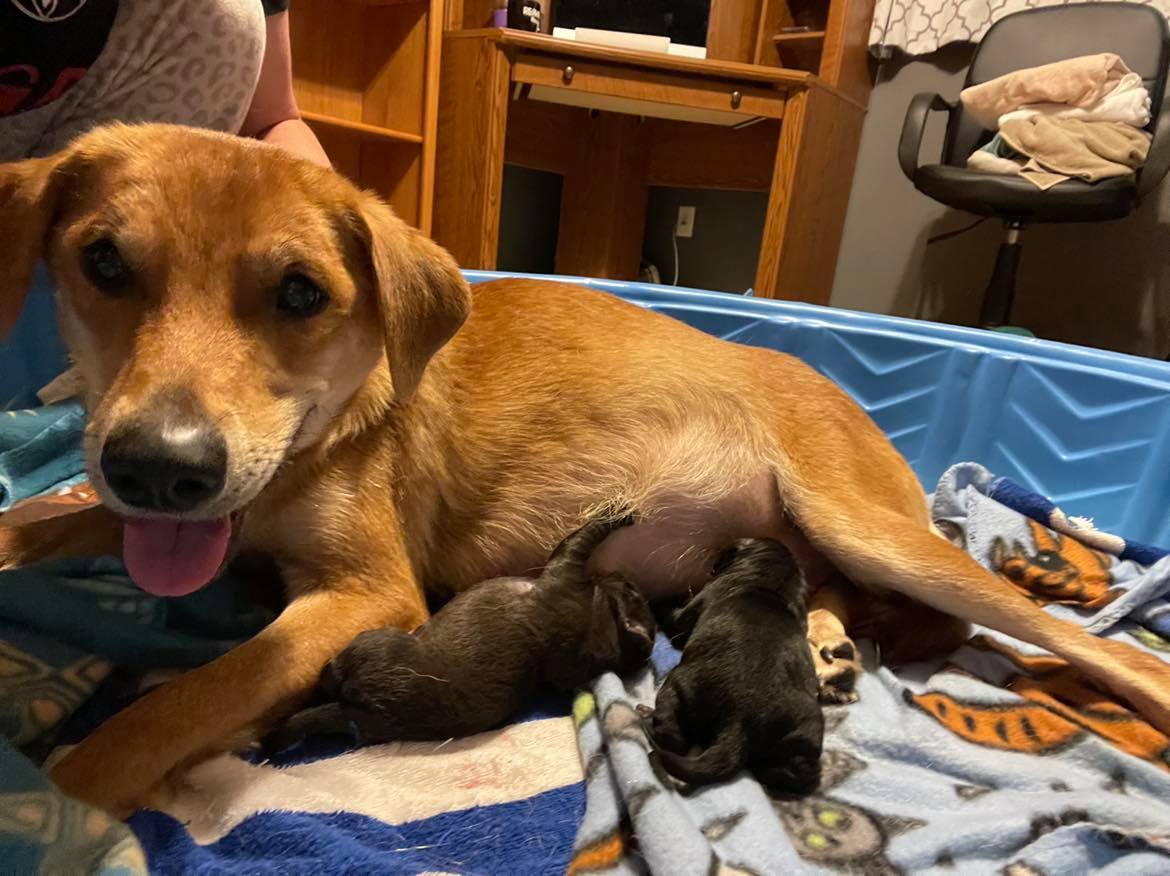 "Immediately she walked over," Lexi recalled. "She heard the puppies and smelled the puppies and her tail just started wagging immediately. So that was like, my first, 'Okay, we're going to be able to do this.'"
When they got home, Lexi placed Pepper in a plastic kiddie pool. "There's not a lot of information out there on how to introduce orphaned puppies to a new mom," she explained, "so I just started kind of putting them in there. I was watching her body language, and by the time the second one got in there, she was laying down waiting for them to hobble over."
Within four minutes, eight puppies were nursing happily. The remaining two returned from their foster carers the very next day.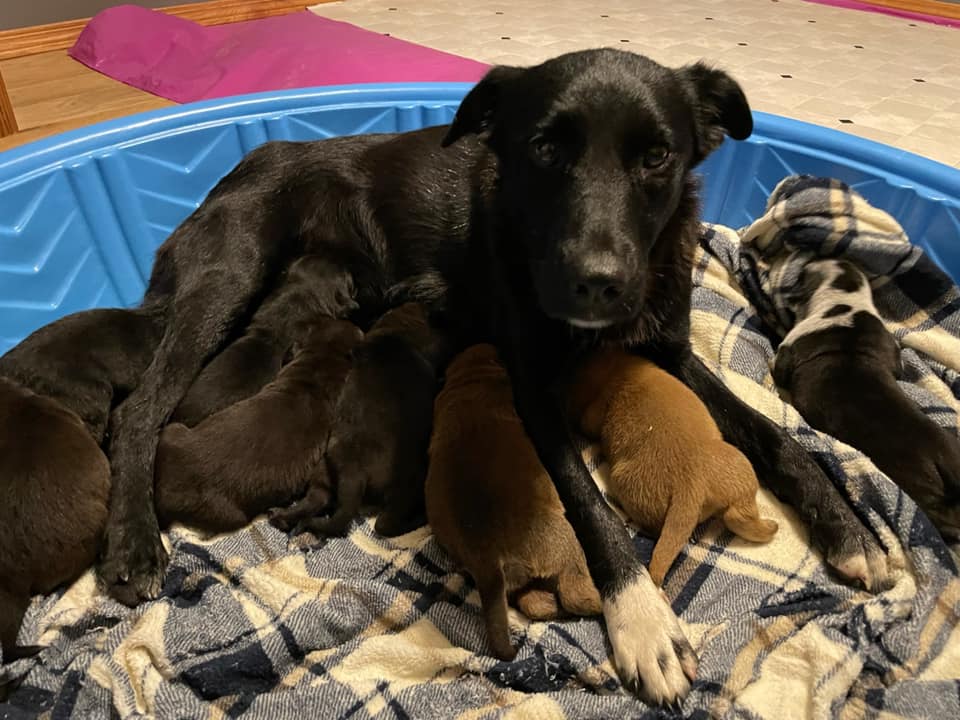 Pepper, said Lexi, "loved every second of it," cleaning the puppies and helping them go to the bathroom as though they were her own. "It's her instinct," Lexi marveled. "It was incredible to watch."
Lexi posted on Facebook the day after Pepper's arrival, writing, "I cried again last night, but these tears were happy tears. Tears knowing that mama Poppy would be so appreciative of Pepper taking over the mama role."
Now weeks later, the puppies—Rykera, Turkleton, Harold, Gibson, Greta, Smudge, Pudge, Fudge, Cow, and Vick—are well-fed and energetic.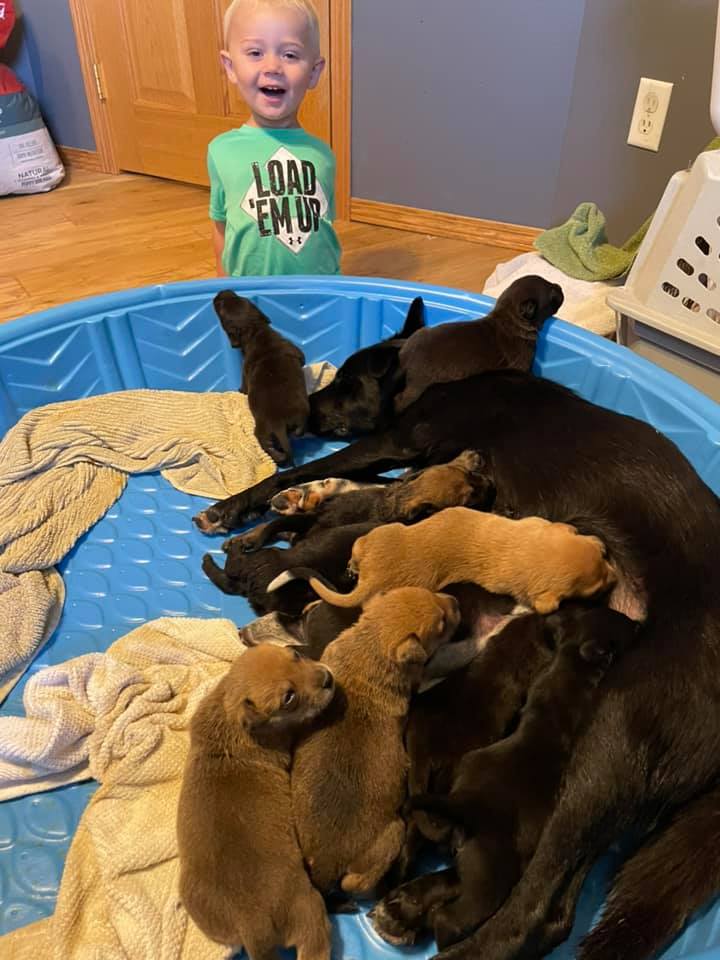 Pepper can teach them "all the dog things" that they need to learn, Lexi told The Epoch Times. "That's what I'm the most excited for over the next couple of weeks, as they get out of there. You know, we need to eat and sleep!" she joked.
The puppies will be available for adoption through Ruff Start Rescue at the end of August. Lexi hopes the puppies' adopters will be kind enough to share updates with her as the little ones grow.
"I would love to keep mama," she said, "but we have three dogs of our own and our monthly dog food and medication bill is already pretty high. So I can't add in another."
It's hard to say goodbye, she admitted, adding, "But worth it. It's absolutely worth it."
Share your stories with us at emg.inspired@epochtimes.com, and continue to get your daily dose of inspiration by signing up for the Epoch Inspired newsletter at TheEpochTimes.com/newsletter