If you were to peer into old family notebooks in which your relatives wrote down their recipes, what would you find? What culinary treasures long lost to the past would emerge?
A few years ago, Halifax-based journalist Simon Thibault discovered the repository of recipes that Rosalie, his maternal grandmother, had kept. The recipes became a connection to his Acadian roots, but at the same time, the gaps he encountered demanded some detective work.
Sometimes, only ingredients were written. Directions were nonexistent or spotty—a cryptic memory jogger, at best, that the cook alone understood.
Based on his research into his family's recipes and old Acadian foodways, Thibault wrote "Pantry and Palate: Remembering and Rediscovering Acadian Food," a book that falls somewhere between a history guide and a cookbook.
In the United States, Acadians are mentioned only briefly in history textbooks. They were the first French settlers in the region of Nova Scotia, New Brunswick, and Prince Edward Island, in eastern Canada. When the English took over during the French and Indian War, the Acadians were expelled, an event called "Le Grand Dérangement" (The Great Deportation), from 1755 to 1764. After the war ended, many came back from exile.
Today, it is a small world among Acadians, who can easily find out if they're related by identifying their ancestors, as Thibault explains when he introduces himself as "Simon, son of Hector, son of Ulysses, son of Annie, and my mother is Jeanne-Marie, daughter of Augustin, son of Etienne."
As for Acadian food traditions, many are disappearing. The convenience of modern foods has made preservation practices like salting or pickling unnecessary, for example. When Thibault asked at a talk how many of those present remembered eating boudin, a sausage made mostly with offal and typically with blood, about half the hands went up. When he asked how many people still ate it, half of those hands went down. When he finally asked how many knew how to make it, only one or two hands stayed up. "That's how your culinary and cultural heritage disappears," he remarked.
The cuisine of Acadia may be simple, rustic, and even limited in its ingredients. But even these limited ingredients offer a great deal to explore, as Thibault shows in his quest to learn how to render lard from pork, or cook a whole pig's head to make the most of the animal, as his ancestors would have done. (Tip: Make sure you have a pot big enough to fit the head.)
And then there are potatoes, and more potatoes. You can grate them to make dumplings for a fricot, a simple soup of meat, potatoes, and root vegetables, or for a râpure, also called rappie, made with grated potatoes, meat, stock, and maybe some salted onions. Thibault compares the look and texture to something between "thick rice porridge and wallpaper paste."
"But," he writes, "trust us. We've been eating this for almost 200 years, and we're enthusiastic about it. It's our comfort food."
Following are recipes for rappie and tourtière, from "Pantry and Palate":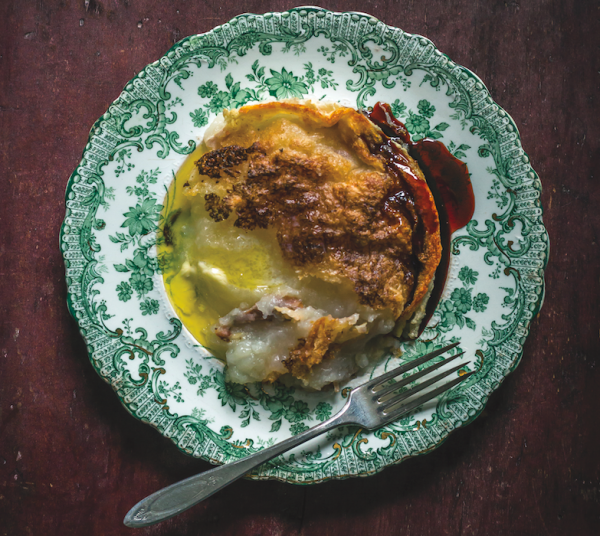 Râpure (Rappie Pie) 
Makes 1 large pie
Serves 4 to 6
2 tablespoons butter or oil, plus more for basting and serving
2 medium onions, minced
2 tablespoons plus 2 teaspoons salted onions, divided (optional)
One 4-pound whole chicken, preferably a stewing hen
12 cups cold water (or enough to cover chicken in the pot)
2 bay leaves
3 to 4 carrots, diced
10 pounds potatoes, peeled
4 tablespoons minced salt pork (optional)
Salt and pepper, to taste
The first thing to do is make the chicken stock. This can be done the day before. In a pot large enough to accommodate your chicken, sauté onions in the butter (or oil) until translucent. Add 1 teaspoon of salted onions if you have them. If not, add a bit of salt to onions to help them sweat.
Add chicken and cover with cold water, about 12 cups. Add the bay leaves and carrots. Cover the pot and bring to boil. Reduce the heat to keep the bird at a gentle simmer. Cook for about 1 hour, or until meat is almost falling off the bone, but not quite.
Remove the chicken from the pot and strain the stock through a sieve. (At this point, you can refrigerate your stock until you need it, or just keep it warm if you plan on making the rappie pie at the same time.)
Shred the chicken into small pieces, discarding the bones and skin. Set aside.
Grate your potatoes on a box grater or rasp. Take your time, or you'll end up with bloody knuckles. (Alternatively, you can use a juicer to simultaneously pulverize your potatoes and remove much of the water. The texture will be mildly different, but highly comparable.)
Place portions of the rasped/grated potato into muslin or kitchen towels. Squeeze out as much of the liquid as you can. You will be adding stock to it afterward, and you want to get out as much of the liquid as possible. (Tip: Squeeze the potatoes into a large measuring bowl. Let's say you squeeze out 7 1/2 cups of potato water, you should add back in about 10 cups of stock. This is the ratio you're trying to achieve. Adjust accordingly.)
Bring the stock to a roiling boil. You need it to be as hot as possible to scald the potatoes properly. Heat your oven to 425 F.
Put the potatoes into a large bowl, big enough to accommodate at least twice its volume. (If you don't have a bowl big enough, do this in batches, making sure to keep your stock as hot as possible for scalding the potatoes.) Break up the potatoes using a hand mixer. Mix in half of the hot stock using a hand mixer, and stir it all together, making sure to moisten the potatoes as much as possible. Mix in the rest of the hot stock and keep stirring. The mixture will thicken, but keep stirring for about 2 to 3 minutes after adding the last of the stock. Taste for seasoning, adding salt, pepper, and the salted onions as you go.
Pour enough of the potato pulp to cover the bottom of your casserole dish. Add roughly 1/2 of your chicken, tossing it over the potatoes. Add enough potatoes to just cover the chicken, and then add more chicken, finally covering that with the rest of the potatoes.
Place the rappie pie into your oven. Bake at 425 F for 30 minutes, and then turn down the heat to 375 F and bake for another 1 1/2 to 2 hours. Occasionally baste the top with butter (or small dice of salt pork) to help the crust brown. The dish is ready when the crust on the top is nice and set and golden brown.
Serve warm with loads of butter, or possibly a little molasses on the side.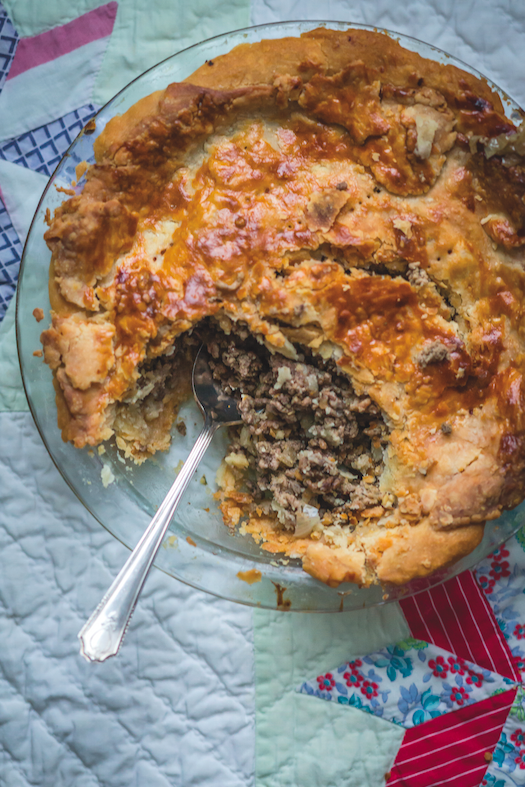 Les Dames Patronesses Tourtière 
Makes 1 pie
Serves 4 to 6
The first recipe is another of those I found in the Les Dames Patronesses collection. It is attributed to Mrs. Robert Belliveau and is a no-nonsense recipe. I've changed a little bit of the wording to make the directions a bit more clear. I'm somewhat surprised that it asks for veal, which isn't always the easiest meat to gain access to—let alone in 1960s rural Nova Scotia—but it adds much in terms of lusciousness to the finished pie.
For the Filling
1 tablespoon butter
1 pound diced pork shoulder
1/4 pound ground veal (or diced)
3 tablespoons chopped onion
1/4 teaspoon cloves
A pinch of thyme
A pinch of summer savoury
1 teaspoon salt
1/4 teaspoon cinnamon
1/4 teaspoon pepper
1/2 cup warm water
In a skillet over medium heat, melt the butter. Add the pork, veal, water, onions, and pepper and cook about 25 minutes, stirring often.
Season the mixture with cloves, thyme, summer savoury, salt, and cinnamon. Taste for seasoning, and adjust if necessary. Allow to cool completely—preferably overnight—in the fridge before preparing the dough.
For the Pastry
2 cups all-purpose flour
1/2 teaspoon salt
1 cup shortening
4 tablespoons ice-cold water
To make the pastry, measure the flour into a large bowl, then sift in the salt.
Cut in shortening finely until pea-sized. Blend in cold water and mix with fork until the dough comes together.
Wrap the dough in wax paper and refrigerate for 20 minutes. Divide the dough in two and roll each portion to 1/8-inch thickness.
Place 1 layer on a 9-inch pie plate, fill with meat mixture, then cover with other layer of dough with cut eyelets.
Cook 10 minutes at 450 F and then for 25 minutes at 350 F.
Allow to cool slightly, about 30 minutes, before serving.
1/4 pound butter, divided
1 large onion, minced
2 pounds of potatoes, diced into 1/4-inch cubes
At least one pound lobster meat, shredded
1/2 teaspoon paprika
1 1/2 teaspoons seafood seasoning/Old Bay seasoning
500 milliliters (2 cups) blend cream (10%)
At least one pound haddock, cut or shredded into pieces
At least one pound scallops
1/2 pound crab meat (optional)
1/4 teaspoon salted onions
2 tablespoons finely chopped chives (optional)
In a large saucepan, melt 1/4 cup of the butter over medium-low heat. Add the onion, and cook until softened.
In a large pot, just barely cover the potatoes with cold water. Bring to a simmer and cook until they are about two-thirds done. You should be able to pierce them with a fork, but not all the way through.
In another skillet, warm up the shredded lobster in the remaining 1/4 cup of butter. Add a touch of paprika for color, the seasoning, and then the cream. Bring the potatoes down to a gentle simmer, and add the haddock. Cook for 1 minute. Then add the lobster and cream.
Add the scallops, crab meat if available, and the salted onions. Bring the temperature to low, just enough to keep it warm.
Serve immediately, garnished with fresh chives. And don't forget to have buttered rolls or bread on the table.
Excerpted from "Pantry and Palate" by Simon Thibault. Copyright 2017. Text by Simon Thibault. Photographs by Noah Fecks. All rights reserved. Published by Nimbus Publishing.
Reprinted with permission from "Pantry and Palate" by Simon Thibault. Copyright 2017. Text by Simon Thibault. Photography by Noah Fecks. Published by Nimbus Publishing. All rights reserved.