TEL AVIV—I met Eran Reshef, winner of the Shiff Prize for realistic painting, in his studio on the third floor of an old building in Tel Aviv, Israel.
At the entrance, I couldn't help noticing the objects standing in the corners of the room—I recognized them as the models I saw a few days earlier in the paintings of his solo exhibit at the Tel Aviv Museum.
Now they were in his studio, standing without light or glamour. "I don't have anything to do with them anymore," Reshef said. He directed his eyes toward his new finding, his next subject of painting—an old Amkor fridge standing in the middle of the room.
Under Reshef's brush, the objects receive life and a presence of their own. An old cooler against a peeling wall, a gas bottle on tiles perfectly painted, a cactus in a planter—those are supposedly the subjects of his paintings, but something stronger is passing through.
It seems as if Reshef does not want to reflect a mental state but a poetical complexity. His realistic paintings full with light skillfully portray in a wonderful exactitude everyday life situations, which he directs.
Signs of Time
"They ask me why I draw particular things, and I say that it doesn't matter what I draw," Reshef said. He explained: "It needs to be something that makes you 'jump' from the chair, like a trigger. It's a thing to which we hold onto in order to say something. I take the things I draw, and I absorb them.
"When a young painter paints a still life, he just paints it; I also started this way. Little by little, the subject choices become very hard, and things are becoming much more complex. This complexity contains processes," he said.
Pointing to a pile of tiles lying on the floor, he said, "These tiles for example: They are a memory from my childhood in Tel Aviv. Until not long ago, I always drew them very clean because it was nostalgic for me. Then, I started to show the spots on them and then even more.
"It is not that I like dirt. I realized that these spots don't change the beauty of the painting, but even add profundity to it," Reshef said.
"Every painting is a step for me, and these are the signs of time, an indication that something passed here. There was a kind of process of existence. The painting needs to present something that stands for itself," he said.
Reshef continued: "I do not tell stories. I do not encourage explanations to why the object is painted like this or like that. People think that you need to say something specific, and it becomes a kind of limitation. Art today is a sort of technology. All is accessible, available, and full with theories. I don't belong to this story."

A Piece of Life
Although he has created an impressive amount of works, the 46-year-old Reshef has not exhibited much in his life yet. He received his main training in New York, in the class of the artist Lennart Anderson, to whom he traveled especially to learn realistic painting.
"Realistic painting always fascinated me. When you arrive in New York there is so much noise about art. In the beginning I went to Parsons [a school for contemporary art], and I was terribly bored. In each period there was a debate whether figurative painting is relevant. It always existed, and for me it has always been very relevant," Reshef said.
In 1999, after a decade in New York, Reshef returned to Israel, found himself a studio, and started working. "When I looked for a studio I had the wish to find one with a beautiful view," Reshef said.
I found myself looking at the old buildings and factories from his window.
He smiled and added: "When I saw this studio I knew it is for me." He pointed at a particular window, and I suddenly saw the view I stood in front of at the exhibit. "I drew it one to one. The size is part of the totality of the reality. It is a complete truth," he said.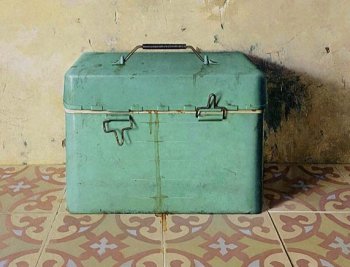 Life Takes the Lead
Reshef doesn't paint people, but there is something very existential in his paintings. "When I see a human being, I feel as if I cannot add anything to him through the painting, that it doesn't matter. Whatever you'll do, it will go through you and won't be absorbed."
As of today, Reshef sees himself unable to paint a person—although he would like to—because man has something more in him. "It is because man will simply always dominate the painting."
Reshef said that he is drawn to certain things: "When I want to paint something it makes me jump. You are never leading; you are always being led. You are not stronger than life."
Reshef's time-stricken objects are painted upon walls that reveal the tiniest details: peelings, holes, scratches—a decor that Reshef created himself. Different layers in the walls and in the objects—like color or rust—and hidden elements—like the depth of a bathtub or the contents of a box—raise far-reaching questions concerning the true source of the objects and their true face of existence.
Reshef saw a particular gas bottle, and he knew this was the object he wanted to paint. "It is as if you see someone you know dressed in new clothing, and you recognize him. It [the bottle] was standing there like a person. When I start to paint I don't start to work physically, it is a process."

Light is Essential
The light in Reshef's paintings is always natural and a very important part of the beauty of his work. "The light is the painting. We live inside of it, we breathe it. I put the bathtub on a chair only so the light reflects in the right way. It needs to talk. All is about the light in still nature; it defines a shape, realness."
Concerning the issue of the light, one of the paintings in the exhibit is quite impressive. It shows two bathrooms next door to one another painted in real size. Reshef worked on it for several years. "I drew them so they will be full of light. This is why I called them 'Gates' and not bathrooms," he said.
Reshef talked about how art should do justice to the entirety of reality.
"A painting does things to reality. I try to maintain an art that is 'total' to reality, but there is a moment when you pass the realistic translation and something happens; it is always like that," Reshef said with the seriousness and sensitivity that are so characteristic of him.