LOOMIS, Calif.—A rare all-white fawn has been found and rescued in Northern California by a truck driver who delivered the animal to a rescue center.
The Sacramento Bee reported Sunday that the small albino deer with a pink nose and large pinkish ears was discovered sitting in the middle of a road in Woodland, near Sacramento.

Diane Nicholas at Kindred Spirits Fawn Rescue says the 3-week-old fawn's mother was not found.
She's not sure how the fawn happened to be in the road but says that female deer looking for food often leave fawns on their own.

Nicholas says this is the first time she has treated an albino deer during 13 years operating the rescue and rehabilitation center where volunteers treat 50 to 80 fawns per year.
"It has to have a special little enclosure because we're worried about the sun right now," Nicholas told the Sacramento Bee. "We don't know enough about how impacted they are as babies."
Albinos are rare in nature. According to National Geographic, albinism occurs when cells of an individual animal are unable to produce melanin, a dark pigment that results in normal coloration in the skin, scales, eyes, or hair. It is the lack of melanin that causes the animal to appear white or bleached.
It's worth noting that being white doesn't mean an animal is an albino. Bengal tigers, for example, are simply tigers that are born with white fur. Their whiteness is not the result of genetic mutation. The general rule of thumb to tell if an animal is an albino is whether it has pink or light blue eyes.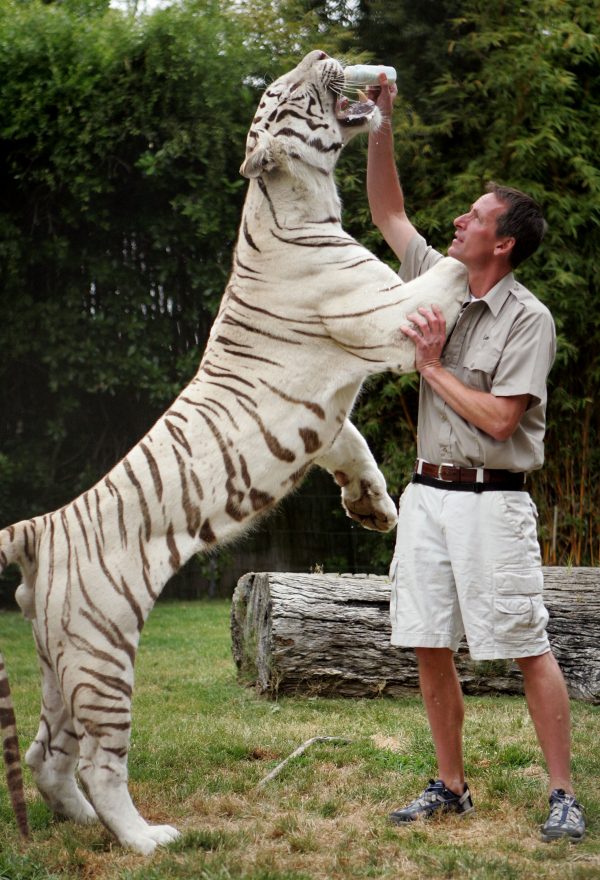 Compared with their peers of natural colors, albinos usually have to overcome more obstacles in order to survive. Lacking protective coloration that allows them to blend into their environment, albino animals are more likely to be seen by both predators and prey. A lack of pigmentation can affect their vision, too, which gives them another disadvantage when avoiding danger and hunting for food.
Albinos and other unusually pale wildlife are also more vulnerable to poaching, as the demand for exotic pets or products derived from rare creatures continues to bloom, according to National Geographic. The threat to these animals is so real that a nonprofit bought an island off Indonesia just so that it could build a sanctuary there for just one albino orangutan, who will be protected by security guards 24/7 when she moves there in June.