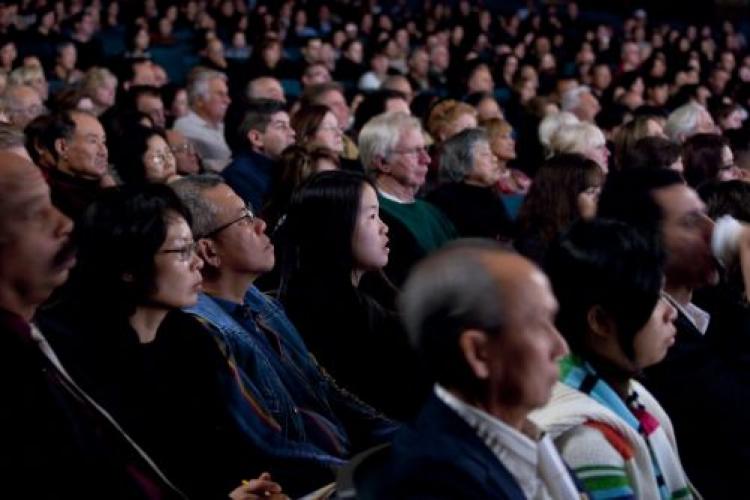 PASADENA, Calif.—Mr. Khodiguian and his wife responded thoughtfully to the Divine Performing Arts show at the Pasadena Civic Auditorium on Saturday.
Mr. Khodiguian said, "The performers, and the message, the spirituality, the flawlessness, and the performance; everything was so natural, no move was forced. And of course the presentation, the costumes, the organization, the rhythmicity, and it was just all beautiful, an authentic show."
Mr. Khodiguian is a Professor at a famous university in California and his Mrs. Khodiguian works in the entertainment industry.
Mrs. Khodiguian said, "I can't say what impressed me the most, but overall there were a lot of things that were impressive. Beginning from the designs of the costumes, they were so beautiful. Me being a female, obviously I was just fascinated by the costumes. And the performance was just perfect. I felt like it wasn't a group of dancers, it felt like it was just one person. It was so well coordinated and so disciplined. … it was nice to see a message in the dances."
The couple saw connections between the performance and current events. They saw positive messages in the show. Mr. Khodiguian said, "The truth is that all nations, all people living in different nations, under different regimes, they all have the same worries, the same daily lives, and there is no animosity, and they all have the same concerns; peace in the world, a nice place to provide for their families, and to be happy, and it's the same for all nationalities. Only the government that puts people against each other creates wars and a lot of people are mostly innocent, and they suffer because of that. And appreciating beauty and understanding human spirituality is a good way to avoid wars. It's kind of very corrupt in this society, and I think it is corrupting our children."
Mrs. Khodiguian said, "There were a lot of messages about freedom, how people choose to live. One of the performances was showing about the government taking it away. [Heaven Awaits Us Despite Persecution] It was sad to see that the government could have so much influence on the lives of people and their family life. So, there was a message about freedom and of course, spirituality. If you want to practice a certain religion, I don't think it's something that should be suppressed by people who feel that they can overcome you, suppress you, and not let you practice. … I think that this Chinese show can change people's minds. I think there was a big message, and a lot of people will be influenced,"
Before leaving Mr. Khodiguian added, "I just really enjoyed the show, and I really appreciated it. I think more shows like this will be better, especially encouraging the younger section of the population to attend. Again, I saw some youngsters inside, even some children, and I think every time, even if the child doesn't understand it, it leaves an impression, and later on serves as basis as appreciation of other cultures, and beauty, and of course art."
For more information please visit DivinePerformingArts.org